When someone recently asked for my favorite productivity books, it was like they'd offered me a giant candy bar (my choice would be Reese's Peanut Butter Cups, thanks for asking).
I mean, there isn't a lot I love more than thinking about productivity and how to make my life run more smoothly.
Here are seven productivity books that I absolutely love and I hope you will too!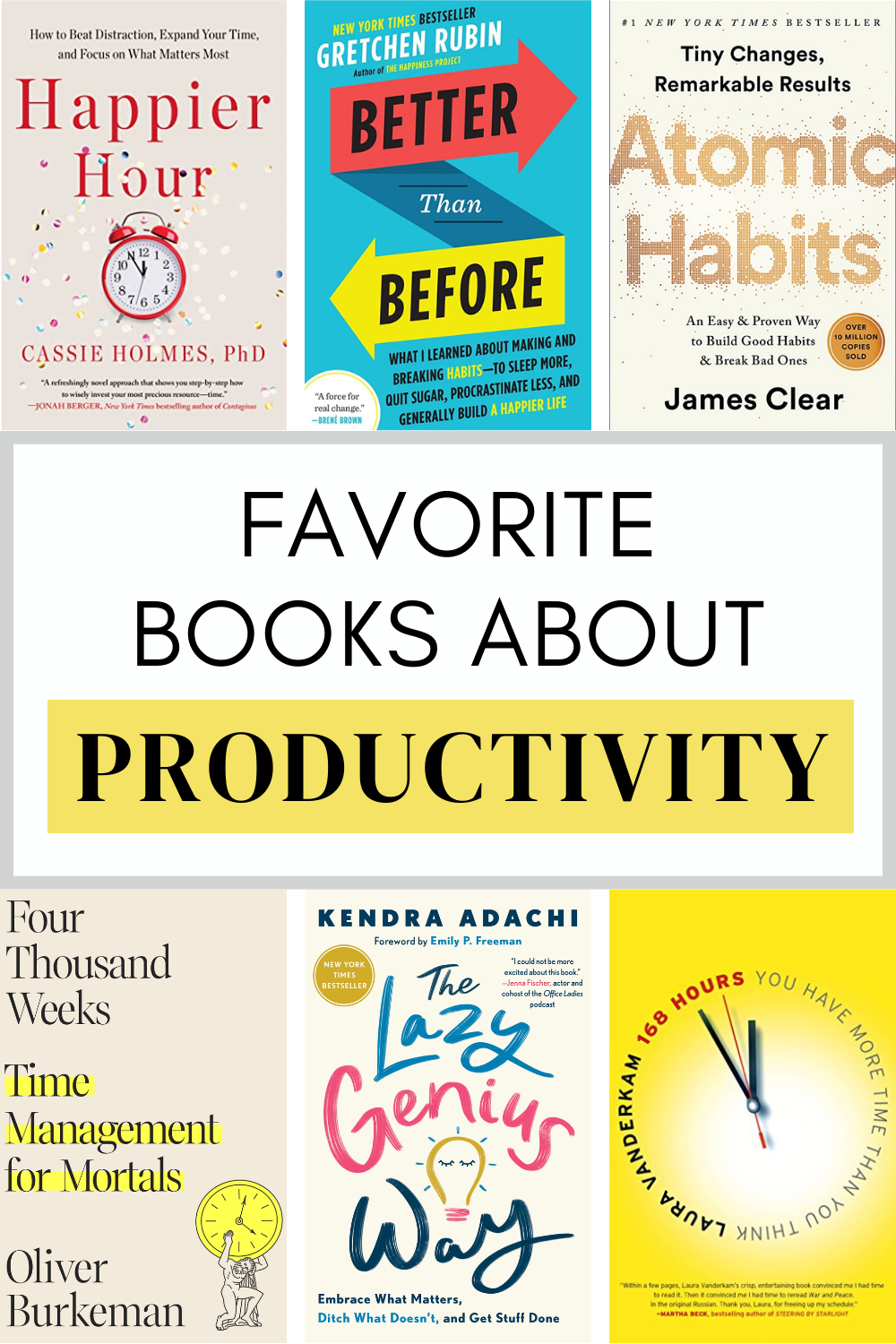 My Favorite Productivity Books
168 Hours: You Have More Time Than You Think by Laura Vanderkam
I'll probably never stop talking about this book because I love it so much (I've read it multiple times). It's so easy to feel like we're all so BUSY and that there couldn't possibly be time to fit in hobbies, rest, or relationships. I love this different look at your schedule and taking real ownership of how you spend your time. If you feel overwhelmed with your routine or like your life is just a hamster wheel of tasks, this book is a must read. Plus, it's totally readable: I think I read half the book aloud to Bart because it was so fascinating and fulfilling. (Full review here)
Deep Work by Cal Newport
In this age of so much distraction, I love his hands-on ideas for how to really focus and get the things that matter to you done. If you feel pulled in all directions by your phone or social media and like you aren't able to focus on the projects and work that matters to you (whether that's a job, writing a novel, your family, or something else entirely), this non-fiction book is so good.
Four Thousand Weeks by Oliver Burkeman
I could not put this book down – it's a totally different look at time management than I've EVER read before. If you're tired of feeling rushed or like life is just a race toward more and more productivity, this book is for you! It's probably the most dense book on this list, but I enjoyed reading it a few pages at a time over a couple of months.
Better Than Before by Gretchen Rubin
When it comes to habits, this is one of my all-time favorite books. I love how practical it is and especially how she helps you identify what kinds of strategies will work for YOU as you set goals and develop new habits. Plus, I find her writing so delightful and interesting. I love all her books, including The Happiness Project, but this one is definitely my favorite. (Full review here)
The Lazy Genius Way by Kendra Adachi
I read this book as a New Year's kick-off a few years ago but it's really perfect anytime you need a little boost in your productivity! It's a delightful road map to help you think about what you want from the upcoming season of your life and how you can achieve it in the most effortless way. I love her focus on finding what works for YOU, whether it's the kind of thing that works for anyone else or not, and her kind, gentle-humored style. Whether you're new to Kendra or are already a fan of her podcast, this book is terrific.
Atomic Habits by James Clear
Bart and I both listened to this book when it first came out and couldn't stop talking about it for months. It can feel so overwhelming and impossible to change your habits, but this really helps you understand how to make it happen and why the littlest habits make the biggest difference. It kind of feels like one of those books that EVERYONE should read. (Full review here)
Happier Hour by Cassie Holmes
This was the January book for this year's Everyday Reading Book Club and couldn't stop talking about it. I love a self-help book and this one has so many good practical tips for making your life happier, no matter what your current life looks like. I especially can't wait to talk about having better weekends!

And if you'd like a printable copy of this productivity book list that you can take to your library or screenshot on your phone for easy access, just pop in your email address below and it'll come right to your inbox!
if you liked this post about productivity books, you might like these other books: