Wondering about Olive & June nail polish? After seeing ten million ads for it on Instagram, I ordered the full Mani Set and some of their nail polish and tried it out. Here's what I thought. (P.S. You can use my code OJJANSSENB20 for 20% off the Mani system).
For the last many many months, every time I get on Instagram, I've seen ads for Olive & June.
I love painting my nails and already own WAY more nail polish than one person could possibly need and I was curious if Olive & June really lived up to the hype of the amazing Olive and June reviews floating around.
When I asked on Instagram, I got a FLOOD of messages about it, ranging from "It's not that much better than any other brand to "It literally changed my nail painting life."
Naturally, I needed to try it for myself.
On my birthday, I ordered the Mani System with six colors of polish (if you're curious, the ones I chose were LHG, SC, OMG, E+M, OJBH and SPACEY).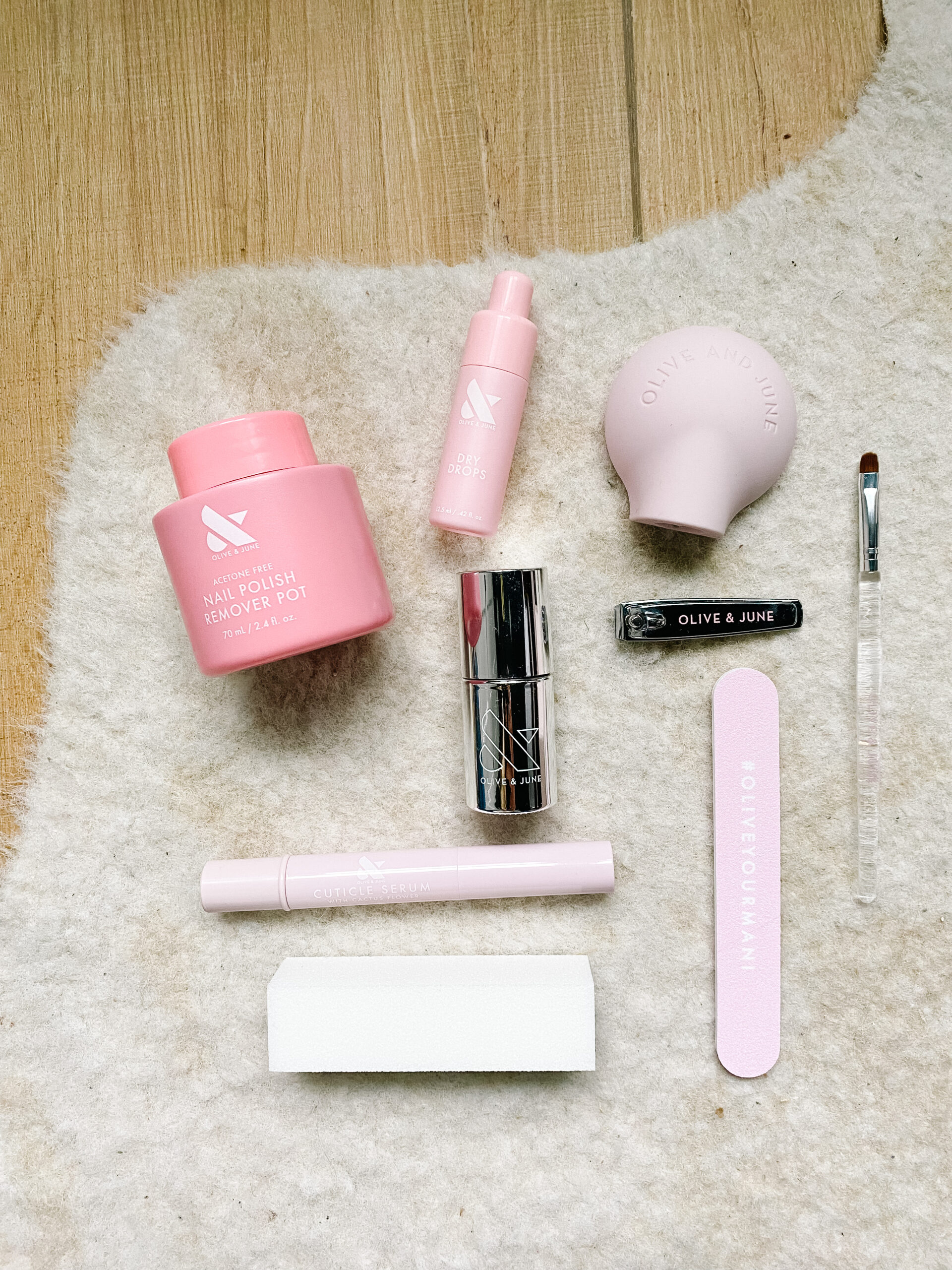 I also got a bottle of Dry Drops.
It was a fun day when my package arrived and I've been using Olive & June for the past month.
If you've been around Everyday Reading for a quick minute, you know I always have a lot to say about anything and Olive & June nail polish is no exception!
Buckle up – here's what I think about this wildly popular nail polish brand.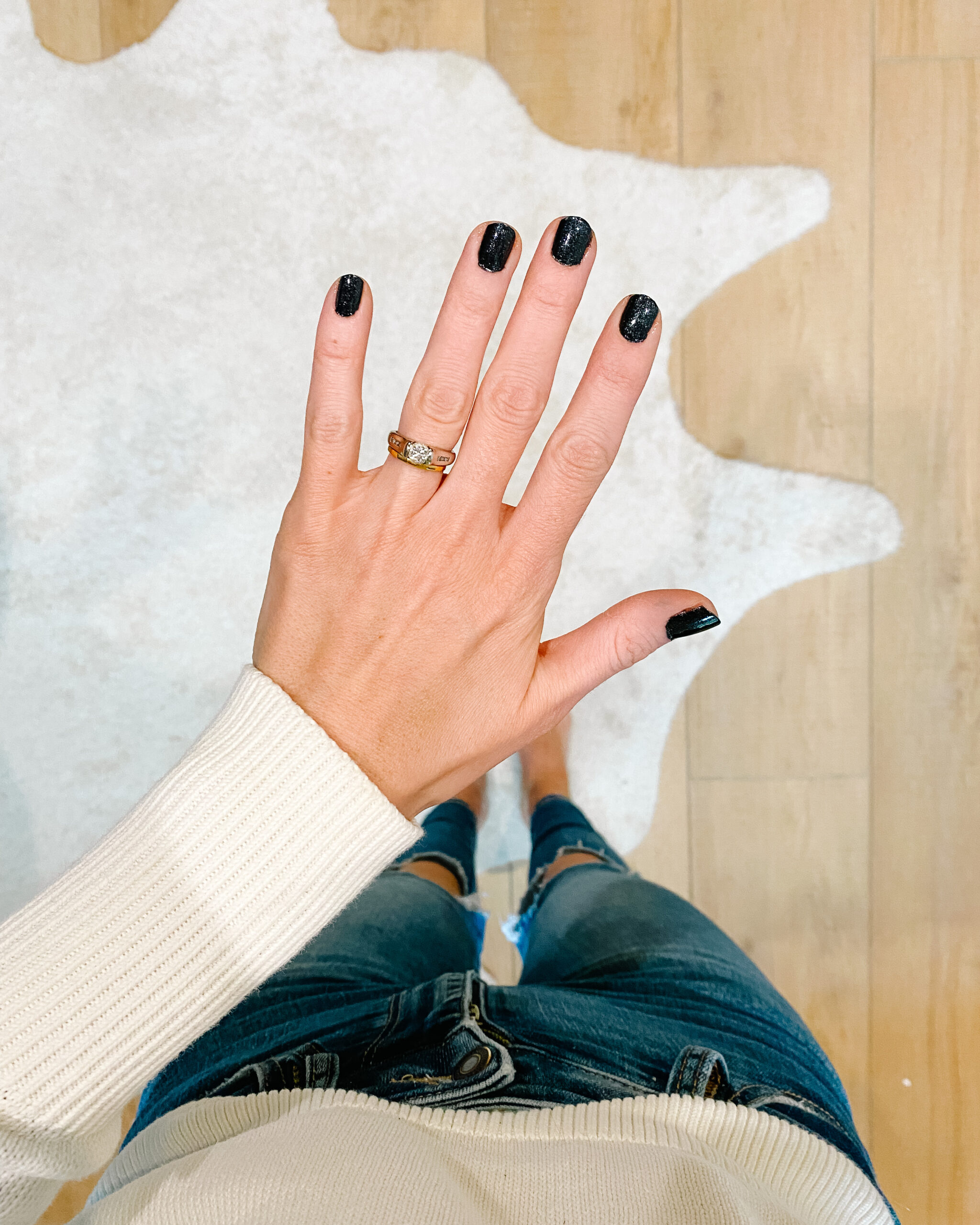 An Unpaid Review of Olive & June
First up: Olive & June nail polish. 
Some people said they felt like it was on par with other higher-end nail polish brands like Essie and OPI. And I'd agree. It feels quite similar to those brands and wears pretty similarly.
Two things that make Olive & June nail polish stand out from other brands:
They are a 7-free nail polish brand, which means all of their products are free of Dibutyl phthalate,  Toluene, Formaldehyde, Formaldehyde Resin, Camphor, Ethyl Tosylamide and Xylene. It's hard to find a clean nail polish brand that can compete with the non-clean ones, so that's very impressive alone.
They have GREAT colors. They really do a terrific job producing modern, beautiful colors and each new seasonal collection has just stunning options.
My only dumb complaint is that I wish they had more fun names for their nail polish. Somehow SC doesn't have the same ring as some pithy, witty nail polish name. It matters zero percent as far as using the nail polish goes, but I do think it's an extra fun touch for most brands that Olive & June misses (I might not be the only person who thinks this because they went a little more fun on their Fall collection with each color named after a class subject).
But what really makes Olive & June stand out, I think, is their full nail system and education.
I had no sense of this from their ads, but when I asked for feedback about Olive & June on Instagram, this was the most repeated comment – that their whole system was really the game changer, way more than the nail polish itself.
And now that I've used it, I 100% agree. Anyone can sell a cute nail polish.
Giving you the tools and education to be able to give yourself a great manicure? That's a whole new level.
The great news is that their education is all available for free online.
They have on-demand videos you can watch from beginner to advanced levels and then lots of free live classes that happen every week.
I feel like I'm quite competent at painting my nails and I still found their classes super helpful. Even before my first Olive & June order arrived, I used their tips to give myself a manicure with a cheap (like $1.99 kind of cheap) nail polish I already had at home and it lasted longer than any manicure I'd ever given myself. It went a full week with no chips!
The best tip was to wait for 5-10 minutes at least between each coat. I've NEVER done this and it seemed to make all the difference instead of waiting 60-90 seconds between coats.
So if you're not ready to jump in to Olive & June with a purchase, it's still absolutely worth your while to watch their videos and make whatever nail polish you're using last longer.
Okay, finally on to the Mani system.
I'll admit I was pretty skeptical – how much of a difference could any of these make? It all felt a little superfluous to me.
And then I tried it and I totally caught the Olive & June bug.
There were so many things in the Olive & June Mani system that I thought I didn't need or wouldn't use, but the 20% off code (my code is OJJANSSENB20) only works on the full system, not individual products, plus, after so many people said the whole system was the key, I figured I'd at least give it a go.
And whoa, there are some SERIOUS winners.
The nail clippers were the best I've ever used, by about 10x. I didn't realize nail clippers were one of those things that could be fantastic or garbage, but now I know and I'm never going back.
The Polish Remover Pot is truly life-changing, when it comes to nail polish remover. It takes off nail polish so quickly, doesn't require any cotton balls or other item to put the nail polish on and it doesn't ruin your other nail polish. In the past, if I chipped or damaged my nail polish on one finger, I felt like I couldn't' take the nail polish off without ruining the nail polish on other fingers (especially my right hand because that's where I'd be holding a cotton ball soaked with nail polish remover). With this, it's super easy to just take off the polish on a single nail without damaging the nail polish on any other fingers – I am truly obsessed.
The Clean Up Brush was another item that seemed unnecessary to me (I felt like I was pretty clean at nail painting) but then after my first manicure, I used it to clean up and I couldn't believe what a difference it made. The lack of streaks and drips and the clean lines around your nails really make it look like a salon manicure.
I was also REALLY glad I ordered the Dry Drops. I've never used dry drops before so I can't compare Olive & June's to any other brands, but they really do seem to make a big difference in your nail polish fully drying quickly.
The Cuticle Serum is one of their most beloved products and I can see why. I have a cuticle oil that I love but it gets everything so oily and this Olive & June cuticle serum isn't like that at all. Totally non-greasy, easy to apply, and easy to pop in your purse without worry about it drying. Multiple people sent me messages saying they owned two so they could always have one in their purse as well as at home. And now I see why!
I got many comments about how much people LOVE the Poppy which supposedly makes it easier to paint your non-dominant hand, but after 25 years of practice, I'm pretty competent and didn't feel like it was necessary for me. But if you struggle to paint your own nails, the Poppy might be just the solution you need (and it works on most nail polish bottles, not just Olive & June nail polishes).
The Olive & June top coat seems fine, but I personally prefer the Essie Gel Couture Top Coat.
Anyway, that's probably SO much more than you ever wanted to know about Olive & June nail polish, but if you're been wondering about the hype, I hope it'll help you make a decision about whether or not to try it!
And if you have any questions, I'm no Olive & June expert, but I'm happy to try to help!
If you liked this review of Olive & June nail polish, you might like these posts too: