One of my favorite childhood memories is the solo trips I took with each of my parents.
(I wrote a whole post about those trips here, if you're curious!).
Long before I had children of my own, I knew this was something I wanted to do as a parent and the time has finally arrived!
Our plan is to take each of our girls on solo trips when they're in 6th, 8th, 10th, and 12th grades and switch between Bart and me, so they'll each get two trips with each parent.
These trips are just a long weekend and not international, so they're not intended to be crazy extravagant or super expensive.
I knew New York City was the top of Ella's list for places to go, so when there were cheap JetBlue tickets this summer, I snatched them up.
Here's what our New York City trip looked like.
A Weekend Trip to NYC with Kids
THURSDAY:
I picked Ella up early from school and we headed to the airport and caught our flight to JFK.
We arrived in JFK and took the AirTrain and Subway to the Maritime Hotel in Chelsea. We dropped off our bags (we only each had one backpack because our cheap plane tickets didn't include a carry on piece of luggage) and then walked across the street to Chelsea Market to get some dinner.
Chelsea Market was mainly closed for the night, with only a few restaurants still open, so we walked over to Artichoke Pizza and shared three slices, then went back to our room, got in our pajamas and watched about half of a movie together before we went to sleep.
FRIDAY: 
We got up around 8:45 (which was 6:45 our time), got ready, grabbed a little free breakfast in the lobby and then headed out.
We took the subway up to 5th Avenue and Ella was in heaven checking out all the stores, especially the Lindt store where we bought some unusual flavors of Lindor Balls (the Mango & Cream one was by far the best). We also popped into Tiffany's.
Ella's #1 wish for our New York City trip was to visit the zoo. I knew the Bronx Zoo was bigger and much better, but I didn't want to spend our whole day at the zoo, so we opted for the Central Park Zoo and we were both DELIGHTED by how fun it was. The sea lions, especially, were so fun, but everything was well-designed and the weather was perfect and we had the best morning there.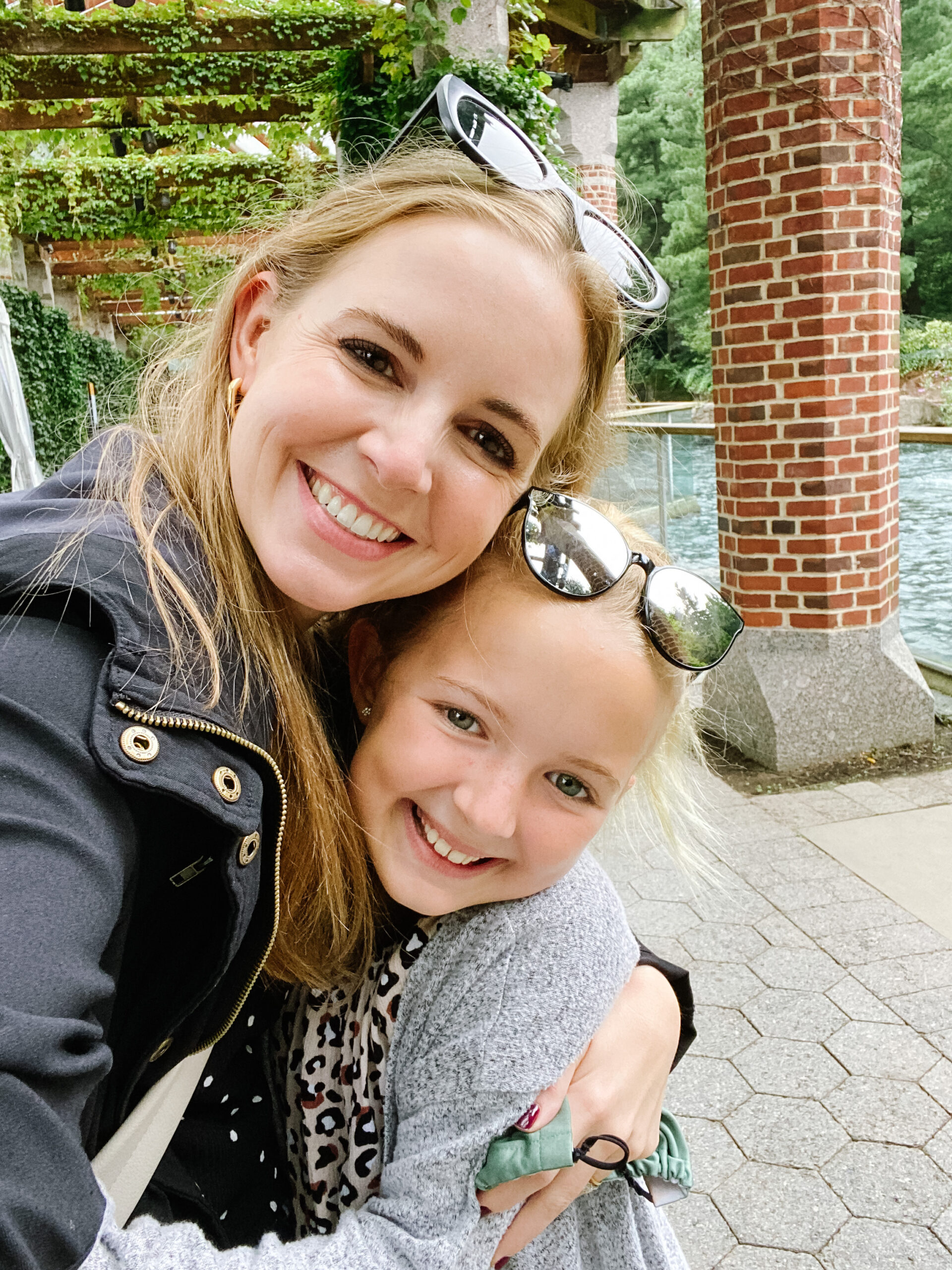 We'd planned to ride bikes through Central Park, but when we stopped at one of the Citi Bike stands, you had to be 16 to ride one, so we just walked across instead. Ella was thrilled by all the squirrels and birds, which was darling.
We went to lunch at Saravana Bhavan, a South Indian restaurant one of our friends who lived in NYC for nearly a decade had suggested, and it didn't disappoint (although we WAY over-ordered. We should have just split one dish!).
I'd checked my email while we were at the zoo and discovered that Ella's COVID test for Wicked that night had to be within 6 hours of the show (she'd taken one the day before we left, but I didn't realize the rapid test had to be less than 6 hours old). So we looked up a place a few blocks away, went in and got her tested, and were on our way in about 7 minutes.
By the time we'd walked back to the American Museum of Natural History, her results (negative) had already been emailed to us.
We spent several hours at the museum, especially in the newly-redone gems and minerals hall, then walked a few blocks to meet my brother's girlfriend at Milk Bar.
Ella was starting to feel pretty lousy (I think she was dehydrated), so while we waited, we popped into the bodega across the street and got her a water bottle and a smoothie, which had her feeling better within 15 minutes.
She was underwhelmed by the Cereal Milk Soft Serve (she said it was too salty), but I happily ate it all.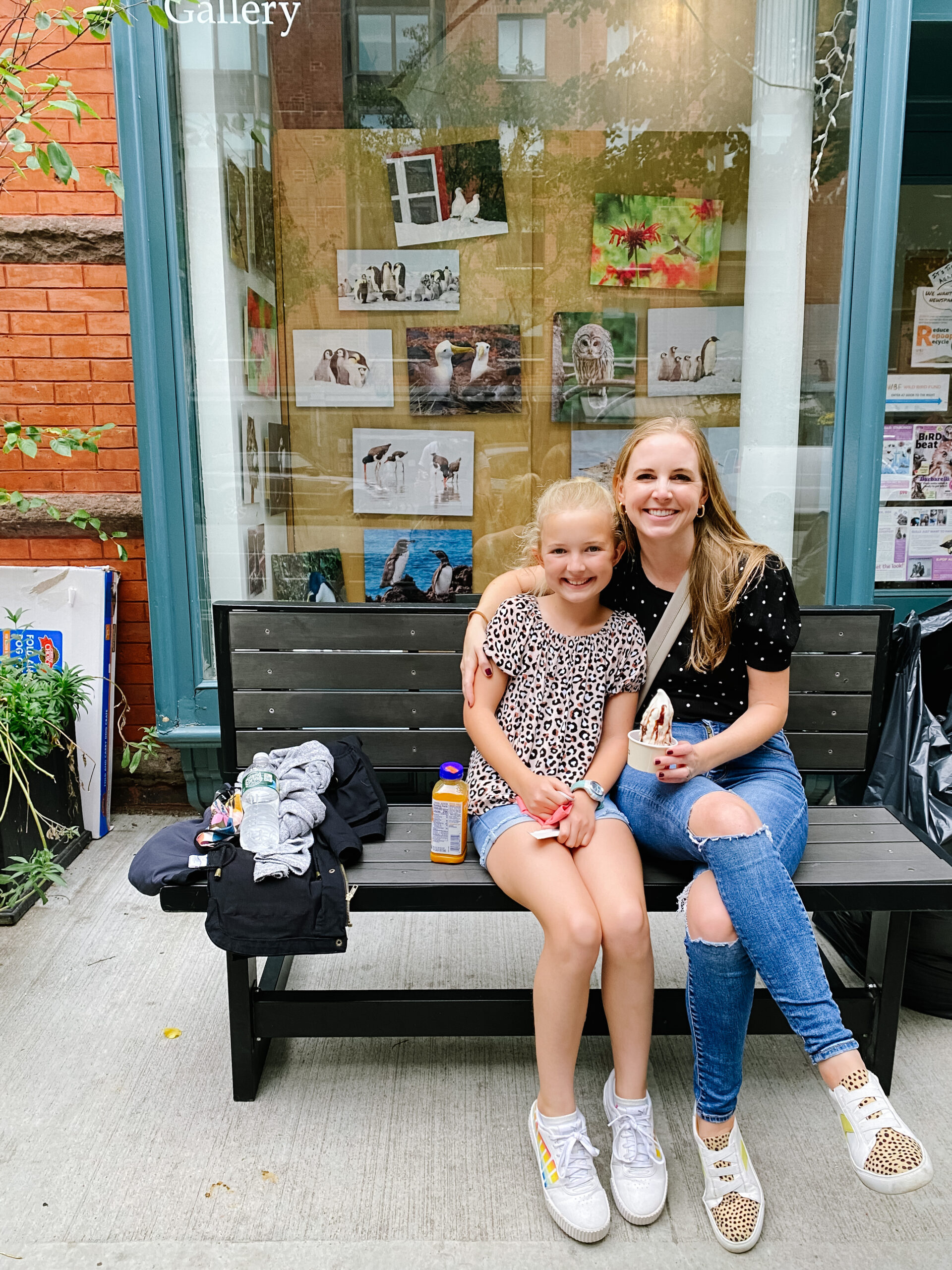 We headed back to our hotel for a quick break before Wicked and then changed and took the Subway up the Gershwin Theater.
The show was FABULOUS (Bart and I had seen it in 2005 in Chicago and it was so fun to see it again!) and when it was over, Ella was starving and asked if she could have a burger. There was a Shake Shack about two blocks away that didn't close for another ten minutes, so we sprinted over just to be turned away at the door, several minutes before it closed.
Google suggested Lucky's Famous Burgers, so we walked down there and Ella enjoyed a chicken sandwich and milkshake (which I helped her with).
We were a solid 30+ blocks from our hotel, so we walked to the nearest subway station and then, after waiting about 10 minutes, the station announced that there would be no trains for the next 30 minutes.
So. . .we walked 26 more blocks back to our hotel, arriving just before 1 a.m. We were both EXHAUSTED (my phone said we'd walked 30,000 steps that day).
SATURDAY:
We woke up around 9 a.m., got ready and grabbed some breakfast and then headed down to the 9/11 Memorial. It was a beautiful, sunny day (Friday was overcast all day), and there were a lot of people there, but the mood was very quiet and reflective.
It was close to lunchtime, so we took the subway up to SoHo and had lunch at Dominique Ansel, including the most insanely good Salted Caramel Peanut Butter tart. We also bought a chocolate chip cookie to go.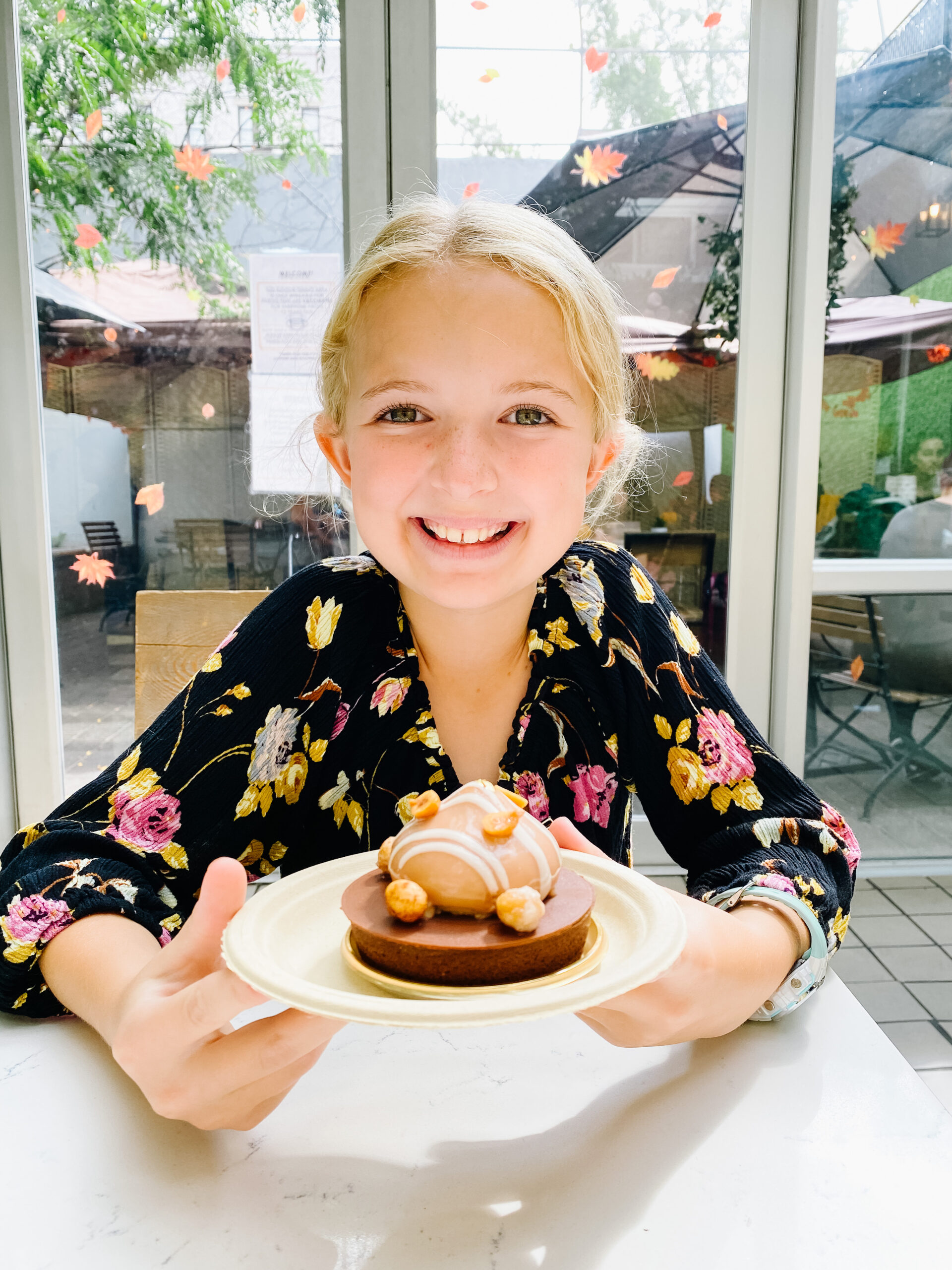 We walked down to Chinatown where Ella was thrilled to be able to read so many of the signs and talk with some of the street vendors, then we went to a Chinese grocery store where she found all her favorite treats that her Chinese teachers in the immersion program have introduced her to and we bought a little stash to bring back for her sisters.
We took the subway back to our hotel, took off our shoes and watched the rest of our movie while eating the Dominique Ansel cookie. Ella declared it the best food she'd eaten on the trip.
After that little break, we walked over to the Highline (due to Covid, you have to get a free timed ticket on the weekends, so I grabbed two online and we walked up to one of the few entrances they have open).
We got off the Highline at Hudson Yards and Ella got a street pretzel, which she'd been dying to try.
Turns out. . . she wasn't much of a fan (I can't blame her – they aren't my favorite either).
We took the subway a few stops to visit FAO Schwartz, which was one of the other major things on Ella's NYC bucketlist, then stopped in Anthropologie and the American Girl store.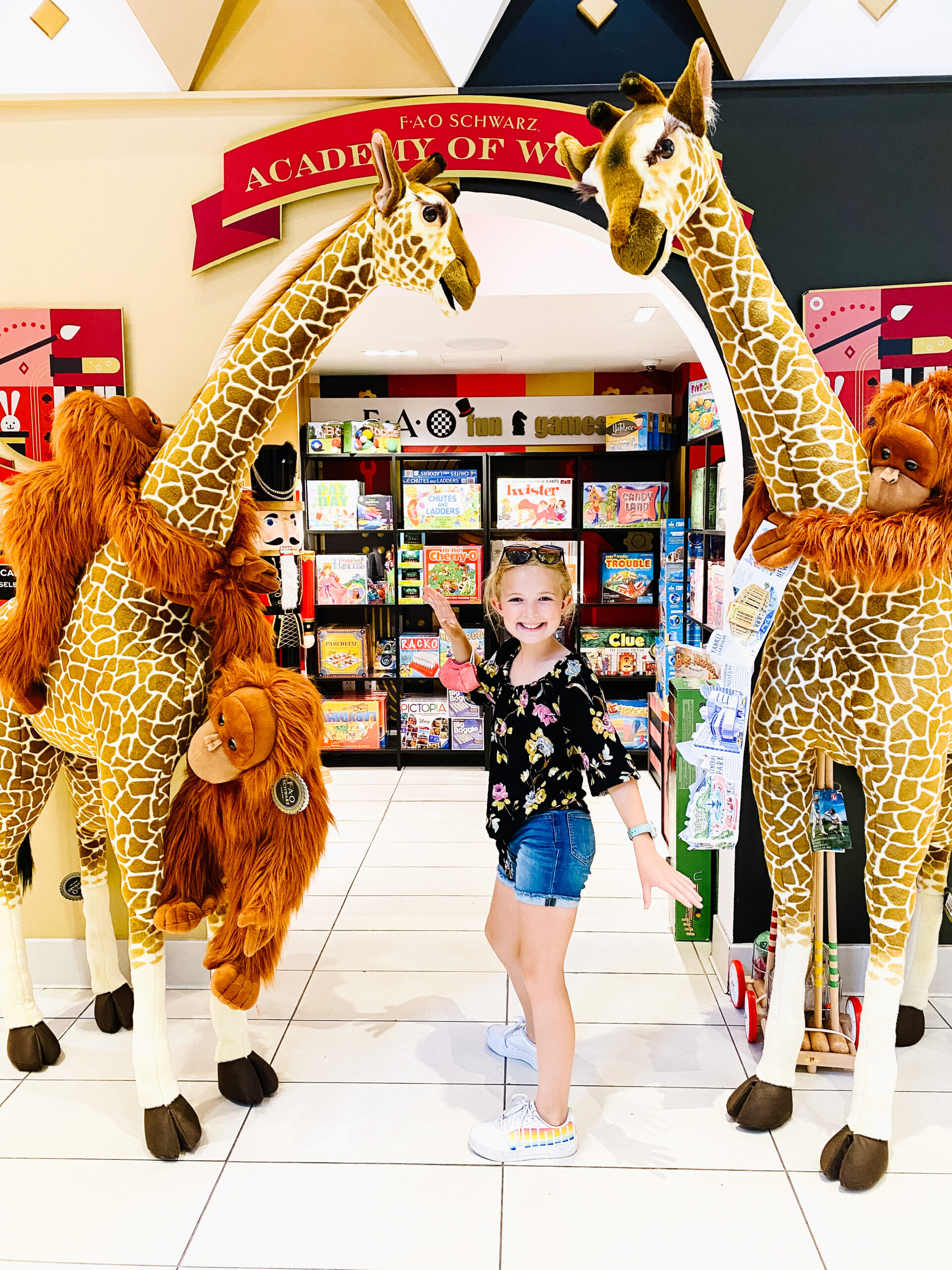 We'd planned to go the Empire State Building that night, but Ella was just absolutely exhausted and ready to be done.
We headed back to our hotel, and as we got close, my brother and his girlfriend texted to say they were available and did we want to meet for dinner? Yes. We did.
We met them at Chelsea Market and had dinner at Los Tacos No. 1 which was SO good (the horchata was especially epic) and then went around the corner to finish off with some ice cream at Ample Hills Creamery. Ella noticed the option to order a flight of 6 flavors which was cheaper than two kids cones, so we split that – the best flavors were the mango (Ella's favorite), the Baked/Unbaked (my favorite), and the Lemon Poppyseed.
We walked back around the block to our hotel, said goodnight to Crawford and Bailey and then watched about 45 minutes of a movie until I couldn't keep my eyes open anymore (plus I knew we had an early flight back to Salt Lake City the next morning!).
It was basically a dream trip – perfect weather, lots to see, delicious food, and so much great time with Ella.
And Bart made it super fun at home with the other girls. They went bowling, had a movie night with cousins, made ice cream sundaes and went to see a big dance performance.
Now the pressure is on for me to make it fun at home when Bart takes Ella on her next trip in two years!
(P.S. If you want other ideas for things to do in NYC with kids, check out this post!)
If you liked this post about our trip to NYC with Kids, you might like these posts too: