I mentioned last month on Instagram that I'm not much of worrier and that over the past 20 years, I've worked hard to NOT have worry be a part of my life.
After those stories, I got a slew of questions about what I've done to keep worry at bay.
I didn't really intent to write a whole post about it, but as I was thinking about my response, I realized I had more to say about it than could fit in a couple of Instagram Story slides.
Both of my parents grew up with a parent that was quite a worrier and so they were always quick to say how they did NOT want to be worriers like that.
That attitude of choosing to be a non-worrier was ingrained in me from a young age, and although I think my personality could easily go toward being a worrier (and I remember a lot more worrying when I was younger), I'm glad that – overall – worrying is not a huge part of my life now.
Like virtually everything, you get better at something the more you work at it.
And it's really gratifying for me to look back and see how much better I've gotten at not worrying over the past twenty years.
Of course, all of this needs a fun disclaimer that I'm not a medical professional and these tips won't work for everyone and they're just things that work for ME and therapy and medication are important tools for many people, etc.
Proceed at your own disclaimed risk.
My 7 Strategies for How to Stop Worrying
Get enough sleep. This is the absolute foundation for me (not just about worry – for basically every aspect of my life). I do not believe in burning the midnight oil or sacrificing my sleep to get things done. I try really hard for 8 hours a night or at least 7.5. I can absolutely tell how much my mental health suffers when I don't get enough sleep and so I put a massive priority on getting enough sleep virtually every night. When I was growing up, my mom used to say "Everything seems worse at night." And I feel the same way now – "everything seems worse when you're tired."
Turn off your phone. You've probably seen all those studies about how the more time kids and teens spend on social media, the more anxiety they have. Spoiler: it's not just kids and teens. Especially during ultra-stressful times (like the kind we're all living through this year), I definitely find that more time on my phone makes me more and more anxious and tightly-wound. Turn it off, put it out of sight and stay in the real world for a little bit. (I mentioned the Forest app here and I find it VERY useful).
Set space for worrying. Sometimes you just need some time to worry. Instead of letting it fill up my brain all day, I'll put aside 10 minutes to just lie on my bed and stew about it. Then, when that time is up, I'll move on with my day and as those worries start to come back up, I'll remind myself that tomorrow or later that day or whenever, I'll give myself space to worry about things, but now is not that moment.
Make the positive argument. I learned this from Gretchen Rubin – it's easy for your brain to bring up all the examples of the bad stuff and the times things have gone terribly wrong or been horrible. Train your brain to look for the good examples too. She was talking about relationships (don't just think of all the annoying things your spouse has done – force your self to remember that they also did the dishes while you slept in or brought home flowers or made a phone call you'd been dreading) but I think it applies to worries too. If I'm worried about Ani's school teacher who is a new teacher, I remind myself of all the amazing teachers I've worked with who were first year teachers and how every phenomenal teacher started somewhere. Reminding myself that things almost always work out okay is really helpful for me.
Say out loud (or write down) all the things that are worrying you. I've noticed this when I feel overwhelmed with things to do that if I write down all the things I actually need to accomplish, it feels much less overwhelming. I can see exactly what needs to be done and make a plan for it. Similarly, if I say out loud or write down the things I'm worrying about, it goes from being this big nebulous cloud of worry over my head to a manageable, less all-consuming list of things I'm actually concerned about.
Reroute your worrying energy into something else. When I get caught up in a hamster-wheel of worrying, doing something physical can really help me turn off that jittery overwhelmed feeling. I'll take the girls for a walk or I'll unload the dishwasher or vacuum or go get the mail. Just a tiny bit of productivity or movement can often help pop me out of that worrying cycle.
Label yourself as not a worrier. Now that I've said this, you'll notice that I do this ALL the time both online and in my real life. I frequently say out loud "I'm just not much of a worrier" or something along those lines. It helps remind me and set my self-image as a non-worrier. My dad is a BIG believer in the power of words and I feel the same way. The more I tell myself and others that I'm not really a worrier, the stronger that identity and belief grows for me. On the flip side, the more you say "I'm just such a worrier" or "I can't stop worrying about things," the stronger that belief that you're a worrier to the core becomes.
Any other tips for how to stop worrying? I'd love to hear – please leave your suggestions in the comments!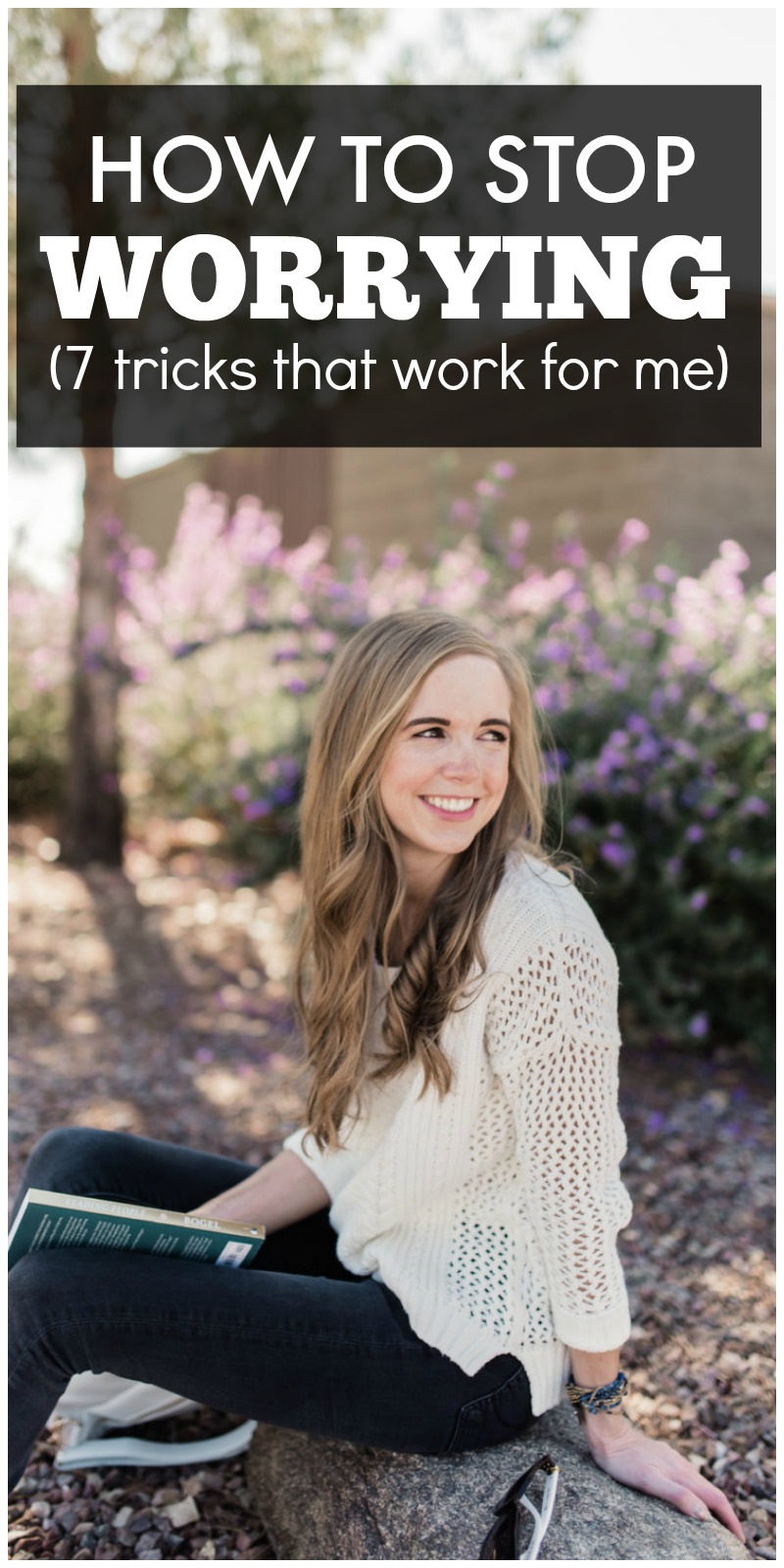 If you liked this post about how to stop worrying, you might like these posts too: