This post is in partnership in Living Spaces
I feel like, after two years of our basement just being something I had to not think about too much, we've made enormous progress over the past three months.
This bedroom was actually the best room downstairs when we moved in.
Here's what it looked like with the previous owners.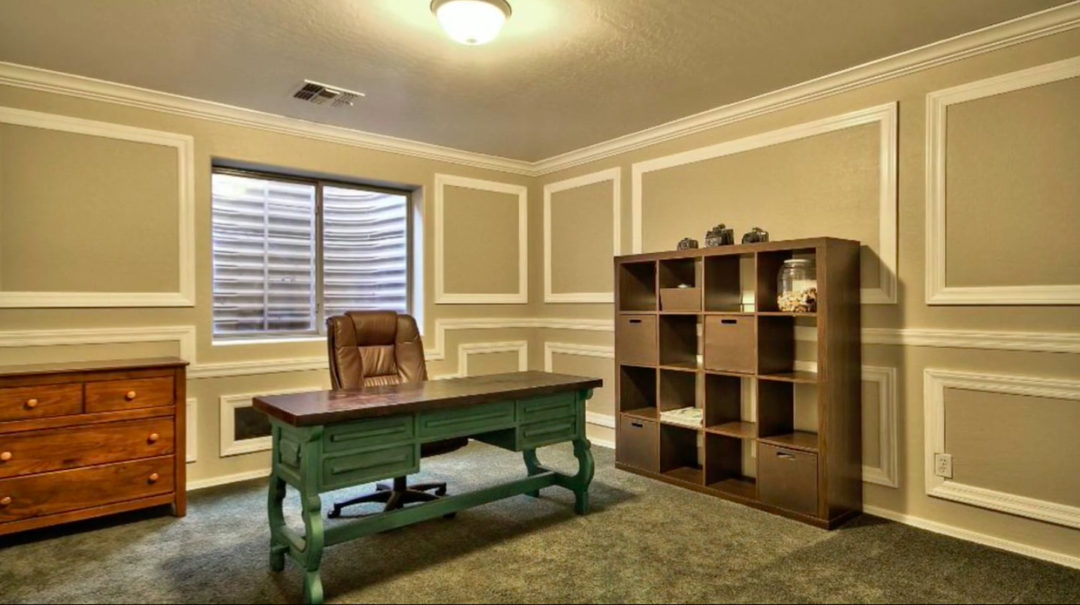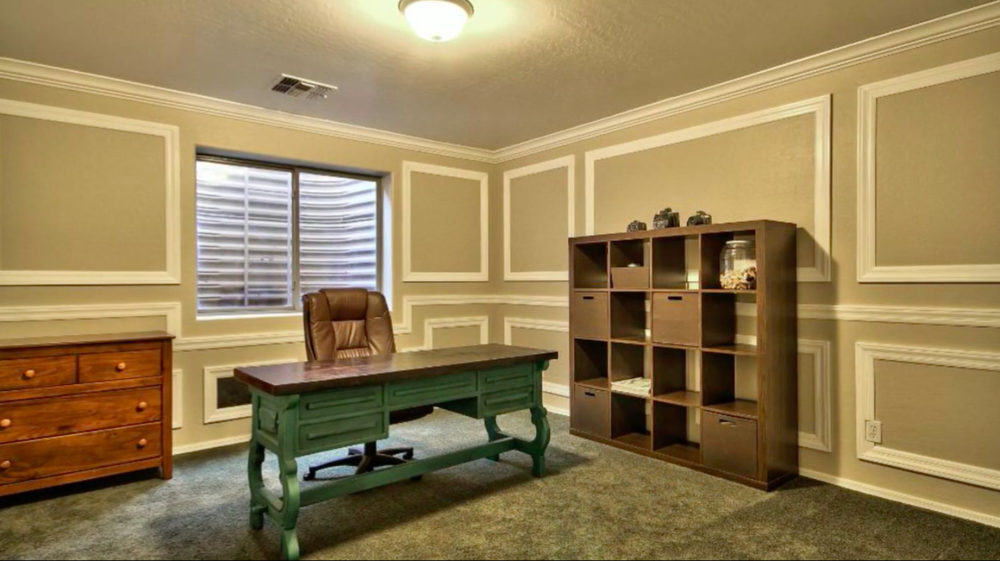 We set up an old bed frame we had, Bart put his desk in a corner, and it was a perfectly fine guest room and office.
Then, a few months after Tally was born, we changed Ani's upstairs room into a nursery and moved Ani down into the guest room.
She's in a fairly messy stage of life right now (I remember this with Ella and Star is just starting to move into that phase), so I wanted to keep this room pretty calm.
I'd noticed how much I LOVE being in Tally's nursery because it's not overly decorated. There isn't too much to move out of place, it's easy to clean up some toys or books, and having things hanging on the wall makes it feel finished, rather than just ignored.
So that was a guiding principle for me as I was decorating this room – simple, easy to keep clean, and finished.
Because of the trim the first owners installed, this room didn't need a lot of decoration. It also seemed like a massive pain to paint, so we hired painters to paint it (we used Sherwin-Williams Alabaster, like we've used in almost all our house) and it was miraculous to see it transform in about an hour. Those professional painters, man, they know what they're doing.
Once the new carpet when in, it was time to start decorating.
The previous bed frame was in pretty bad shape – it arrived damaged when we ordered it back in 2010 and then moving it across the country twice didn't help. Also, it was the MOST DIFFICULT BED EVER to assemble, and Bart swore he was never going to do it again.
It also was black wood, which felt really heavy and dark for a little girl bedroom. So I knew that needed to go.
Also, because it also is the first guest room (Ella's is the secondary guest room when we have more than one set of houseguests like we will next week), it was really important to me that Ani felt like it really was HER room, not just a guest room she slept in.
I definitely feel like I get to be the one decorating all the rooms in the house, but I wanted Ani to have some input.
One afternoon in October, I picked the girls up from school and we went over to our local Living Spaces store, and spent about an hour walking around and I told Ani to choose which beds she liked the best.
When she selected this one, I was delighted because it has a similar sort of feel to the bed in our master bedroom, which I LOVE, and I like that it echoes that and helps create some consistency in our home. Plus, it's a pretty classic look, so it's not something she'll grow out of in a few years.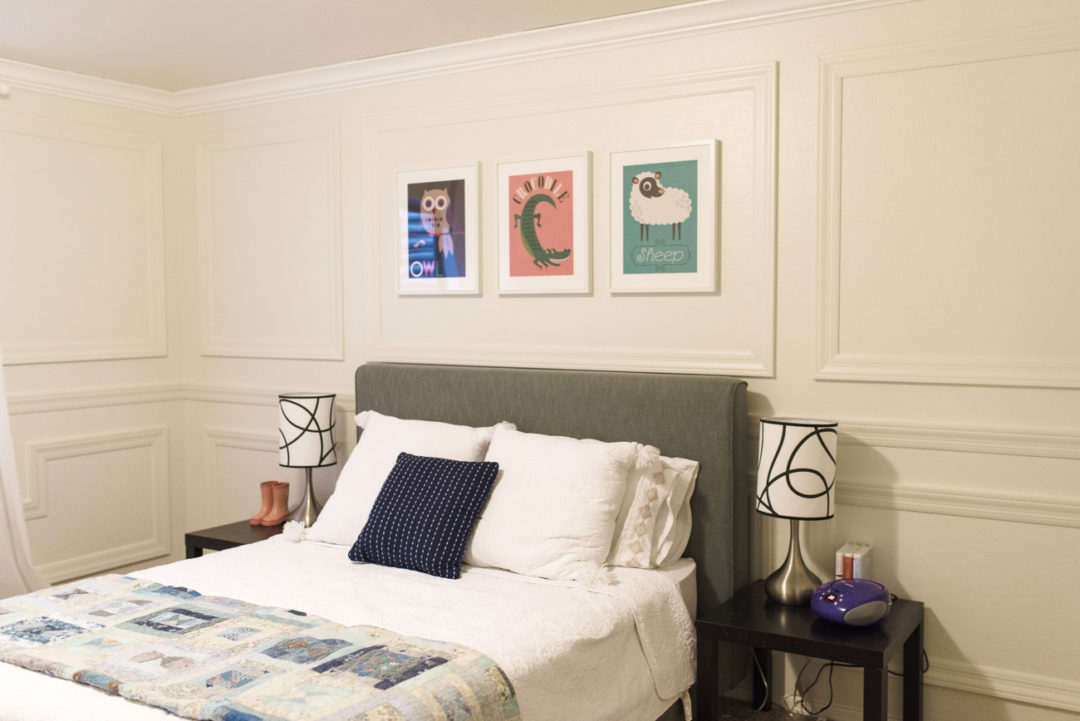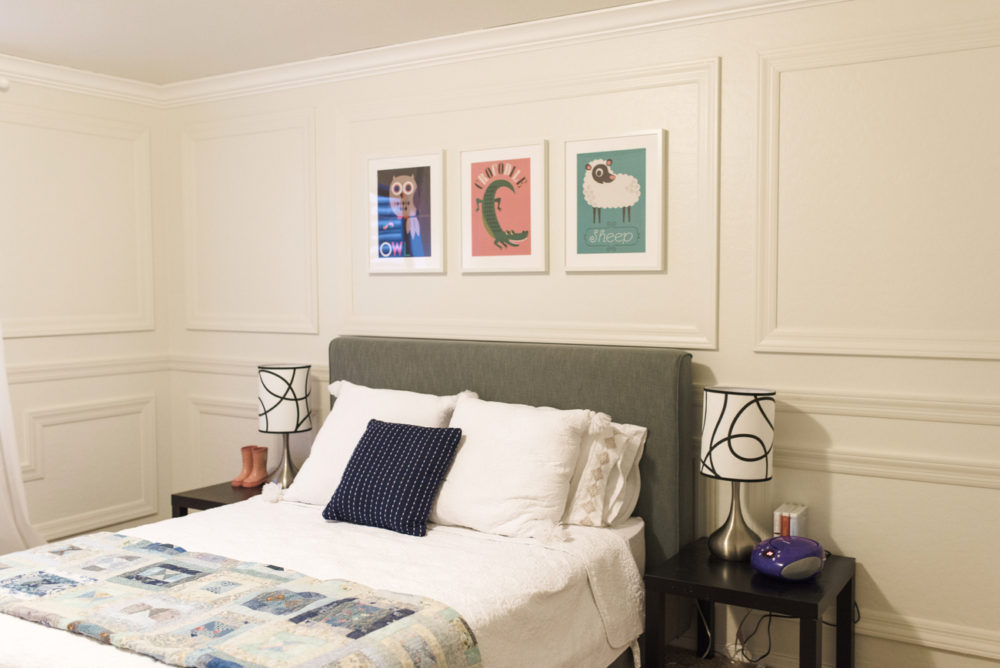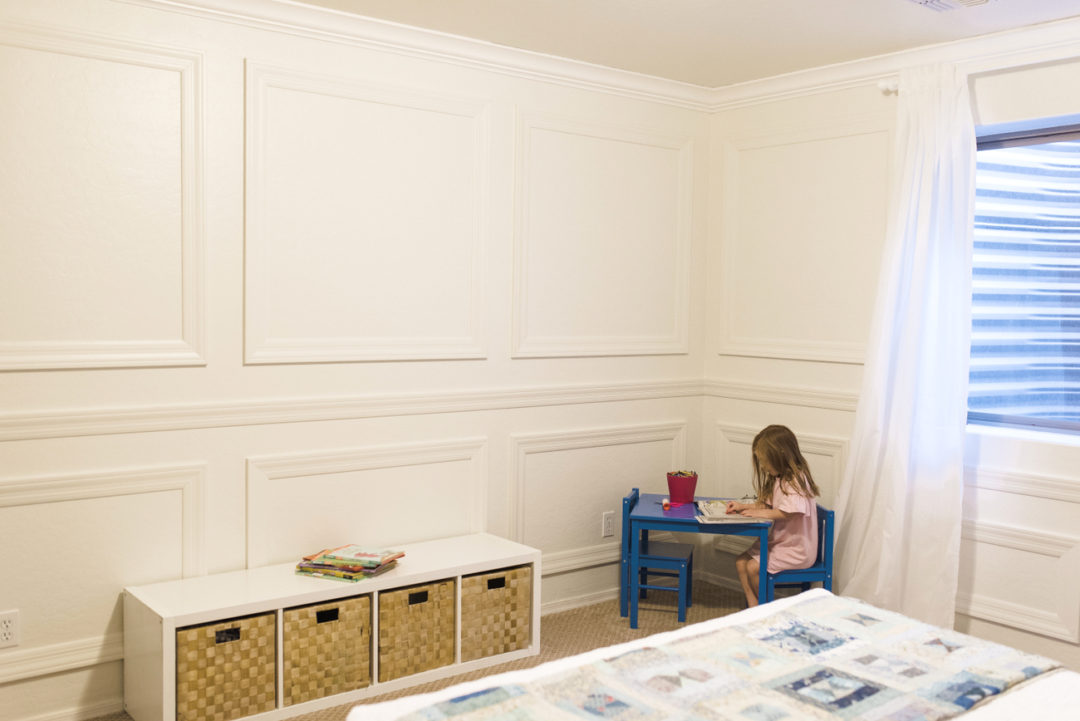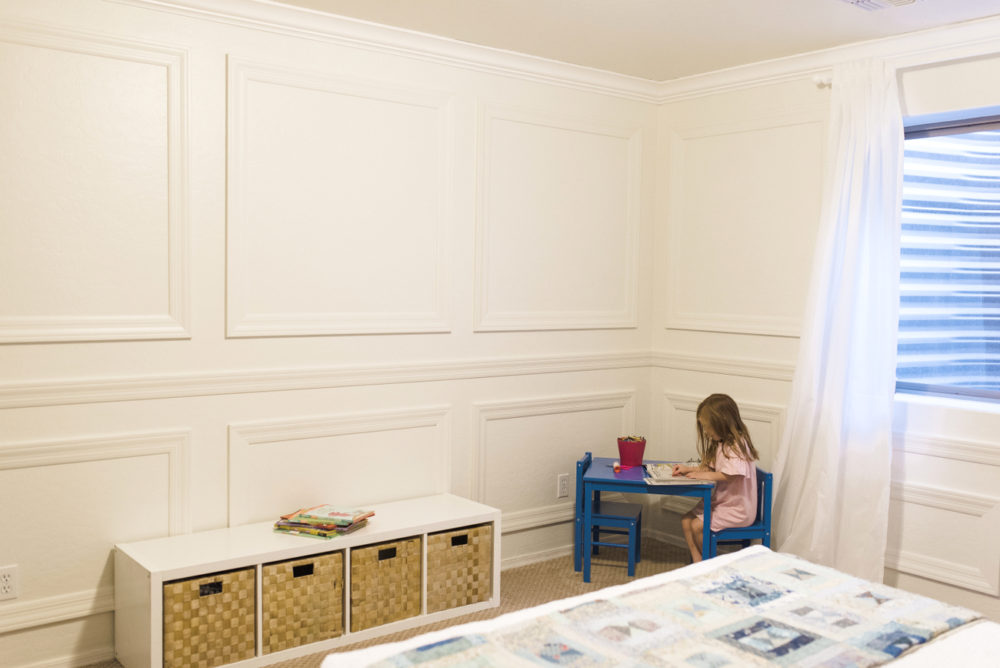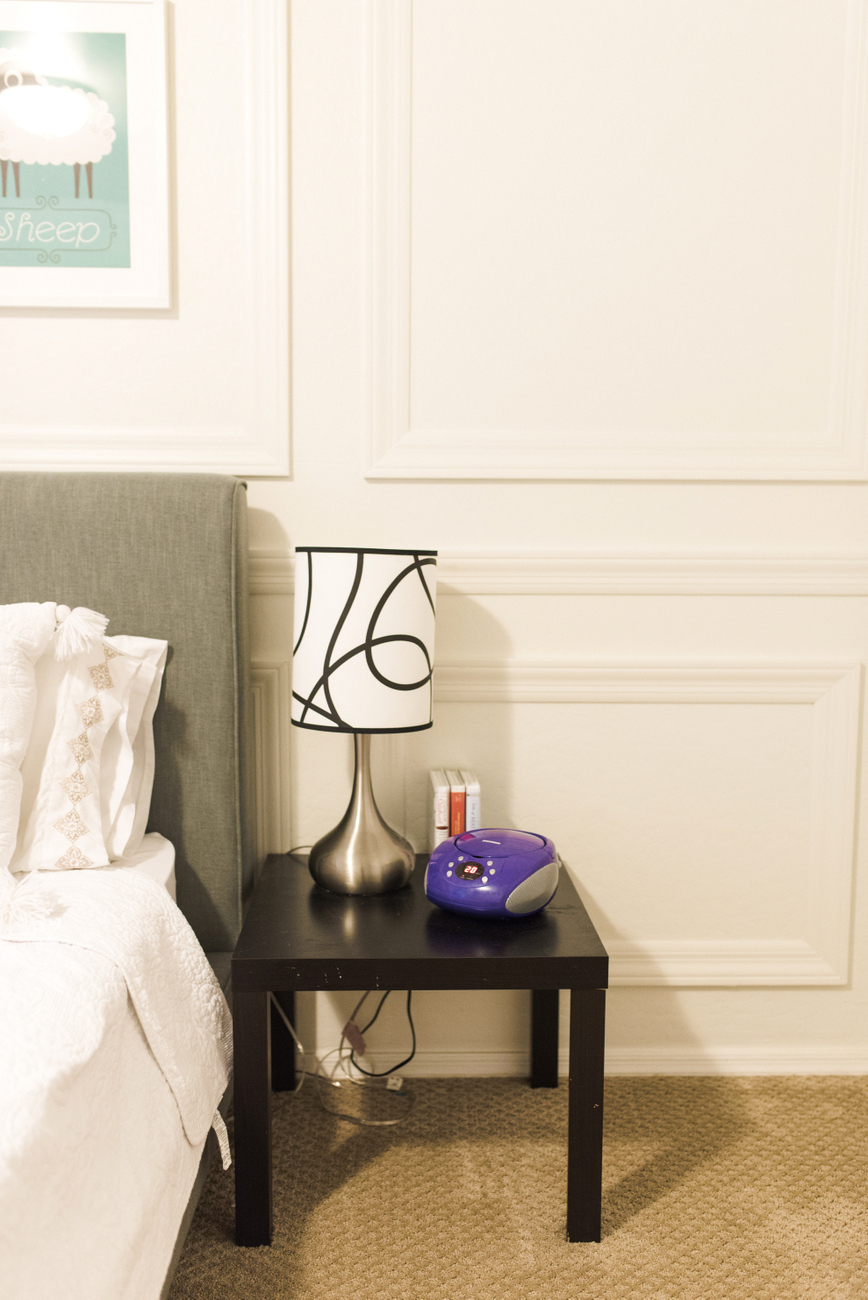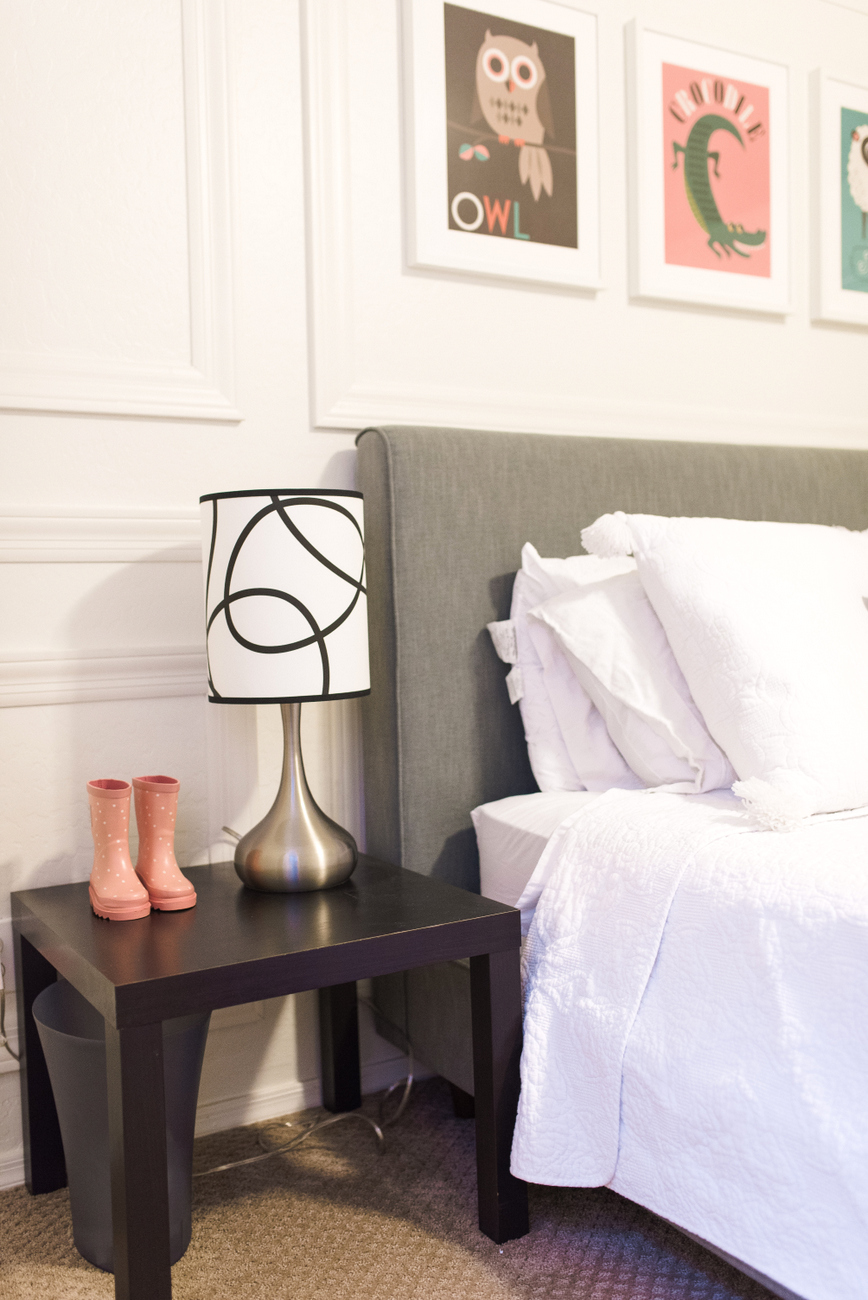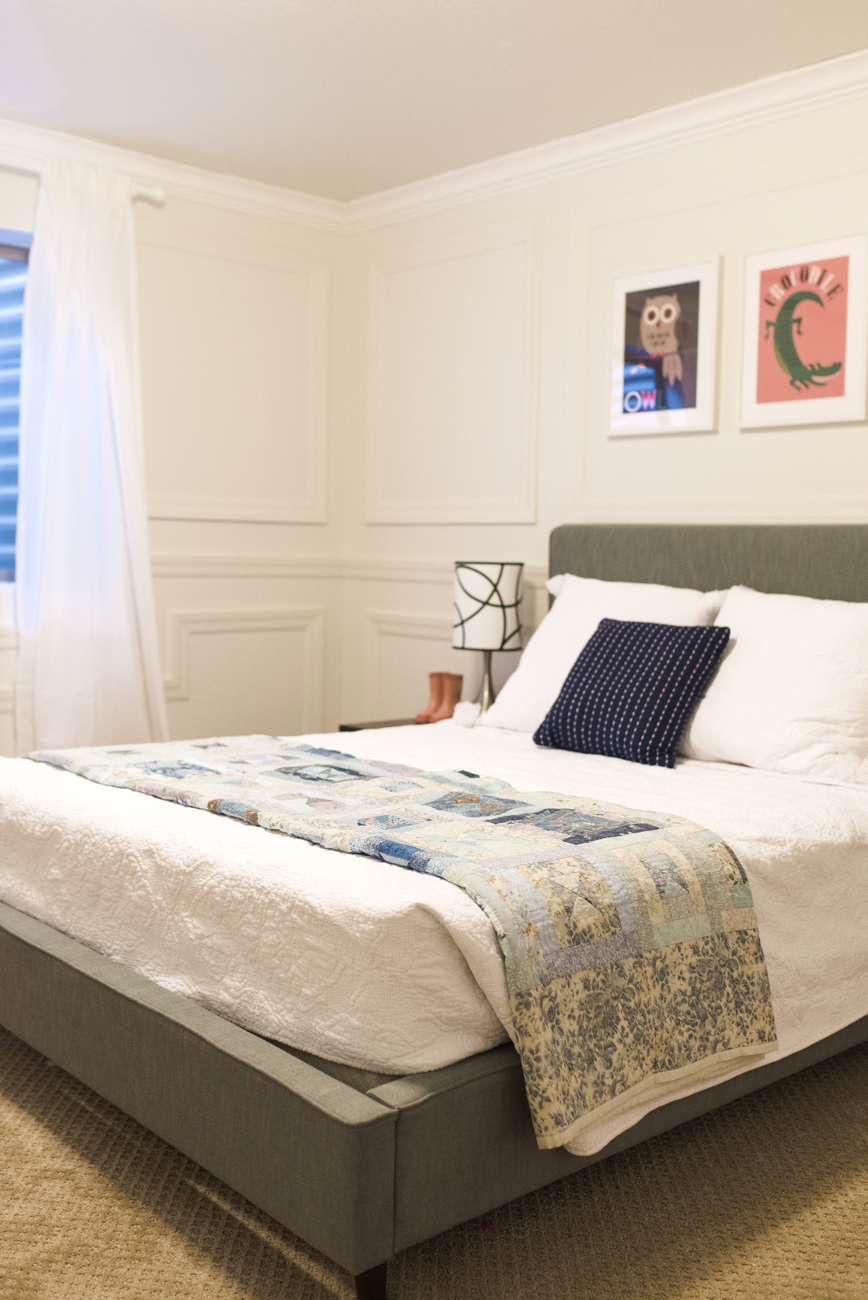 I've never bought accident protection for a piece of furniture before, but when the cashier explained the VIP protection plan (basically five years of coverage for ink, stains, damage, etc), I signed up on the spot.
Ani isn't destructive on purpose, but she's a total tinkerer. She loves to figure out how things work or take things apart.
I'll never forget when she was 2.5, she went into Ella's room while Ella was at kindergarten, and carefully cut the tags out of all of Ella's shirts hanging on the rod (and unbelievably managed to not cut the clothing at all).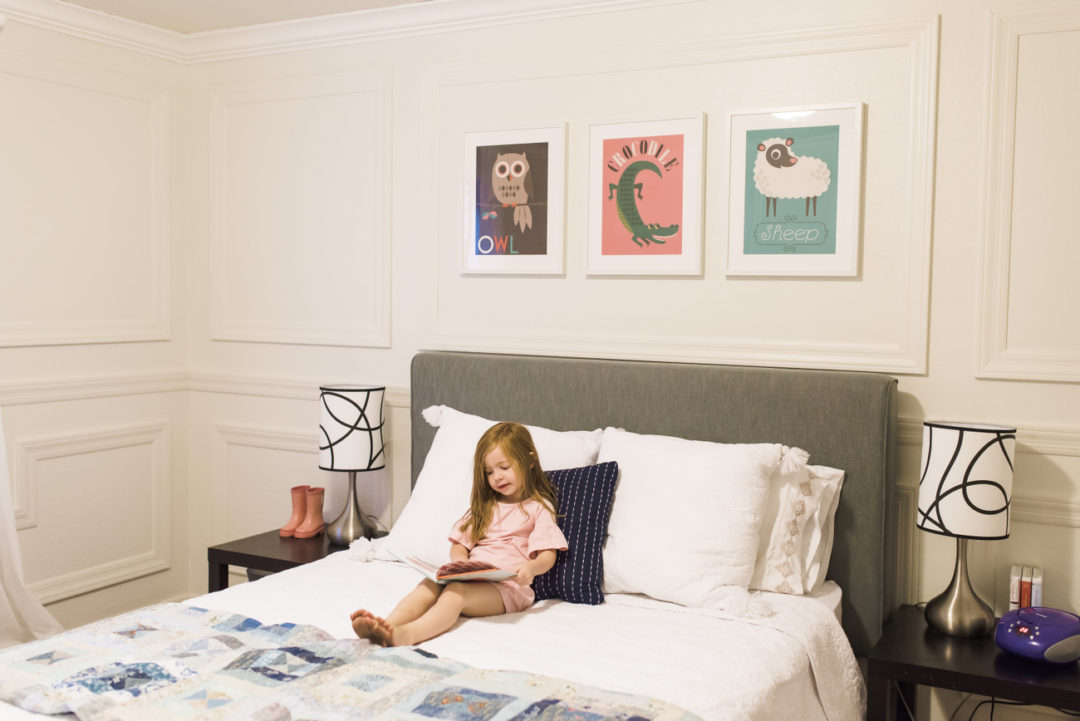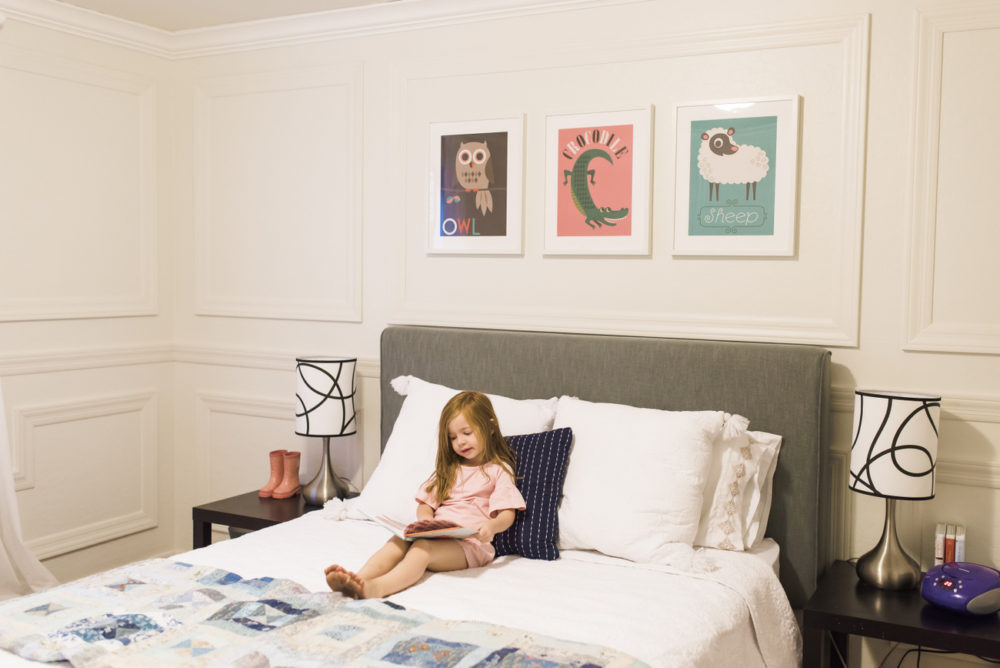 A few weeks ago, I went downstairs and found her pounding thumbtacks into the top of her dresser with a trophy she got from a dance recital last year, and when I asked her about it, she told me she wanted to see if the trophy would work as a hammer (sure did!).
So that VIP protection plan seemed like a good investment (it wasn't part of my partnership with Living Spaces – I just bought it because it wouldn't shock me ONE BIT to come down and find that she's decorated the headboard (but please, let that not happen).
The bed, of course, was the main piece, so once that was in, it was just the fun finishing touches.
I bought a new white quilt for her bed plus some pillows, and added this blue quilt my aunt made for me when I got married.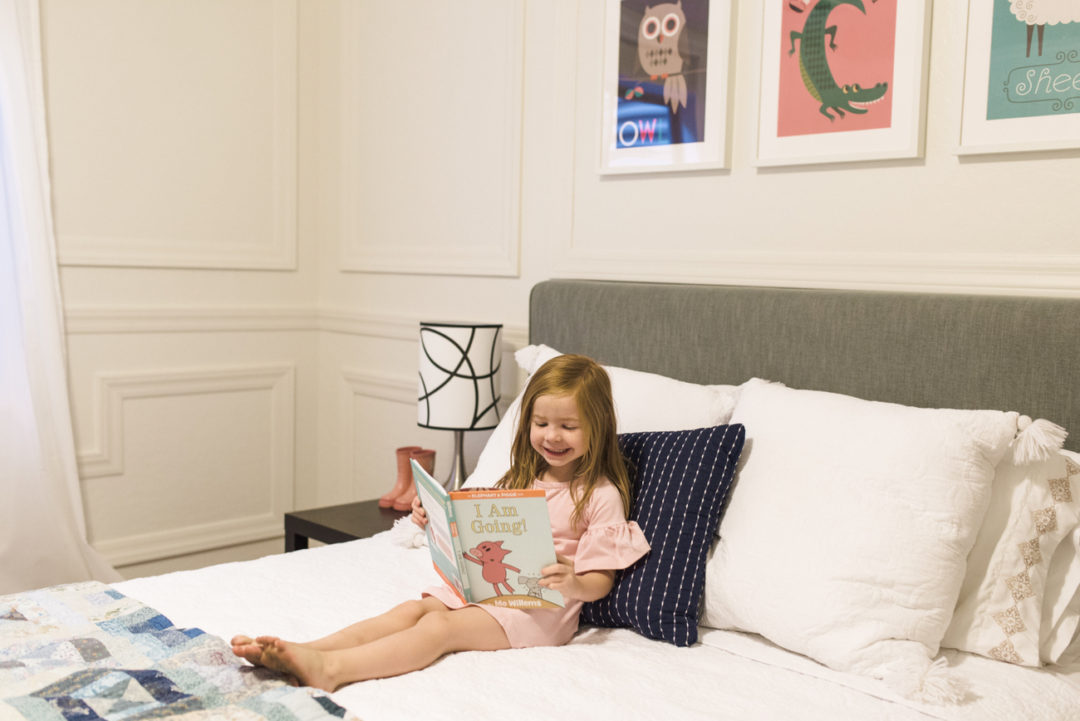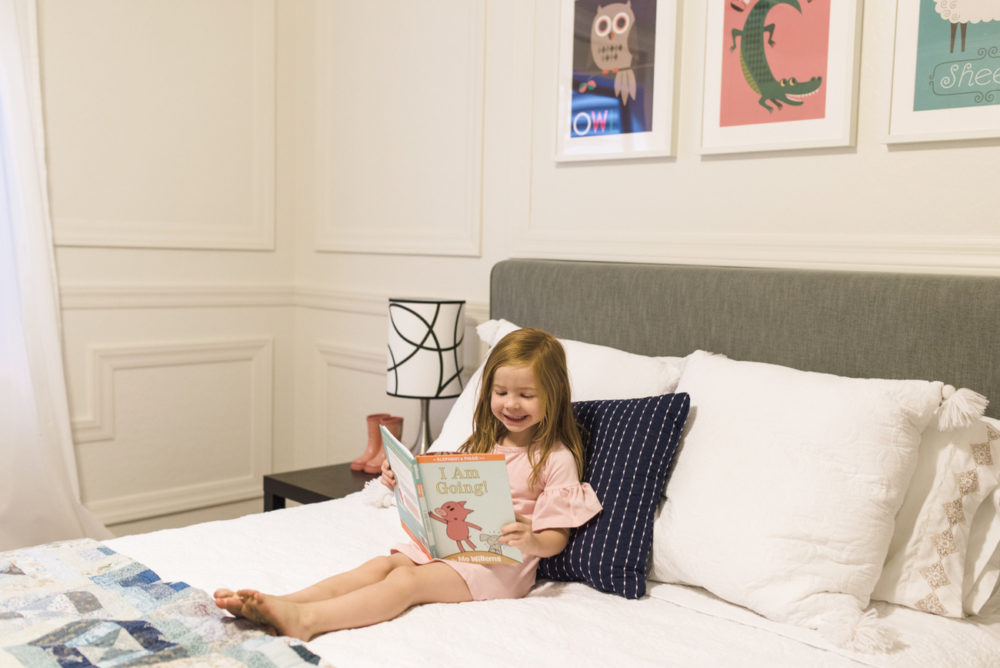 Bart hung some curtains (because it's a basement room and you can only see the window well from those rooms, the windows kind of look like prison cells if you don't have trim or curtains around them) and we set up her little table and chairs in the corner so she'd have a place to color or work on her many little projects.
The white bookshelf gives her another surface to work on, plus it acts as some seating for grown-ups or a place to set suitcases for guests.
And the baskets below make it super easy to clean up (how organized are the toys and art supplies in there? Not even a little).
The final thing was hanging these prints above the bed. They're from a book I got last year, and I used five of them in the play room, but Ani begged to choose her own, so I let her pick out three and I love how they look above her bed. They're fun and modern, but not so childish that it feels strange to have guests sleep in there.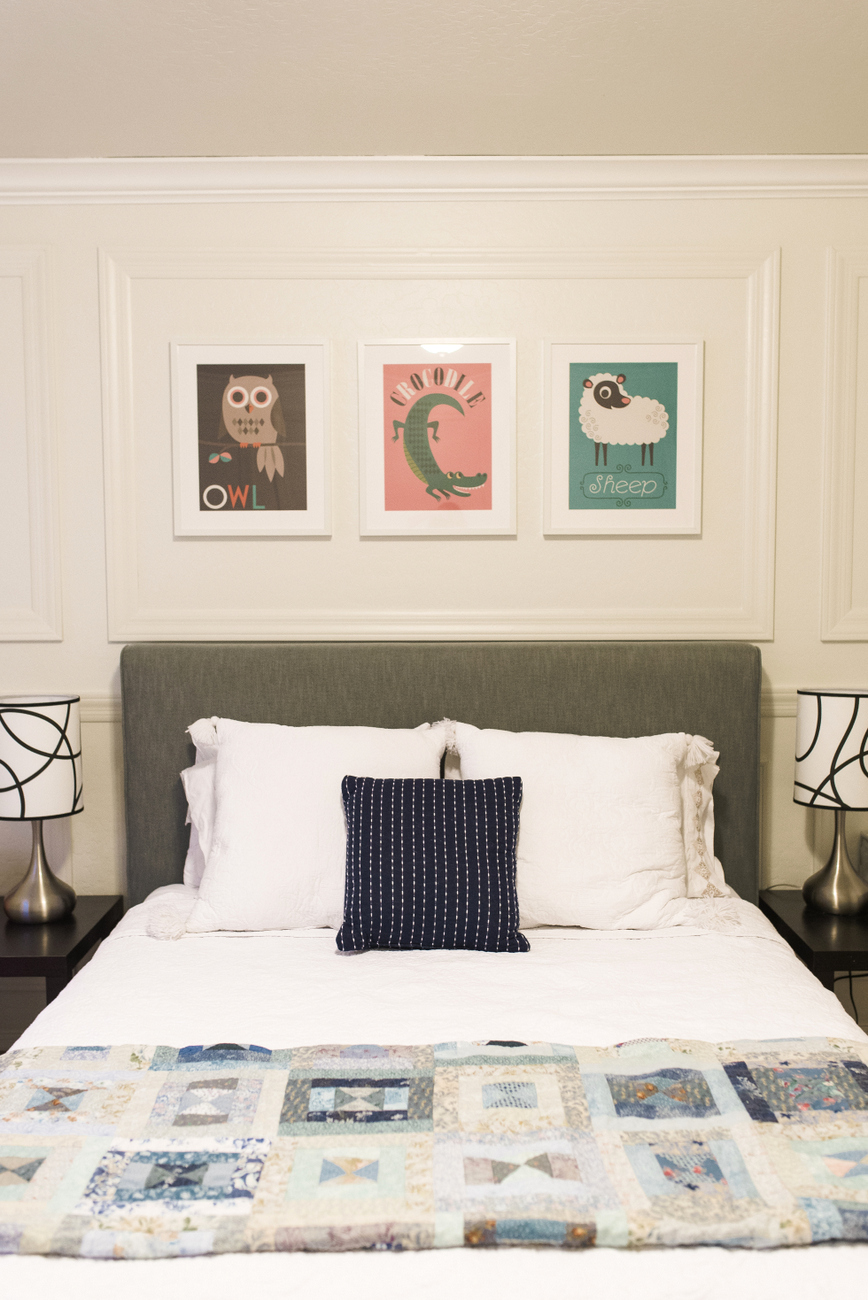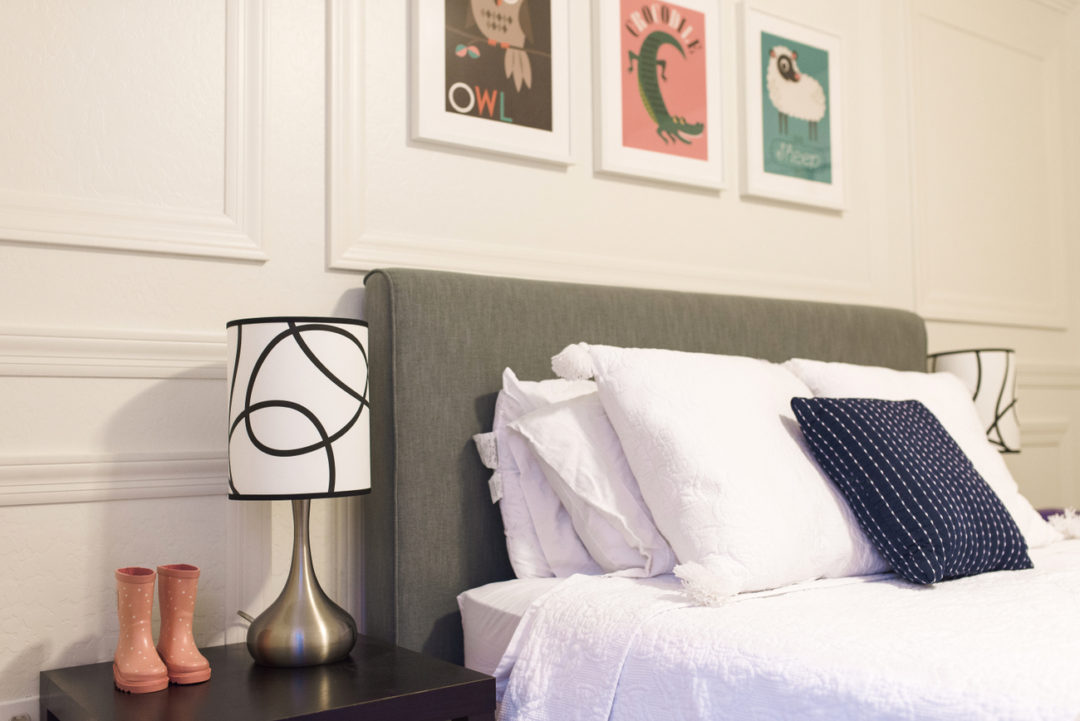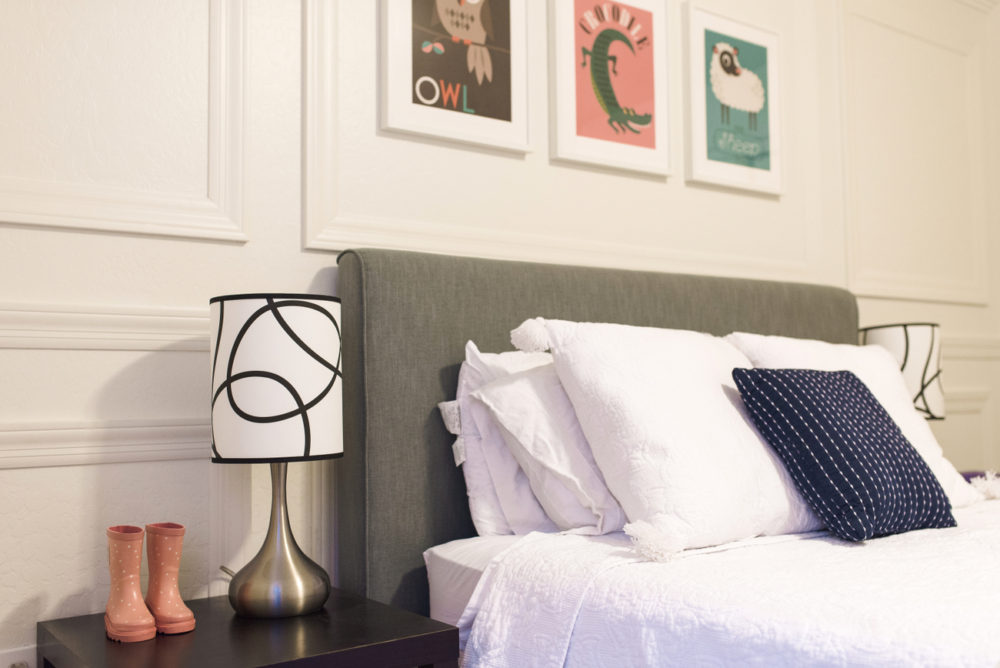 I did buy a sheepskin rug for this room, but I ended up taking it out because Ani usually has so many toys, craft supplies and books out that it just looked messy.
I'm still keeping an eye out for the perfect rug and eventually we may swap out the little table and chairs for an arm chair, as she grows out of that tiny table, but until then, I feel really happy with how this sweet little room turned out.
Also, We end up reading in there most nights and I love the cozy glow from the lamps and snuggling on the the comfortable bed.
And then Ani sleeps the whole night with her lights on because when you're four, that's what you do.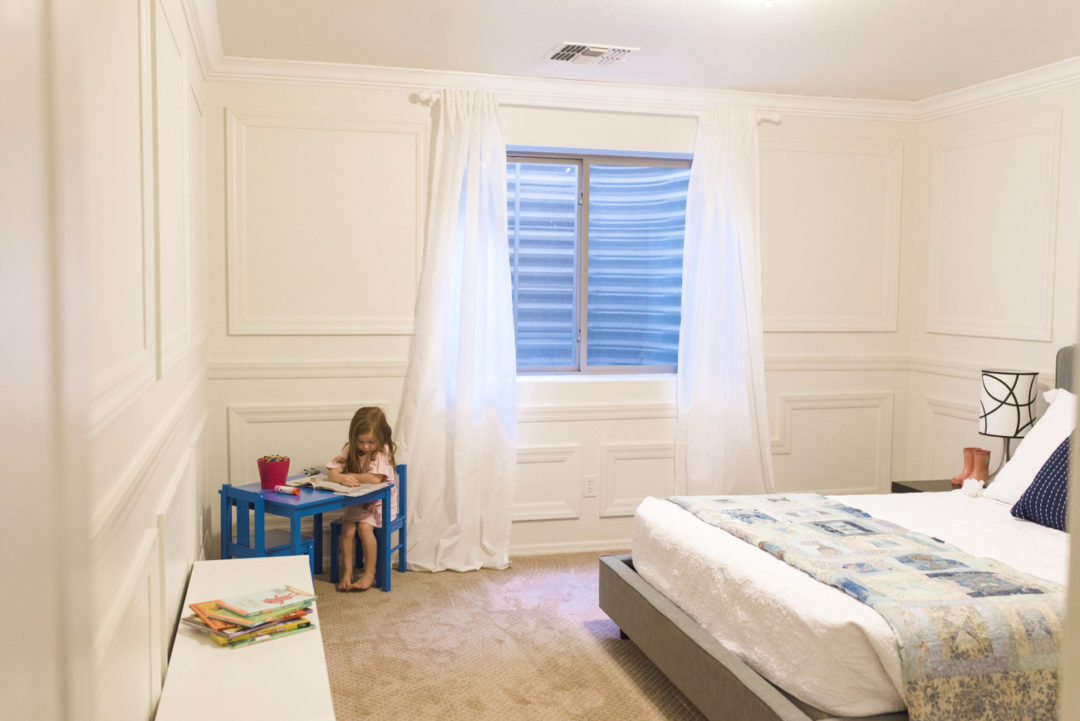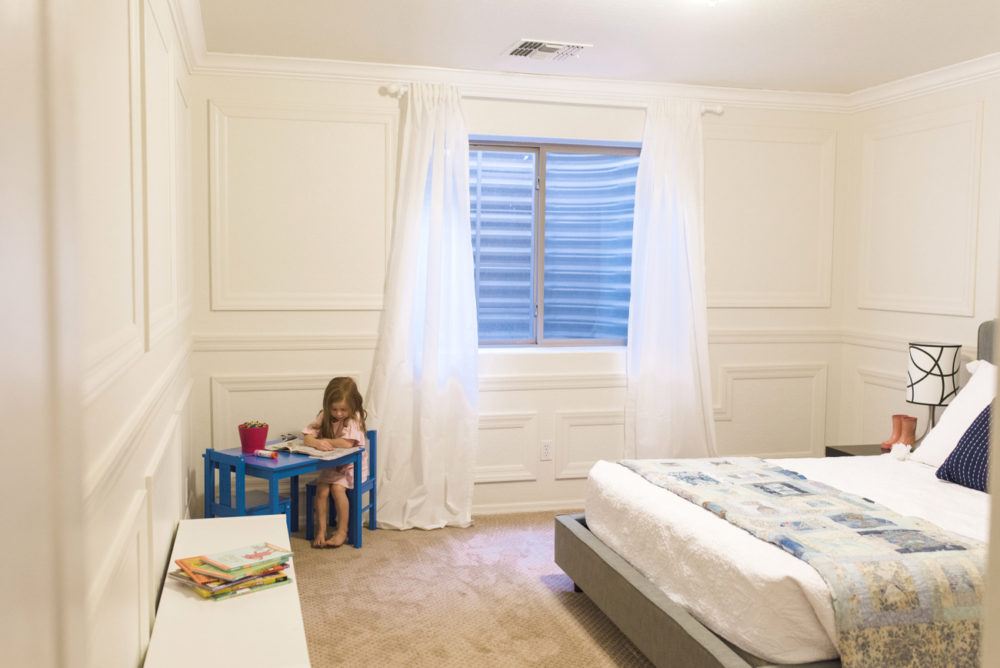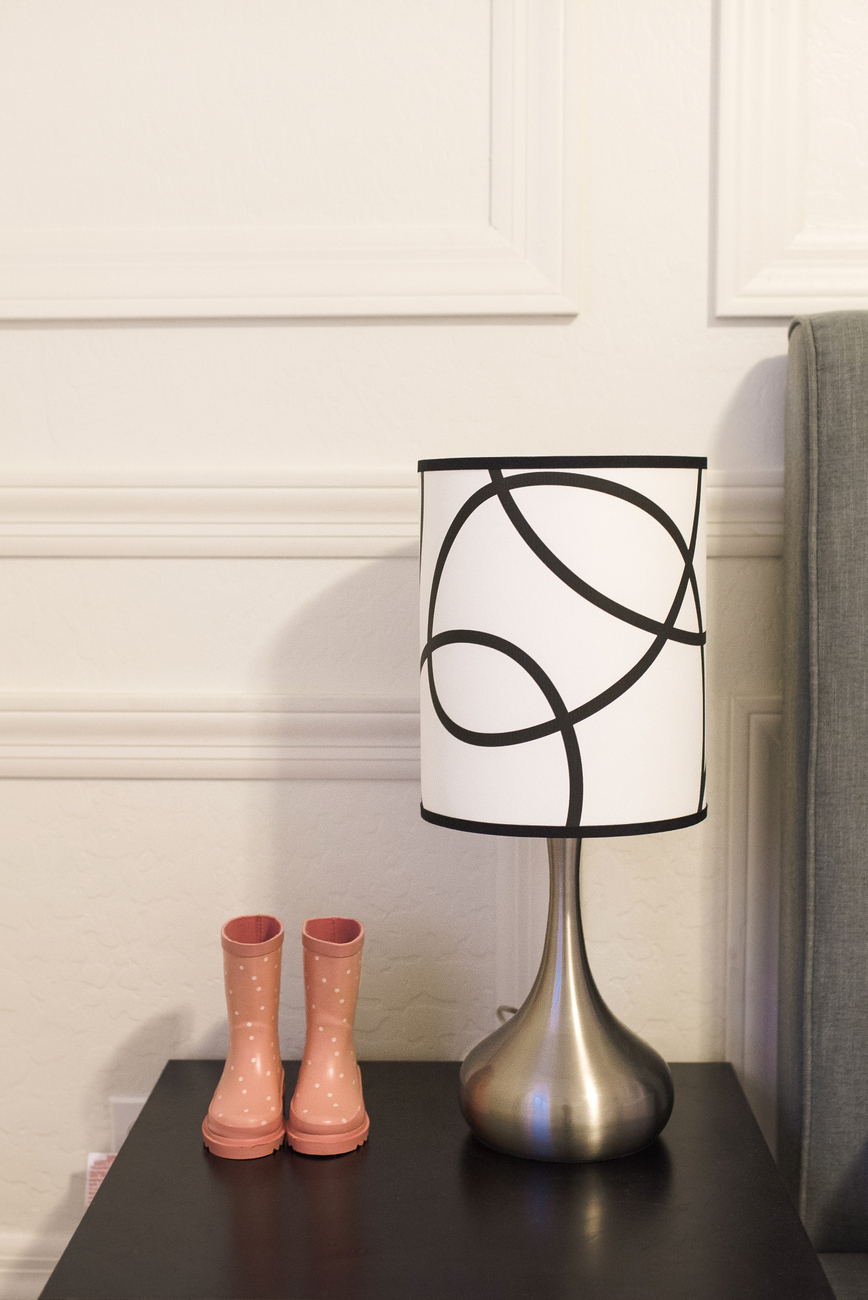 Photos by Christie Knight Photography