We went to the pool for a group swimming activity about a month ago and it was extremely overcast (and had rained earlier) and we were coming straight from the library, so I just brought along Ella's suit and rolled my pants up a bit and dipped my feet in the water.
One of the other moms said to me, "Do you really wear jeans all summer long?"
I said, "No, of course not. It just wasn't that hot this morning, blah, blah, blah." And then I stopped and said, "Actually, that's a lie. I do wear jeans all summer long."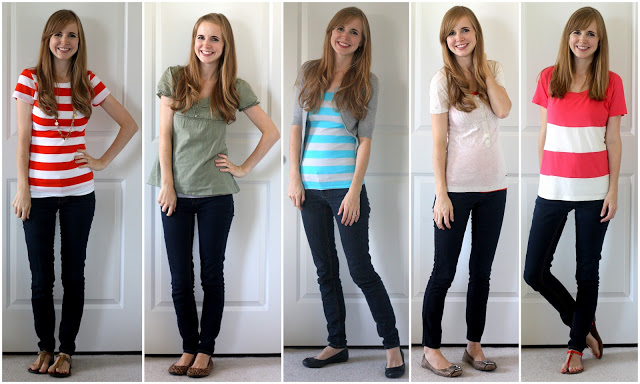 And, these pictures were taken over the last six weeks, so, no, I'm not nearly as tiny anymore as I was in some of these pictures, particularly that far left one. Oh, those good old days.
Also, hey, I got my haircut! It kind of looks a little Cleopatra-ish in that far right photo. Less so now that I'm in the swing of doing it now. In fact, I think I've successfully managed to make my hair look identical to my old hair except a little shorter. I am an expert at a single hairstyle – cut it any way you'd like! It'll just end up looking exactly the same. I like to think of that as my superpower (my husband would say that is the lamest superpower he's ever heard of. He would not be wrong).
From left to right:
Shirt: Old Navy, Tank: Old Navy, Jeans: Ross, Sandals: Old Navy, Necklace: Landen's
Shirt: Borrowed from Landen, Jeans: Ross, Shoes: Kohl's
Tank: Old Navy, Sweater: Downeast Basics (from Ralphie), Jeans: Ross, Shoes: Payless
Top: Hollister, Tank: Old Navy, Jeans: Forever 21, Shoes: Fossil
Top: Forever 21, Jeans: Ross, Shoes: Target
***********************************************
Disney Baby Posts This Week: