Once upon a time, I had a little baby named Ella (of course, her name wasn't really Ella, but that's not the point of this story).
My fabulous friend Kristen offered to bring over dinner the day we got back from the hospital, and of course we accepted. And this was after she'd brought us the world's very best cupcakes in the hospital. She is an excellent friend.
When she showed up with dinner, though, Bart and I were both a bit dismayed to see that she'd made lasagna. Neither of us are huge fans of lasagna, particularly homemade lasagna.
Except this lasagna? Was incredible. Bart and I ate the entire pan by ourselves (and we're not talking a wimpy little pan, we're talking the full 9×13 pan) in just a couple of days.
Finally, I got the recipe from her this past year, and Bart and I have rejoiced to have lasagna that's actually worth eating.
And, better yet, it's a totally easy recipe. No fussy steps, no strange ingredients.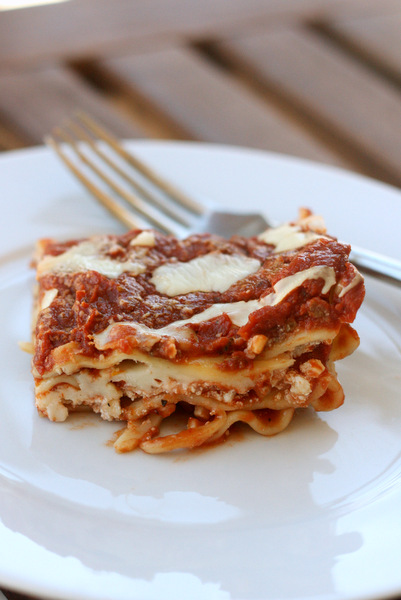 Lasagna
Makes one 9×13 pan

Sauce:
1 lb. hamburger
garlic salt to taste
1 16 oz. can tomato sauce
1 12 oz. can tomato paste
1 can tomato soup
1-2 cups water (depending on how thick/thin you like your sauce – I usually err on the side of thick)
2 tsp. sugar
2 tsp. oregano
1 tsp. garlic powder
pepper to taste
8 lasagna noodles
1 lb grated mozzarella cheese
1 pint cottage cheese (large or small curd)
4 oz. Parmesan cheese, grated
Preheat oven to 350 degrees.

In a large skillet, season hamburger with garlic salt and cook over medium heat until browned. Drain excess fat from skillet.

Add
remaining sauce ingredients to the hamburger and simmer 10 minutes or so.

In a large saucepan, boil noodles until almost cooked (under cook them a little because they will continue to cook in
the oven when baked).

In your 9×13 pan, layer:
Sauce (just a very thin layer)
4 Noodles
1/2 of the sauce
Cottage Cheese
Parmesan Cheese
Mozzarella Cheese
4 Noodles
Remaining sauce
Cover with foil and bake at 350 degrees for 45 minutes until bubbly.