Tomorrow is Pi Day.
Which, you know, is only my favorite day of the year (okay, okay, I like Christmas better. And my birthday).
Last year we hosted a Pi Day party for the first time and it. was. awesome.
We had nine different pies (which came out to about half a pie per person – just the way I like it).
This year we've invited even more people because more people = more pie.
Also, because I live in fear of running out of food (is there anyone who doesn't have a mild panic attack when they have people over and suddenly is sure that everyone they've invited is going to have the appetite of a orangutan who hasn't eaten in a week?), I'm providing two pies.
But pie is not exactly my favorite thing to make. I find it to be kind of fussy and tedious and, to be honest, I'd rather eat cookies. But you can't exactly bring a plate of cookies to a pie party.
So, I bought one pie and plan to make the other (okay, actually, I gave my very generous brother-in-law my credit card and told HIM to pick out a Marie Callender's pie at the grocery store – it was kind of exciting to not know what pie he'd bring back (spoiler: it was a peanut butter cream pie which was a safe bet as we happen to be a household that goes through at least one jar of peanut butter per week)).
Everyone should have a relative on spring break to run errands for them so you don't have to drag your two small children to the grocery store.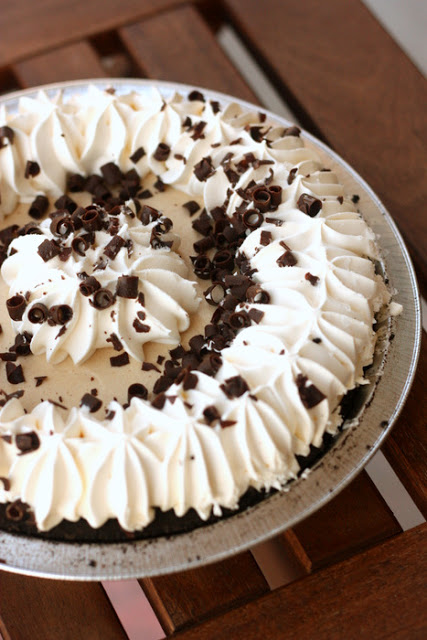 Also, I ate a tiny bit of the whipped cream that smeared on the carton when I took a photo of this pie and I think I deserve some sort of award for not eating the entire thing on my own. I shall be writing that in my sure-to-be very professional and serious review on their website.
So that pie was the easy part. Now comes the hard part of deciding which of the pies on my Pinterest dessert board I'm going to make for the party(I'm leaning toward this salted caramel one with a coconut crust).
For more party ideas, you can visit Marie Callender's blog (well, I'm guessing SHE doesn't write the blog (thank you Wikipedia for answering my burning questions about whether or not Marie Callender was a real person – she was) but you know what I mean. . .).
This post was sponsored as part of my membership with Clever Girls
Collective, and the content and opinions expressed here are
all my own.