Six years ago, as the school year was winding down, my mom sent an email to my sister Merrick and me, asking if our two oldest children, who were both finishing up first grade, might be interested in coming to spend a few days with my parents during the summer.
As you can imagine, both Merrick and I were immediately on board and our two children were THRILLED by the idea.
My mom suggested that they could fly as unaccompanied minors and a few months later, the first Grancie Camp turned from an idea into a reality.
(All the grandchildren call my mom "Grancie" – she's never cared for the title Grandma and my dad's mom has always gone by "Grannie" so she wanted something similar but her own. I can't remember where the term "Grancie Camp" came from that first year, but it quickly stuck).
Now, six years later, Grancie Camp is in full swing and all the grandchildren look forward to the year that they finish first grade and can start in on their own Grancie Camp.
One thing that makes Grancie Camp unique is that the grandchildren go in sets.
So Ella and Merrick's son went together for the first three years and then when my second daughter, Ani, and Merrick's second son who is just a few weeks apart from her finished first grade, they became their own pair of Grancie Camp attendees, going a different week than the two older kids.
This year, for the first time, they'll be hosting THREE different Grancie Camps since Star and my other sister's son just completed first grade. Next year, when Merrick's youngest son finishes first grade, he'll join Star's group and they'll have three in their set instead of two.
When Grancie Camp first started, my dad still worked full time, so my mom pretty much ran the show and he joined in as much as he could. Now he's been retired for a couple of years and my parents more equally take on Grancie Camp.
My parents live in Las Vegas and have a pool, so one of the biggest parts of Grancie Camp is non-stop swimming (they generally swim 3 times a day and basically every year, all the grandkids say that their favorite part is all the swimming).
Some activities are standard (they always go get doughnuts at Krispy Kreme for breakfast one morning) and they always do a LEGO set while they're there, but other activities vary by year and age. The last two years, for example, the older set of grandkids has gone to do an escape room with my parents, which probably would be much less fun with the younger sets of kids.
Here's what the agenda looked like the first year Ella went: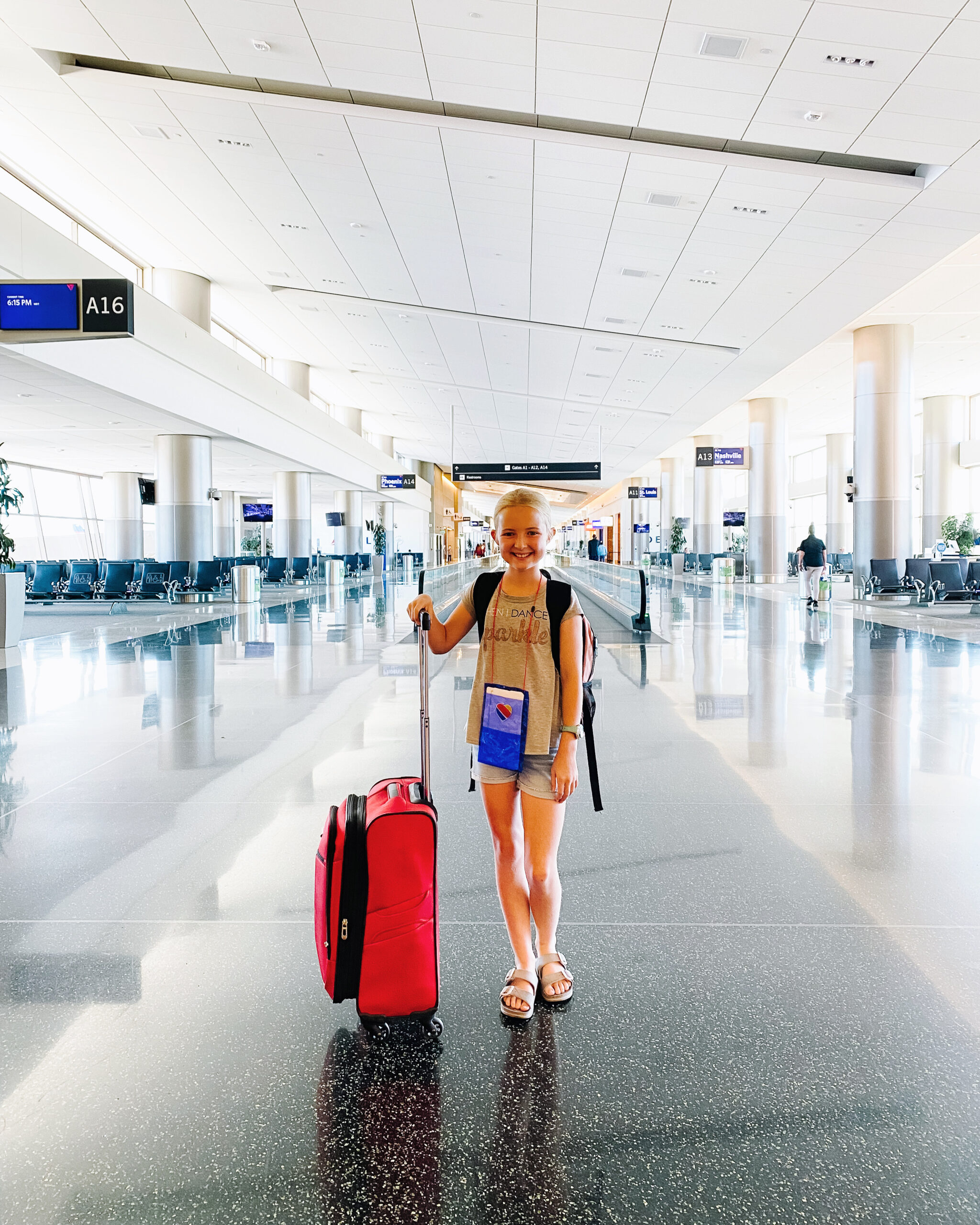 FRIDAY:
Pick up at the airport
U-Swirl
Swimming
Start Lego project
Video chat with parents
Read a book together
SATURDAY
Breakfast — waffles, strawberries, whipped cream, bacon, juice
Swimming
Mini Golf
Lunch — sandwiches, smoothies, cookies
Craft Activity – pet rocks (painting and gluing on eyes. . .)
Lego project & Jigsaw puzzle altogether
Bake Muffins
Dinner – Quiche, green beans, muffins
Swimming
Read a book together
Video chat with parents
SUNDAY
Breakfast (Oatmeal or cereal with blueberries, juice)
Puzzle/Lego
Church
Lunch (sandwiches, smoothies, cookies)
Trip to the Temple
Dinner – (Beef Stroganoff, Rice, broccoli, muffins)
Make a photo book
Reading a book together
Make pipe-cleaner animals
Video chat with parents
MONDAY
Breakfast – pancakes, bacon and juice
Swimming
Bounce Play Place
Lunch – Chick-fil-A
Craft Activity – JoAnn's to make birthday pillowcases
Make Muffins
Dinner – Chicken Parmesan, Melon, zucchini, muffins
Splash Pad
Video chat with parents
TUESDAY
Breakfast
Swimming
Pack up
Read a book together
Pack snacks for plane
Drop off at the airport
This year, the oldest set of kids went to see a show on the Las Vegas Strip (they went to Blue Man Group) which was a fun new addition and I'm sure something that will happen more as they get older.
One thing my mom does that Ella especially loves is that she does a little poster every day with the schedule for the day on it. Each morning she displays it on the kitchen counter so they can know what to expect.
My parents also want Grancie Camp to occasionally be away from their home as the grandkids get older. A few years ago, they planned to go to the Midwest, but COVID shut down a lot of that so instead they went to a cabin that a friend owned and offered to them up in the mountains a few hours from Las Vegas and spent Grancie Camp horseback riding, driving ATVs and hiking.
That year, Bart drove Ella down to the cabin at the beginning of the week and then we all drove down to pick her up at the end of the week.
This year, my parents had talked about doing a long weekend at Disneyland for Grancie Camp back in February, but when we sat down to look at plane tickets, they were outrageous and we opted to just do normal Grancie Camp instead this summer.
I asked what questions there were about Grancie Camp and there were LOTS of questions! Here are some of the most commonly asked ones: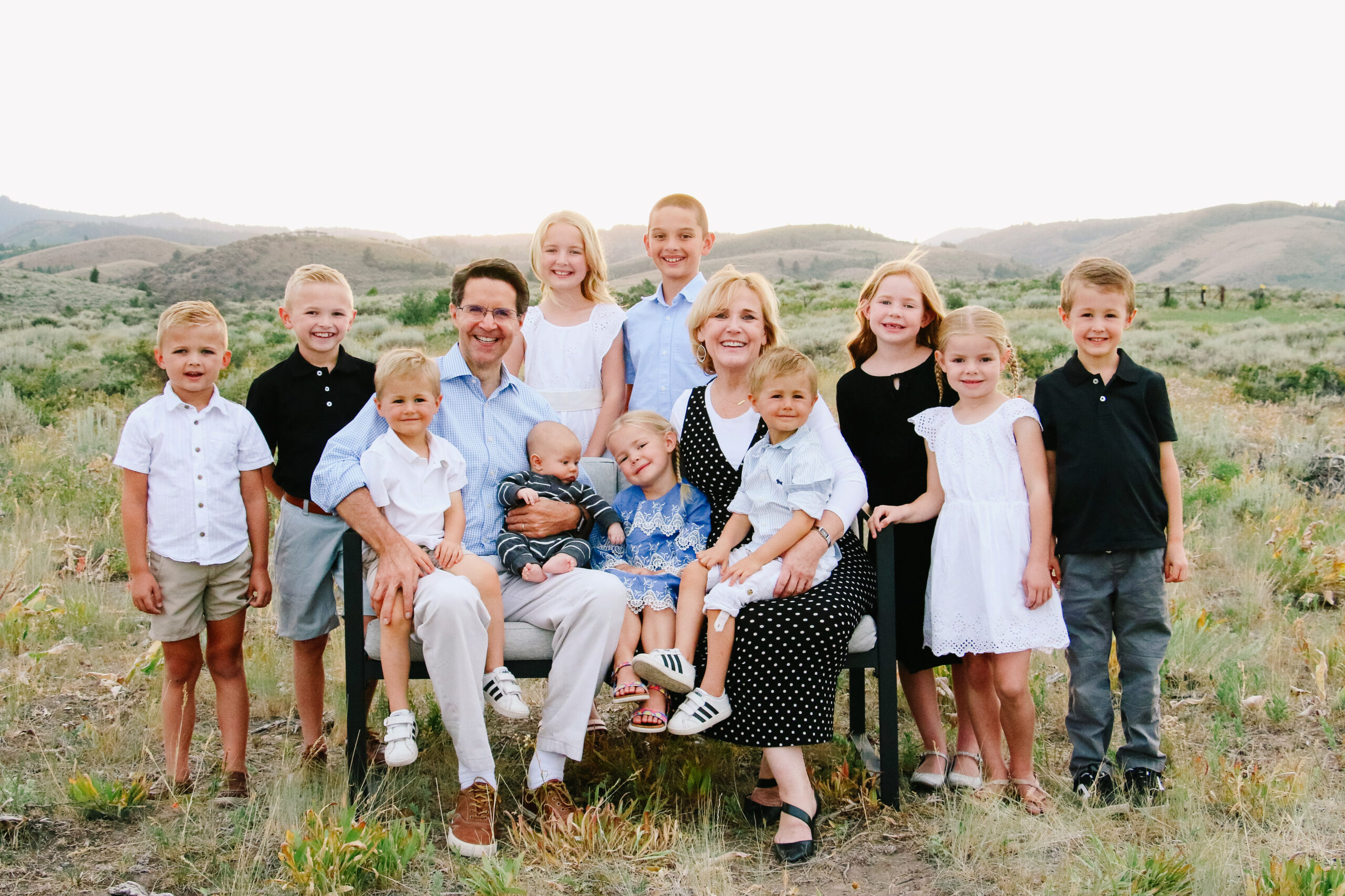 All About Grancie Camp
Who pays for travel expenses?
The first few years when my dad was still working full-time, he traveled a lot and had a business credit card and they were swimming in Southwest points, so they bought the tickets with their points. A couple of years ago, Merrick and I started paying for the plane tickets ourselves, although my parents have still offered to pay if we wanted them to.
What about grandkids who live out of state?
Actually ALL the grandkids live out of state – no one in our family aside from my parents lives in Nevada, so everyone flies in.
Do you drive your kids there and pick them up?
Nope! Aside from that one year when they were about halfway between our home and theirs in the mountains and there wasn't any nearby airport, they've always flown (for the record, that year, Merrick's son flew into Vegas on his own and then drove up to the cabin with my parents and then back to Vegas with them after Grancie Camp and he flew back home out of Las Vegas).
How far away do your parents live from you?
They're about a six hour drive away from us. So the idea of driving 6 hours there and 6 hours back twice per kid times three kids now (72 hours of driving!) is completely unexciting to me.
Do the kids fly solo? How has it been? Is it worth the extra fees?
They do fly solo (flying without an adult is called being an "unaccompanied minor" and I wrote a whole post about it here). Frankly, I think that solo flight is one of their favorite parts of Grancie Camp! It's made them feel so mature and capable and they love it (Ella was super bummed the year we drove her to cabin instead of getting to fly). We always have them fly Southwest because they have the lowest unaccompanied minor fee ($50 each way) and for us, it's 100% worth it. But like any discussion of "worth it" you'll have to make your own call about whether that's money well spent. I'll tell you that with gas prices like they currently are, $50 is a small price to pay for not driving 24 hours round trip, not to mention the value of my time.
Are all the siblings/grandkids on board for this?
Yep! Everyone has been very enthusiastic about it.
Ever any hesitation or homesickness?
Nope! The only hesitation I'm aware of is that Merrick's oldest son was pretty nervous about flying solo that first time but once he'd done it once, he realized it was no big deal and nobody has ever had any homesickness issues that I'm aware of.
How old were your kids when you first left them overnight?
The first time I remember leaving Ella overnight was when she was just under 2 years old and Bart and I went on a cruise. I think it's been similar with our other kids – somewhere around ages 1-2.
What ages are the kids?
They're either 6 or 7 when they start, depending on when their birthdays are (Ella was 6, almost 7 when she went the first time and Ani and Star were both 7 for their first years).
Why only 2 at a time? I love mixed age groups!
Lots of people asked about this but my parents have mentioned a million times how MUCH they love doing it as a small group because they really get to know those two grandchildren as individuals rather than as part of a big group. Plus, it's much easier to do things and go places as a group of four than it would be with a group of 8 or 9. Plus, each of the grandkids has multiple siblings, so they're in mixed age groups ALL THE TIME and it's nice to be able to tailor the Grancie Camp activities to that age group. Plus, it's given each of those sets of grandkids a really special bond because they know each other so well. I loved seeing it with the two oldest and now, going in on year three of Grancie Camp for Ani, I love seeing it develop with her and Merrick's second son.
Do they fight about which cousins they go with?
No – it's not a question about which cousins they go with and not up to them. I don't think it would even occur to them to fight about it.
Do you switch up which kids go together (different sets each year)?
Nope – they go with the same cousin(s) every single year.
Will groups eventually merge as kids get older?
It's possible but at this point we don't plan on it.
My mom wanted to have 7 grandkids at once and it seems like too many kids to me.
Obviously I don't know your mom or your situation, but if it were me and my mom felt up to it, I'd let her be the judge of what she can handle.
Do you worry its overwhelming to your parents? I feel my mom wouldn't be able to handle it!
I don't worry about it – it was their idea in the first place, they choose the dates and the activities, and if it ever gets too much, we'll adjust.
Are they hosting three different weeks?
They are!
Is there a theme?
Nope – just 3-5 days of fun!
What activities do they do?
They swim a LOT, usually do a BBQ and s'mores, watch a few movies, play lots of games, do LEGOs and perler beads, practice riding unicycles (my dad has an adult and child one – I learned to ride when I was a kid!), read books, visit a splash pad, go mini golfing or to an escape room or bowling, usually visit the arboretum at the Bellagio, etc.
Do they repeat the same agenda every week or is it more tailored?
It's definitely tailored to the age group!
What do they do in LAS VEGAS?!
I know lots of people imagine that Las Vegas is only the Strip, but having grown up there, I can assure you its mostly suburbs like anywhere else. Las Vegas does give you a few more fun options of things to do like great restaurants or incredible shows, but mostly they just do the same kinds of things you could do in any city. The other perk of Las Vegas is that it's usually relatively cheap to fly into Vegas compared to other airports.
Are the years the same or does it change depending on what they've done previously?
They have changed over the years as they get older and can handle more activities. My parents definitely wouldn't have done an escape room with two 7 year olds, but two 12 year olds think its AWESOME!
How many planned activities are there versus just free time with cousins?
There are usually several planned activities per day plus plenty of time to just hang out together. When I called Ella on Sunday, she'd just finished painting Grancie's nails (she'd brought her whole set of gel nail polishes down on purpose for this). Merrick's son had brought along a board game he loves and wanted to play. I think it ends up being a pretty great mix.
Is it a free for all or structured (especially bedtime, screens and sugar)?
My parents go to bed early, so generally they don't stay up too late and they're not a super-sugar house either – usually maybe one treat a day while they're there. They might watch more movies or play a few more games on the tablet than they would at home. Frankly, I don't care much about any of those things while they're at Grancie Camp – it's a special occasion and a few days out of the whole year, so if they ate more sugar than normal or watched more movies, that's not something that I'm going to be bothered about.
What determines the length of Camp Grandma?
We don't have a set amount of time – it's usually 4-5 day (about three full days and partial travel days on the ends), but it's not set in stone and is mostly determined by what all three families can make work.
Do you get stressed about safety especially when they're little?
Nope. My parents are responsible (I should know, since they raised me) and my kids are responsible and I don't stress about it.
Who pays for travel and activities?
Aside from the plane tickets paid for by us, my parents pay for everything while the grandkids are there. The only exception this year is that Merrick and I ordered the LEGO sets for our kids since they're getting into bigger and more expensive sets and there are more grandkids this year.
What do you do while they're there?
Our life at home looks pretty much the same while they're gone – just one less child at home!
What special things do you do with the kids who aren't at Grancie Camp?
I am NOT a believer in trying to make everything perfectly fair for my kids (all the research shows that this is just a highway to unhappiness) so I feel no need to "make up" for my other kids not being at Grancie Camp. They know their turn will come and they'll get to do fun things too. Ella was gone during the Fourth of July weekend and we attended a concert/fireworks show and went kayaking at a reservoir while she was gone. They're the same things we would have done if she was home and it wasn't about making up to the other girls for Ella getting to be at Grancie Camp.
Are they in a better mood when they come back or worn out, overstimulated and bored with home?
A little of both! They have a great time and are super thrilled to tell us all about it AND they're a little worn out from all that fun, just like they'd be with any kind of camp. Frankly, just like many adults are after a trip!
Are your parents going to eventually spend their whole summer doing this?
I don't think so. My guess is that the most they'll ever have is four groups, which equals out to around 16-20 days of the whole summer. I don't know yet how it'll play out with the youngest grandchildren who don't line up as evenly as the oldest grandchildren. We'll cross that bridge when we get there.
Do they ever age out of it?
So far, there's no plan for that to happen, but we'll see. When my parents started this they said, "We might not be able to do this forever, but we can now and so we're going to and we'll adjust as needed over the years." I think it's easy to feel like you can't commit to something forever, so instead you default to doing nothing instead. I'm glad my parents have been willing to say "for now, this works, so for now we'll do it."
Did your grandparents do something like this for you and and your siblings?
No! But I certainly wish they had – it would have been so fun!
How do I convince the grandparents to do this?
I have no earthly idea. If you have, I'd love to hear how you did it. We tell our kids every year HOW LUCKY they are to have grandparents that are willing to do this!
Do you plan to do the same some day?
I hope so! We'll see how it all plays out – I haven't spent much time thinking about it since it's probably still a couple of decades away!
Any other questions about Grancie Camp? Leave them in the comments and I'm happy to answer!
if you liked this post about grancie camp (aka grandma and grandpa camp), you might also like these other posts: