This gift guide full of gift ideas for book lovers is such a fun project for me each year – I love keeping an eye out for clever, interesting, beautiful, and useful items for book lovers like you and me!
From tools designed to make your reading life easier to things that celebrate your bookworm status, I hope you'll find something (or a few somethings!) that you love on this year's list!
18 Terrific Gift Ideas for Book Lovers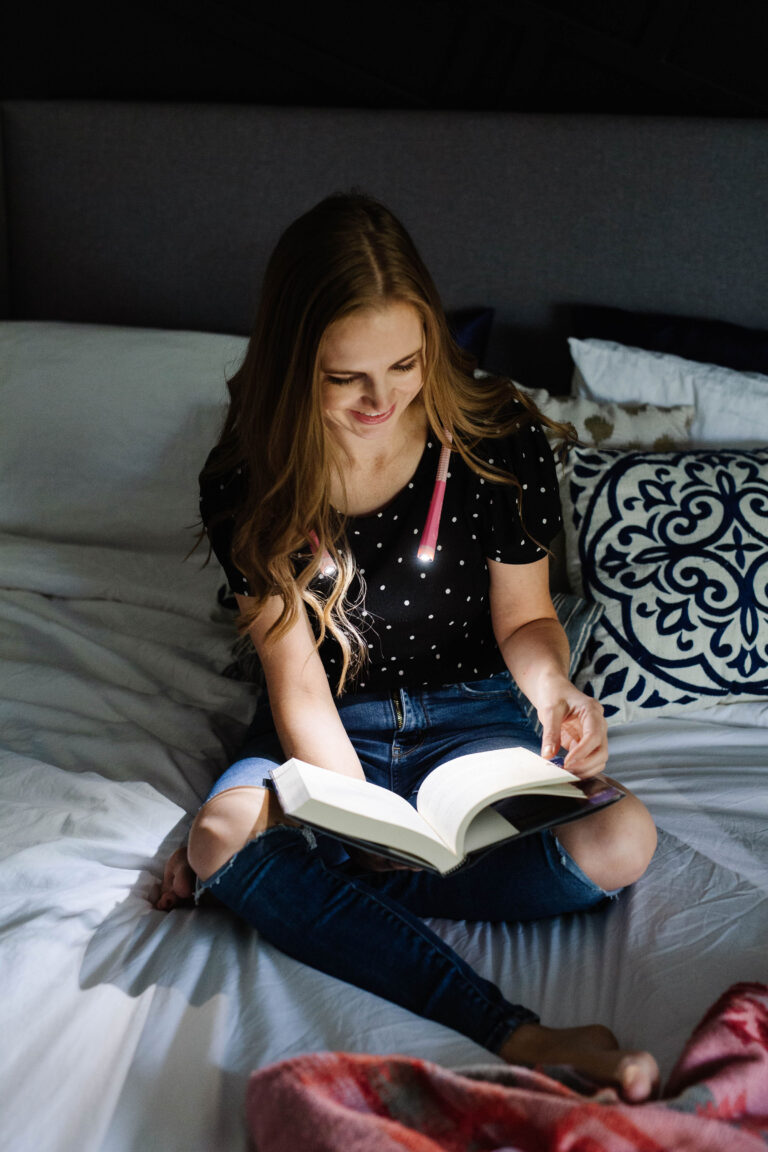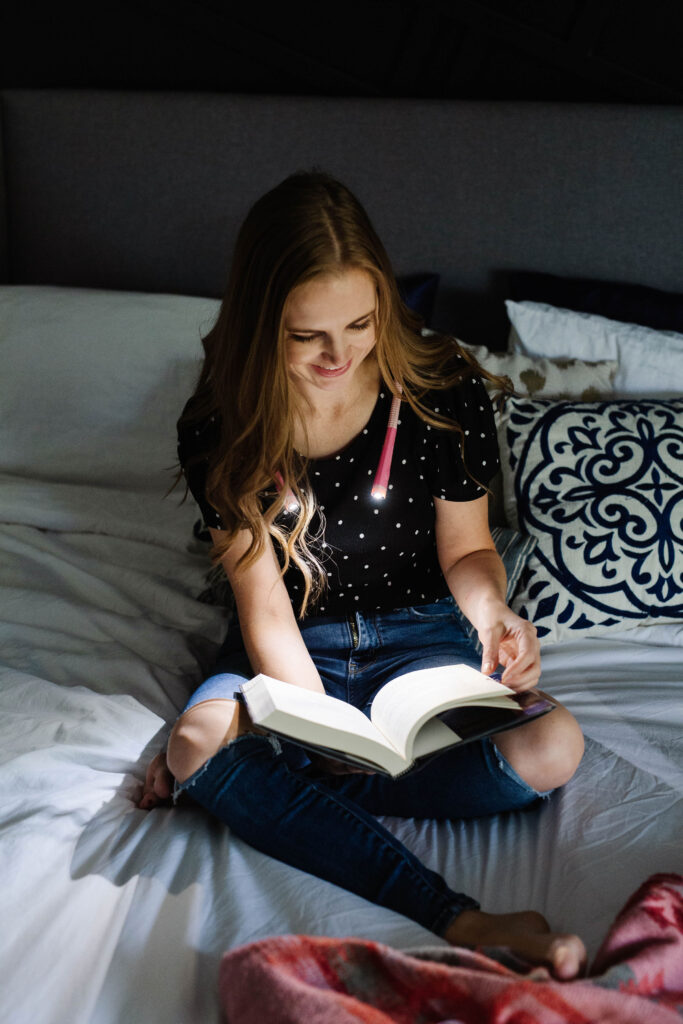 Neck Book Light
I was SO dubious about a book light that went around your neck instead of clipping to a book, but I was 100% wrong. It makes it feel like you're living in the stone ages when you use any other ones – this one is just such a great design and so much better than anything else I've tried. I promise, you might be dubious, but it's worth a shot – more than 45,000 reviews can't be wrong. Also, I've had a bunch of questions about how it works for kids, and my 9 year old LOVES it! If you want to see other book light options, check out this post where I tried and reviewed tons of different kinds.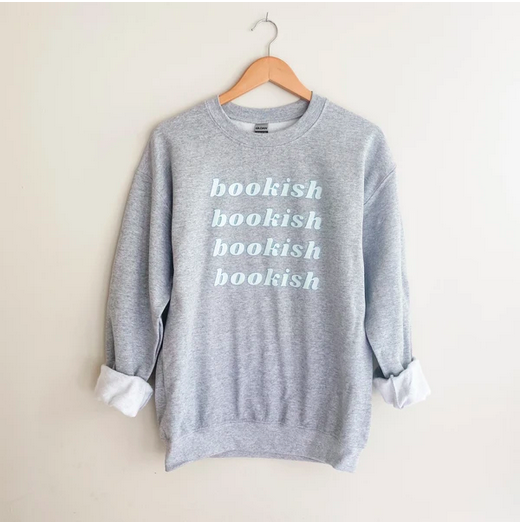 Bookish Sweatshirt
I firmly believe you can't have too many sweatshirts or too many book-related items of clothing. So this is a big winner on both fronts (I'm sadly lacking on the book-related items of clothing side – better put this on my Christmas list!). Use the code JANSSEN for 20% off anything on their site!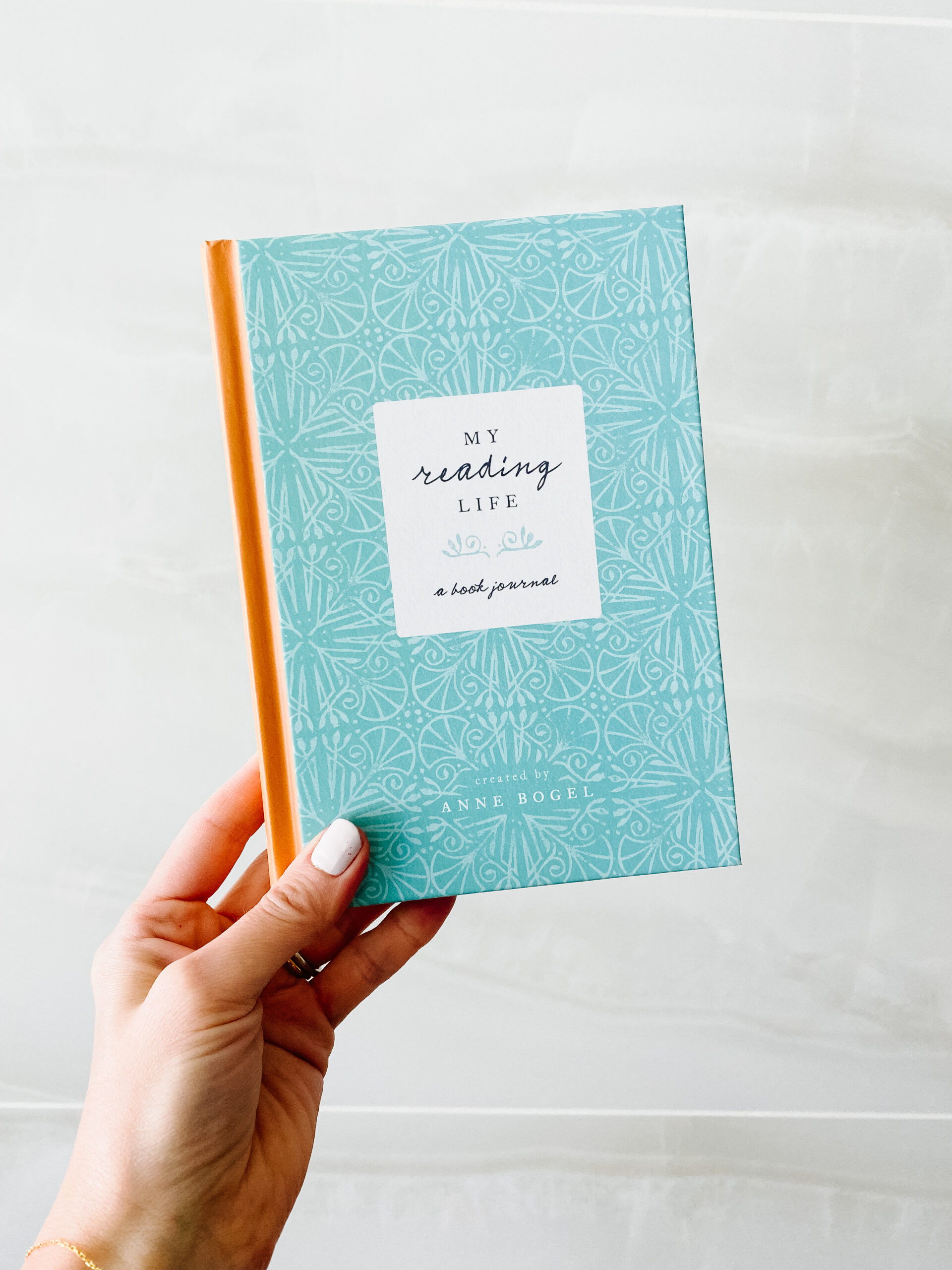 My Reading Life: A Book Journal by Anne Bogel
I wrote a whole post about this reading journal (see that post here) and it's just a delight! It's the perfect gift for a bookworm, packed with places to record your reading, new book lists, and places to keep track of the books you want to read. It's available on Amazon, but the cheapest price I've seen for it is here (it's under $10)!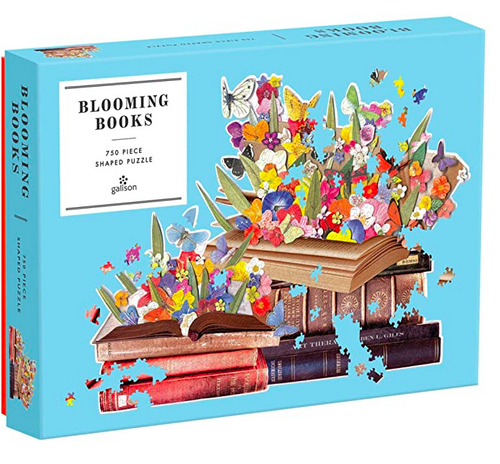 Blooming Books Puzzle
I'm a puzzle lover to the core and when it includes books too? Well, sign me right up. I did this one over the summer and it was such a FUN puzzle to work on while I listened to an audiobook.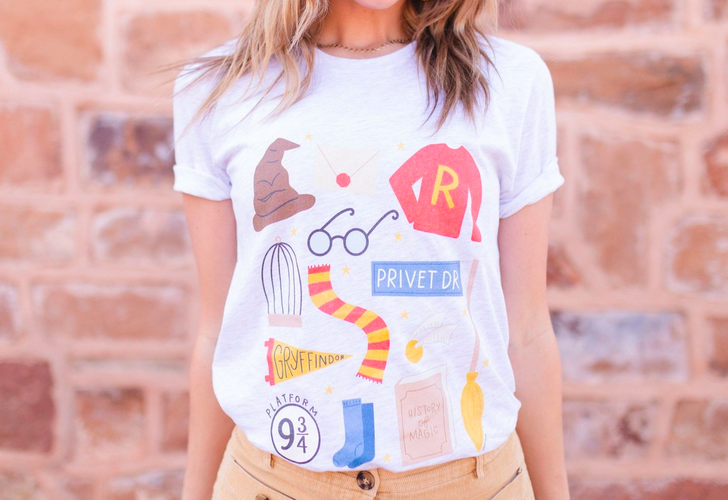 Wizard Illustration Tee
Oh, I just love this Harry Potter inspired tee so much. I especially love that it's just a bit more subtle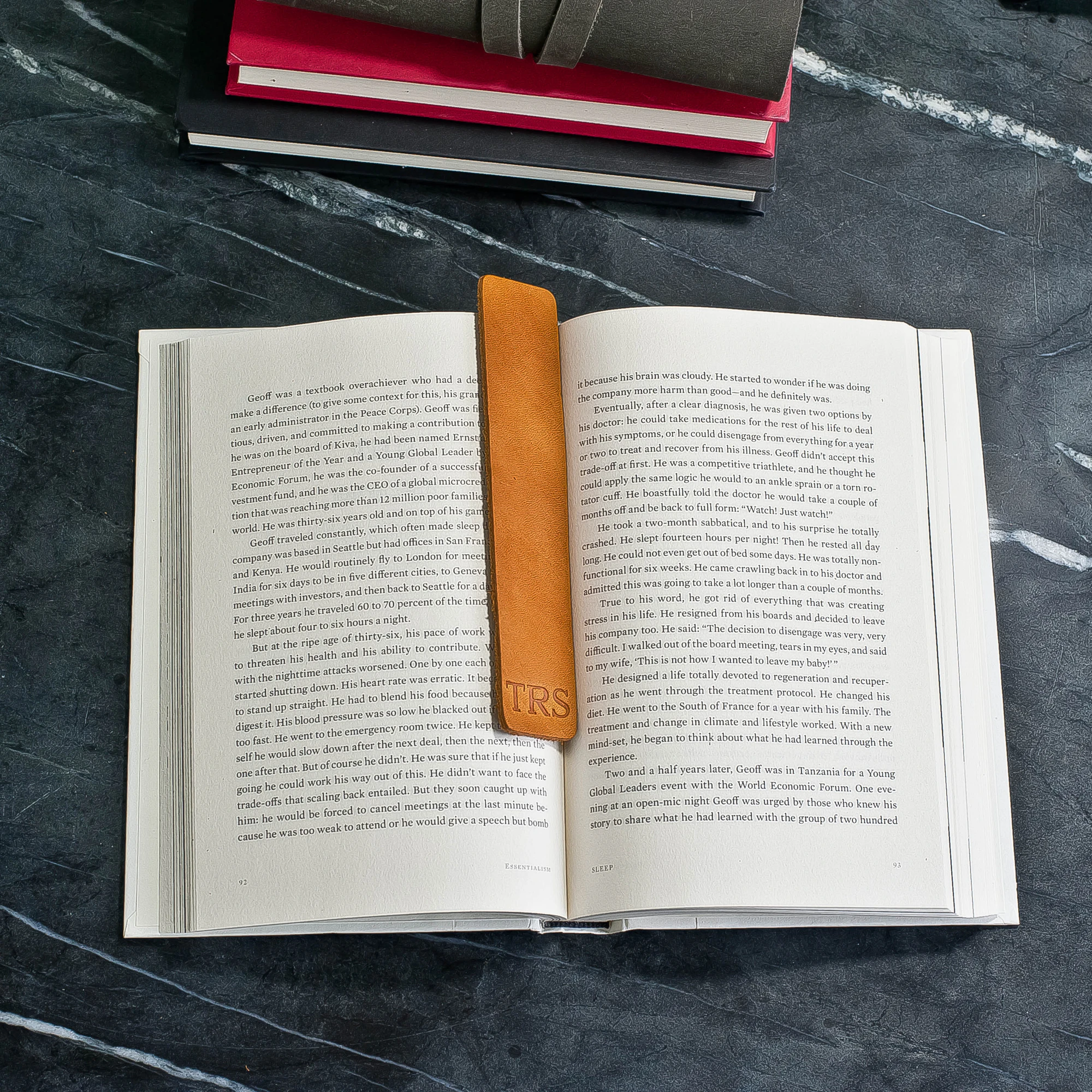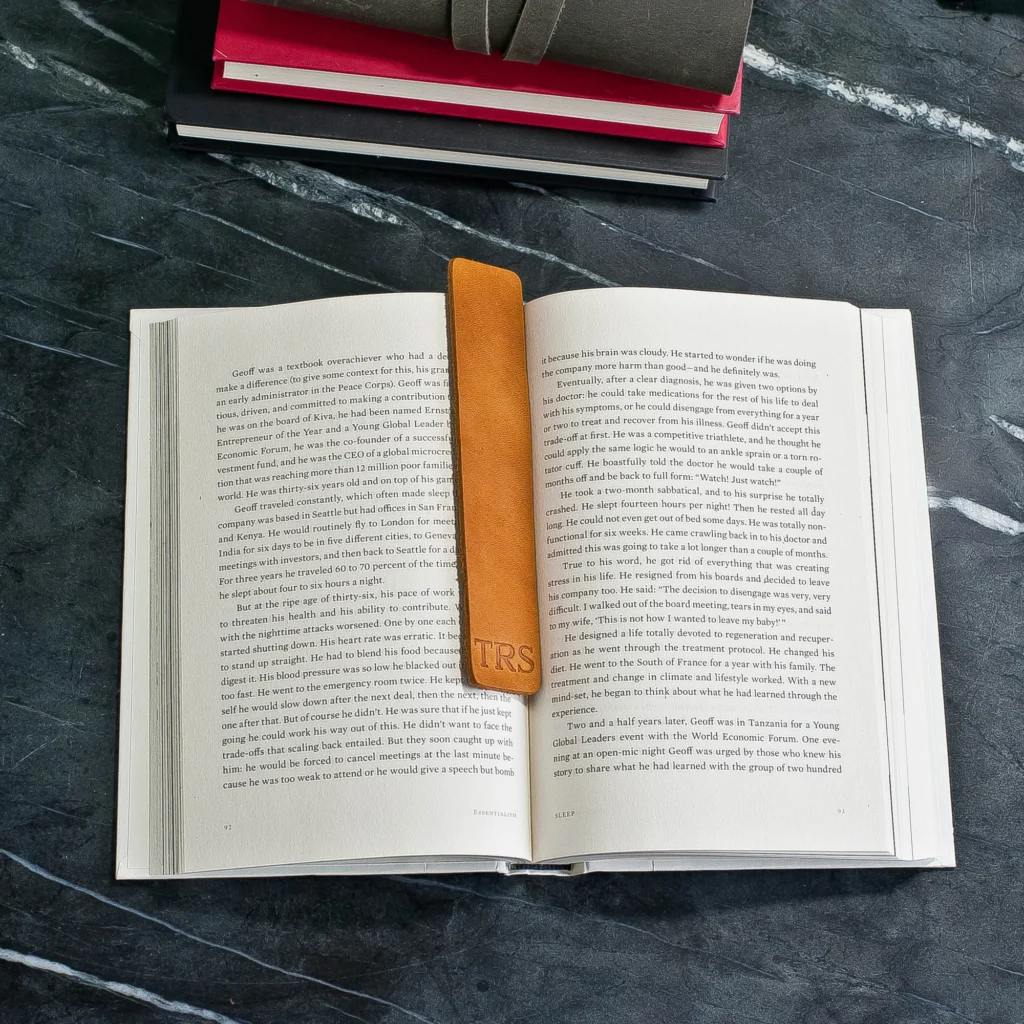 Ox & Pine Leather Bookmarks
These bookmarks are so high-end feeling, smell amazing, and are just all around wonderful. I keep a couple in my bedside table so I'm never without one! And you can customize them to say anything you'd like. Plus, you can use the code JANSSEN for a 10% discount on any order!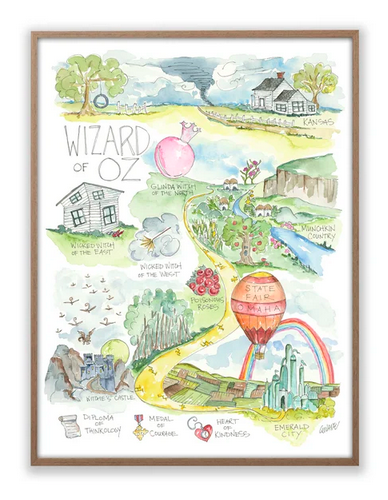 Story Maps
I was BLOWN AWAY when I saw these – they are such fun imaginings of the locations of famous books. I 100% want one of these for my house, but the problem is choosing just one. I'm leaning toward the Anne of Green Gables one, but the Little Women or Harry Potter ones are also just so good.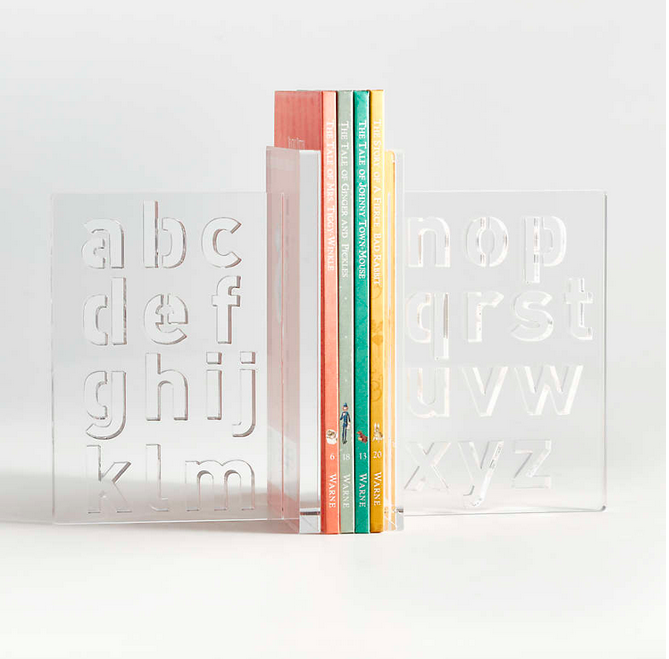 Acrylic Alphabet Bookends
I love a good bookend and this set is so fun and modern! I'm considering ordering these for Tally's bedroom shelves!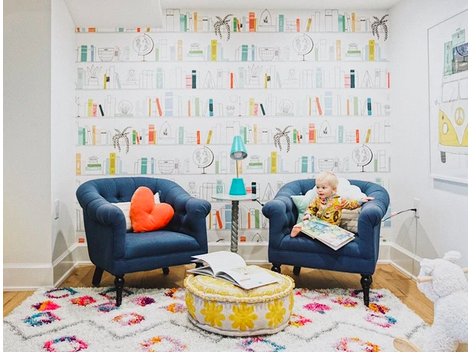 Library Book Wallpaper
I have so many bookshelves in our house that I'm not certain I can justify wallpaper that looks like MORE bookshelves, but it's so cute that I want it anyway.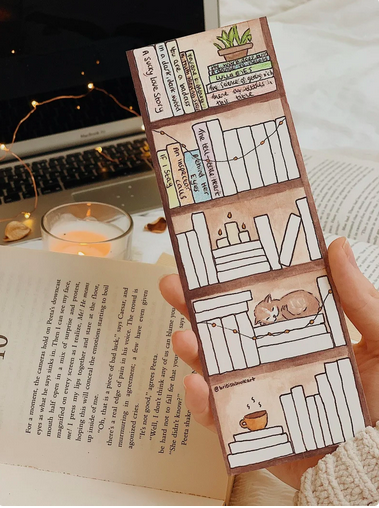 Book Tracker Bookmark
This fun bookmark is the perfect way to keep track of what you're reading or what you want to read!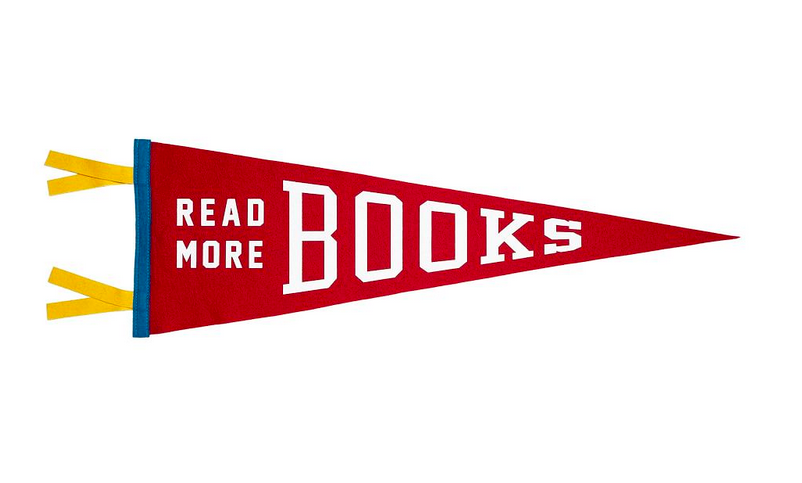 Oxford Pennant Read More Books
I'm pretty sure my office needs one of these fun pennants!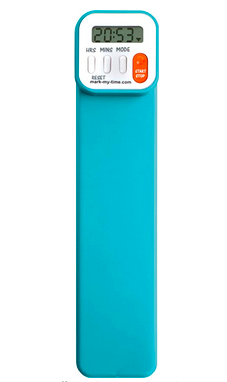 Mark My Time Bookmark
Whether you want to fit in your own reading or you have a child who has required reading each night for school, this is a simple and inexpensive way to track the time you're spending reading!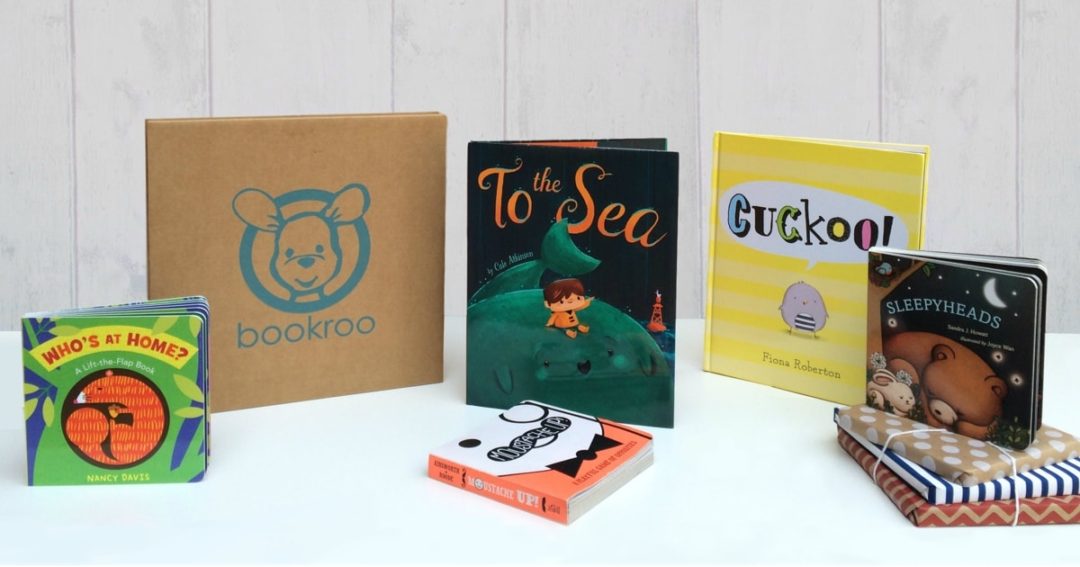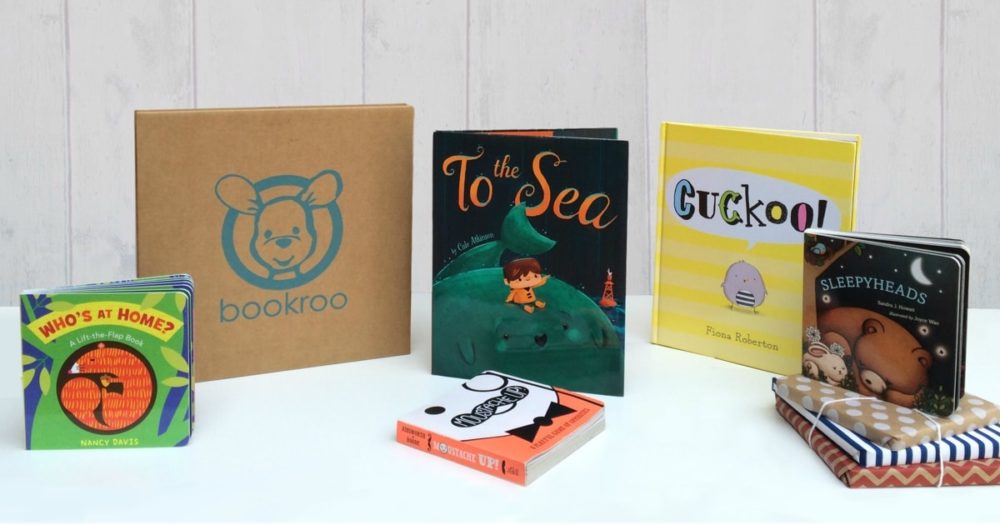 Bookroo Subscription
If you're looking for a children's book subscription this holiday season, you can't beat Bookroo. They do a great job picking lesser known, but fantastic books (we've found many new favorites) and they each come individually wrapped which really makes it feel like a special occasion. It's run by three real mamas, not a big corporation. They have a board book subscription, a picture book subscription, a junior chapter book subscription, and a middle grade chapter book subscription so there's something for every child. Use the code JANSSENREADS for 15% off any of their subscriptions.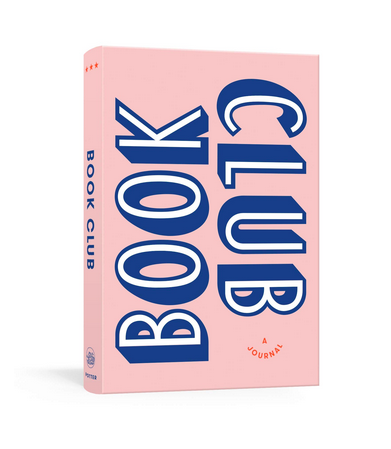 Book Club Journal
If you belong to a great book club, this is the perfect little reading journal to keep track of the things you've read and the discussions you've had together. If you're looking for a gift for everyone in your book club, this is a great choice at under $15!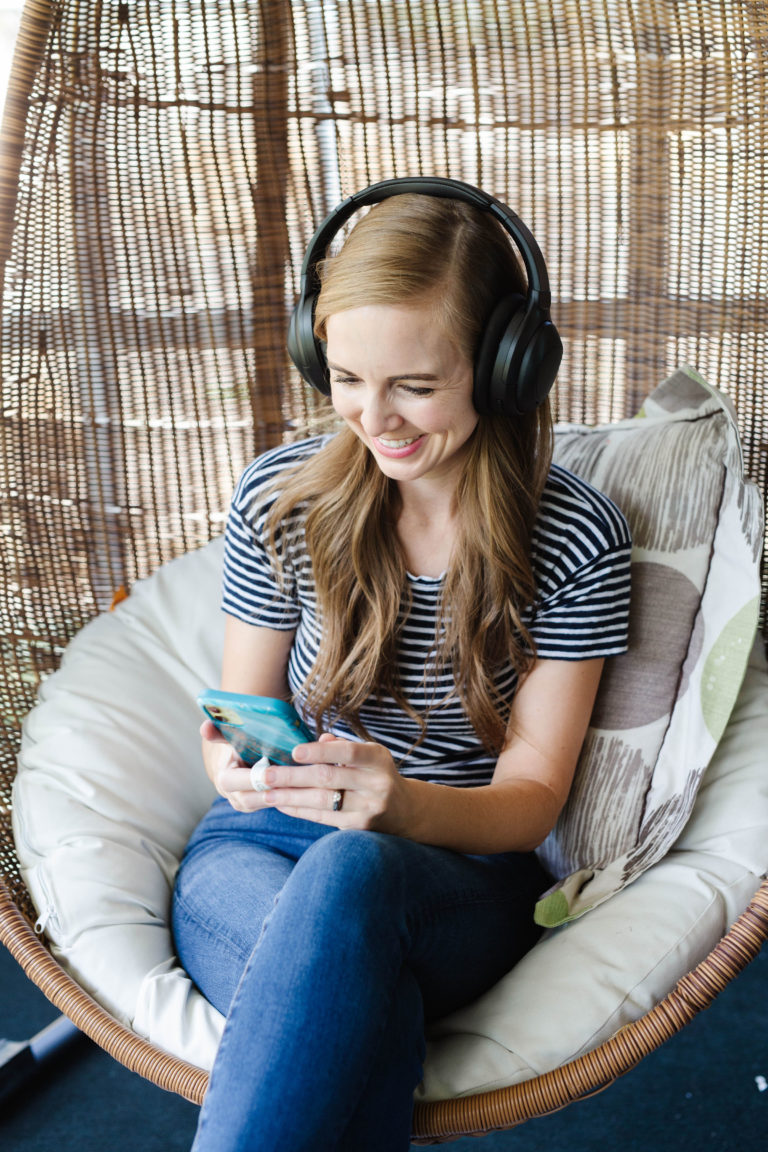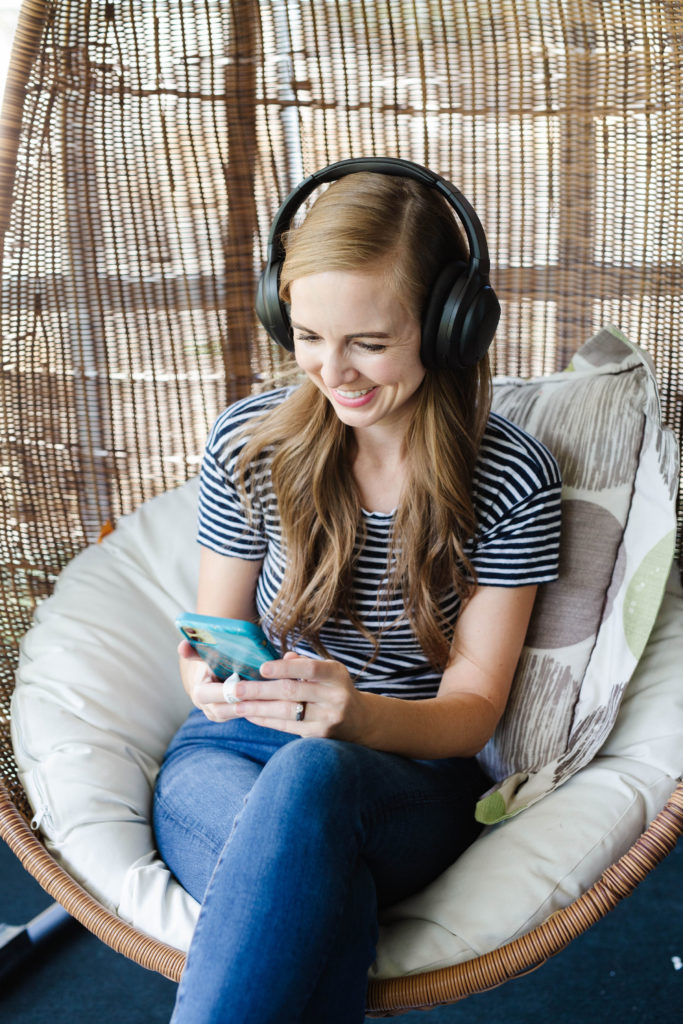 Audiobook Subscription
I mean, how could I not suggest an audiobook subscription? There's just no better way to squeeze in way more books than you could read in print. I love both Audible (from the selection to the user experience, Audible is literally unmatched) and LibroFM, which is also phenomenal plus helps supports the local bookstore of your choice!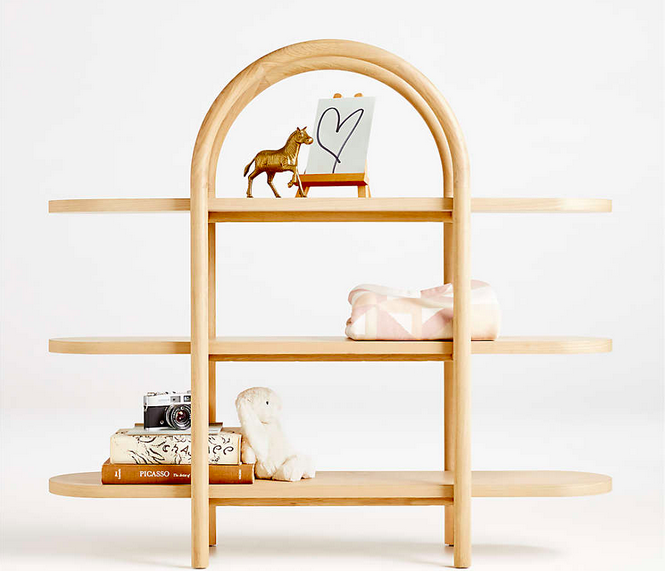 Dolly Natural Wide Bookcase 
Every year I love to include a bookshelf just because they're so pretty and fun! This one I saw on Instagram earlier this year and haven't been able to stop thinking about it!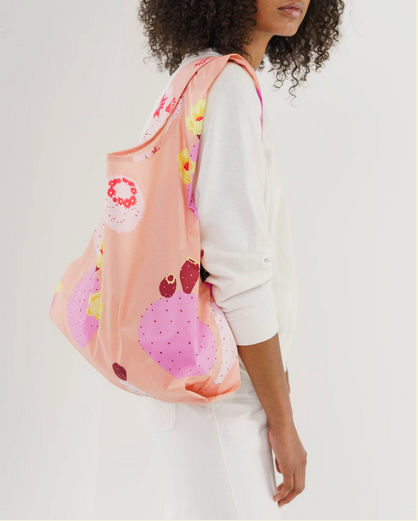 Library Book Bag
I wrote a whole post about my favorite library bag here – it comes in all sorts of colors and patterns, holds a million books (I like the standard size best) and can hold up under the weight (and sharp corners) of any library books you throw at it! Mine is about five years old and still looks brand-new, with zero wear and tear. And this is from someone who routinely shoves at least 25 books into it.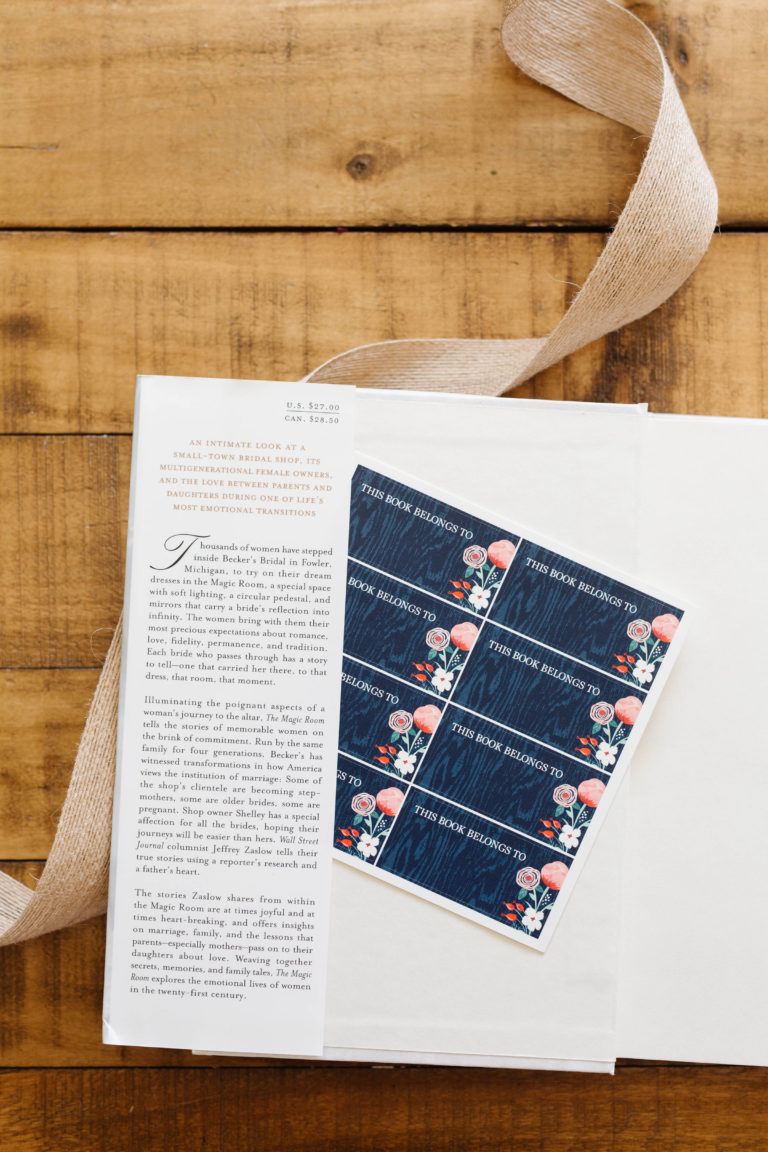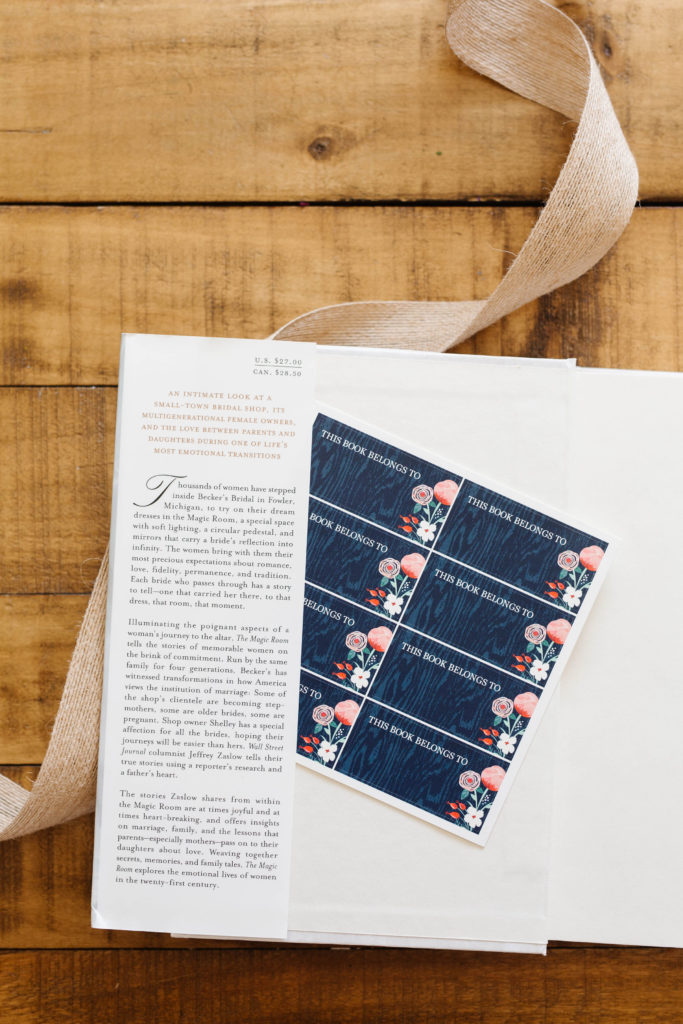 Customized Book Plates
These are such a fun personalized gift that cost almost nothing! They're great for any book lover in your life, for a teacher or the members of your book club. Just whip up a few and add them to your Christmas card order! Use the code ERLABELS which will let you buy one set and get a second set free (which makes it $3.50 for a set of 24 stickers) and here are detailed instructions about how to make them.
You can see the past few years of my Book Lovers Gift Guides here – so many other fun things for the book lover in your life!
if you liked this post about gifts ideas for book lovers, you might also like these other posts: