Kayla and I might have had a little too much fun with our $5 Gift Guide in December. It was nice of Valentine's Day to show up so that we could have an excuse to make another one.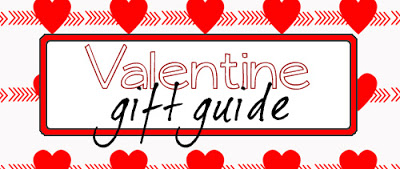 Also, this time we did 10 things each, rather than 30. Perhaps we are more lazy in February than we are in December. So be it. Here are 10 super inexpensive Valentine's Day gifts.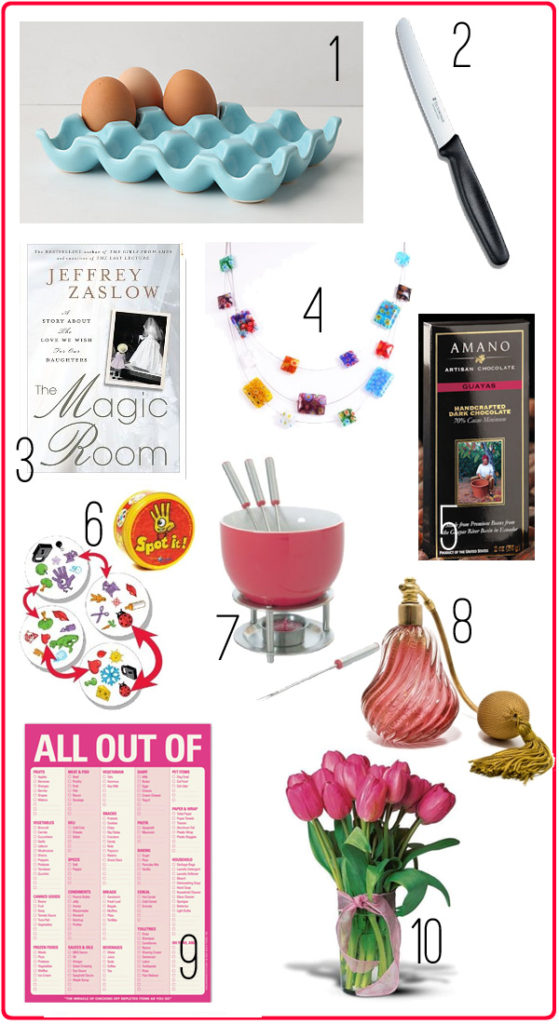 inexpensive valentine's day gifts
1. Farmer's Egg Crate – I love this egg crate and have for years. Because I am a food nerd, I'd love to use this for actual eggs in my fridge. But I'd also love to use it in my bathroom to keep my earrings and bracelets in. And because it comes in blue and white, I clearly need one of each. ($14)
2) Knife – In my perfect dream kitchen, I would own one large chef knife (currently I own none) and then ten of these knives. I love them so so much. They are mega-sharp, easy to handle, dishwasher safe, inexpensive, and just fabulous. I use them for EVERYTHING – vegetables, fruit, chicken, cheese. I love Bart's parents for introducing us to these. ($7.65)
3) The Magic Room – If you're looking for something that's romantic, but not cheesy, this is a book I highly recommend. It's about weddings and marriage and family relationships and, oh, it just gave me the warm fuzzies without making me want to throw up. ($17.38)
4) Necklace – My mom bought me a necklace very similar to this one (the beads on mine are round, not square) and I love it. The colors make me happy, it matches with everything, and it just perks up any dull outfit. ($19.99)
5) Amano Chocolate – Look, this is expensive chocolate. And I love it anyway. My in-laws sent me two bars for my birthday two years ago, and it was fantastic. They lasted for weeks. ($7.00 a bar)
6) Spot It – This is a great little game. It's fun to play with kids, but we've played it many times with just adults too. There is basically no learning curve, there are several ways to play the game, and you can play it with two or ten people. It's a perfect game. ($11.89)
7) Fondue Pot – I have an electric fondue pot and it's nice for large groups, but even then, we end up with WAY more than we really need and the plug isn't long enough to reach an outlet. I love this little one with enough for just a few people and you won't spend the whole time fiddling with the temperature dial. Plus it is DARLING. ($14.95).
8) Perfume – I'd really like to go spend an hour or two at a department store or a cosmetics store like Ulta or Sephora and pick out my own perfume with my husband. Then I can see how they actually smell on ME before I buy one.
9) All Out Of Notepad – My mom bought me one of these long ago and they are so fun. I don't enjoy having lots of things on my fridge, but this is just a happy color, the magnet is super strong, and it's so convenient to just check things off each week as you run out. Useful AND pretty – my favorite combination. ($6.50)
10) Flowers – They are classics for a reason. Most women I know just really like flowers. And you don't have to spend a fortune. I like a $3.99 bouquet from the grocery store as much as I like two dozen roses (more, in fact, because the price of roses on Valentine's Day makes me a little ill).
Be sure to check out Kayla's picks too.
if you liked this post of inexpensive valentine's day gifts, you might list these posts too: