My big girls have been back in school for over a month now, and it's been quite a change to have Ella gone all day and Ani gone half the day.
I keep getting these sweet messages asking how I'm adjusting and overall, I feel really happy with our decision to send the girls to school, and they both seem to enjoy school.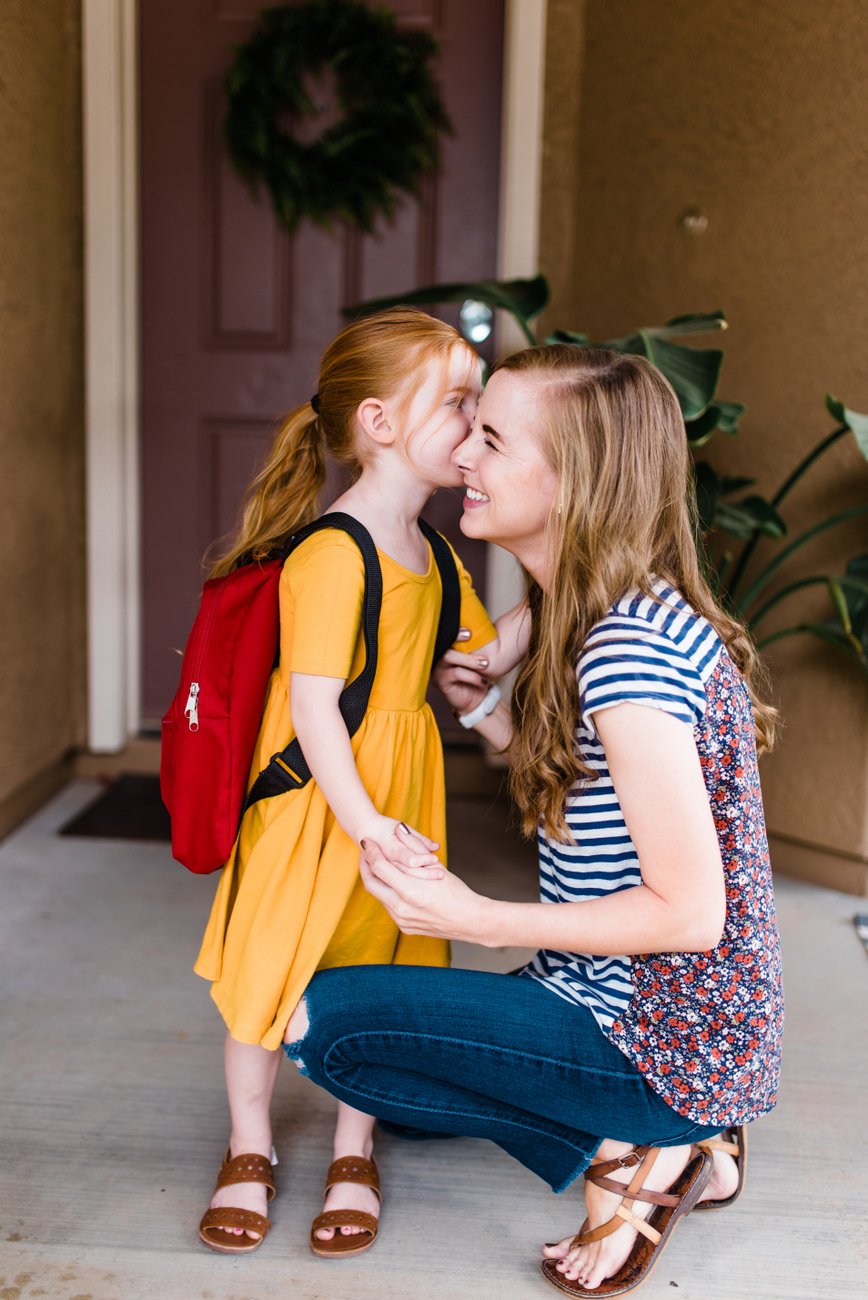 Of course, I don't think there will ever be a perfect schooling solution. There are just too many good things about both and also not-so-good things that come along with either homeschooling and public school (or charter schools or private schools or online learning). These are some of the pros and cons thus far.
The Pros:
No pressure to do school every morning. This is such a relief to me to no longer feel the pressure to spend every morning doing school with Ella or feeling guilt when something came up that cut it short (doctor's appointments, teaching the co-op preschool, etc).
More focused attention on each girl. I love that in the mornings, I can focus more on Ani and Star while Ella's gone, and that one afternoon a week while Ani is at preschool, Ella has early release and so we get a couple of hours to hang out together while the little girls nap. And when I come home from dropping of Ani, I have a little time to read and sing with Star before she goes down for her nap.
More time to get house things done. Once Ella is at school, I have several hours before lunch and afternoon preschool to spend at home with the other girls. A couple of mornings a week, I have a babysitter that comes over to watch the girls while I work, but on the other mornings, I can start dinner, vacuum, do the laundry, or work on other things around the house while Ani and Star play together.
Being able to go places without always taking all my children. One of the most challenging things about homeschooling was that I always had all of my children, which meant that any doctor's appointment through my whole pregnancy I had to take everyone along or if someone was having a birthday lunch or I had a meeting. To be fair, I still usually have at least two and probably three of the girls at any given time, but as every parent knows, one less than your normal amount of children feels like practically nothing.
Being able to focus on school with Ani. One of the biggest benefits in my mind of Ella going back to school is being able to focus on Ani's education a little more. Because it's preschool, I don't feel the same pressure I felt with Ella last year to do school EVERY. SINGLE. DAY, but she loves spending 20-30 minutes each morning practicing her reading, doing math problems, and having me read aloud.
The Cons:
So much more driving. There were many days last year where I didn't drive at all. That is NOT the case this year. I drop Ella off, then take Ani to preschool, then pick them both up. Neither school is very far, fortunately, but it's definitely significantly more driving than I've done in the past.
Way less time with Ella. It is so strange to have Ella gone so much during the day – I've had her so much to myself the last seven years, and I don't like not having her around nearly as much. Plus, when she gets home in the afternoons, she's dying to play with her sisters, so they're often off in the basement the whole afternoon until dinner time. I'm so glad for that early release afternoon where I get to really focus on her for at least an hour or two.
Packing lunches. You guys. I do not enjoying packing lunches. It's not actually the packing I dislike so much, it's the dealing with washing lunch boxes, getting them emptied out in the afternoon, and then doing the whole thing over again. Every day. For 180 days.
Much less flexibility. We have had so much flexibility this past year and a half since we took Ella out of kindergarten. We had no time we had to wake up by and it really was such a laid-back, relaxed time of our lives. Bart and I kept saying, "Let's not take this for granted!" and I think we did a good job appreciating that period. Now we have bell schedules to deal with (and I live in fear of being late to pick Ani up from preschool because they charge you $2 per minute you're late) and I can't arrange my life around nap schedules.
Less work time. You'd think I'd have MORE work time with Ella in school all day. But instead of putting the babies down for naps and sending the big girls to their rooms for quiet time for a full two hours and being able to push it forward or backward depending on when the baby wants to sleep, I have just barely two hours between when I get home from dropping Ani off to when I need to leave to pick up Ella, and if the baby doesn't want to sleep at EXACTLY that time or if Star takes her normal 30-45 minutes to fall asleep, then I don't have my full two hours (and I might have to wake up small children to go pick up older children).
Early wake-up times. And, of course, the main reason I've joked that we homeschool – so that I didn't have to wake my children up. So far, I haven't had to actually wake Ella up any of the mornings, but in order for Bart and I to both squeeze in a work-out and be ready for the day before one of us takes Ella to school, we definitely have to get up earlier (usually around 6 a.m.).
Have you tried different schooling options with your kids? What have been the pros and cons of each one? I could talk schooling options all day long!