Curious about the 4 Weeks to Read program from Learning Dynamics? Here's how we've used it with two children.
About a year and a half ago, I did a sponsored Instagram campaign with 4 Weeks to Read and we've been using it ever since.
Because I get a lot of questions about the 4 Weeks to Read program, I figured it might be time to write a full post about the system and how it works.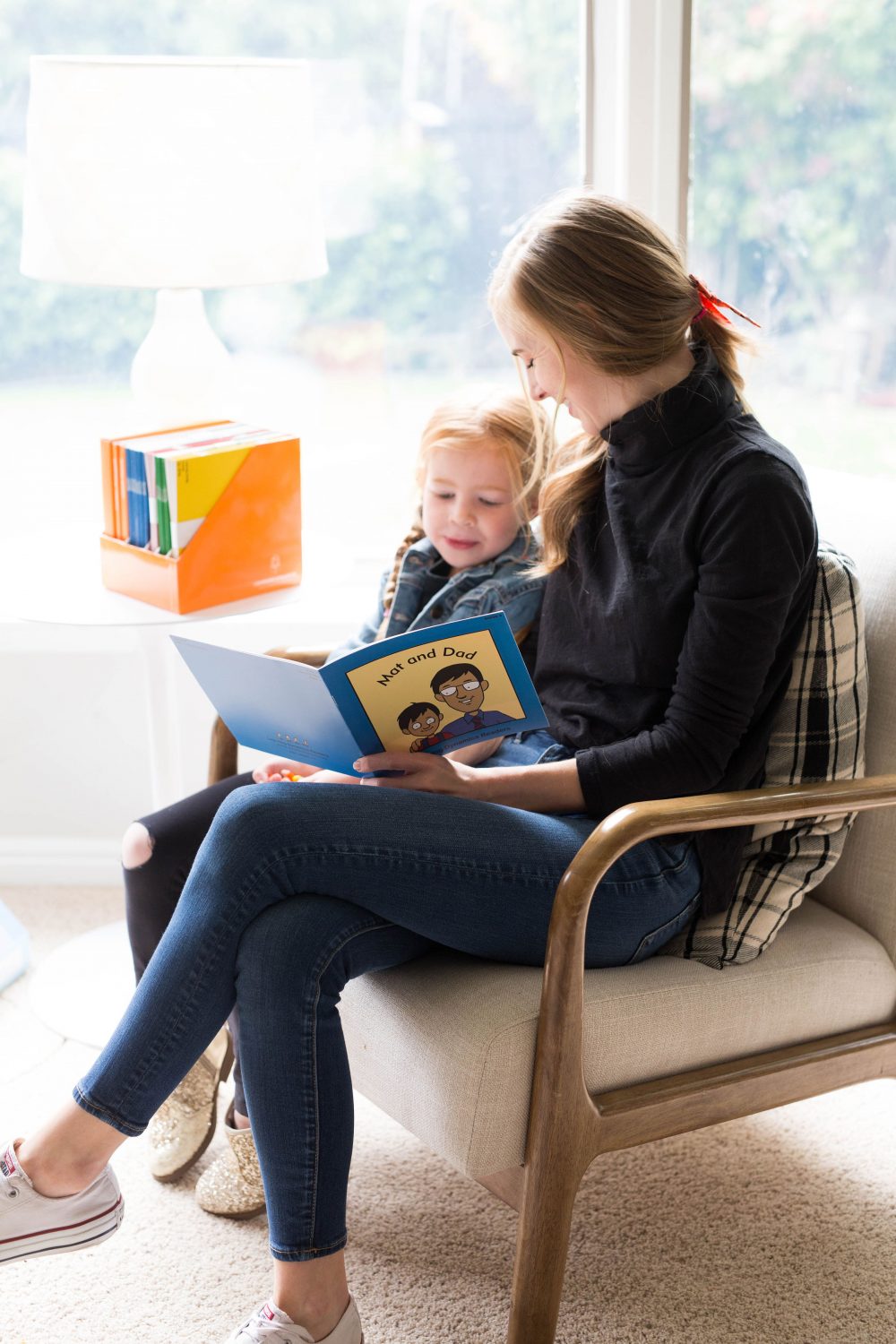 I mentioned it back in this post about the tools I used to help Ani learn to read, but I didn't go in-depth about how it works.
Two things first.
I think the "4 Weeks to Read" title is misleading. There might be some children who can learn to read in 4 weeks, but so far I haven't had any of those children (my nephew taught himself to read – a feat I can't understand at all after my children – so I know there are those children too who seem to really need no instruction at all).
I started working with Ella on reading around her third birthday and she didn't really take off until after her fourth birthday.
I started with Ani around 4.5 and she wasn't reading at any sort of meaningful level until after her seventh birthday.
Star and I started when she was 4.5 and now, shortly after her 5th birthday, she can read quite a bit, but still nowhere near what I'd actually call a fluent reader.
And the 4 Weeks to Read program has 53 books, so to get through all of those is going to take WAY more than 4 weeks.
Will your child be reading SOMETHING within 4 weeks. Likely.
Will they be a fluent reader that you never have to worry about again in 4 weeks? EXTREMELY unlikely.
Second, we've never started fully at the beginning with 4 Weeks to Read. Both Ani and Star knew their letters and their sounds before we began, so we jumped right into the reading books.
My girls have all seemed to learn their letters fairly easily (we have some giant flashcards that they've all enjoyed playing with) and then we've used Phonics Pathways to learn the sounds the make and how to blend words.
Once they've got the hang of that, we start adding in the 4 Weeks to Read books and eventually phase out Phonics Pathways all together.
But if you are starting at the very beginning, 4 Weeks to Read comes with letter cards, a CD and plenty of practice to learn those letters and sounds before you jump into the book.
How we use 4 Weeks to Read
The 4 Weeks to Read box has four sets of books. The first set has 23 books that takes you through Short Vowels with the different consonants
Set 2 is all about long vowels (there are 10 books), Set 3 is about consonant blends, and Set 4 is about Digraphs (I've done this set already with Ani and I had to look up what digraphs are – they're when two letters combine to make a certain sound like "ph" says "f.").
Once my girls have the hang of their letters, their sounds and how to blend, we start in on the books and we usually do 1 per day during our preschool homeschool time (once Ani was in kindergarten, we did them at night before bed).
As the books get longer, we usually drop to doing half the book each day. On the second day, I'll re-read the first half of the book that they read the day before and then they'll
Star, who is 5, is just about halfway through Set 3, but it was starting to get very hard for her, so we've cycled back to go through all of Set 1 and Set 2 again to give her more confidence and practice (oddly, having a furious daily standoff over doing four words in the books in Set 3 was not helping her improve) and then we'll go back to Set 3 again and keep going through Set 4.
I'm not in a rush to get through them, so I don't mind the extra practice and making sure she's really solid (Star is also VERY good at guessing the words without actually reading, so I don't want to go so fast that she misses out on the fundamental reading skills she needs).
Ani has also been using our set for reading practice right now, since usually she brings home 2-3 small books from school every night to practice her reading, but with school out, we're on our own and our options are more limited.
These books – even sets 3 and 4 – are for much easier than what she brings home, but she enjoys reading them and will do 5 or 6 of them a day, so I'm glad to have them on hand to keep her fluency up while we're quarantined.
Overall, I think it's a very solid reading curriculum and I'm very glad to have it.
I 100% plan on using it with Tally starting in another year or so when she starts showing reading readiness (she already likes to pretend to read them).
It's pretty affordable too – the regular price is $99!  Especially for a family like ours that's going to use it three full times, it's super affordable.
Plus, it has a 30 day guarantee, so you can buy it risk free and then return it if you're not happy with it.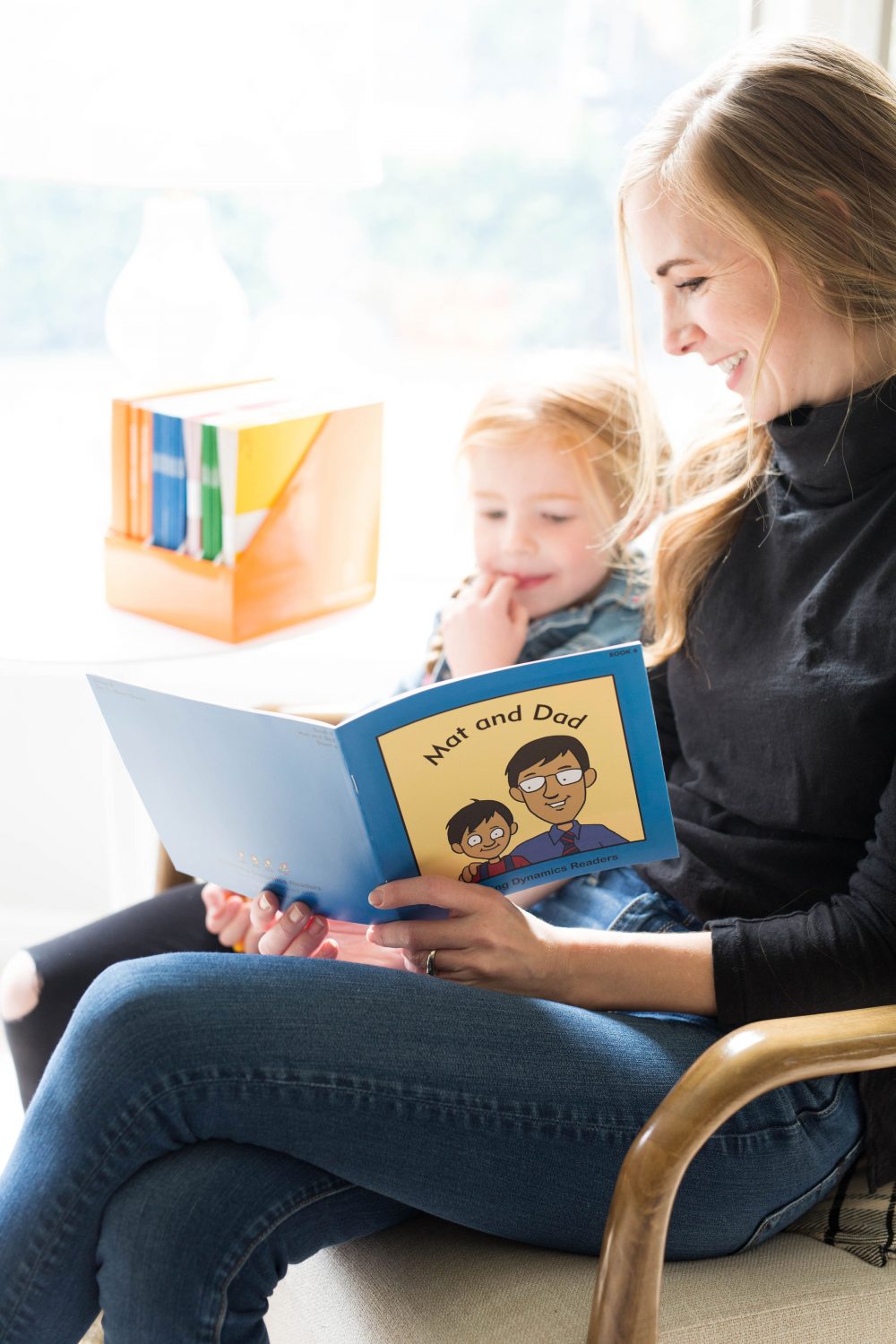 My one complaint about 4 Weeks to Read is that it doesn't teach you the rules in the beginning of each book.
There's a lesson manual which is very detailed but it only takes you through learning the letters and the sounds they make.
So, for instance, when you start Book 1 of Set 2, which is all about the Long A sound, you better know the rule that when there are two vowels together or an e at the end of the word, that A will say it's name instead of "aaaaa."
And you'll be on your own to explain that "th" makes its own sound, not the standard T and then H sounds. I mean, it's not hard if you know how to read, but I always will choose maximum handholding if possible.
One thing I always say about any reading program is that YOU have to be the one to make it happen.
No program can just do it for you – unless you're consistent about it and ready to work with your child, nothing is going to be a magic bullet. (If your child is on of those kids that teaches themselves to read, you're not going to be the person sending me messages asking if this program will work).
And that's true for 4 Weeks to Read – it's a great reading system, but you have to be willing to sit down on a daily basis and spend 10-20 minutes working with your child. They'll get there, but it's going to take work on both of your parts.
Any other questions about 4 Weeks to Read? I'm happy to try to answer!
If you liked this post about 4 Weeks to Read, you might like these posts too:
Photos by Heather Mildenstein