Winter is definitely coming this way. Time to pull out all the warm clothing (and since Texas doesn't really do a lot in the way of winter, in my case it's more along the lines of "time to buy all the warm clothing." Although, to be fair, North Carolina isn't exactly a harsh tundra itself).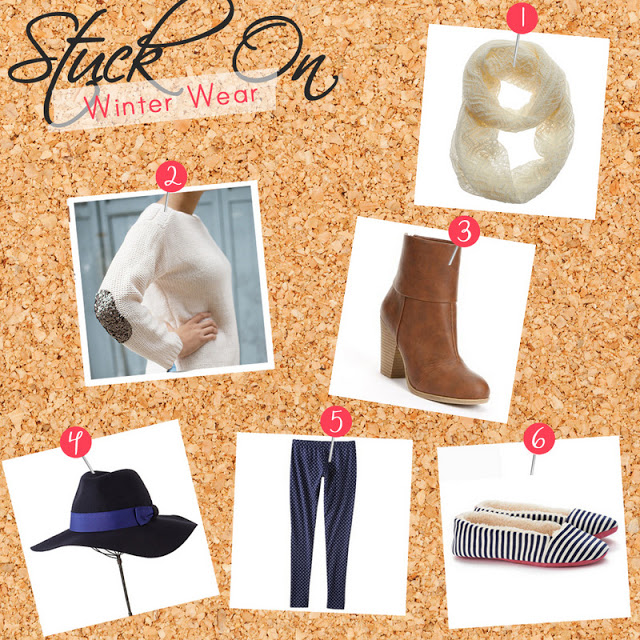 1. A White Scarf. I love everything about this scarf, and wouldn't complain at all if my Mom (who is an excellent knitter and crocheter) made me one for Christmas. If, you know, any mothers are taking notes and have nothing better to do with their free time. I'd do a winky face here, but I object to emoticons in blog posts.
2. Sequin elbow sweatshirt. I think I might try this myself (although I'd do a sweatshirt instead of a sweater). This tutorial from A Pair & a Spare looks really straight-forward.
3. Ankle Boots. I was reading a blog post the other day where they took a really expensive outfit and recreated it for a budget. The boots they included were quite cute, so I clicked through. They were $350! Apparently my idea of a budget pair of shoes is really super different than this blogger's. These boots are $25. That's my idea of a budget.
4. Felt Winter Hat. When I was in New York last month, we saw a girl wearing a similar hat. And then we saw her again, in a different part of town, a couple hours later. We recognized her by the fabulous hat. This one, from Anthropologie, is calling my name. (And, after I looked at a different one that I really liked and realized it was $375, the $48 price tag on this seems downright cheap. And I like the $48 one quite a bit better).
5. Pajama Leggings. I saw these at Target a few weeks ago (I swear, I've been to Target here more in three months than I went to Target in Texas in three years), and I spent ages deciding whether I liked the striped or the polka-dotted pair better. At $13 each, I probably should just get both. (After I typed that, I looked up to see if there was a Cartwheel coupon and. . . there is. So 10% off of $13. Obviously both.
6. Slippers. About seven years ago, Bart bought me a pair of slippers for Christmas. I wore them until they were so filthy and worn down they just absolutely had to be thrown away, and I've never gotten around to replacing them. The time might be now. I'm totally in love these striped ones (and the price is excellent).