If there's anything you think of when you think of London, it's rain.
Which means that Ella has been asking for rain boots for MONTHS (I specifically remember a few meltdowns back in August when we were traveling around with Bart's parents because she didn't have rain boots yet – never mind that every one of these meltdowns came about on brilliantly clear and sunny days where the need for rain boots was not evident).
Happily, by the time rain really started showing up in London, Ella had her rain boots.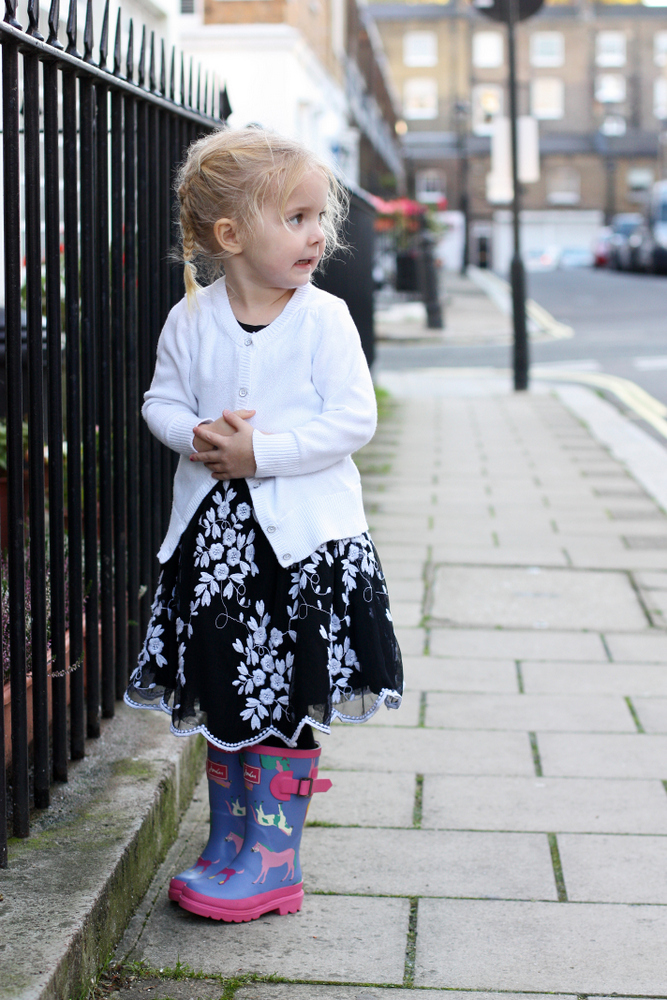 And it goes without saying that if ELLA was getting a pair of rain boots, I needed a pair of rain boots too. (I should have gotten two pairs of rain boots because I didn't throw a single tantrum about rain boots at any point during the year).
Also, for several years, I've been totally in love with the idea of living in Oregon or Seattle (mainly because I loved Seattle so so much when we went there two years ago), but Bart has been decidedly uninterested because of the rain factor.
And now that it's been rainy here for all of three weeks, I've lost any desire to live somewhere rainy. When we went to Barcelona last weekend, I couldn't believe how giddy all the sunshine made me feel. So I've officially struck the Pacific Northwest from my list of places I'm dying to live. Bart is quite relieved.
On Me:
Jacket: Old Navy
Dress: Twice (not maternity, but it's saving my life because it's so stretchy)
Necklace: Bip & Bop
Tights: similar
Boots: c/o Joules
Umbrella: similar