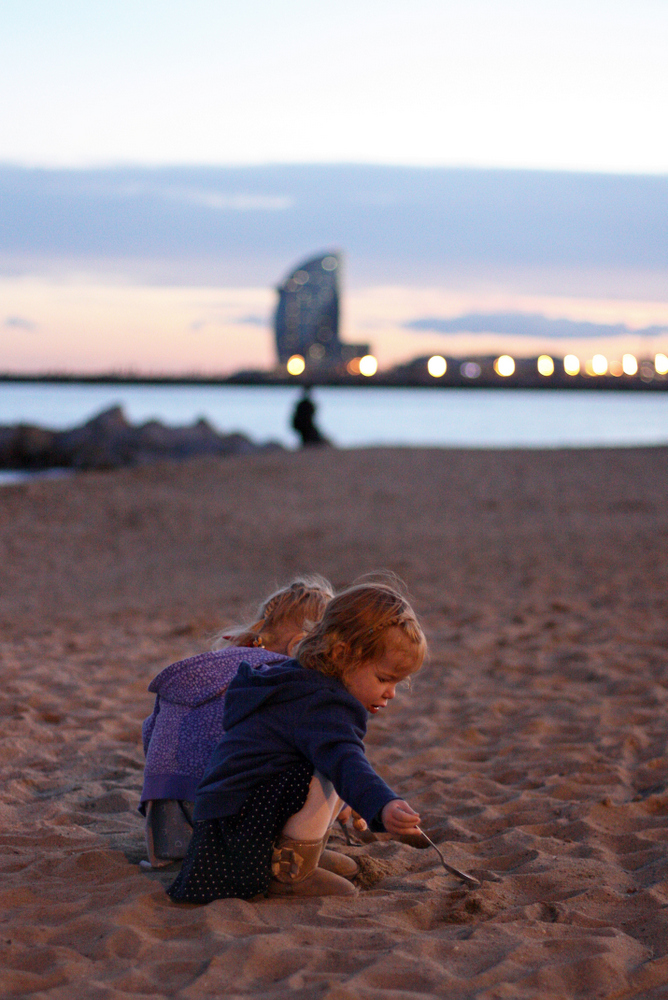 Before we left the United States in August, we had big plans to travel a ton on the weekends once we got to London.
Of course, by the time we actually got to London, we'd already visited seven countries. And I was tired.
Plus, there is so much to see and do in London, we didn't want to miss out on living here by always going elsewhere.
Which means that "every weekend" turned into "one weekend."
We went back and forth between Rome and Barcelona, but finally decided on Barcelona because the things we wanted to do in Rome weren't necessarily the most conducive to doing while dragging around two small children and also because originally we were supposed to spend the entire fall in Barcelona, so it seemed wrong to not go at all.
Also, plane tickets to Barcelona were £40 round-trip, so. . . .we went.
I'll admit that I was kind of dreading going. The thought of all the planning and the actually getting there and then hustling for three or four days just sounded exhausting. In the weeks leading up to it, I wished we didn't have to go.
And then, surprise! I loved Barcelona. The girls were great, we saw lots of cool things but didn't wear ourselves out running all over the city, and it was just really nice to get away from the laundry and school and work and enjoy a weekend as a family.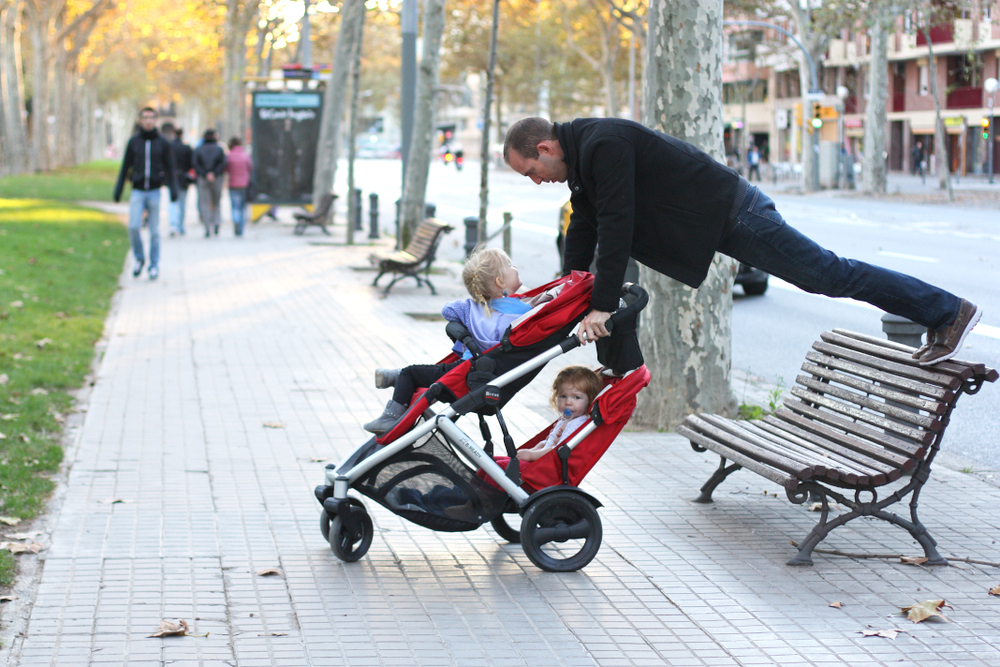 We flew out Saturday afternoon, but we were flying from Stansted Airport which meant taking the tube and then an 80 minute bus ride to the airport, so we left at 9:15 a.m. and didn't get into downtown Barcelona until about 5 p.m. It was a long travel day.
Also, we'd booked a little apartment through Expedia (which was fantastic!), but because it was located in a residential building, the office where you checked-in was actually over a mile away. So. . . that took some time too.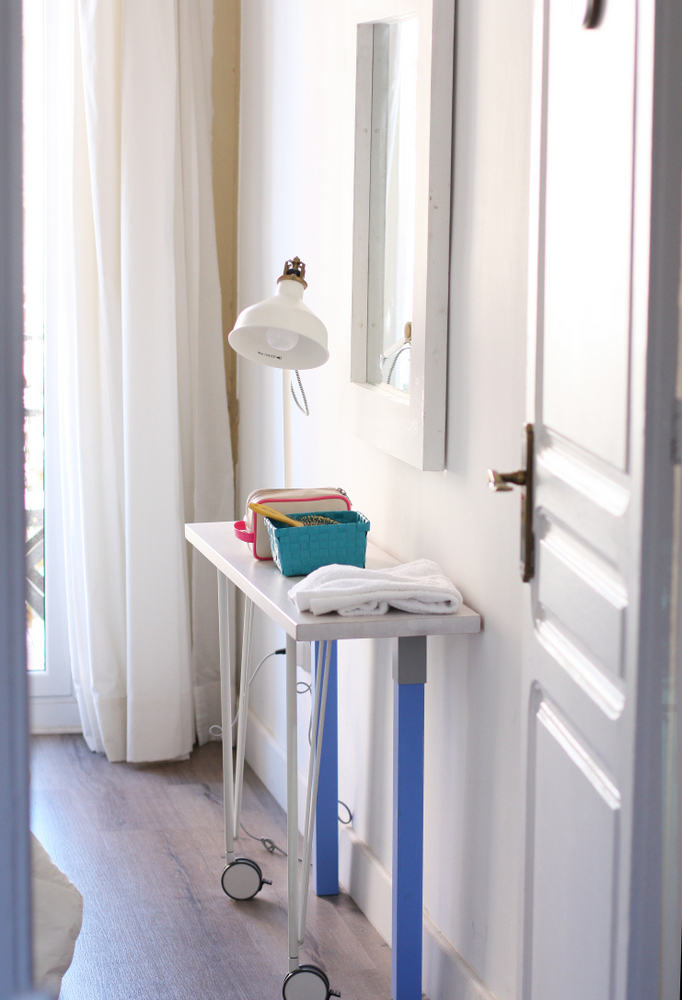 Happily, the apartment was fantastic, with a little grocery store around the corner, a good little kitchen, two bedrooms, ten blocks from the beach, and around the corner from a good metro station.
Although, Bart and I both commented how weird it was that the apartment would have a blender, a toaster, and a bunch of good knives, but no toilet paper. Or soap of any kind.
We went to dinner that first night at Kiosko Burger which was fantastic (although the homemade ketchups and other sauces left something to be desired). It wasn't actually that far away, but we were so worn out and hungry, we took the bus down there. After some enormous burgers, we were restored enough to walk home.
The next morning, we took it super easy, having a leisurely breakfast of Golden Grahams (thanks, little supermarket around the corner!) and not heading out until after ten a.m.
We bought some T10 passes at the metro station so we could ride more cheaply on the bus and metro lines and not exhaust our entire supply of cash, and then caught a bus up to Park Güell. The whole ride there, Bart and I kept looking at the hills the bus was climbing and muttering, "I'm so glad we're not walking this."
The park was gorgeous, with beautiful views of the city, and tons of trees. Plus, the weather was superb (I couldn't believe how much of a difference sunshine made in my mood over the four days we were there), and a guy was making giant bubbles just inside the entrance. Obviously we loved it immediately.
After the girls had chased approximately ten million bubbles, we wandered down to the playground and had a little picnic lunch (we'd bought a baguette, some cream cheese and tomatoes, plus some chips, fruit and cookies the night before), which was delicious.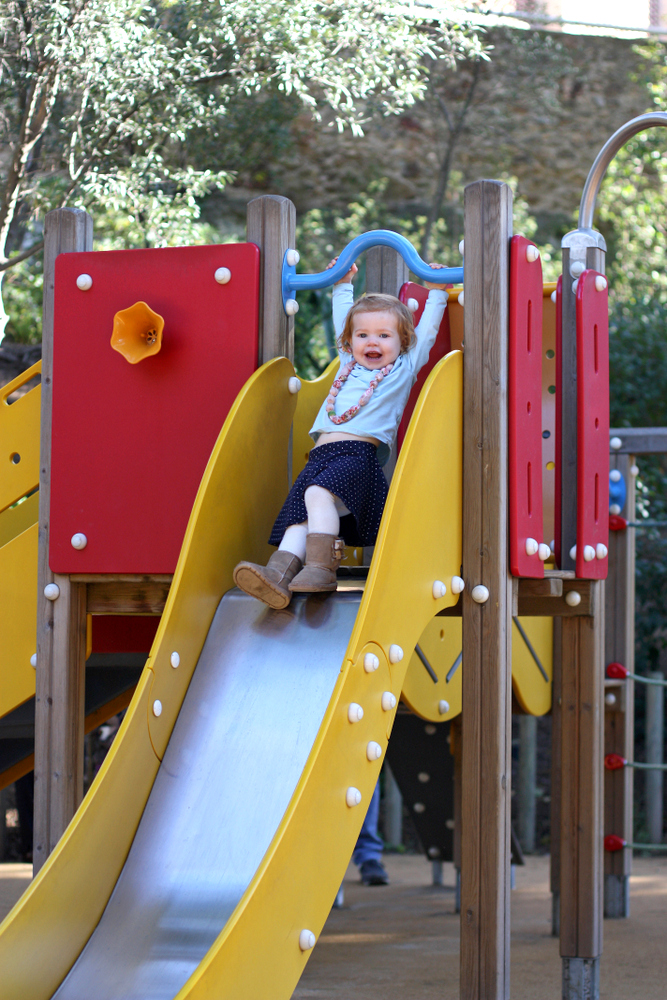 Eventually it was time to head back to the apartment for naps. Once everyone was well-rested, we walked down to the beach and watched the sunset over the water.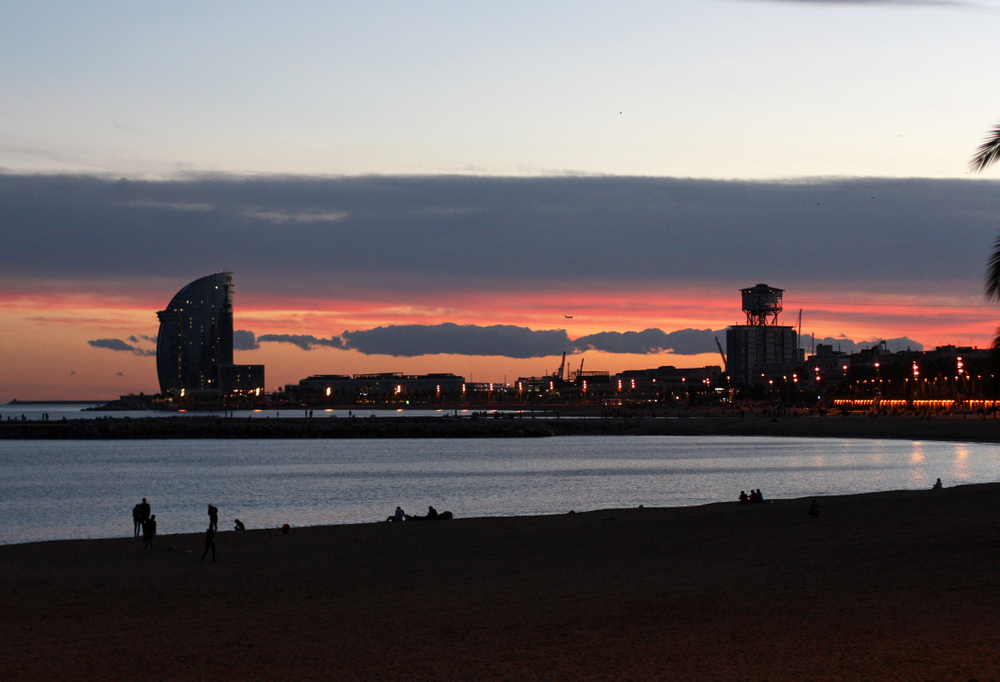 Our plan was to see the Font Magica, but despite the fact that everything we'd read said it ran Thursday-Sunday, apparently it only goes on Friday and Saturdays during the off-season, and so we sat out with a bunch of other sad idiots in the dark until we finally gave up and ate dinner and went to bed instead.
The next morning, we were up and out the door much earlier. We walked up to Sagrada Familia, waited in the already-long line for tickets, and marveled at how amazing it was, both inside and out. Even the girls were pretty awestruck and we spent much more time there than I'd expected.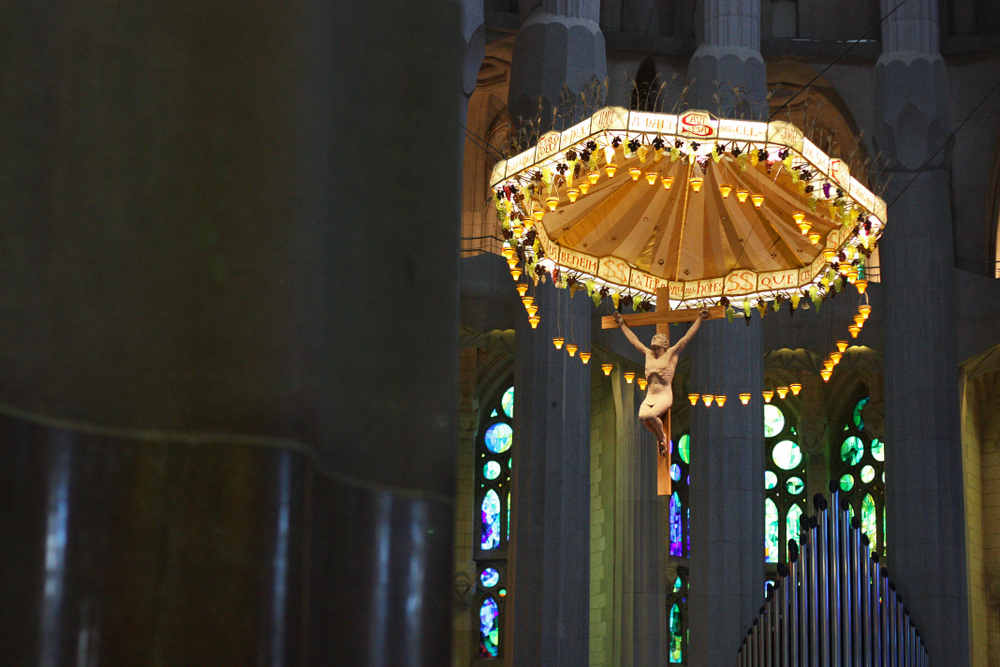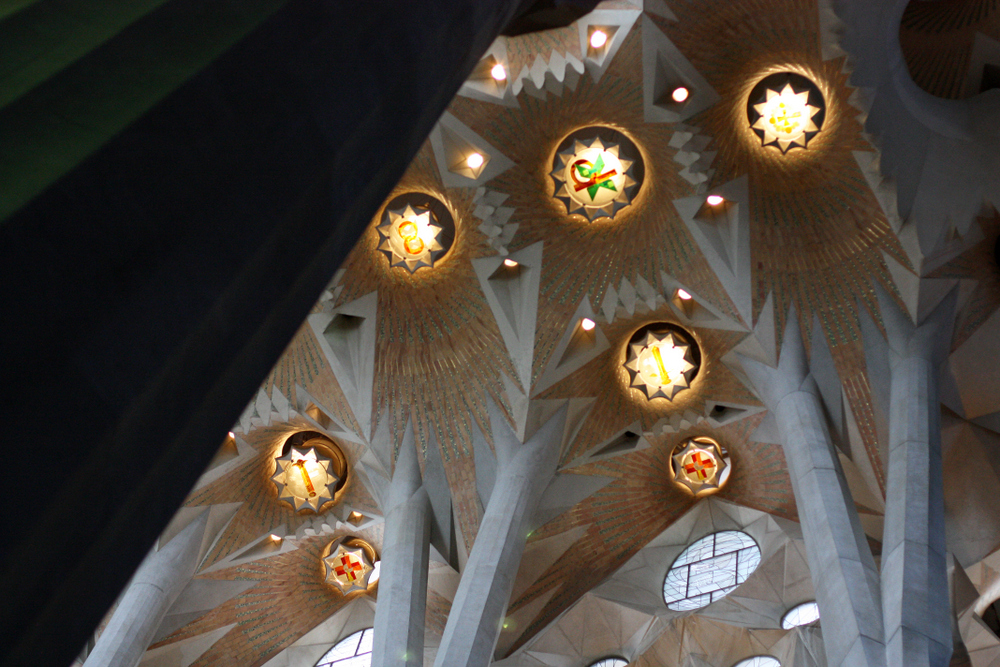 The day was really warming up, so we walked back to the beach and let the girls play in the sand for a long time, while Bart and I sat on the steps and basked in the sunshine.
That afternoon, we wandered up La Rambla (Bart and I both didn't really get the major appeal of it – it's basically a street with shops on both sides), and then ducked into La Boqueria Market, which we DEFINITELY got the appeal of. There was tons of food for sale, and we picked up a bag of dried fruit, some chocolates, and shared a cup of pineapple mango juice.
The next morning, we took the bus up to Montjuïc, wandered around the castle, scoped out the views of the city on one side and the ocean on the other, and played on the playgrounds.
It was a beautiful sunny day, and it was very quiet up on the mountain, so we enjoyed having the place to ourselves.
The next morning was another long travel day, with a metro and bus to the airport, then the two hour flight, then through passport control (makes the DMV look speedy) a bus back into London, then finally a tube ride back to our flat.
And I'm SO glad we went. Now I understand why everyone loves Barcelona.