You know those items that, no matter how many times you purge your closet, you save? They never make the trip to Goodwill, but you also never actually wear them?
Of course you don't know about those kinds of things. What sort of idiot would hold onto things they never wear? (We're speaking, obviously, about half of my closet).
For this round of Raiding My Sister's Closet, we all picked something that was languishing in our closet. Something we rarely or never wore for whatever reason.
And then we'd wear it.
Twice.
Gulp.
I picked this ruffly polka-dot shirt my mom gave me a couple of years ago. She'd bought it for herself and, for reasons I don't remember, passed it on to me.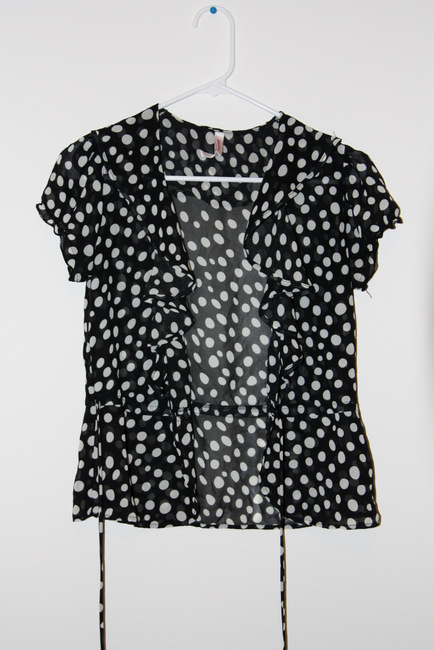 Originally it tied in the front, but then Landen altered it for me to work as a wrap-shirt instead.
I haven't worn it in probably 2.5 years. Now I'm wondering why, because I LOVED it. Seriously, it wasn't even difficult to make this work. Apparently I am just very bad at knowing what's awesome in my closet.
I went a little casual with this first one (can I tell you how much I LOVE these pants? I actually have found Forever 21 to be the most consistently excellent place for me to find pants that fit me well. And I love it that when I pay $22 for a pair of pants, that's a pricey pair).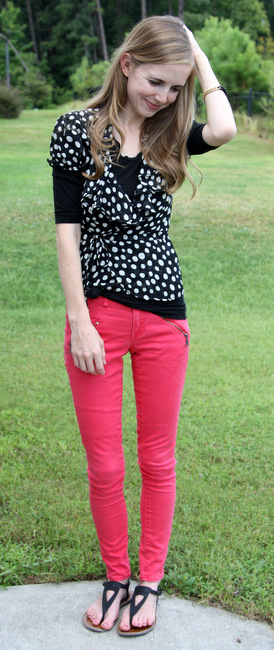 Top: Target // Shirt: Shade // Pants: Forever 21
And then a little more dressy, with some pattern-mixing.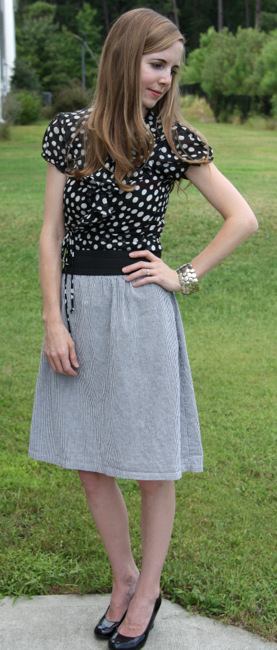 Top: Target // Skirt:
Altered by me
// Bracelet: Claire's // Shoes: Payless
Check out what Merrick and Landen's rescued from the depths of their closets: