School finished up for us last week and we're into full-blown summer over here.
We are DEFINITELY a family that functions better with at least a framework of a schedule. We're not religious about it, but having a basic idea of how each day will play out keeps everyone a little more sane, even if the times vary a little bit or we skip days here and there.
I'm not trying to pack a semester worth of school into the summer – I definitely want there to be a LOT of free play and unstructured time so that they can enjoy the summer.
Here's what our general schedule looks like this year. I'm sure it'll adjust as the summer wears on, but this is what we're starting with.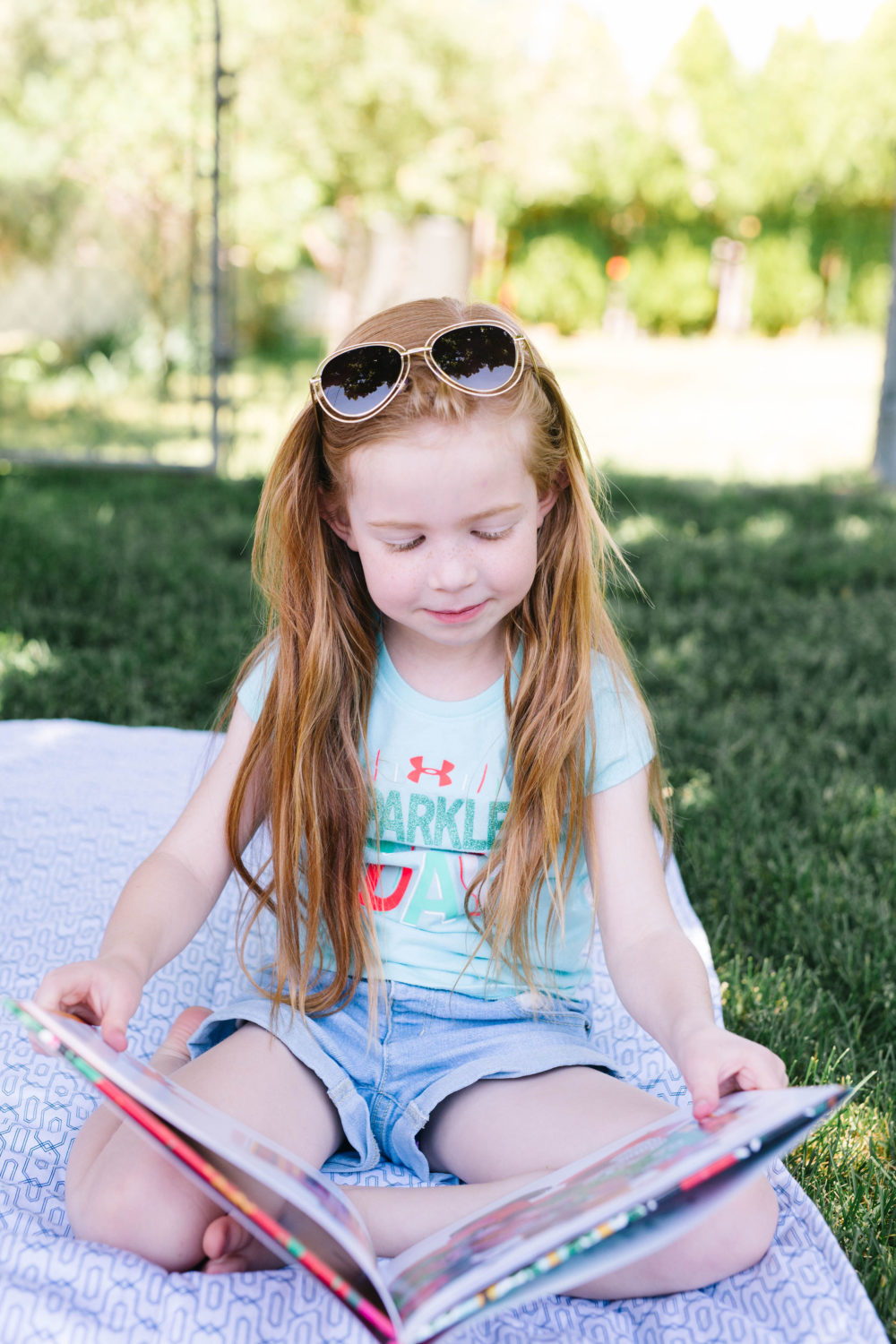 Our Summer Schedule
6:30 a.m. I wake up and read my scriptures, pray and fit in some work before the girls get up (right now, they're generally not waking up until about 8). My life is MUCH better when I get up before everyone else and have some quiet time to myself. Plus, it helps me go to bed on time.
7:45 a.m. I go for a quick run 4 mornings a week and do some strength training on the alternate days.
8:30 a.m. I shower, get dressed and do my hair and makeup.
9:00 a.m. I make my breakfast, help the girls finish up their breakfast, clean up the kitchen, make sure everyone is dressed and has their hair done, and they're responsible for having made their beds and tidied up their rooms.
10:00 a.m. Ani has online reading tutoring with the aide from her 1st grade class four mornings a week for about 20 minutes (she made HUGE strides in her reading this year and I'm not about to let it slide during the summer). I often read picture books with the littler girls during this.
10:30 a.m. I work three mornings a week and our babysitter comes over to play with the girls for three hours. On the mornings I don't work, we have a pretty free morning. The girls play outside together a lot, work on their own projects and we usually read 3-4 sections in the WildLives book (we're almost finished with this one and then we'll move on to the HerStory one). I turn on my Forest app so that I'm not distracted by my phone during this time and so I'm super available for anyone who wants to read a book, needs help with something, or I work on household chores.
12:00 p.m. Lunch and cleanup. My two older girls also have Mandarin Chinese tutoring twice a week for an hour so that they don't lose their language skills from the school year at their immersion school.
1:00 p.m. Quiet time. I work and the girls play quietly. My mother-in-law does a daily zoom call and reads aloud to any interested grandkids for about 45 minutes during this time too.
3:00 p.m. Quiet time is done and we have snack and then do some sort of activity
Monday: Go on a walk or bike ride or to the park
Tuesday: Cooking Lessons (I do this with one girl at a time and we're working our way through this FANTASTIC cookbook). The other girls do ABCMouse or Adventure Academy.
Wednesday: Go to the library to pick up new books (our library opens next week!)
Thursday: Cooking Lessons
Friday: Reading & Snacks (the big girls read on their own, the little girls look through books on their own and I read on my own or aloud to the little girls for part of it). I pick out special snacks each week that are only for this time – I always want to associate reading with fun!
4:30 p.m. I water the garden and lawn and the girls usually come out and play with me or help weed.
5:15 p.m. I start prepping dinner and the girls play.
6:00 p.m. Family dinner. Everyone helps clear the table and Bart does the dishes. The girls all get in their pjs and brush their teeth. I do 10-15 minutes of reading practice with Ani.
7:00 p.m. We have family scripture reading and prayer, then Bart puts Tally to bed and I read aloud to the three older girls for 20-30 minutes.
8:00 p.m. The girls can listen to audiobooks, read, or color until 8:30 (for Star) or 9:00 (for the two big girls) before lights out.
9:00 p.m. I'll do a bit more work or read or watch a show with Bart.
10:30 p.m. Lights out! Time for bed.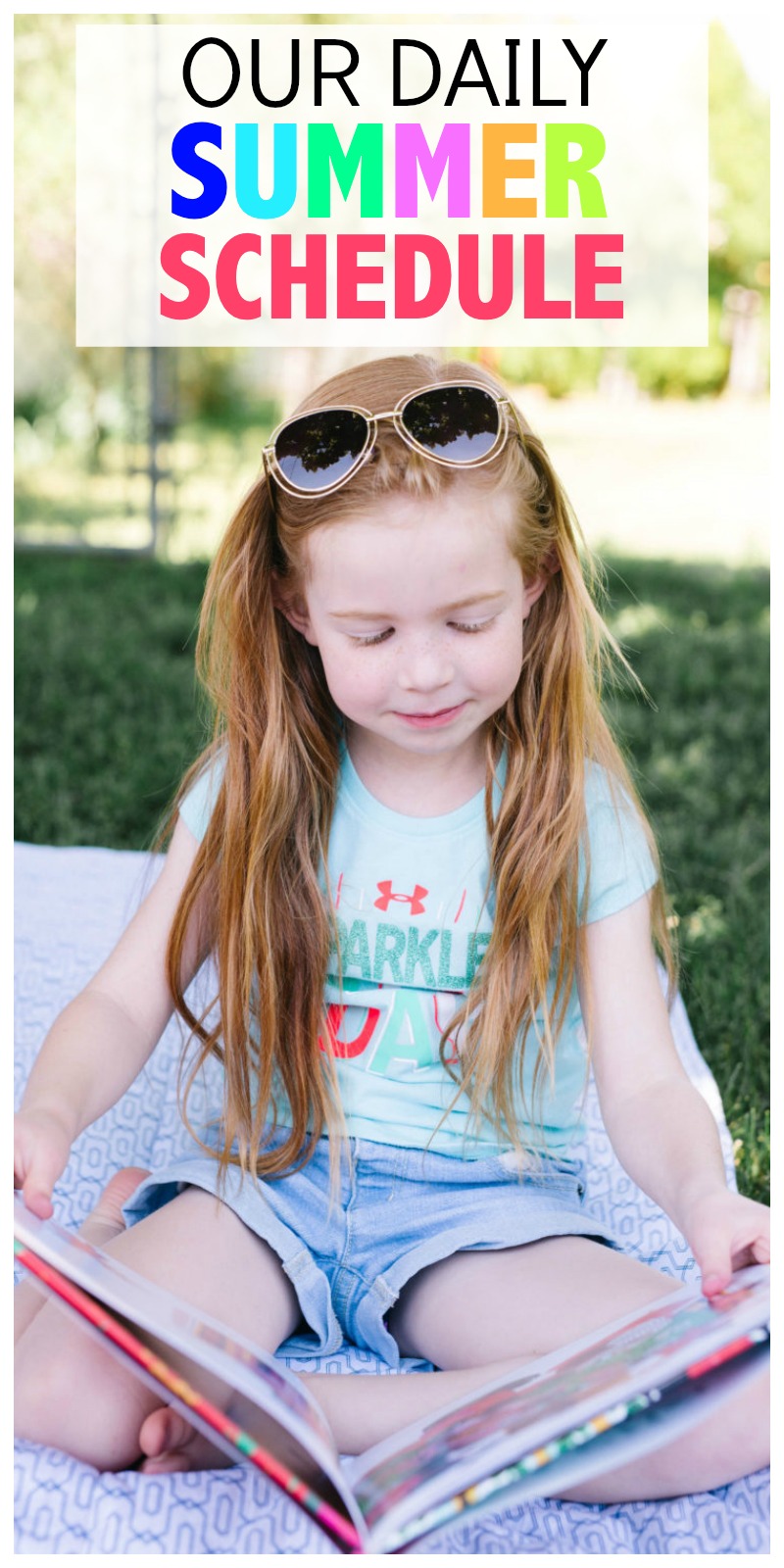 What about your summer? I'd love to hear what your schedule looks like!
if you liked this summer schedule post, you might also like these other posts: