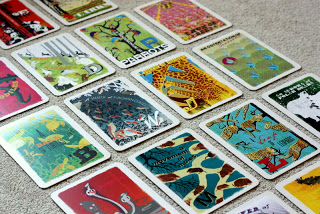 This alphabet card set we gave Ella for Easter. In the last week or two, we've pulled it out almost every day and it's just so ridiculously beautiful. And the cards are sturdy and HUGE.
A graduation party for the daughter of some dear friends – such a lovely evening in their beautiful backyard, many fun friends, perfect weather, and a dozen kinds of Blue Bell ice cream. Made me feel nostalgic about the summer nights of my childhood.
Rice with any kind of sauce. I discovered recently that Ella will eat pretty much anything over rice and frankly, those are some of my favorite dishes too, so we've been eating Indian and Thai dishes like they're going out of style around here (I particularly love this Thai one because I can throw in whatever vegetables I have and it's super easy).
Finally buying a new pair of running shoes. I've hated my last pair pretty much since the moment I bought them, and I think this pair will be much better.
Speaking of running, I've finally worked my way up to running 2.5 straight miles three times a week. I know that's nothing to many many people, but that is huge for me. And for the first time in my life, I'm not hating to run.
Meeting up with my best friend from high school, her husband, her brother and his wife for dinner at Torchy's Tacos in downtown Austin. So fun to see them all again and catch up.
Finally getting the oil changed on my car. Why is this one of my least
favorite tasks ever? I just drive up, leave the car for 20 minutes, pay
and leave? And yet I procrastinate it for agggggges.
A little Memorial Day outing to a nearby cemetery. We took along these lemon sticky rolls and there was a tiny playground behind the cemetery mostly shaded by enormous oak trees, so we spent well over an hour there.
Ella's hilarious little personality. She laughs and makes little jokes and sings us songs, and we're just constantly dying over how fun she is right now.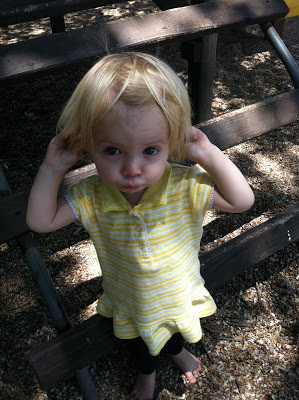 Monkey Face