This post has been compensated by Collective Bias, Inc. and its advertiser. All opinions, photos, and ridiculous love of M&M's® cookies are mine, plus my poor judgement in letting the girls eat these cookies before lunch. Take a guess who ate basically no lunch at our house. #RedVelvetLove #CollectiveBias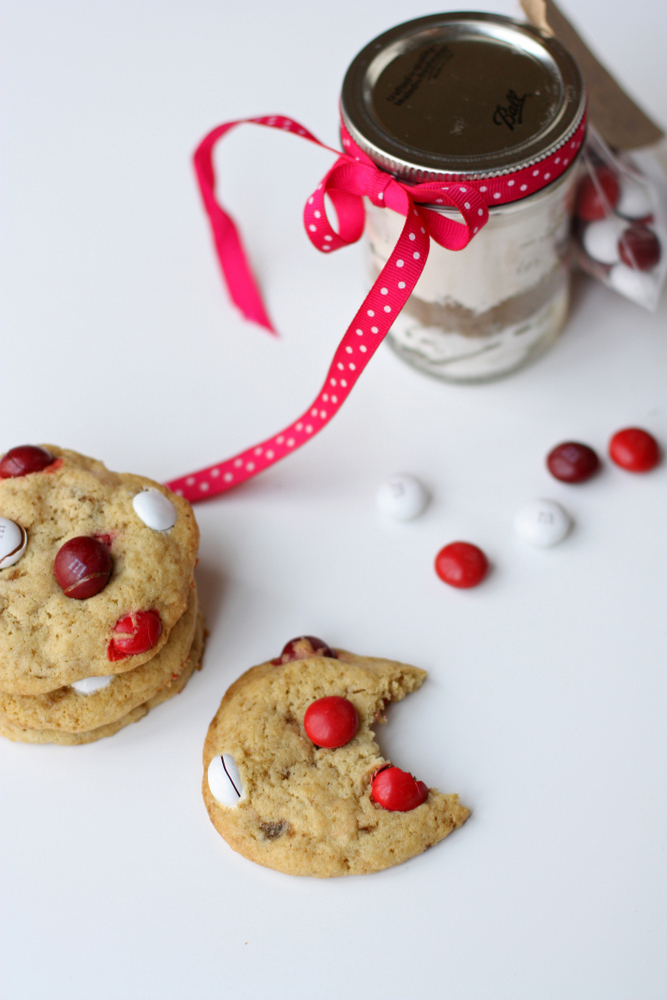 There were many many great things about
living in London
, but one thing that was really difficult for Ella was having basically no friends. (There was one little girl we saw about once a week or so at the park and library, and Ella LIVED for seeing her. She kept saying, "It's just so sad that I have no friends").
Now that we're back, Ella is in heaven going to friends' houses and having all sorts of social events that involve scores of children (also, I'm not complaining about being back where we have free dinner at Duke every Friday night. I don't even care how mediocre the food is).
Obviously, doing something for her friends for Valentine's Day is a high priority for her.
When we were making one of our ten thousand runs to Wal-Mart over the last two weeks to pick up all the little necessities for a new house, Ella and I wandered down the seasonal aisle (all things pink and red right now!) and picked up a bag of 
M&M's® Red Velvet
.
I also wanted a treat that didn't require it be eaten right away, since Valentine's Day is so sugar-heavy anyway, so I opted to make little M&M cookies in a jar with all the dry ingredients so people could make a fresh batch of cookies when they were ready (whether that is on Valentine's Day or a few weeks later when everyone has recovered from the sugar rush).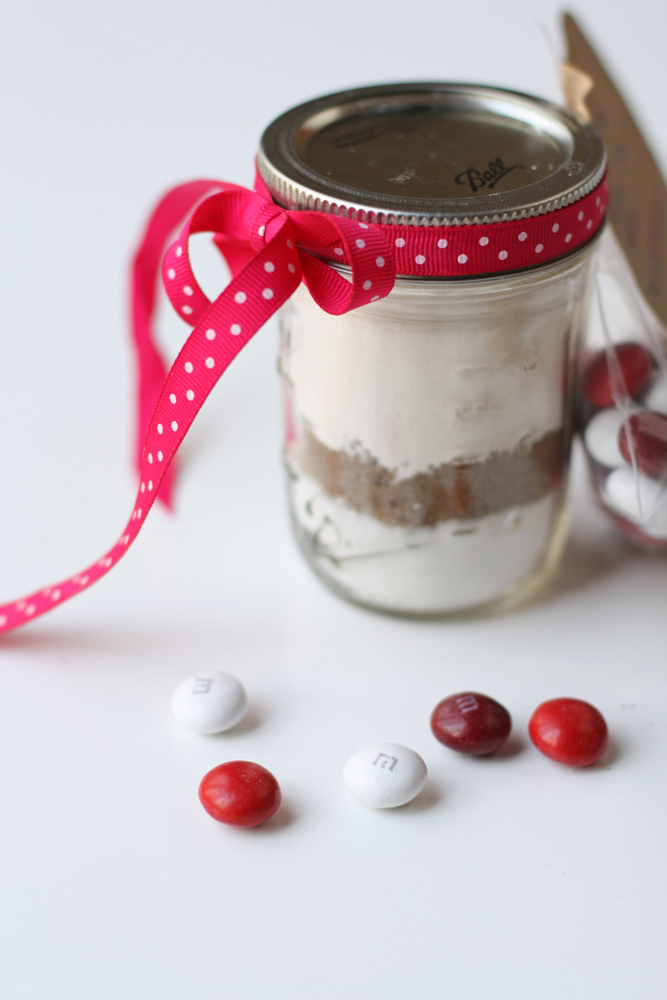 These M&M cookies in a jar were super easy, quick and it looked so festive. Plus when we mixed up the cookies, they were ridiculously delicious.
supplies you need for m&m cookies in a jar:
1 8-ounce mason jar
3 Tablespoons granulated sugar
3 Tablespoons brown sugar
10 Tablespoons flour
1/4 teaspoon baking soda
1/4 teaspoon salt
About 40 M&M's® Red Velvet
A small bag for the M&M's®
Paper or cardstock
Hole Punch
Ribbon
Pour the granulated sugar into the bottom of the jar. Press the brown sugar on top of it as firmly as possible.
Whisk together the flour, salt, and baking soda, then pour it over the top of the sugar. It'll barely fit – you want it full up the brim!
Screw the lid on tightly, then write the following directions on a piece of paper or cardstock:
Preheat oven to 375 degrees.
Beat together 2 Tablespoons butter and 2 Tablespoons shortening.
Pour the flour mixture at the top of the jar into a bowl and set aside.
Add the sugars to the butter mixture and beat until smooth. Add 1 egg and 1/2 teaspoon vanilla.
Add the flour mixture and beat just until combined.
Scoop into balls on a cookie sheet and press 4-5 M&M's® Red Velvet over the top of each ball.
Bake for 10-11 minutes or until the edges are set.
Put the M&M's® Red Velvet in the little bag and then punch a hole through both the recipe card and the bag and string the ribbon through them both.
Tie the ribbon around the jar and take it to some lucky friends!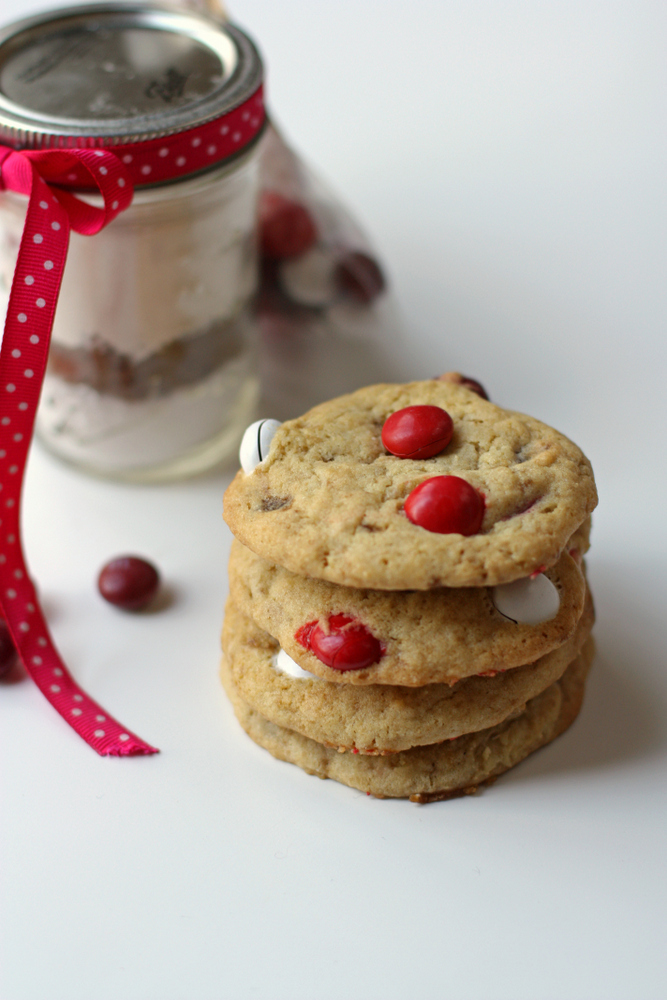 They'll get to have warm cookies whenever they're ready, and I bet they won't have any trouble figuring out what to do with those cookies (my girls definitely didn't. And, frankly, neither did I).
See more great M&M's® Red Velvet recipes and party ideas at
myconfectioncorner.com/valentines-day
where you can also download a coupon to save on your M&M's® purchase (and who has ever said no to a coupon?).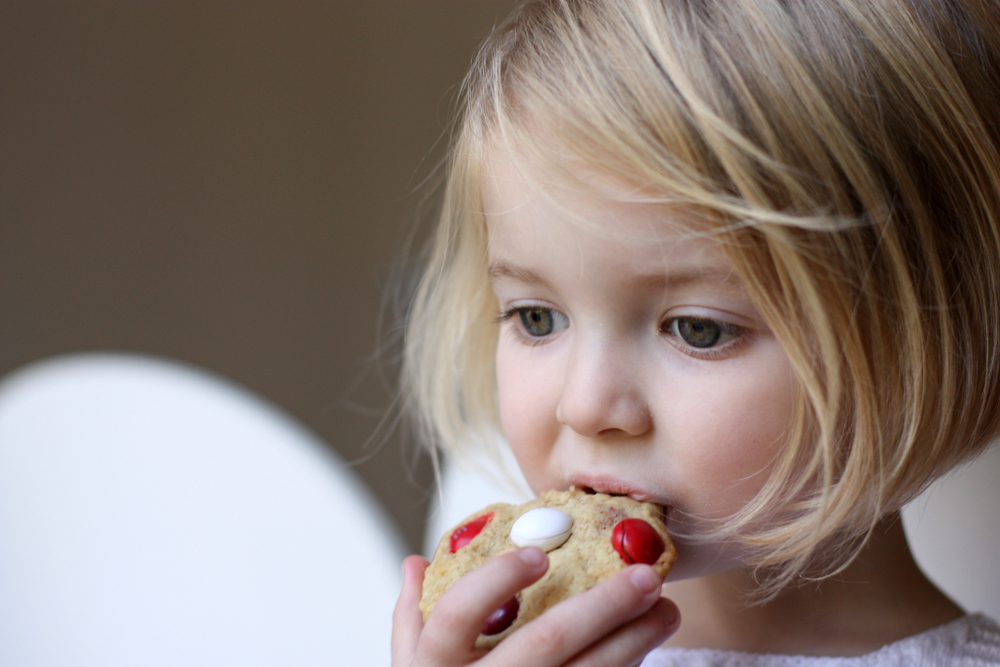 if you liked this post on how to make m&m cookies in a jar, you might like these other posts: