Experience gifts are becoming more and more popular (see this post for a whole bunch of terrific experience gift ideas!) and for good reason!
But how do you gift an experience?
Especially for children, it can be a little anti-climatic to open an envelope with tickets in it or a note saying you'll be going on a family outing.
Here are more than a dozen fun ways to gift an experience that makes the gifting just as delightful as the experience itself!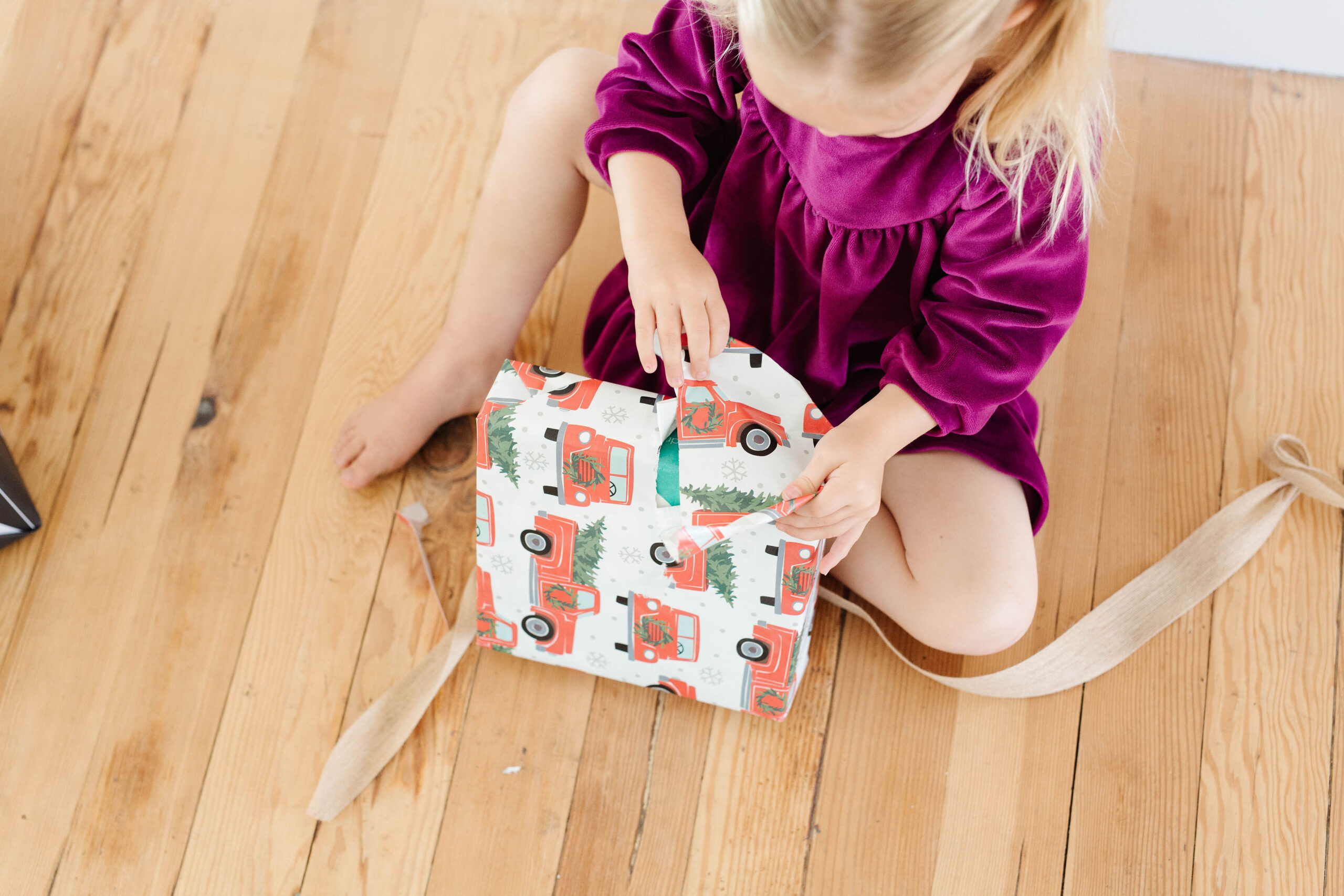 10+ Ways to Gift an experience gift
Scavenger Hunt
We always end our Christmas mornings with a scavenger hunt (a tradition we stole from parents – my dad is the KING of Christmas morning scavenger hunts) and my girls count it among their very favorite Christmas traditions. It's always a REALLY fun and high-excitement way to finish off Christmas morning and it adds a special something to whatever that final gift is. If a scavenger hunt leads to a fun experience, it will be the icing on the cake.
Accessory Gift
Give a small accessory that can be used as part of the experience. Think ski gloves for a ski pass or a light up wand for Disney on Ice tickets or special snacks for an airplane trip. The possibilities are truly endless (and they don't have to be new things – wrap up a favorite dress up outfit you already own to announce Disneyland or collect a bunch of toy animals from around the house for a zoo membership).
Wrap It Up
This is such a unique and challenging way to give a gift! Wrap up a card with the experience inside in saran wrap and tape. Have the recipient open it with oven mitts on their hands. Or freeze a note with the info about the experience gift in a block of ice and then give them a little hammer to smash it out. They will be working so hard to get to that gift!
Small Trinket
Gift a small little trinket that hints at the experience. A Hotwheels car for Monster Truck tickets, a mini basketball door hoop for basketball tickets, or a fun handmade mug for pottery lessons. It's something tangible they can use now AND a reminder of the fun to come later.
Homemade Gift Card Find a template on Etsy/Pinterest to represent the gift
Make a homemade gift voucher that represents the gift you are giving. If you are having trouble finding inspiration there are tons of ideas and templates on Pinterest and Etsy that will fit any experience gift you plan to give.
Puzzle Poster
Make a poster with all the details and then cut it up into a puzzle. Gift your recipient with a jumbled puzzle and have them put it together to figure out what their gift is. You can go the extra mile by adding a scavenger hunt element. Hide all the pieces and have clues leading to each piece, when they are all found they can put it together. I am a puzzle FAN so I absolutely love this idea!
Pamphlet or Travel Magazine
Get a pamphlet or travel magazine of where they will be going and wrap it up for under the tree. It's fun to see all the photos and details about where you'll be visiting!
Frame It
Put a copy of your experience tickets in a frame and wrap it up for Christmas morning. They will have something as a physical reminder of that upcoming day. And afterward, they could add in photos of themselves during their experience. A lifelong memory!
Countdown Calendar
Give a fun calendar with stickers to countdown the days until the event. When I was growing up, my mom bought each of us a wall calendar every year for Christmas. If there was a special event marked inside with a countdown, I know we would be THRILLED!
A Book About It
How could I skip this fun way to gift an experience? Whether it's fiction or non-fiction, juvenile or adult, there are thousands of books out there that could go perfectly with the gift you are giving. A picture book about a National Park or a travel guide to Paris or a novel set in California are all delightful! And a library book is perfectly acceptable!
Box It Up
Wrap up the tickets in a gift box and place under the tree. Or if you really want to impress them, put the tickets in a HUGE box filled with packing peanuts. For some reason the biggest gift under the tree always gets all the attention. They won't be sad about something so great!
Any other great suggestions for how to give an experience gift? Leave them in the comments – it makes this post much more helpful for others!
if you liked this post on how to gift an experience, you might also like these other posts: