Last time I did a Day in the Life post, it was summer and now that school is back in, our schedule and routines look quite a bit different!
Here's what a school day looked like earlier this week – this is also my BUSIEST time of year since Q4 is when people spend the most, so that's when brands are most anxious to work with influencers (if you wonder why you see a huge uptick in sponsored content online right now, that's why!)
Anyway, here's what our day looked like: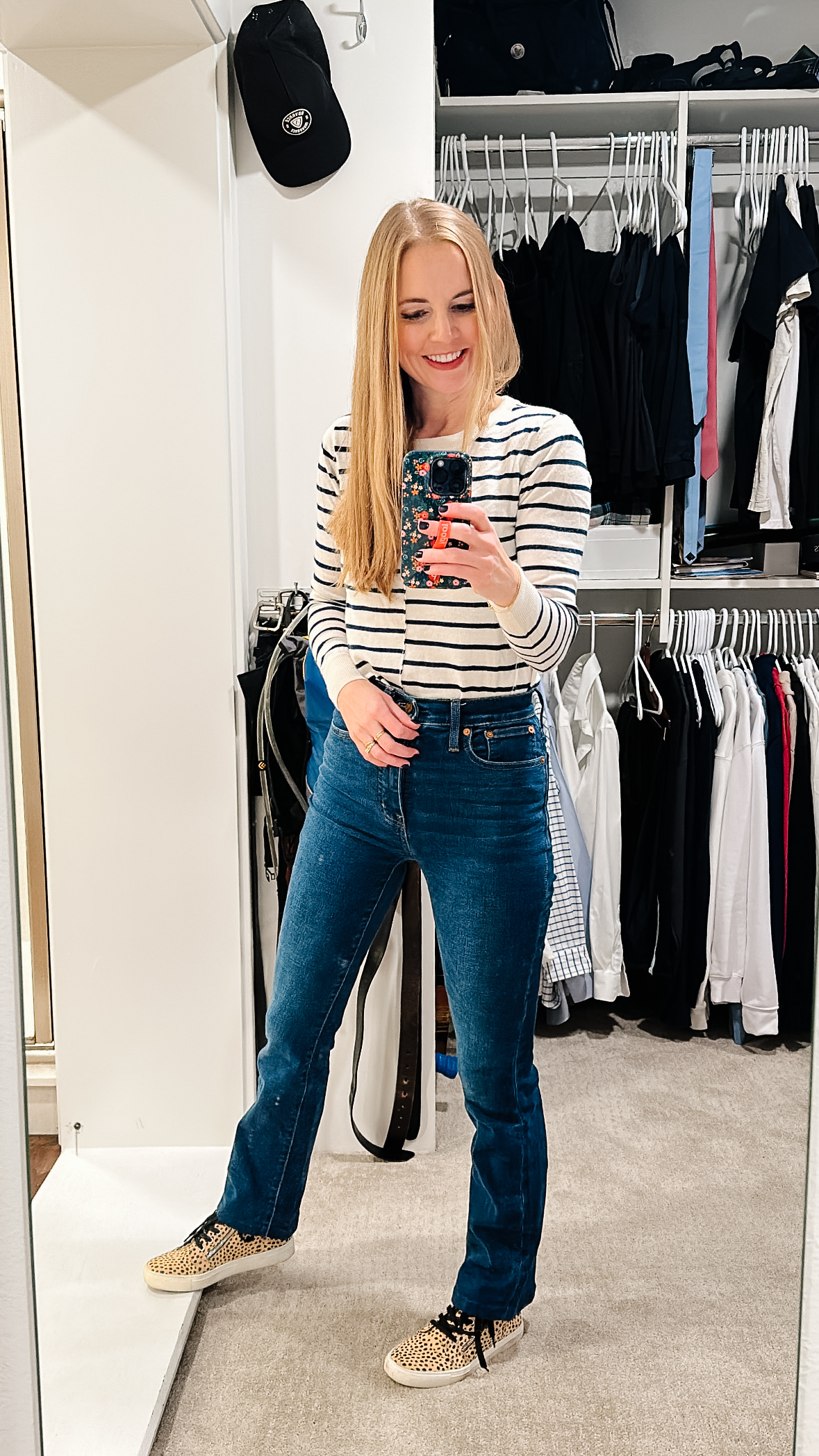 A Day in the Life: Fall Edition
5:30 a.m. I wake up a few minutes before my alarm goes off and drift in and out for a couple of minutes until it actually goes off. I get out of bed, put on my workout clothes that I'd laid out the night before then brush my teeth and hair. I go into my office and post my Instagram Reel for the morning and then grab my purse and head to the gym. I listen to a scripture study podcast on the way and fill up my water bottle when I get there.
7:00 a.m. My strength training class is over. I drive home, make my bed, and chat with Bart for a few minutes while he brushes his teeth. He heads out on a walk and I hop in the shower, wash my hair, get dressed, and Marco Polo my mom while I do my hair and makeup.
7:45 a.m. I come into the kitchen where the three younger girls are eating breakfast and when they're done I do their hair while they watch a show on my laptop. Once everyone is finished, they get their shoes and backpacks while I start my vegetables cooking for my breakfast and then they each pick a few picture books from the massive stack in my office. We read together until Bart gets home and he takes them to school.
8:20 a.m. I post some sponsored Instagram stories to go along with my blog post and reel (this requires me to change into a skirt I want to show as part of my stories and it needs a quick steam, so I spend at least ten minutes in my closet doing this) and then submit them. I add my egg to my veggies and sausage, scramble that and then add feta, hummus and sriracha sauce. I eat at the kitchen table while I work. Ella is doing her online art class in the art room and I take her down a little breakfast too.
9:10 a.m. I MUCH prefer working in my office so I move in there with my laptop and start working my way through my to-do list, first plowing through my inbox and then working on my post about what I'm giving Bart for Christmas.
10 a.m. I have a call I want to join and I listen in while I keep working on the blog post. Jen from the Everyday Reading team stops by to pick up the books for this week's giveaway and we swap out some Olive & June nail polish as well.
11:15 a.m. The call is not quite done, but it's running so long now that I decide I've gotten the main points, plus I'm done with the blog post. Ella comes in to tell me about a project she's pretty excited about and then she goes to get some lunch while I post about Hey June's Black Friday sale.
11:50 a.m. I'm too hungry to wait until Bart is ready for lunch so I warm up the last tiny bit of leftover smothered chicken to tide me over. It is DELICIOUS. I start this post and get it up to date. I pick Yoto Player winners from my giveaway and send them messages.
12:15 p.m. Bart comes up for lunch and I make myself some nachos and apple slices while he scrambles some eggs and toasts some English muffins. While we eat, we go through the girls' holiday wishlists and decide what we're giving each of them for Christmas. Feels SO GOOD to get this taken care of.
1:15 p.m. I come back to my desk and have heard back from one of the Yoto winners so I get that ordered. Kelsey from the team (she's the graphic design mastermind!) sends me the Instagram post for this afternoon (it features some of my favorite picture books about gratitude) and I get that set up so it's ready to post this evening. I film a reel for tomorrow.
1:45 p.m. I come back to my office and call Jessica Turner – it's been a few days since we chatted and I'm in the mood to catch up. While we talk I request some books from my library. Once we hang up, I get ready to film some sponsored stories (tis the season!) – I can't find that I have a coupon code, so I text my manager to ask if there is one. While I wait for her response, I order the Yoto players for the other two winners and answer the question box questions on Instagram about gift suggestions.
3:15 p.m. I go to pick up Ani from school and drop off the boys we carpool with, plus pick up the little girls. One of Star's friends comes home with us and stays to play. I make a smoothie for snack and text one of Tally's friend's mom to see if she can play. When she responds in the affirmative, Tally is THRILLED (we've tried three times in the past week to catch her at a good time) and I drive her over to her house while Bart takes Ani to swim team.
4:05 p.m. Since everyone is occupied, I sit down at my desk and keep making gift recommendations on Instagram. Star is getting a little annoyed that her friend wants to read a book, so I suggest she practice piano while her friend reads.
4:45 p.m. I get a text back with the coupon code for my sponsored stories, so I film those and then go pick up Ani from swim team. When I get home, I start working on dinner, while Bart goes to pick up Tally and drop Star's friend back at home. Ani comes into the kitchen and we chat while I cook and she sets the table. When they get back, the other girls unload the dishwasher and Bart works on the dishes.
6:15 p.m. We sit down for dinner and then Bart runs Star to a church activity in the neighborhood and is home within a few minutes. We finish dinner, I put away the food and Bart finishes the dishes. I get in my pjs and snuggle up on the couch with Tally and Ani and read aloud to them from the new Mercy Watson book. Bart goes to pick up Star and I post my evening post to Instagram.
7:40 p.m. When Star gets back, everyone changes into jammies and brushes their teeth. I film a quick sponsored story and post that (it's a follow-up to the main sponsored story earlier in the week, so it's just a single frame) then we all go to the basement for family scripture study and prayer. Bart heads into his office and the girls and I go into the little girls' bedroom so I can read aloud to them while the two little girls fold and put their laundry away. Tally is having a HARD time (she is sure she's going to hate the book which is basically how she reacts to EVERY new read aloud) and eventually I tuck her into her bed and she puts in headphones and listens to an audiobook while I read aloud to the other girls. Star kindly finishes both of their laundry and puts it all away. Tally is pretty calm now and takes off her headphones and asks me to catch her up on the book and we finish two chapters.
8:45 p.m. Bart comes out of his office as I leave the girls' room and he says he'd like to go to bed early since he has early pickleball in the morning. He goes into our room to get ready for bed while I go into my office and submit the sponsored stories I filmed this afternoon for review. I get in bed and read a few chapters of my book on my Kindle (Holiday Romance) until I feel ready to fall asleep. Bart turns on the sound machine and then we turn off the lights, say a prayer, and fall asleep.
if you liked this post about a day in my life, you might also like these other posts: