We have had a no -stop week and last night we all slept for more than 10 hours. Whew!
Between prepping for our camping trip next week and movie night, I'm hoping for a little time to read this weekend.
Here are some great book deals going on!
And don't miss out on the Audible deal that is still live – it's one of the best I've EVER seen.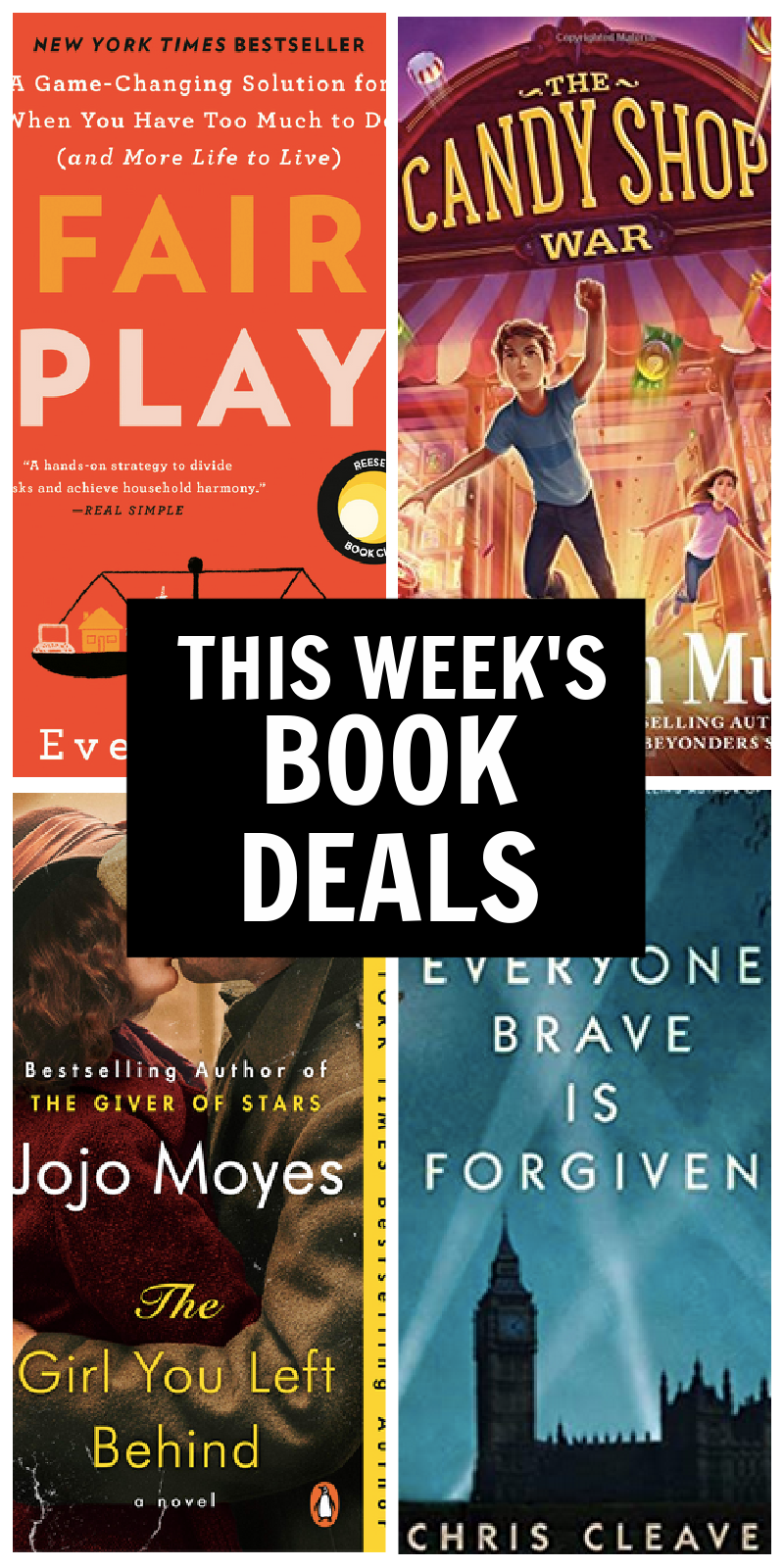 The Candy Shop War by Brandon Mull – audiobook
Ella's best friend from Arizona wrote her a letter recently mentioning that she was reading and loving the Fablehaven series. Naturally, Ella was anxious to read it too, but when our library didn't have it checked in, we grabbed another book by Brandon Mull and Ella has been THRILLED by it. I mean, magical candy that gives superpowers? Throw in a fight against evil and Ella was ALL in.
The Girl You Left Behind by JoJo Moyes – ebook
I read this about 7 years ago and completely forgot it was a WWI book! It has two timelines, one during World War I and one in the present, and both love stories connect through a portrait. Definitely a fascinating, engaging read.

Fair Play by Eve Rodsky – ebook
I read this one last year and I can't stop thinking about it. It's all about how to divide up household and family responsibilities between two parents and it was fascinating and eye-opening. LOTS of people suggested it when I asked for book recommendations that went along with 168 Hours. (Fair warning that it has quite a bit of swearing).

Everyone Brave is Forgiven by Chris Cleave – audiobook $3.99
I know everyone loves All the Light We Cannot See, but that book took me forever to get through and frankly didn't do that much for me (I know, I'm a terrible person). This one, also about WWII, I found much more gripping. I loved the cast of characters and thought it was just extremely well done.
Where the Mountain Meets the Moon by Grace Lin – audiobook $5.99
This was a GREAT book about a little girl, Minli, who sets out on a quest to find the Old Man on the Moon so she can find a fortune for her poor family. It was especially fun for my girls who are in a Mandarin Chinese immersion program at school. It's full of little side stories that weave wonderfully into the main plot and gorgeous illustrations. Highly recommend.