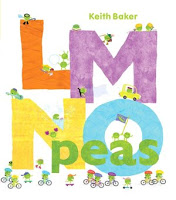 LMNO Peas is perfect for a child about Ella's age. The text is short and rhyme-y, the letters are huge and colorful, the backgrounds are clean and white, and it's not too long.
It's an alphabet book and each page shows peas performing activities or jobs that begin with the letter on the page (everything from farmers to outlaws, biking to quilting).
But what really made this book a hit for Ella was the ladybug that is hiding on every page. She LOVED looking for the ladybug, and I was amazed at how good she was at locating it. Definitely a winner.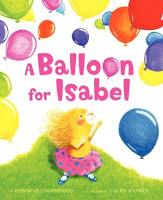 I already knew I loved Deborah Underwood (thanks to The Loud Book), and this is another excellent title. It's more text-heavy than the Loud and Quiet Books, and Ella was just barely able to sit through it.
A Balloon for Isabel follows Isabel who is tired of getting a bookmark in school for every holiday because she's a porcupine and thus the balloons all the other children get (nice safe animals like squirrels) will pop if she gets too near it.
She and her fellow porcupine, Walter, are determined to figure out how they can be allowed balloons too. (Spoiler: she ends up putting gumdrops on the end of each spine).
The illustrations in this book are just happy and cheerful. It reminded me a bit of a Kevin Henkes book. I'm excited to pull this one back out when Ella's just a little bit older.