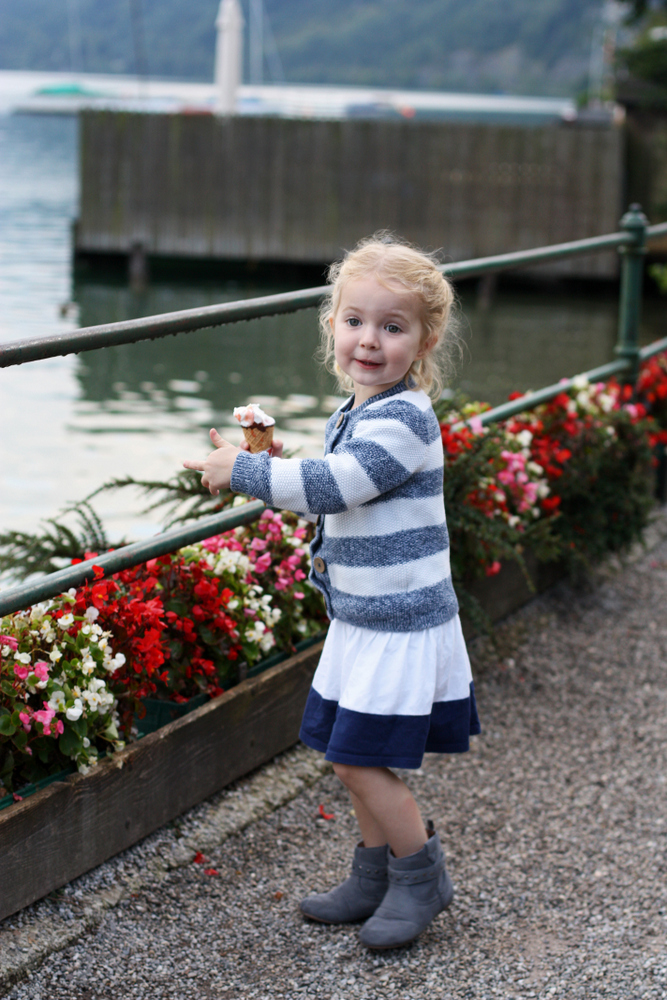 And, another week under our belt.
Yesterday morning, we flew out of Germany to Kiev, Ukraine where my in-laws are living and we'll be spending most of the next week with them, which I'm so looking forward to because it will be fairly low-key after the last 10 days.
Naps for Ani, quiet time for Ella, some much-needed laundry, movies in the evenings after the girls are in bed, and some reading. Also, my mother-in-law's cooking, which is a huge draw on its own.
Anyway, onto the activities of the last week (more of which you can see on Instagram).
We got out the door pretty early on Friday morning, leaving Prague in the rearview mirror, and heading south to Austria.
WOW, is that a gorgeous place.
In the late afternoon, we pulled up to a delightful little bed and breakfast (minus the breakfast) where we had an apartment set-up for the only time on this trip.
The girls were thrilled by the trampoline in the backyard, and then, when it started to rain, we sat around on the covered patio and enjoyed the cool weather and the ridiculously beautiful surroundings.
When everyone was sufficiently recovered from all the driving, we went into Hof for dinner at Pizzeria Bianco and then picked up some groceries.
Those groceries included some Magnum bars and on our drive back, Bart's dad suggested we stop by a little lake to eat them. There was not much protest.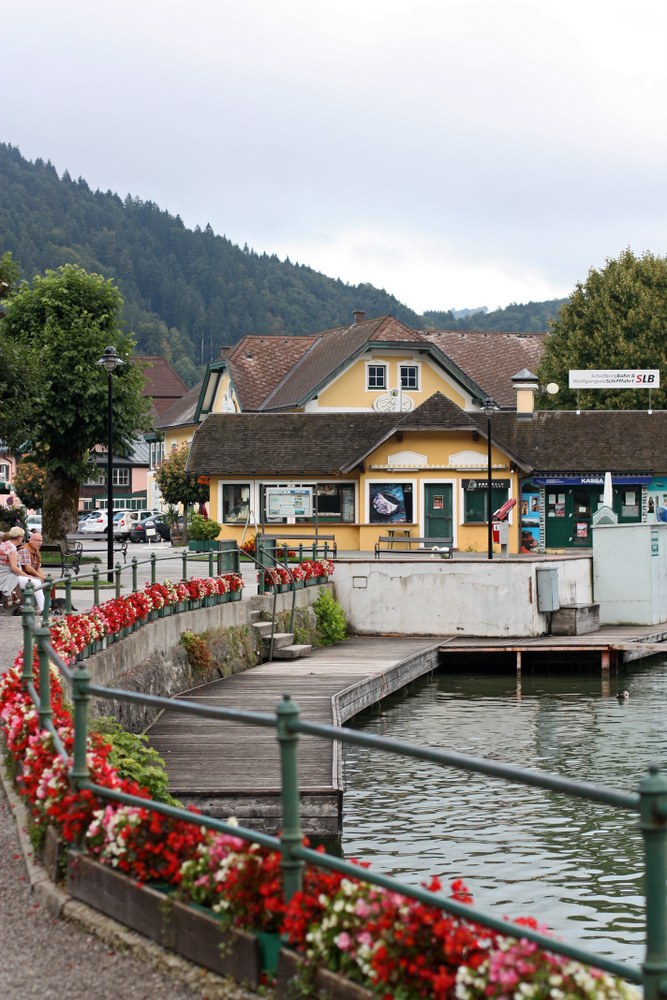 It was SO beautiful, the weather was perfect, and the girls were in heaven, pointing out all the ducks and swans.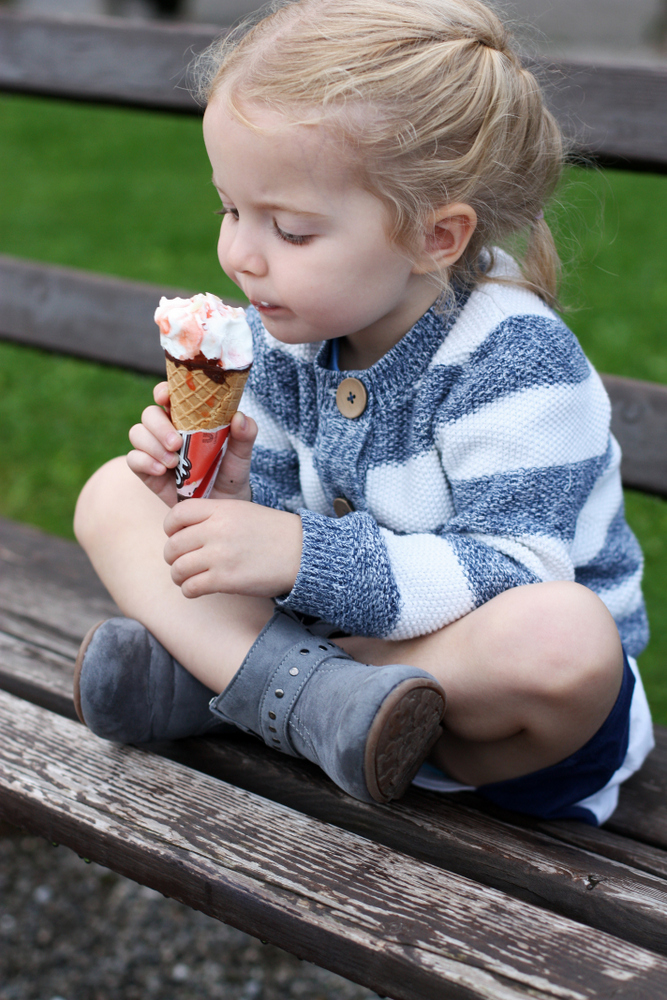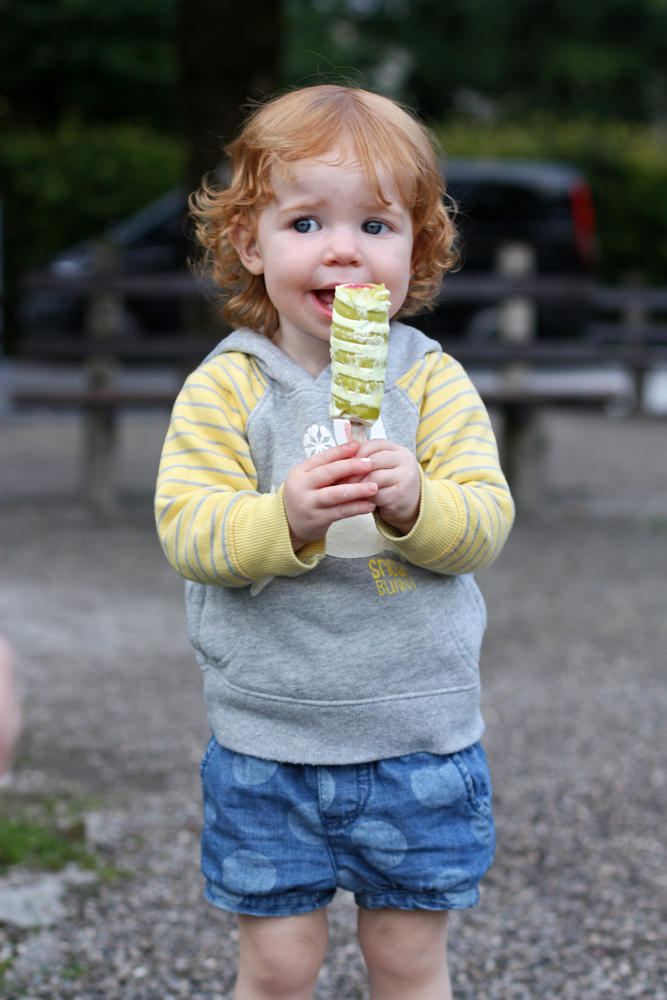 Of course, they quickly discovered that the Magnum bars were way better than the cheap-o pops we'd bought them. Sharing was required.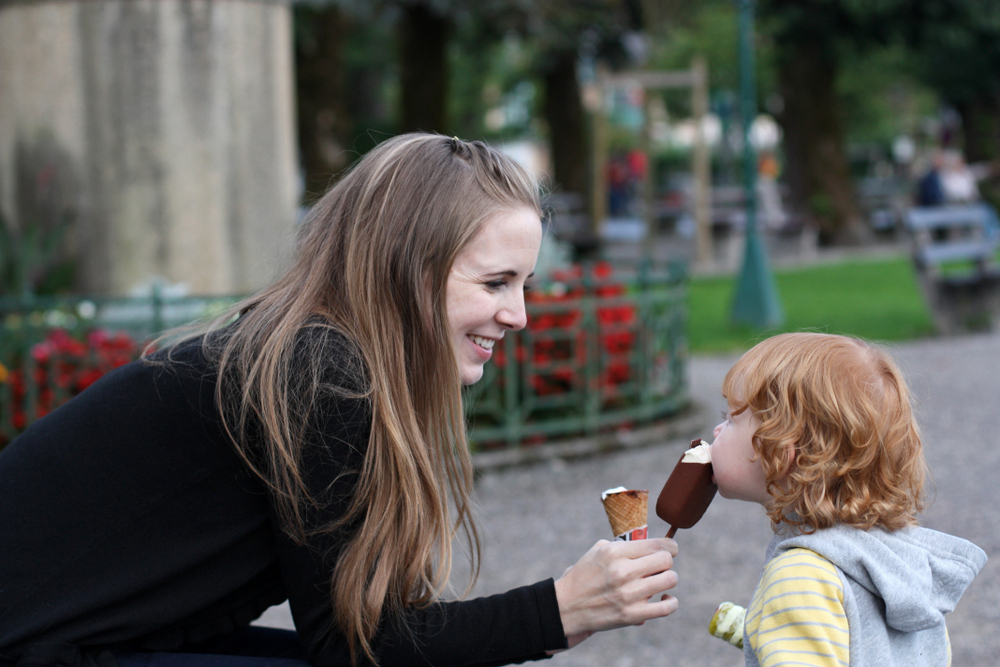 A nice family offered the girls some bread and chocolate crackers to feed to the swans, but then one of the swans bit the cracker right out of Ani's hand, which scared her to death and signaled it was time to go home for the evening.
The next morning, after the best night of sleep we'd had thus far, we headed into Salzburg, which was just ridiculously lovely. The rain held off for most of the morning as we wandered around the main square, visited a few of the Von Trapp/Sound of Music sites, and danced to street performers.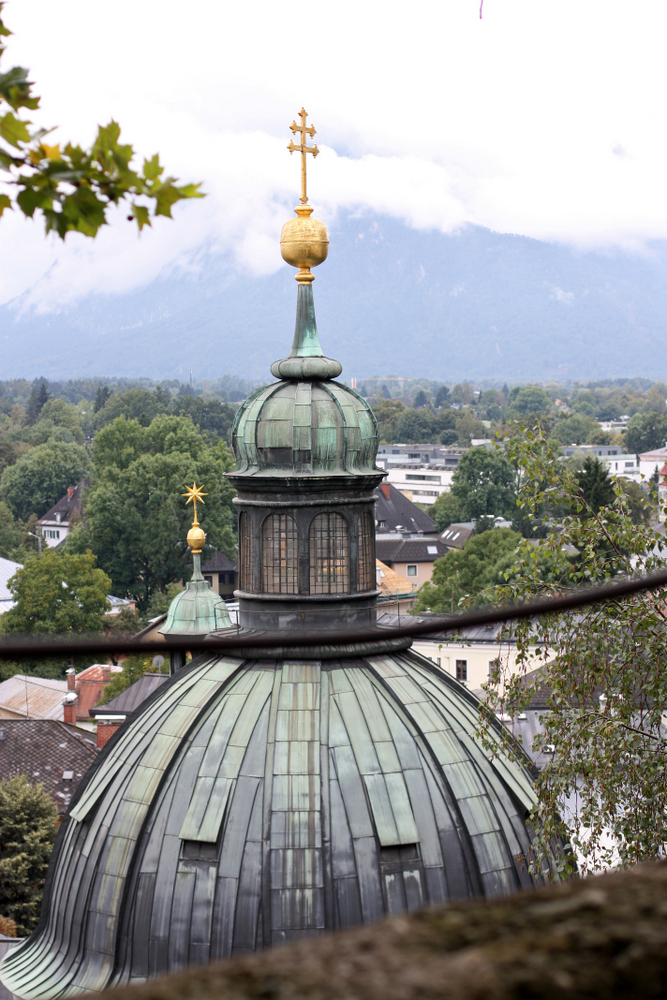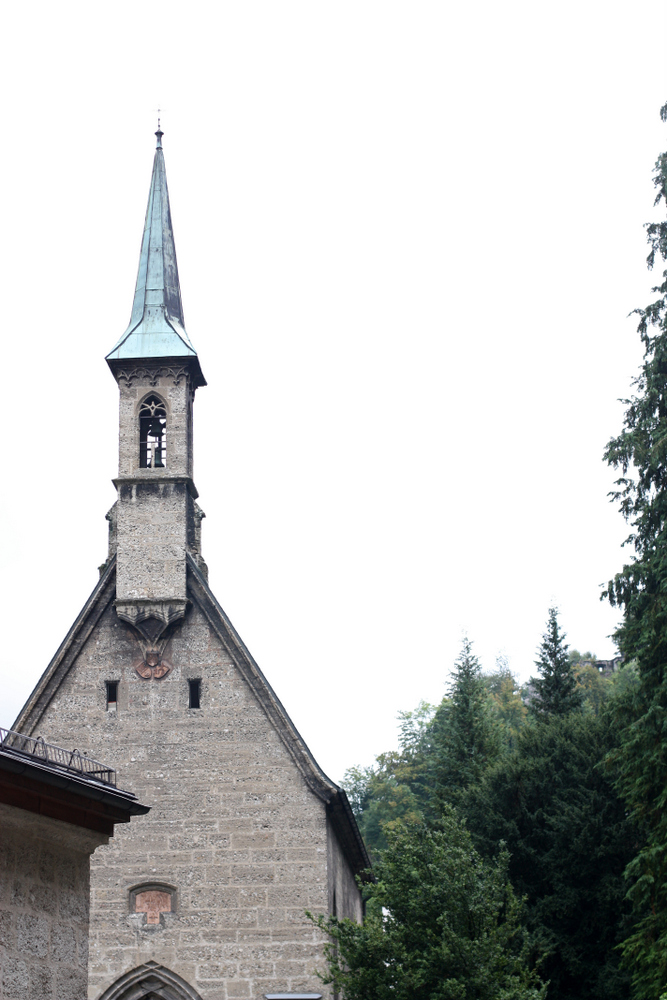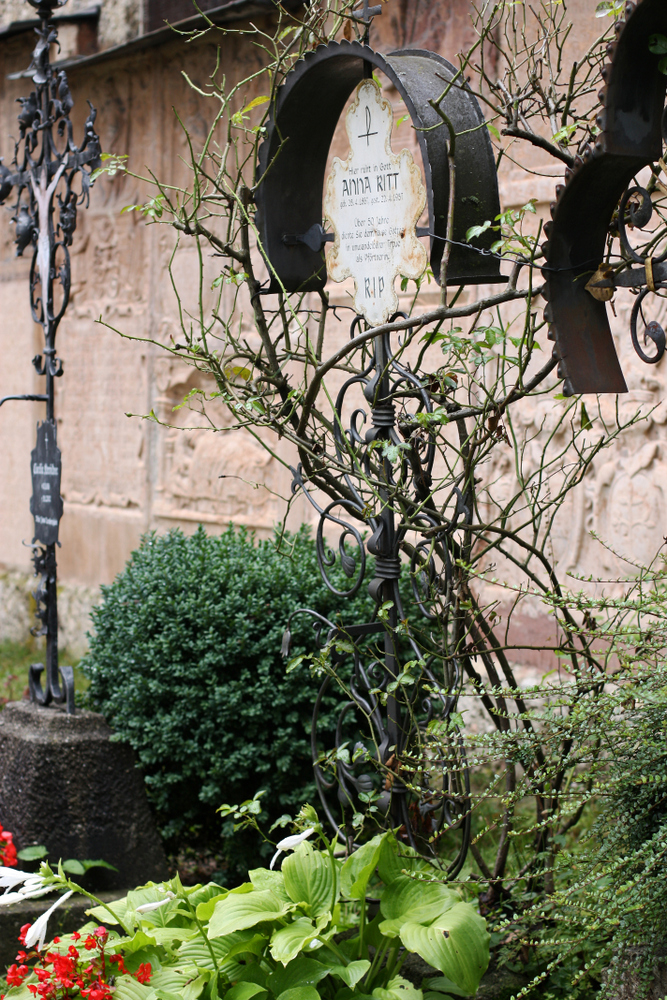 Just at lunch time, the rain started coming down, and we ducked into a little pub Bart's dad had liked during his graduate work in Austria, and we shared an enormous platter of meats, vegetables and rice. Ella convinced Grandma to buy her a gingerbread cookie, and we headed back to the car in the pouring rain.
We also visited Hallstatt that afternoon which was basically too charming for words, but it was also quite chilly and pouring rain, so we didn't get to go out on the lake as we'd hoped (and also, I took zero pictures. But seriously, look how gorgeous it is).
The next morning, Sunday, we packed up quickly and got out the door to catch church (it was my first time listening to Sacrament Meeting via a translation headset, which Ella thought was pretty cool).
Then we were staring down at 6.5 hours of driving to Switzerland which, thanks to torrential rain and terrible traffic, ended up taking more than 8 hours. We were all very very glad to arrive in Lauterbrunnen, eat a small dinner and collapse into bed.
The weather was supposed to be freezing cold and also snowing the next day, which we were all very discouraged by, but aside from a little rain early in the morning before we went out, it was perfect weather – not too cold, and clear all day.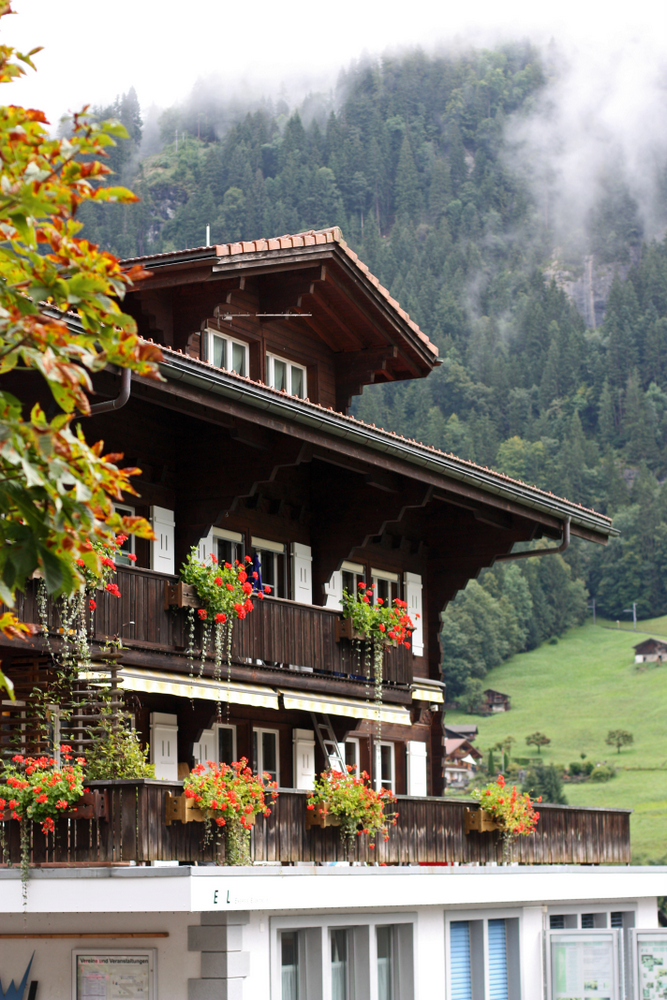 Bart's family LOVES Lauterbrunnen and Bart has talked about it for as long as I've known him, and he wasn't kidding. This place is spectacular. It almost hurts your eyes.
We hiked up behind one of the big waterfalls (Ella made up an impressive hiking song) and got a little bit damp.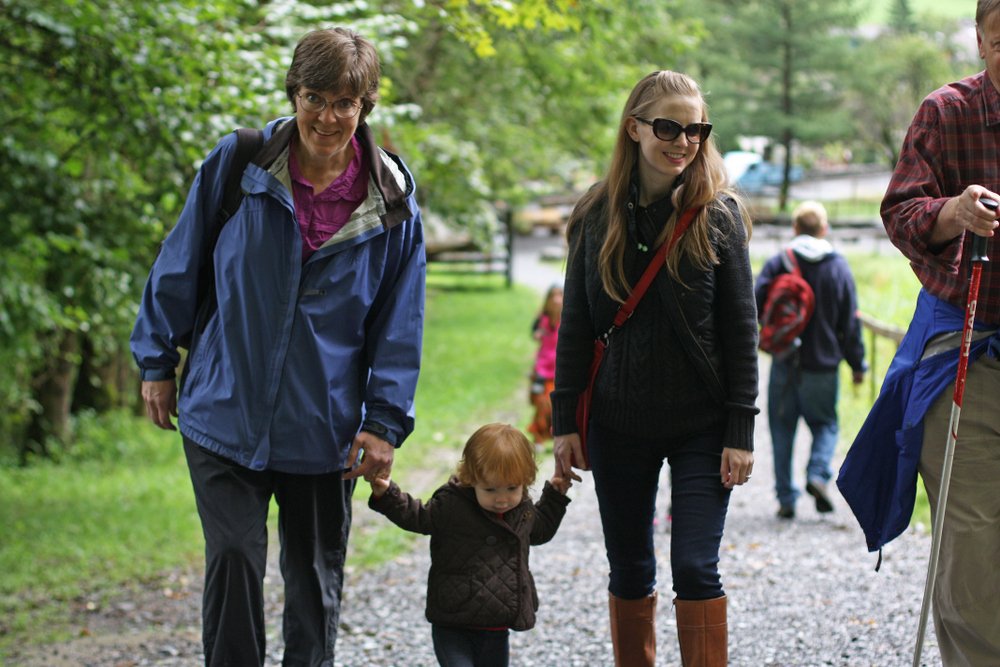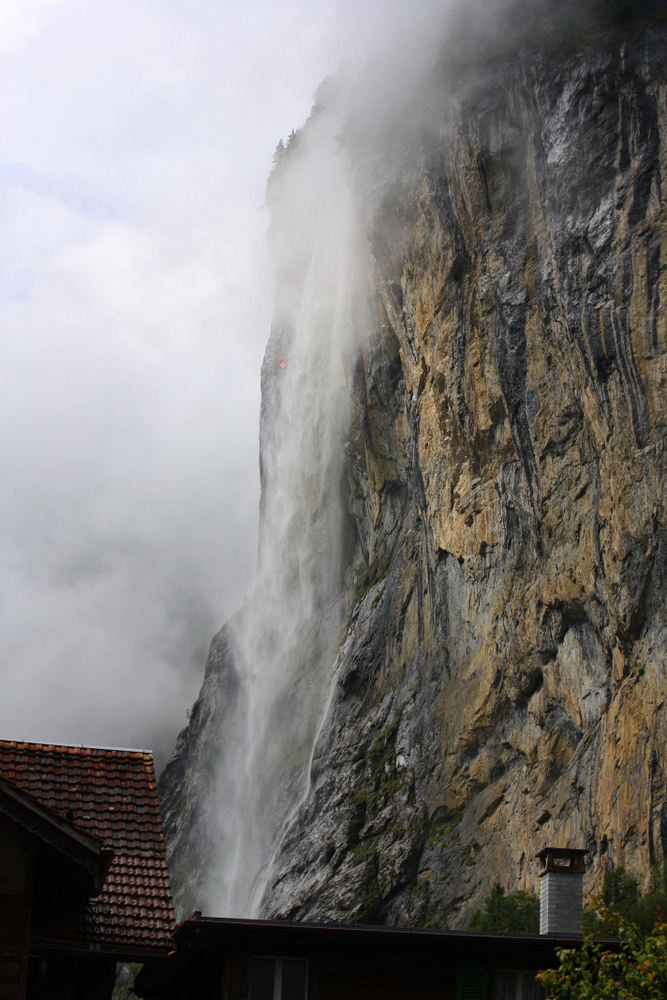 Afterward, we enjoyed the drinking fountain that comes directly from the waterfall. Also, free water is now basically my favorite thing on earth, after paying $3 or $4 every time we're in a restaurant. Blah.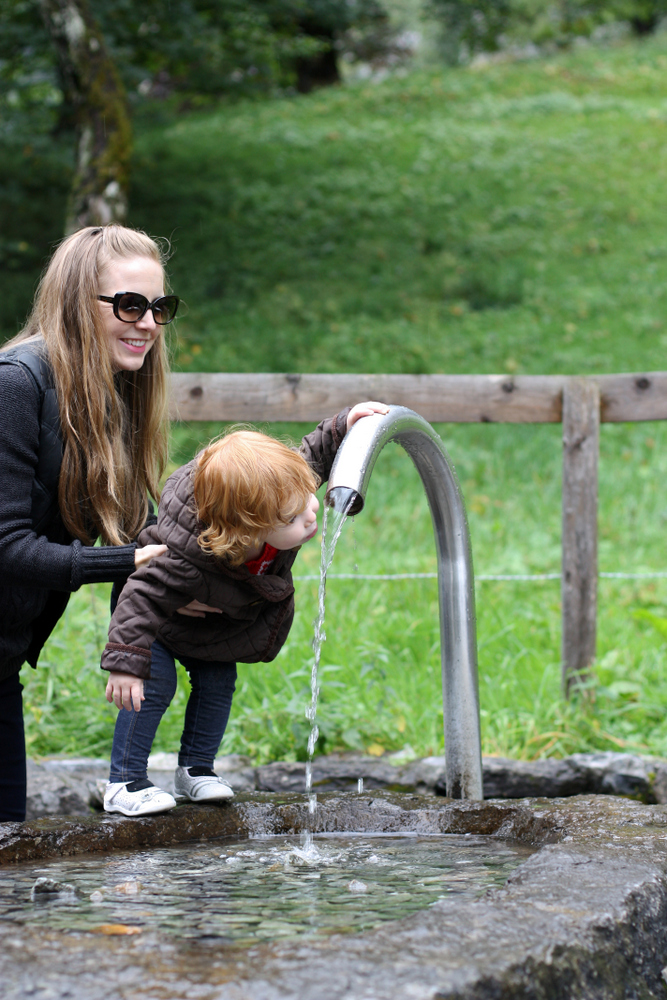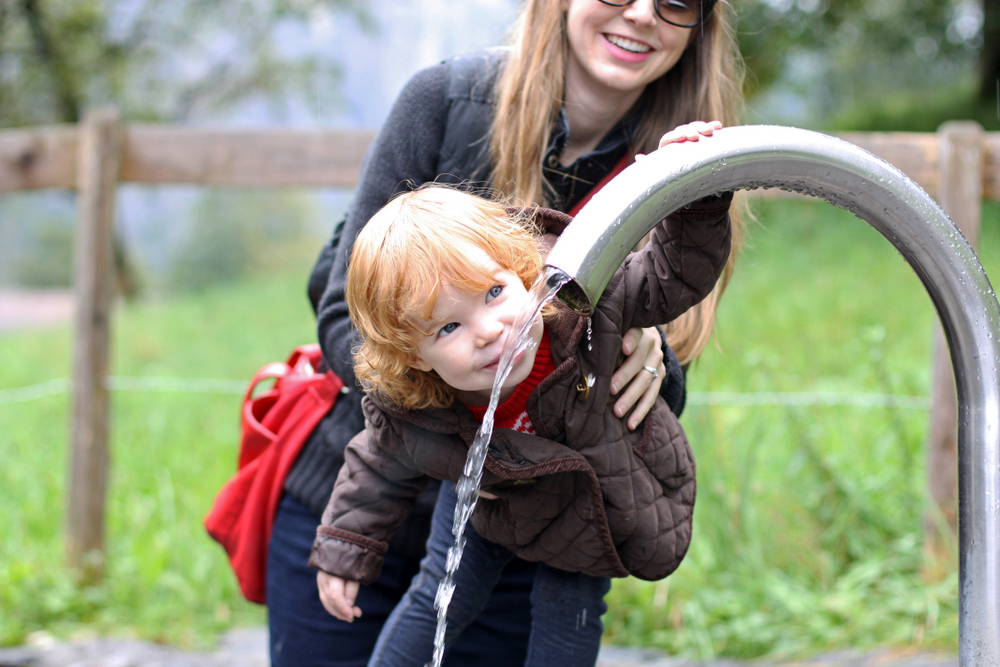 We bought train tickets to ride up the mountain to the next little village, which provided ridiculous views of the valley below and landed us in yet another charming little town.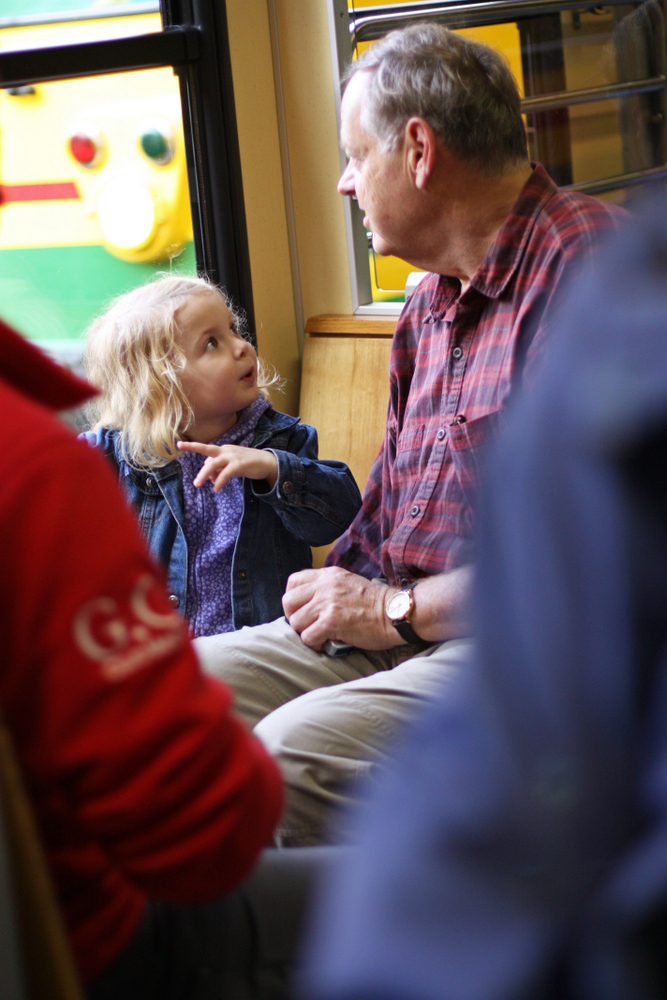 After poking into a few little shops, Bart's mom scouted out lunch spots while we enjoyed the cutest park I've ever been to.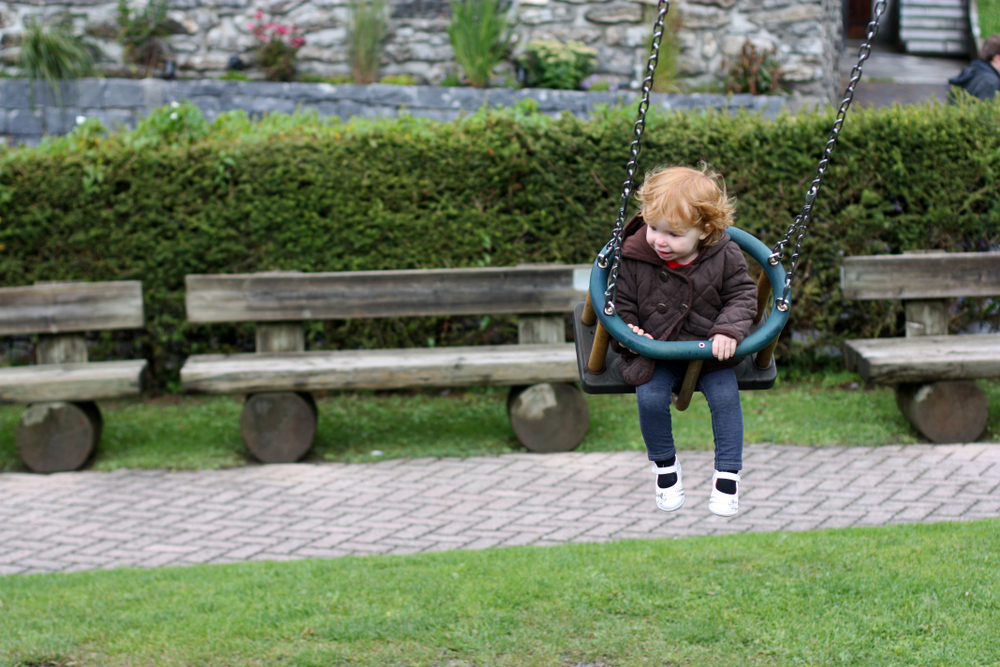 At this point, Ani was basically falling apart, so we took the train back down and she went down for a nap while I did some work and Ella played in the front yard of the hotel.
Once everyone was up and well-rested (or well-listened in Bart's case, since he spent the two hours listening to his audiobook), we headed off to Trümmelbach Falls where you take a lift/elevator up the center of the mountain, then climb a bunch of switchbacks inside the mountain that take you right next to this unbelievable waterfall. It was spectacular.
They don't let kids under 3 up (understandable, since it's steep and the stairs are slick with water), so Bart's mom stayed down with Ani while Bart's dad, Bart, Ella, and I made our way up and then back down. Definitely worth the seven euros or whatever it was.
We spent a bit of time wandering around the gardens and restaurant/hotel at the base of the falls and enjoying the fact it wasn't snowing.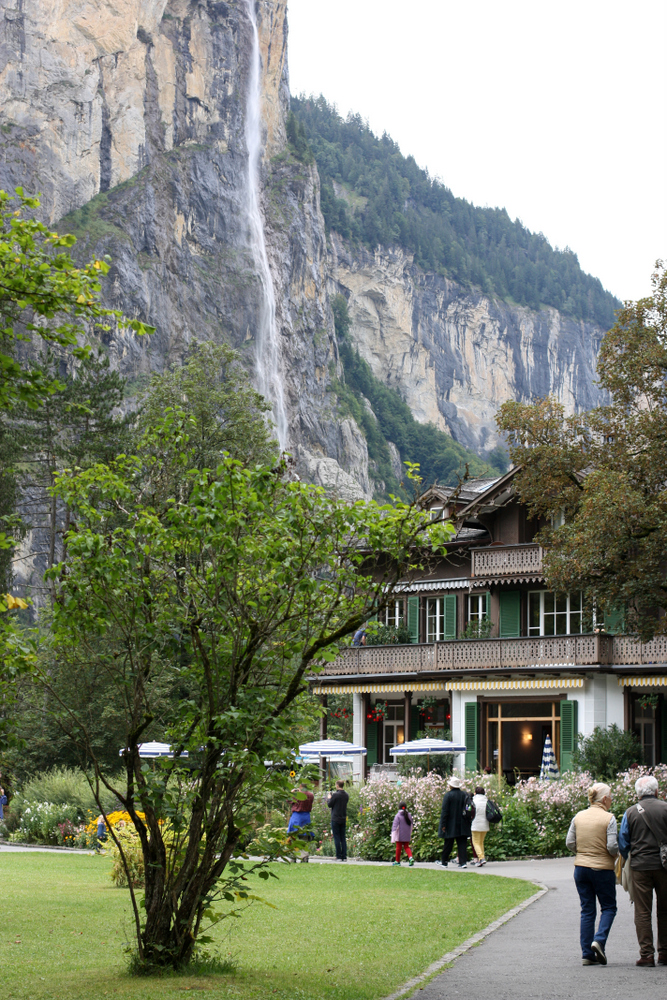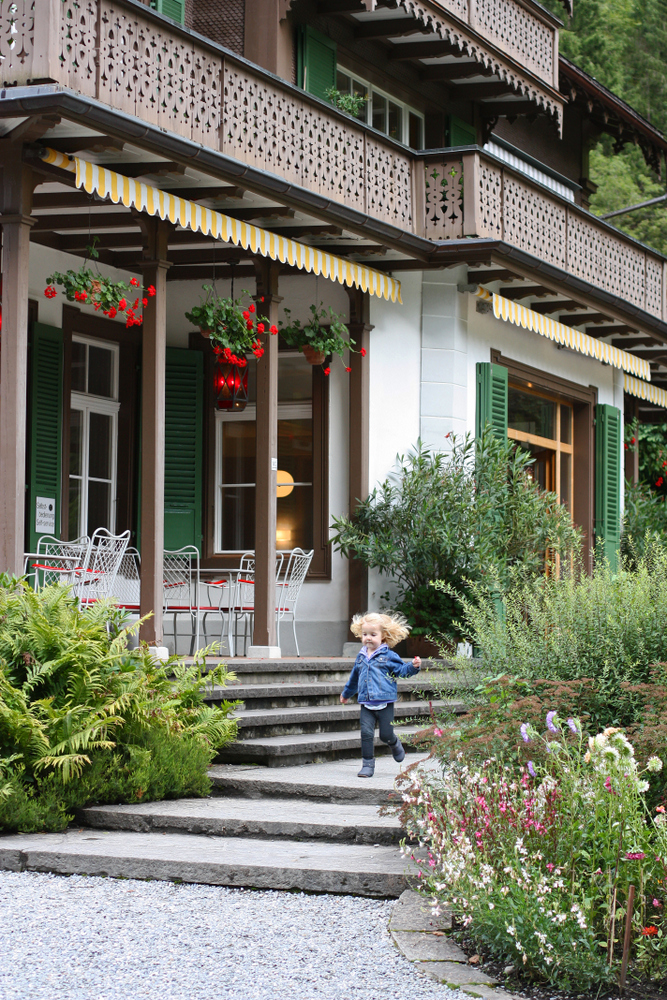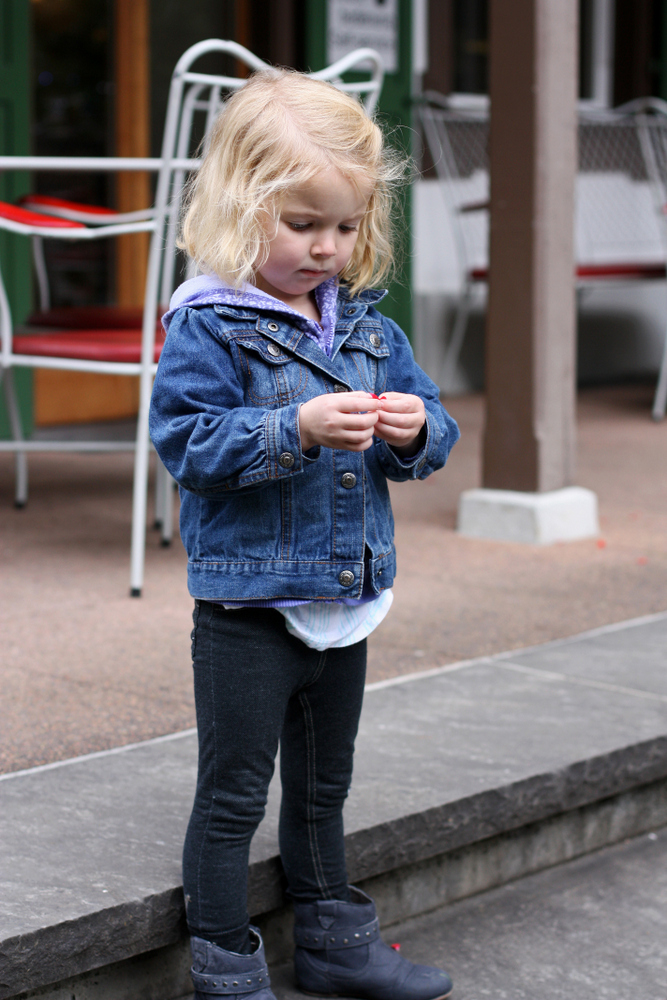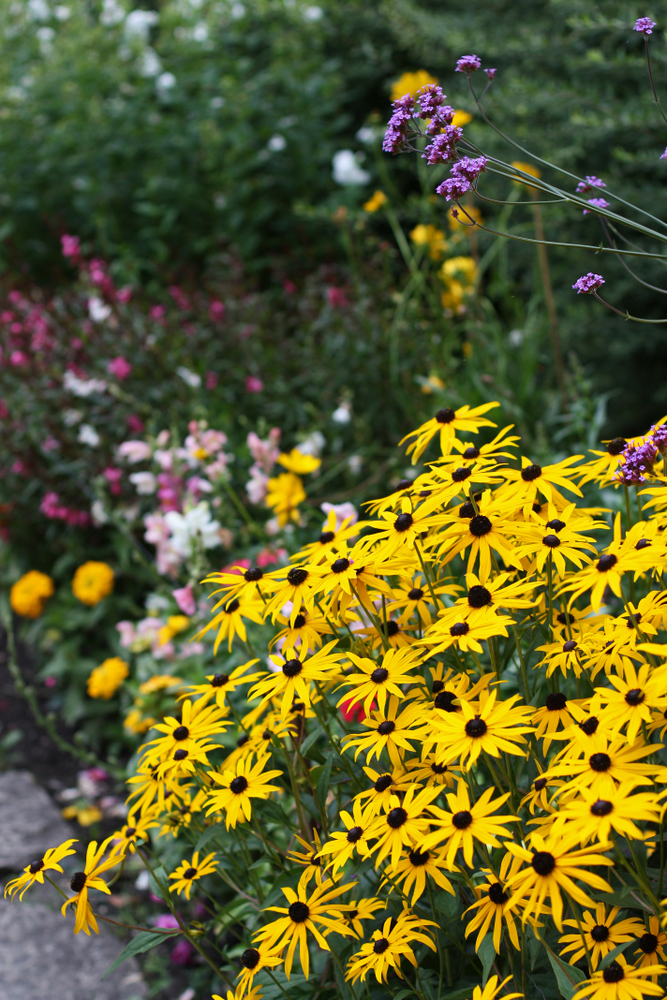 We headed to dinner, where we got a couple of dishes to share, including cheese fondue which is a tradition with Bart's family every time they go.
The view from our table wasn't too horrendous either.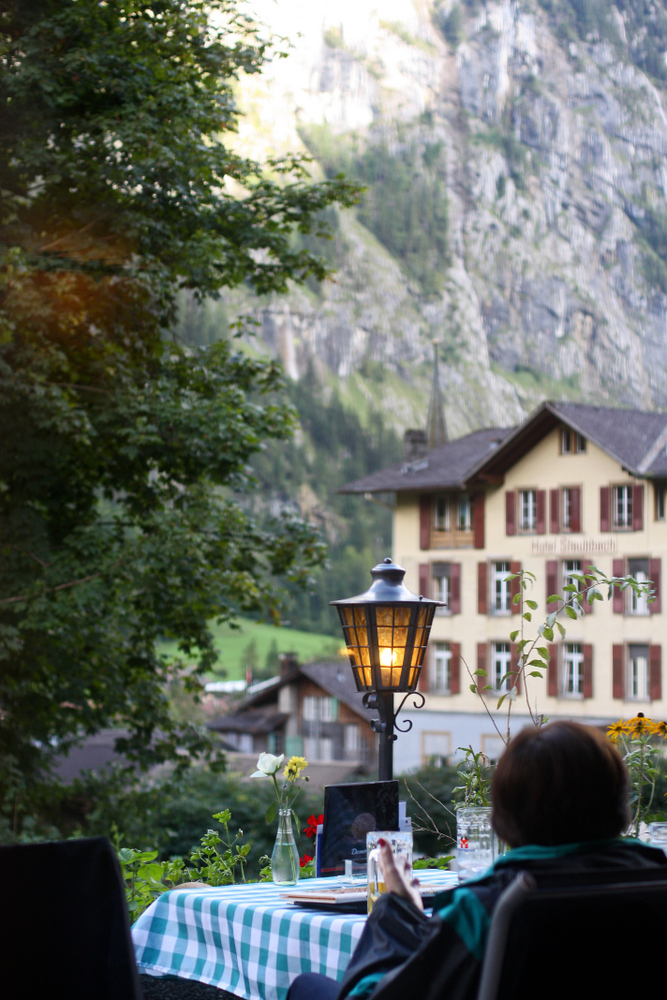 The next morning, we bid a sad farewell to Switzerland and headed out, landing in the afternoon in Riquewihr, a town so ridiculously charming, I thought I'd died and gone to the opening number of Beauty and the Beast.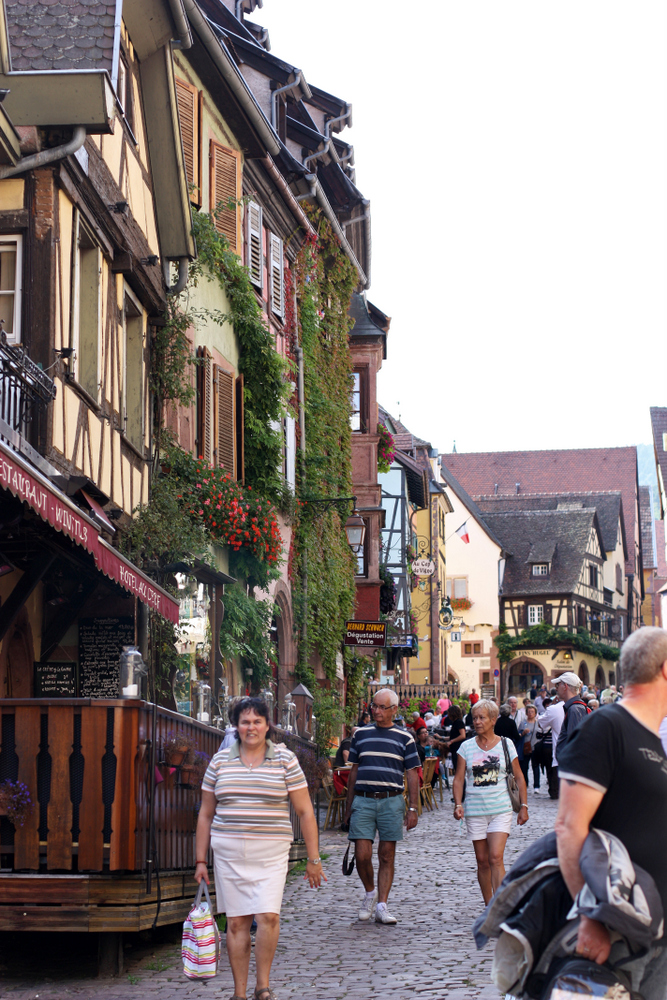 We wandered through the main streets for a while, bought some macaroons (which I'd choose over macarons every single day of the week), and eventually ordered some crepes for dinner, before finishing off with some more gelato.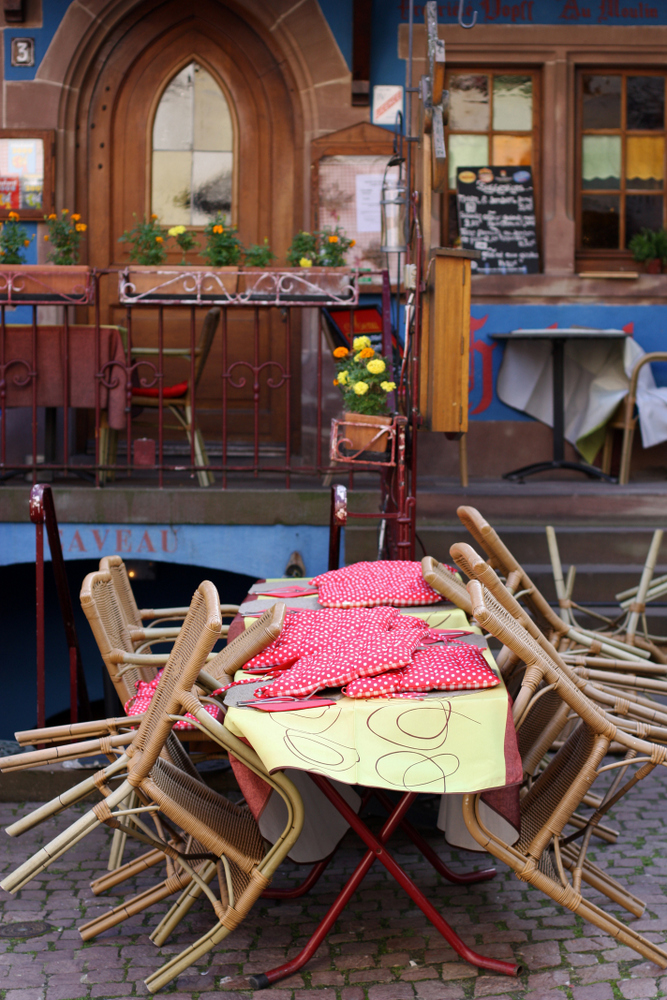 We put the girls to bed (they were out in about three seconds), and Bart and I spent some time in the lobby with our laptops.
In the morning, Bart got up really early and went downstairs, while I stayed in the dark room in bed with the snoozing girls and read for nearly an hour on the iPad. It was delightful.
When the girls woke up, we got them dressed and Bart took them for a breakfast walk while I got ready.
They returned with two pain au chocolat, which proved WAY too few, so we walked back down to the bakery and bought three more. Then we sat on the steps (which also housed boxes of bright geraniums) and ate them. I felt like I was living in a dream – tiny picturesque French town, fresh pastries, and my sweet family. Maybe not in that order of importance (the pain au chocolat obviously should have come first).
We drove into Germany and along the Rhine for most of the day, stopping in a little town for lunch (and one more 80 cent gelato) before finally arriving in Cologne, where we'd fly out to Ukraine the next morning.
The hotel had a little sandbox which the girls loved, and then we grabbed some quick dinner before putting everyone to bed.
We got up EARLY the next morning (Thursday) and caught a flight into Kiev. I was really glad to have Bart's parents not only to juggle all the luggage but also to entertain the girls on most of the flight. I ended up reading an entire novel on the 3 hour flight, plus a couple of chapters of James and the Giant Peach to Ella.
And now we're in Ukraine. This makes our seventh country in 10 days (US, Germany, Czech Republic, Austria, Switzerland, France, Ukraine), so you can imagine my relief at a few days of peace and quiet and movie-watching.
Last night, we watched The Book Thief after the girls were in bed and ate Ukrainian chocolate. Not a bad start to week 3.