A few days before we left for Europe, I spent a bunch of hours searching for apps to load up the iPhone and iPad. (And also completely clogging up our internet which was ridiculously slow at the house we rented in Arizona).
I'm pretty picky about the games my girls play – I hate ugly ones or ones that are overly frustrating or that I have to spend a ton of time babysitting them through.
I'm less worried about their educational value, frankly, and more concerned with how much my girls like them. I mean, if they are educational, that's a great bonus, but not a requirement in my book.
I generally don't like to pay for apps for preschoolers if I can help it, although I did have a couple of iTunes gift cards sitting around, so I was more willing to pay for a couple this time around, so not all of the ones on this list are free.
After the 1926 miles of driving we did through Europe in the last two weeks, all the apps I downloaded got a lot of use, and I had Ella tell me which ones she'd enjoyed most.
Here are our eight best picks: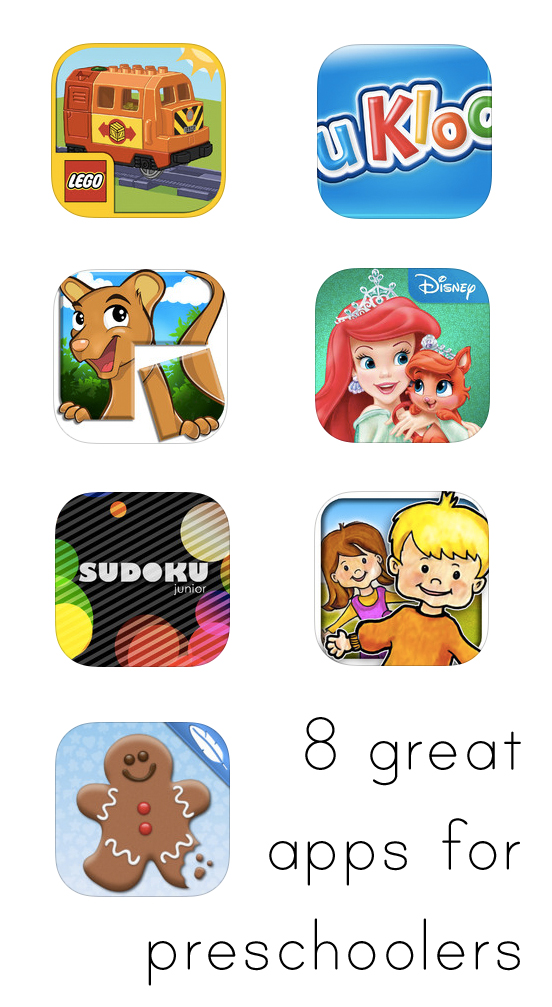 great apps for preschoolers
My PlayHome – This one had killer reviews, but I was hesitant to spend $4 on an app, so we downloaded the free Lite version. And then, when it was obviously Ella's favorite after a few days, I sprung for the full version with a full house where you can move the people around inside and out, and interact with all the rooms. A few days later, I noticed that Ani loves this game too and can play it pretty efficiently. ($3.99, iPhone and iPad)
CookieDoodle – I'll admit, I thought "How fun can it be to decorate pretend cookies" but it had so many rave reviews that I downloaded it anyway. Guess what? Ella LOVES cutting out cookie dough, frosting the cookies, decorating with piping, candy, and sprinkles, and then "eating" them. One dollar well spent. ($0.99, iPhone and iPad)
Sudoku Junior – One of the things I was looking for was apps that would keep Ella entertained for a long time (rather than one of those apps you play with for five minutes and then are done with). This has been one of them. I originally had to show her how the game worked once or twice, but now she plays it a lot. I like that you can set the difficulty level, the number of squares, and the kinds of symbols. Plus, I myself am quite a sudoku fan, so. . .it's fun to see her playing it too. ($0.99, iPhone and iPad)
Disney Princess Palace Pets – Take care of the Disney Princess Pets at the Royal Spa (frankly, grooming animals in real life sounds like my worst nightmare, but apparently as a sparkly app, it's the best thing Ella has ever seen). The upgrades on this game are ridiculously expensive (like $11), but there are enough free options that Ella has been totally content. (Free, iPhone and iPad)
Live Puzzle! – Ella played with this one for a while before I actually looked at it (incredible parenting right here), and then I was tempted to play it myself. It's a puzzle, but the puzzle is animated which makes it both a little tricker (excellent for Ella who is really good at puzzles) and more interesting. Totally worth the high price of free. (Free, iPhone and iPad)
LEGO Trains – Lego has a boat load of free apps, and Ella likes all of the ones I've downloaded. This one lets you load train cars, build bridges, drive the train, refuel, and lay new tracks. (Free, iPhone and iPad)
uKloo  In this one, you have to find the clue (or Kloo) card on each scene. You can just search for it or read the simple clue below. Then you eventually uncover some cool little animation. I like that it gives Ella some reading practice, but I also like you don't have to be able to read to play it. (Free, iPhone and iPad)
Toca Hair Salon – We've actually had this one for ages; I downloaded it when one of the blogs I follow happened to mention it was free for the day. It's the one Ella's continued to play for over a year, and she loves cutting hair, dying it, styling it, etc. I am very familiar with the sound of the clippers from this app. There is also a free Christmas version with just Santa if you want to give that a spin first. ($2.99, iPhone and iPad)
Any apps you particularly love? With lots of travel ahead, I'll take all the recommendations I can get!
if you liked this post about apps for preschoolers, you might also like these other posts: