Two weeks ago, Bart called me from work and asked, "Would it goof up your schedule if I went to Seattle to work on a client for a week or two?" I said, "Probably not. When would you leave?" and he replied, "Tomorrow at five a.m."
And after a couple of days of him being gone, we decided that Ella and I would fly out and spend some time in Seattle with him. I only wanted to go for a couple of days because I fear vacation sleep, but it was half the price for plane tickets from Monday through Sunday.
So I decided I could deal with a week of being tired if necessary, I packed up a suitcase, and off we flew (also, I highly recommend flying out right as your neighbors fly home from their vacation, because you can drive up to the front of the airport, take out your luggage and have them drive your car home. No bumming a ride and no parking charges for either of us).
Ella was great on the plane, and we made it to Seattle without incident (and I successfully navigated THREE airports with a child, a stroller, a carseat, a suitcase, and a backpack).
We were staying right downtown at the Sheraton and as soon as the crib arrived, Ella fell immediately asleep, which was no surprise, considering it was 11 p.m. to her tired little body that normally is in bed at 7 p.m. on the dot.
And yet, this did not stop her from waking up at 5:55 a.m. Because Bart had worked mega-late the night before, she and I went out to do some exploring of the hotel. Someone had tired eyes.
After an hour or so, we went back to the hotel room, all got ready, and had a little breakfast before Bart headed back to work. And then Ella and I both went back to the room and conked out for a nap.
Once we were both awake, it was time, as Ella said, "for a yittle aventure."
And let me tell you, August in Seattle is NOT like August in Texas. I wore sweaters. I was actually, on a few mornings, a bit chilly. We could walk outside all day long without coming back inside medium-well done.
I won't bore you with a complete blow-by-blow of our trip, but here were some highlights:
The Woodland Park Zoo. Bart and I both agreed this was a highlight of the trip. So many fantastic animals, amazing setups where the animals seemed to always be very near to where you were, and perfect weather. Ella was in heaven.
The Children's Museum. This is a pretty small little museum, but the last hour of every week day is pay-what-you-want so we paid a dollar each and had a lovely hour there.
Seattle Library. I've been dying to visit this library for YEARS, so I felt a little affronted when it happened to be closed, thanks to budget cuts, the ENTIRE week we were there. A picture out front had to suffice.
Seattle Art Museum. The museum isn't free, but there is a section near the entrance that is free and has a big set of art tables with supplies, plus a section next to the cafe that has toys. Ella really liked it, so much so that we came back a couple days later with Bart in the evening for about half an hour before going to dinner.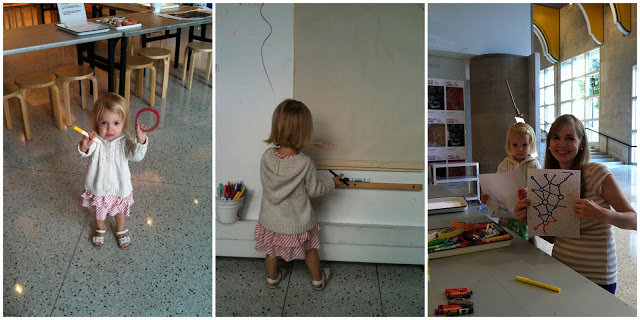 Pike's Place Market. We were really close to this and we went, I think, every single day at least once. Ella loved the snacks and the giant metal pig, and I loved the flowers and food. I especially liked it in the morning when it wasn't too crazy busy.   


Olympic Sculpture Park. We had a not-too-early flight on Sunday morning and a child who didn't think sleeping in was at all interesting, so we went to the park around eight a.m. and wandered around for an hour before heading back to take some quick naps before our flight (in fact, we ended up being the LAST people on the plane, thanks to those naps). The views are gorgeous and it was a quiet, nice way to end our trip.
And the food. Good heavens, I was grateful for the many friends (especially Definitely RA) who gave us suggestions about where to eat, and I was REALLY grateful for the Yelp app that helped us out many a time.
A few favorites:
Le Panier. This French
bakery at Pike's Place got recommended over and over again and for good
reason. We went here for breakfast one morning before Bart went to work
and then again two days later because it was SO fantastic. The pain au
chocolat was to die for and the apricot croissants were also fabulous.
Ella insisted that she only eat the parts with chocolate on them.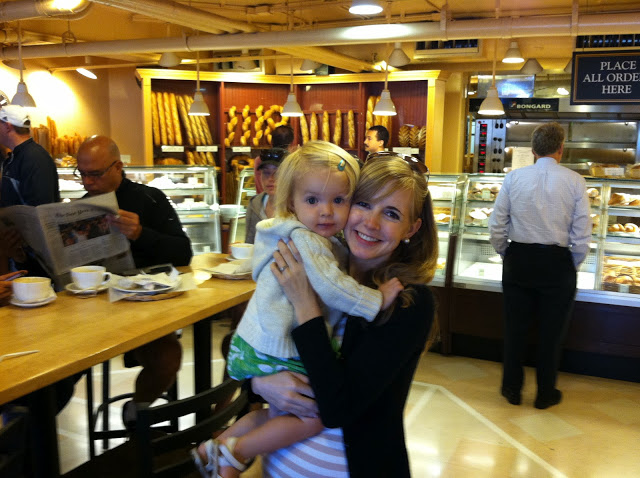 A second trip to Le Panier
Sweet Iron. We had breakfast here on morning and whoa, these liege waffles were amazing, especially the banana brulee one. We could have just been full with just two, but we managed to put away almost all three of the ones we ordered. We've heard from tons of people how much they love love love Bruges in Salt Lake, but neither Bart nor I was really thrilled by it when went a couple of years ago. I thought Sweet Iron was significantly better. Yelp was not wrong on this one.
La Creperie Voila. I had a goat cheese/apple & fig jam/almond crepe for dinner the first night when Bart was working late and it was so good, that he stopped and got one on his way back to the hotel a couple hours later. Isabel and I got lunch here the next day (although my egg/spinach one was not nearly as good as the goat cheese one).
Doughnuts. People, we don't mess around. We went to Top Pot for breakfast one morning (where it cost $11.99 for half a dozen donuts) and they were some seriously good doughnuts. The salted caramel old-fashioned, maple old-fashioned, and raspberry old-fashioned were my favorites. Ella's sprinkle cake doughnut was also excellent. Several people also recommended Daily Dozen down at the market, but when Ella and I got there, I realized they only took cash, and I had all of zero cents to my name, per usual. I never carry cash. Ella took the news that the promised doughnut was not going to be delivered with a great deal of stoicism, but the nice lady at the counter took pity on us and gave Ella a little maple donut. I had a tiny bite and it was good, although not note-worthily so. We heard Mighty-O puts Top Pot to shame, but we just ran out of time to make a trip out there.
Mod Pizza. This Seattle chain has personal-size thin crust pizza that are made to order (like Subway, but for pizza). We got a BBQ Chicken with blue cheese and a pepperoni/artichoke/mushroom one. Both of them were fantastic. I liked the BBQ one slightly better, and Bart preferred the other one.

Uneeda Burger. This was another Yelp find, just about half a mile from the zoo. Great burgers, a fun atmosphere, and not terribly expensive either ($4.75 for a cheeseburger). The fries were also excellent (have you noticed how difficult it is to find a place that does both burgers AND fries well?).
Molly Moon Ice Cream. This came highly recommended and it was indeed very good, although the salted caramel was WAY too salty. After we'd ordered, I got a sample of the raspberry lemon thyme and I for sure should have gotten that one instead. Bart got a s'more sundae and the smoky whipped cream really made it seem like you were eating out by a campfire.
We heard from several people that we should try out some of Tom Douglas' places (apparently he's Seattle's most famous chef?) but I went to two of them – Rub with Love with Ella for lunch and to Palace Kitchen with Bart one night – and neither of them particularly impressed me. We didn't try a third after two lackluster meals. Ella thought the iPhone games were much more interesting than Palace Kitchen.
One of Bart's co-workers told him that Cupcake Royale was not to be missed. We got eight different cupcakes and took them with us when we went to visit some friends who used to live in Texas. Neither of us were blown away – very average, and expensive, cupcakes. I'm not sure any cupcake will ever compare to this little place in Quincy that we lived down the street from. Bart and I both agree those were the best cupcakes we've ever had.
One other little thing that made our trip fun was that, over the weekend, there was an enormous video game convention taking place at the convention center across the street from our hotel. Which meant that our hotel and the streets around us were JAMMED with awesomely dressed people.
And finally, after a week of eating like kings, reveling in the gorgeous weather,  having someone else make our bed and clean the bathroom every day, and marveling at how relatively well Ella slept, we flew home. And I picked up the mail to discover I'd gotten a ticket for running a red light a week earlier. Welcome back to real life.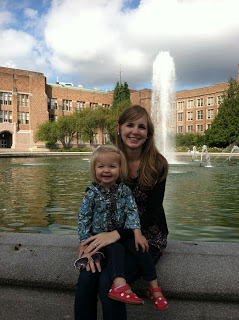 At the University of Washington