While we were on vacation, my sisters and I thought it might be fun to start a little blog series where every couple of weeks we all wrote a post on the same topic – three different takes on one thing.
I'm kind of ludicrously excited about the whole thing, actually, and I hope you will find it fun too! If you'd like to write a post on the same topic, you can link up to your post at the bottom.
And so, without further ado: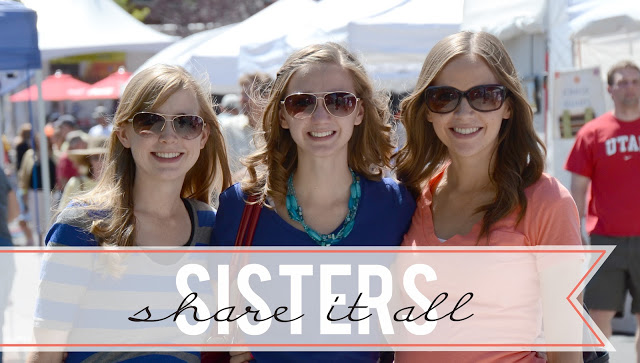 All three of us are big readers and also avid fans of our various local libraries. I always love seeing what other people are reading and I especially love seeing what my sisters are currently reading. This week we're all posting about what we have checked out from the library.
Here's my stack this week:
Oh, you're wondering about that frog? Yes, it's checked out from the library. Every week, Ella picks a new puppet from the library's large collection to check out. And then sleeps with it all week. And Bart and I try not to think about the germs associated with such items.
On to the less grimy checkouts.


Books for Me:
See You at Harry's by Jo Knowles
More Like Her by Liza Palmer
The Innovator's Dilemma by Clayton M. Christensen (Bart is reading this and loving it – I'm definitely reading it next)
Code Name Verity by Elizabeth Wein (I have heard nothing but raves about this one, but it keeps getting recalled to the library before I finish, er, start)
Friends with Boys by Faith Erin Hicks
The Mom 100 Cookbook by Katie Workman
The Hypnotist's Love Story by Liane Moriarty (this was not particularly good, which made me sad)
The Shallows: What the Internet is Doing to Our Brains by Nicholas Carr
Apartment Therapy by Maxwell Gillingham-Ryan
Living Big in Small Apartments by James Grayson Trulove
Picture Books:
Tap Dancing on the Roof by Linda Sue Park
Free Fall by David Wiesner
Goodnight, Goodnight Construction Site by Sherri Duskey Rinker and Tom Lichtenheld
Squid and Octopus: Friends for Always by Tao Nyeu
Stars by Mary Lyn Ray and Marla Frazee
Oh No! Not Again! (Or How I Built a Time Machine to Save History) (Or at Least My History Grade) by Mac Barnett and Dan Santat
Shark Vs Train by Christ Barton and Tom Lichtenheld
Chicken Big by Keith Graves
A Book of Sleep by Il Sung Na
Movies:
Inside North Korea (our next Sunday night documentary, suggested by Jenna)
White Collar Season 2
Check out (no pun intended) what Merrick and Landen are reading too:
And if YOU'D like to share what you've checked out from the library, feel free to link to your own post. We'd love to see what you are reading!
document.write('