These pictures are from early in the third trimester and . . . I am a little envious of myself from when I could more easily wear normal clothing.
Like that black shirt in the middle? It has gone to greener pastures (by which I mean the back pile in my drawer).
I basically am just living in that blue skirt now, rotating out the shirts I wear with it.
This baby has dropped really far down (enough so that strangers keep guessing it's a boy and then looking at me dubiously when I tell them it's a girl. I refrain from saying, "TWO ULTRASOUNDS SAY YOU'RE WRONG!") so pretty much if a shirt isn't long enough that it would have reached my knees pre-pregnancy, it's too short now.
I've all but made a paper chain to count down until I can wear some regular clothing again. I just want to wear a $5 shirt for Target – is that so much to ask?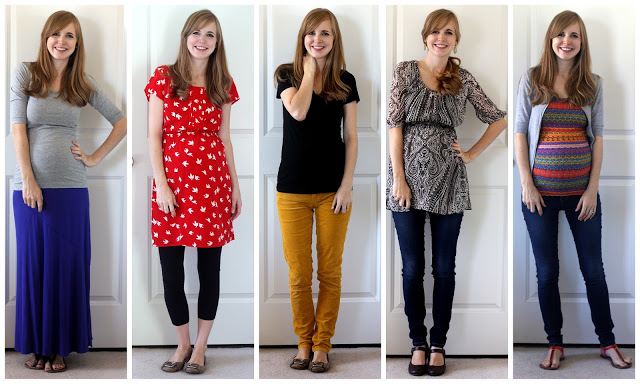 Left to Right:
Shirt: Shade, Skirt: Target, Sandals: American Eagle
Dress: Old Navy, Leggings: Target, Shoes: Fossil
Shirt: Target, Pants: Target, Shoes: Fossil
Shirt: Borrowed from Landen, Jeans: Old Navy Maternity, Shoes: Target
Sweater: from Ralphie, Tank: Old Navy, Jeans: Old Navy Maternity, Shoes: Target