When I was eleven or twelve, I bought a pair of sunglasses. I was sure I was the coolest looking person alive, except that I could never ever remember to wear them.
I clearly recall thinking, "How do grown-ups remember to put these on when they go outside?!"
Now, I'm an adult living in a very very sunny location, and I am completely dependent on my sunglasses. I do not leave home without them. I don't walk to the mailbox without them. I absolutely do not drive without them.
I've gone through about five or six pairs since we moved to Texas in 2006. My last pair I dropped so many times that they no longer fit on my face very well at all, but because I am so ridiculously cheap, I couldn't bring myself to buy a new pair when, technically, this pair still worked (albeit while making me look like my face was very crooked).
Then, somehow, I lost that pair and I moved on to the equally poor solution of using Bart's which only stayed on my face if I kept my head tilted back a little. Also, I would usually forget to take them off until I got in the house and then he'd go to drive the car and wonder where his glasses were. He really liked this solution, I think.
Then Firmoo sent me a new pair of sunglasses, and Bart rejoiced.
I was a little nervous about them because I have a hard time finding glasses that don't just eat my tiny face alive, but these ones are the perfect size. They aren't too enormous, they stay on my face, and I feel much more glamorous walking around with a tricycle and two small children than I deserve to. I've just had to relearn how to drive without my head tilted backward.
My main complaint is that a brand-new pair verified for me that my face is, indeed, very slightly crooked. I liked it better when I could blame it on having dropped my sunglasses one too many times. Other than that, I love these sunglasses more than any pair I've ever owned (even the Beatles-esque oval ones I bought when I was eleven).
In fact, I love them so much, I've finally overcome my laziness and actually put these back in the case every time I'm done wearing them so they won't get scratched, bent, or otherwise meet the fate all my other sunglasses have met.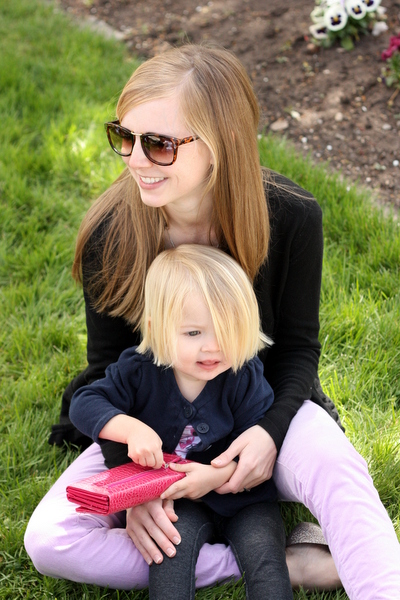 Ella will save money on sunglasses in the future by only needing them for her one eye
Because sunglasses always have and probably always will be my very favorite (and most worn) accessory, I'm happy to be able to give away 7 prizes: one pair of sunglasses, plus 6 E-vouchers for $20 off a pair of sunglasses.
To enter, just leave a comment with
a link to the pair of sunglasses you'd like to win
. And make sure I have a way to get a hold of you if you win!