I say this every year, but the $5 gift guide might be my favorite post of the year.
It's just SO THRILLING to find really good items that don't break the budget.
Whether you're looking for stocking stuffers, small gifts to give to friends, something fun for an inexpensive gift exchange or a budget favorite things party, I hope you'll find something terrific on this year's $5 gift guide.
And this year's list is the best one ever – my team scoured the internet looking for the best unique gifts under $5 and then we narrowed them down to the best of the best (I tried so hard to get it to an even 50, but I couldn't stand to cut any more of these awesome ideas out, so you get a few bonus ones).
As usual, we're a LITTLE loose with the $5 guideline and a few things come in slightly over the mark, but truly the vast majority of these items truly are under $5!
The 2023 $5 Gift Guide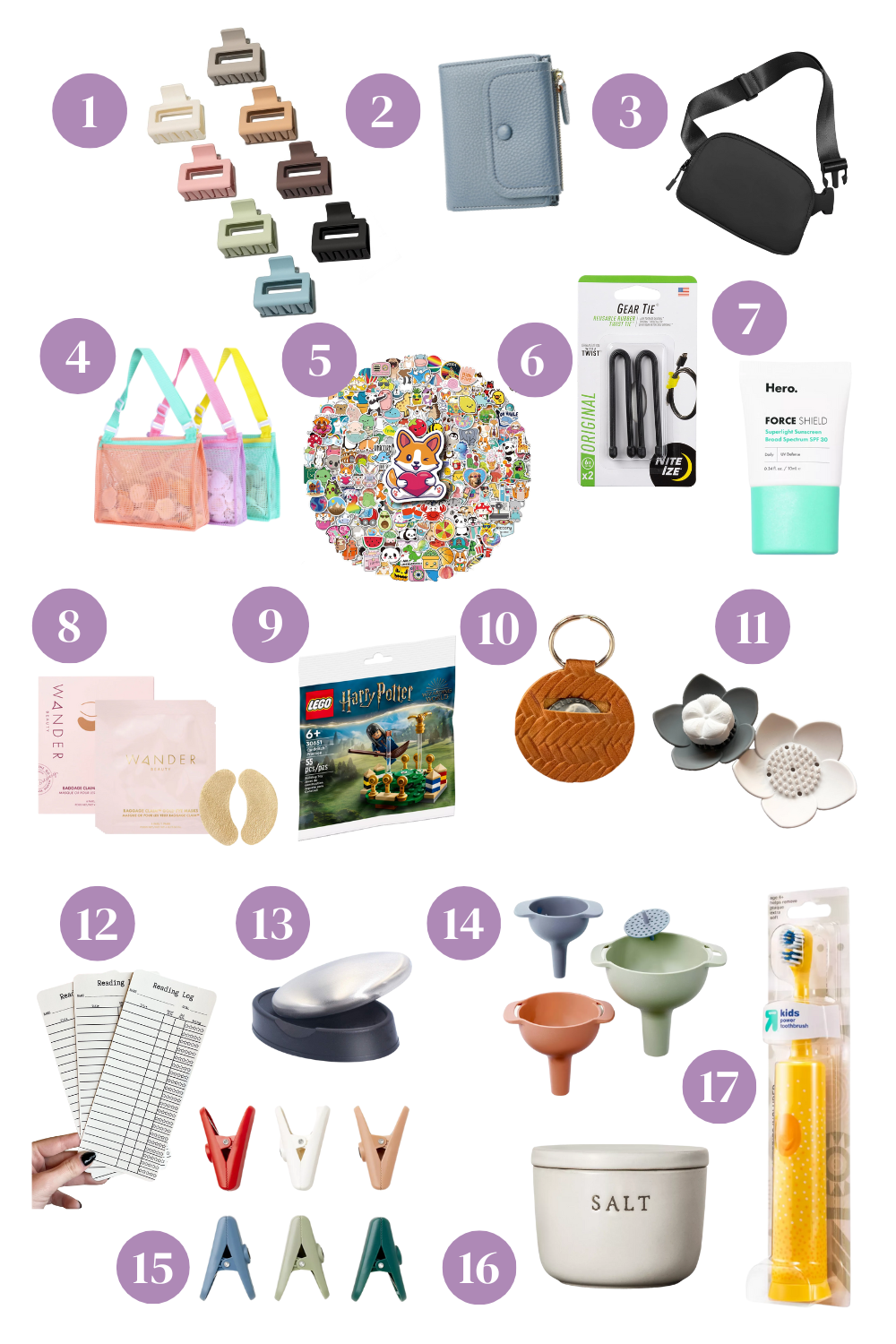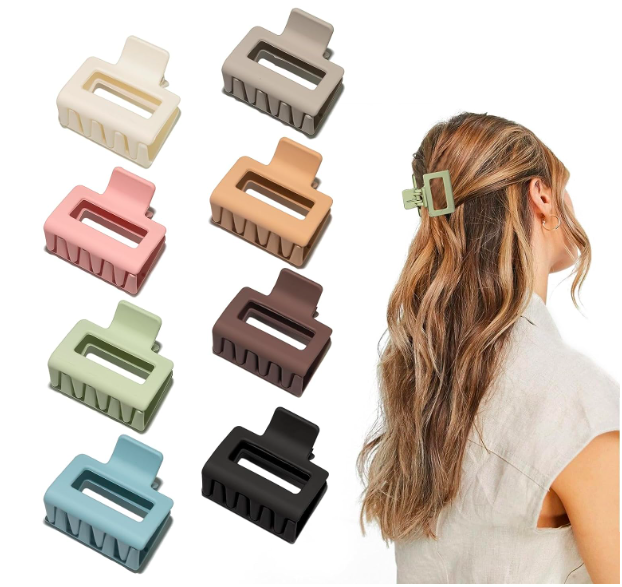 Matte Claw Clips – $8.99 for 8 piece
When claws started coming back in, I was NOT on board. The styles have evolved though and it's hard not to love this pack of matte ones. The great part about these, is they are great for pretty much any age!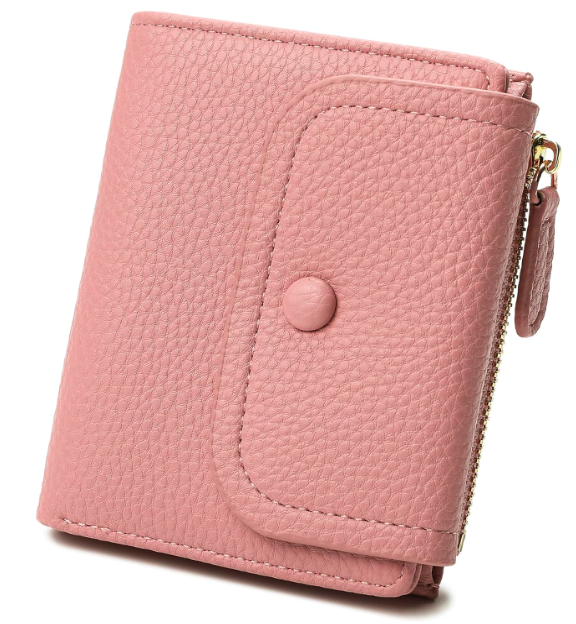 Mini Girl Wallet $5.99
This wallet is pretty compact (but not mini), making it easy to fit in any belt bag or purse. Plus, it comes in tons of different cute colors and would make for the perfect stocking stuffer idea and perfect for teens and tweens!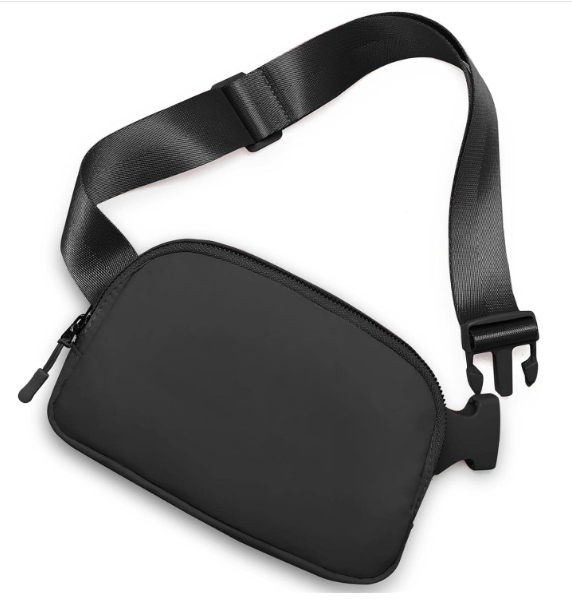 Belt Bag – $6.99 
Speaking of belt bags, my daughter wanted one after borrowing mine for a day, except she wanted one that was more like the crazy popular Lululemon one, but without the price tag. This one is perfect! It's adjustable, good quality and a great size. And just like the wallets – it has so many color options, plus it's waterproof!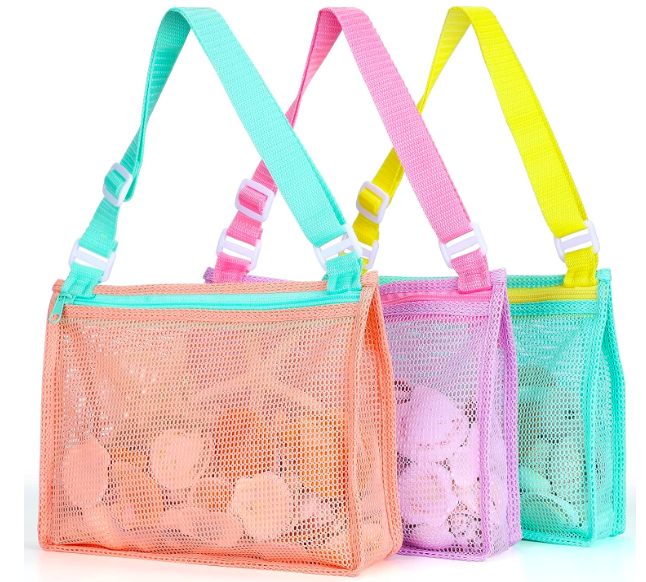 Beach Shell Mesh Collection Bags – $12.99 for a 3 pack
Going to the beach is so much fun and part of the fun is collecting all of the cool things you find! I love how they are made of mesh, so no more bringing home giant blobs of sand. These would be great to split up into stocking stuffers if you are heading on a beach vacation soon!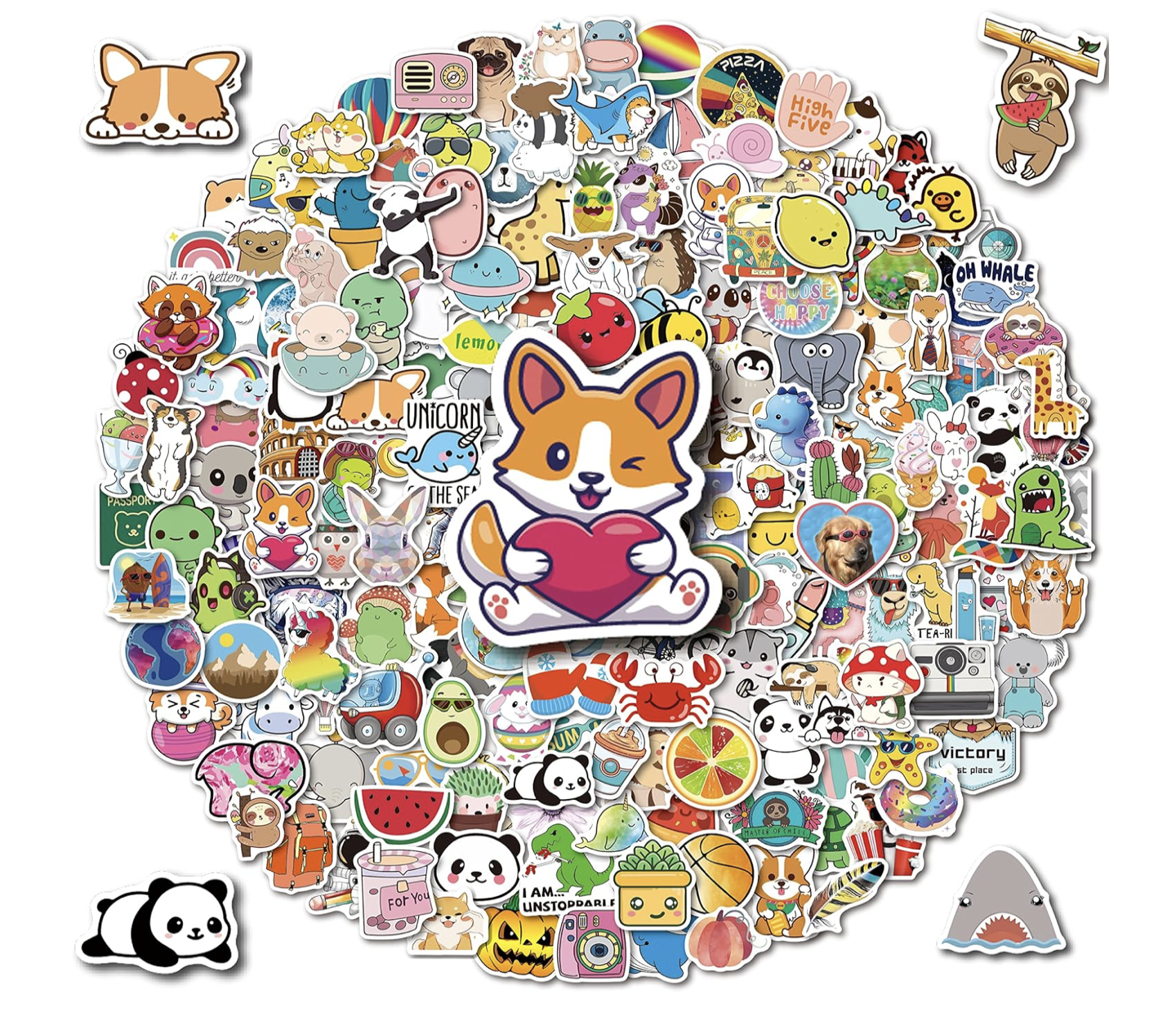 Water Bottle Stickers – $6.97 for 200 stickers
I don't know if this rings true for you, but water bottle stickers are huge at my kids' schools right now! This is a huge pack of stickers and can easily be split up among 4-5 kids and are dishwasher safe.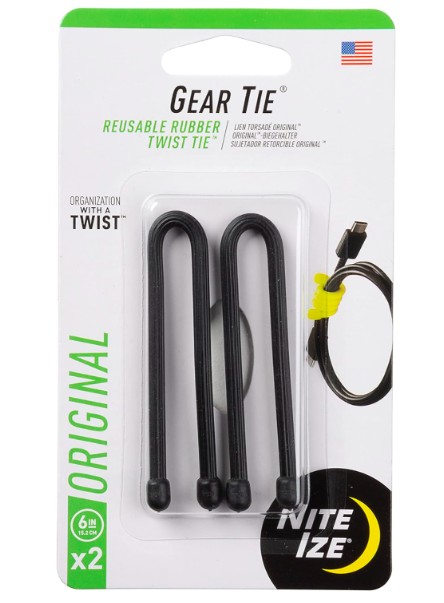 Rubber Twist Ties – $3.48 (6 in. 2 pk) or $4.99 (3 in. 4 pk)
I DESPISE cords hanging out (got that little quirk from my dad) and these cord ties are a simple way to keep them tidy!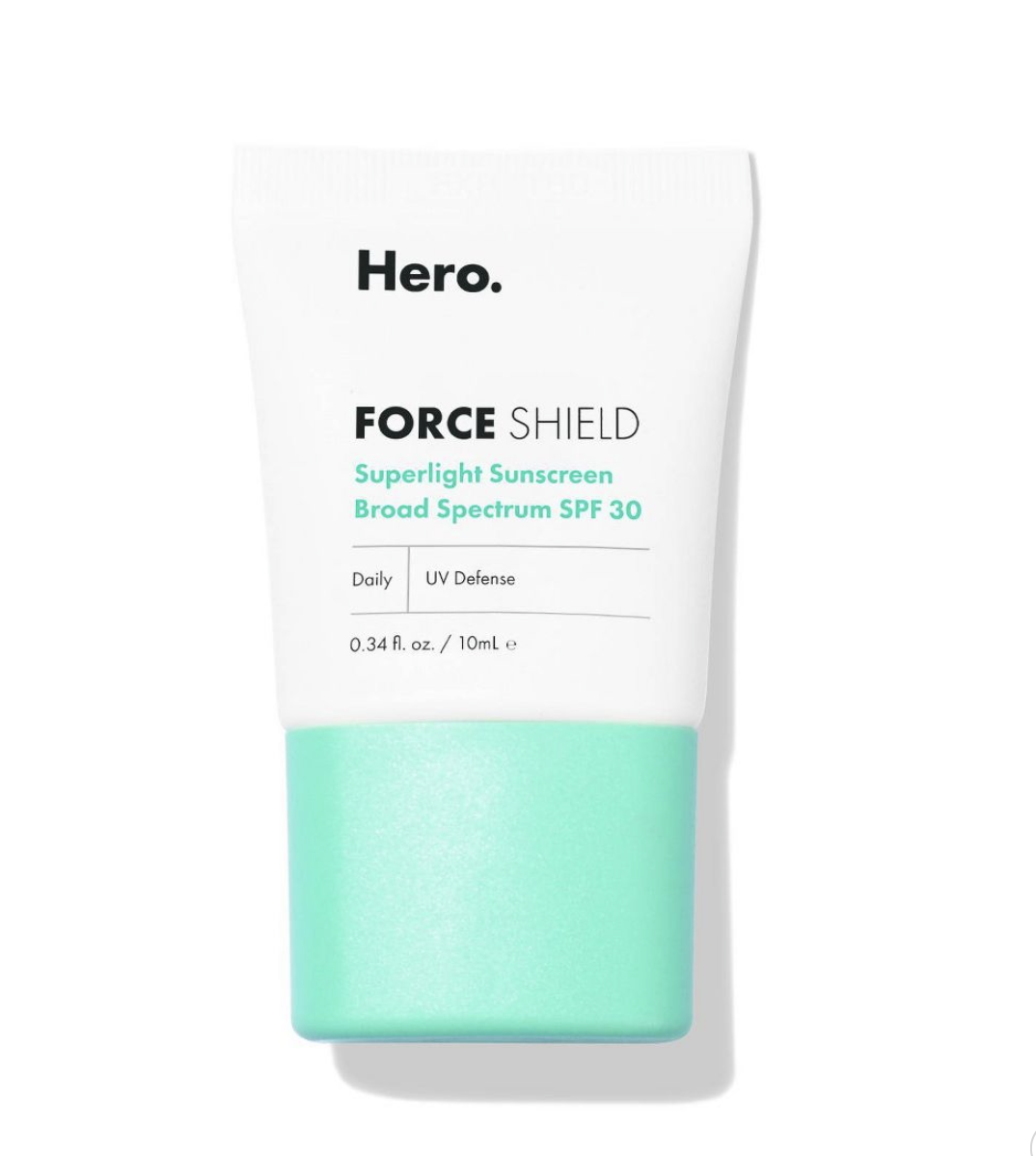 Hero Cosmetics Force Shield Sunscreen – $4.99
You know how much I love this affordable clean sunscreen and wear it every single day under my makeup. This small bottle is the perfect price AND the perfect size to gift! Also, you can get a 6 ct box of Mighty Patches (another favorite that I always keep in my bathroom drawer for pesky pimples) for $3 or 3 for $8)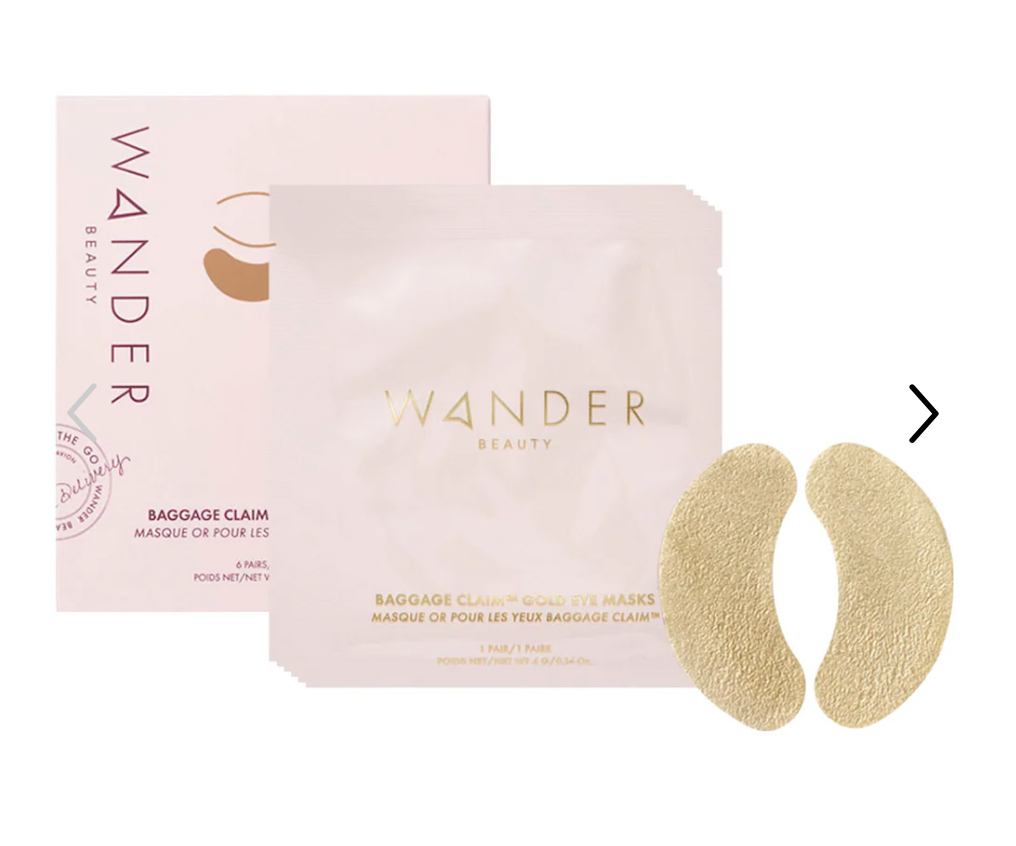 Wander Beauty Eye Mask – $26.00 for 6 pk
Talk about gifting someone GOLD! For brighter and hydrated under eyes, these eye mask will do the trick. I love that they come individually packaged and are under $5 an eye mask. Anyone will feel pampered after receiving one of these.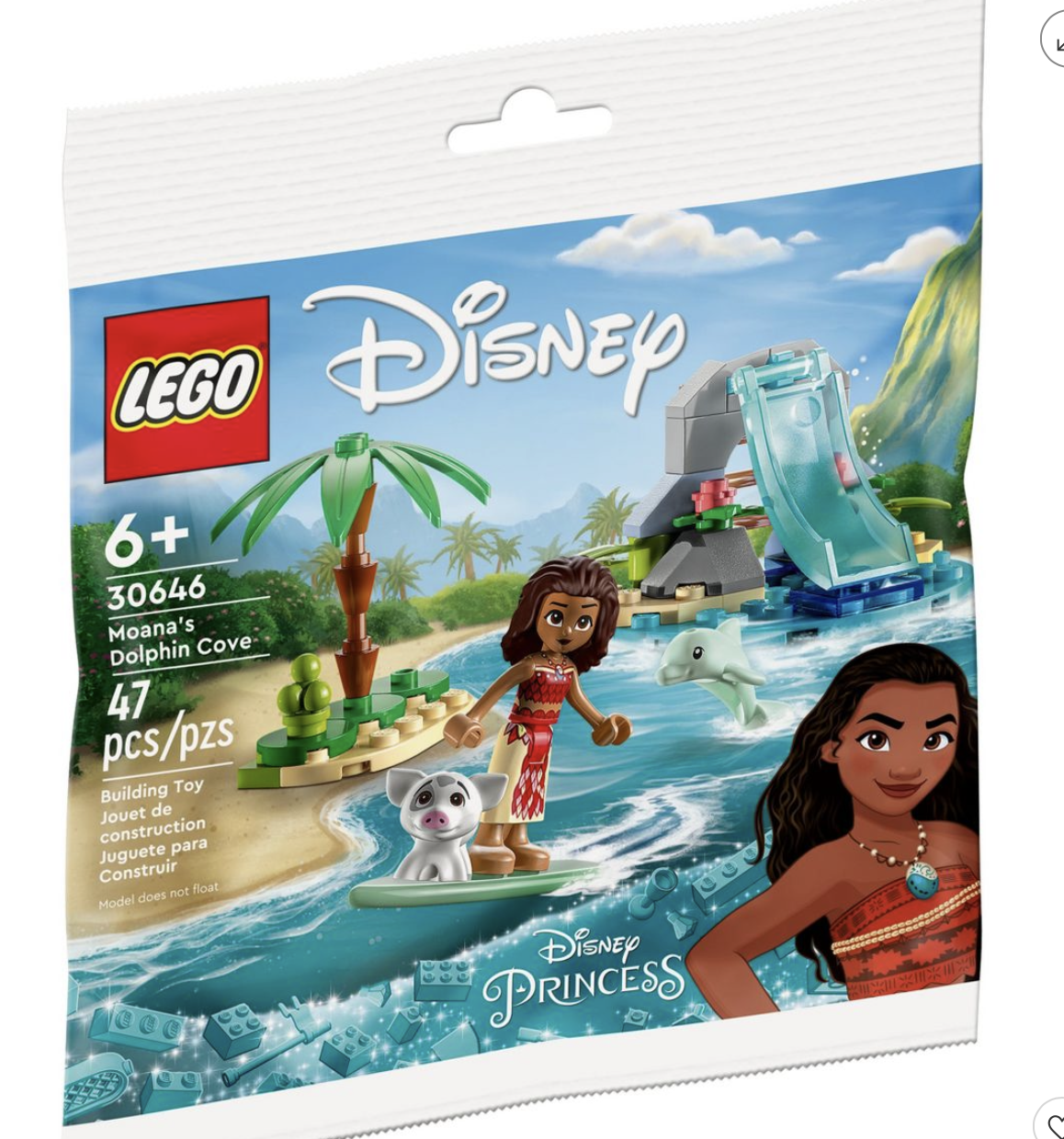 Mini Lego Sets – $4.99 (Super Mario, Moana, Harry Potter, Race Car, Minecraft, Marvel)
These mini LEGO sets are perfect for kids, teens, or adults who have never grown out of loving LEGO. I won't lie, they are the cutest things I've ever seen – I'm not even a LEGO person and I wouldn't hate to receive one as a gift.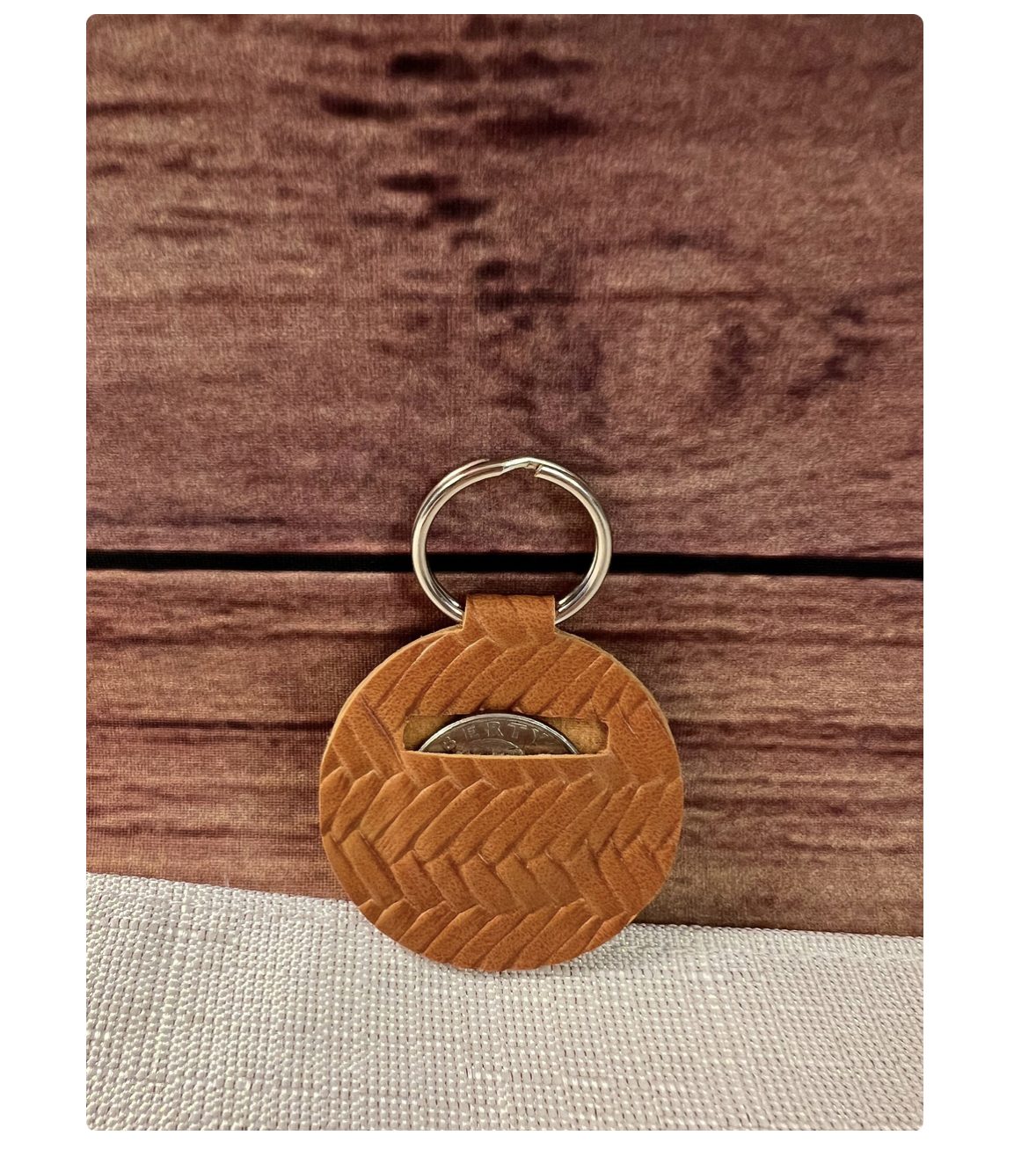 Aldi Quarter Keychain – $5.00
For those who are graced with an ALDI in town, this little keychain keeps a quarter close by, so that when it's time to grab a cart, it will be at the ready.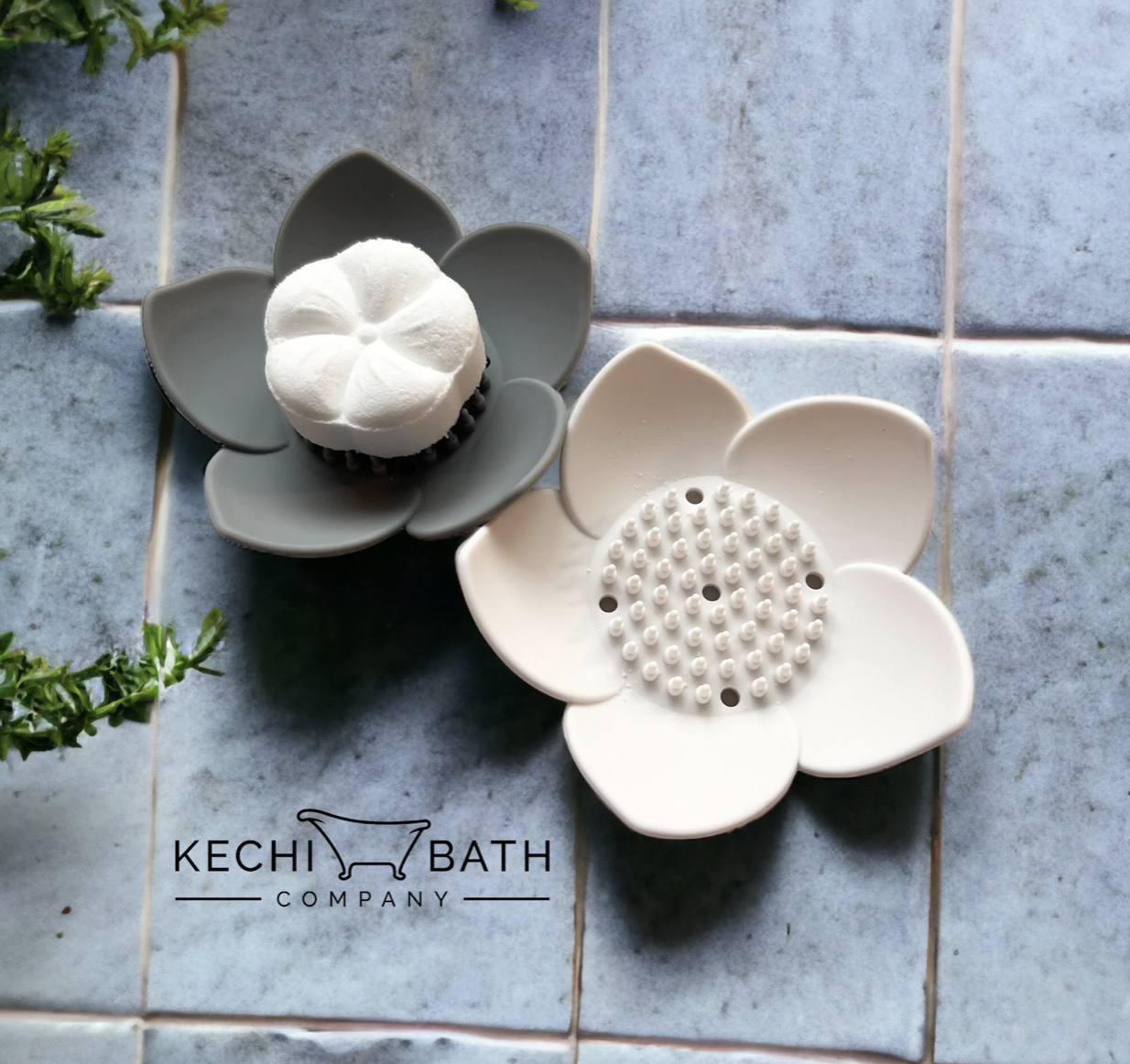 Shower Steamer Tray – $5.49
There is nothing more relaxing than a hot shower with a shower steamer to add a little bit of aromatherapy. These little silicone trays keep the steamer in place and off the shower floor, so they last longer. Perfect for someone who could use a spa day! (These are my favorite shower steamers and they come individually wrapped so you can add one or two to the tray as a gift!)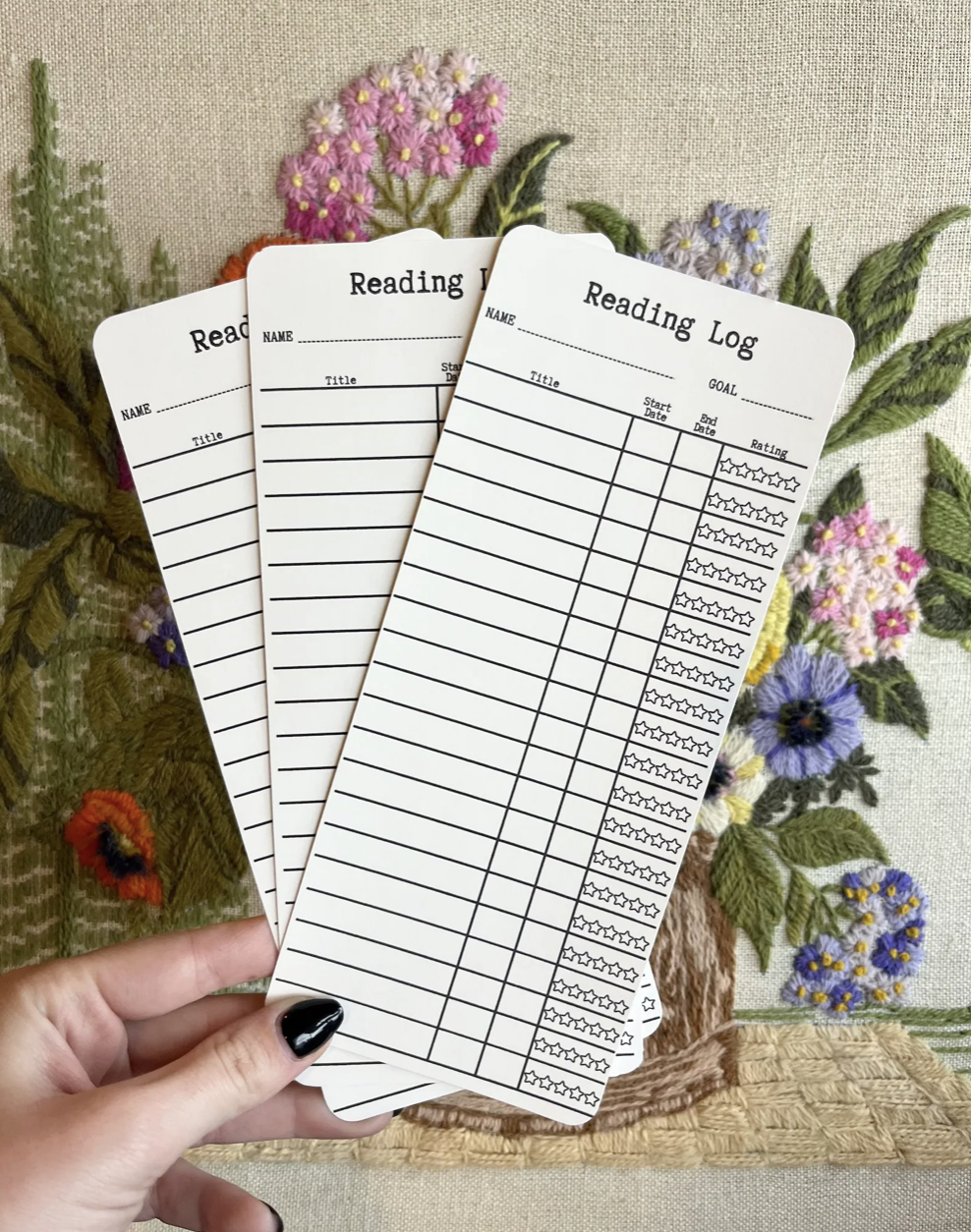 Reading Log Bookmark – $5.00 for 3
I mean, how could I not include a little book-themed gift on here. These are just like little paper versions of Goodreads – perfect for readers and book club friends. I LOVE how they are a throwback the library due date cards of my childhood.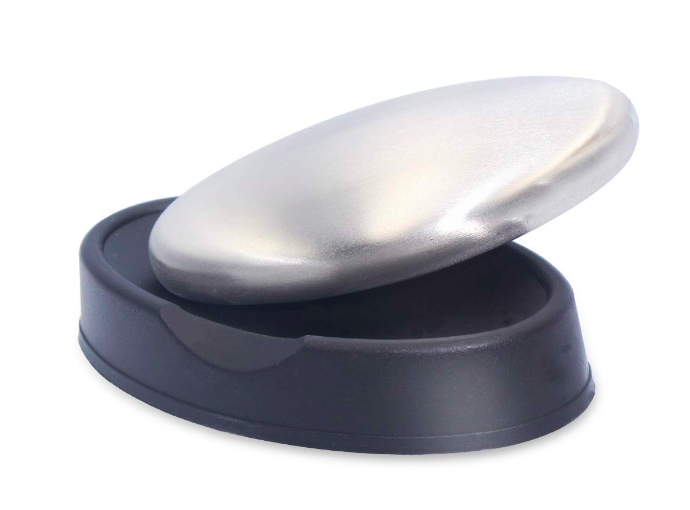 Stainless Steel Soap – $6.50 for 1, $8.99 for 2
Stainless steel works wonders to get rid of the strong garlic smell lingering on hands after peeling, chopping, and mincing. This is a great gift for those who love to cook, and don't have a stainless steel sink.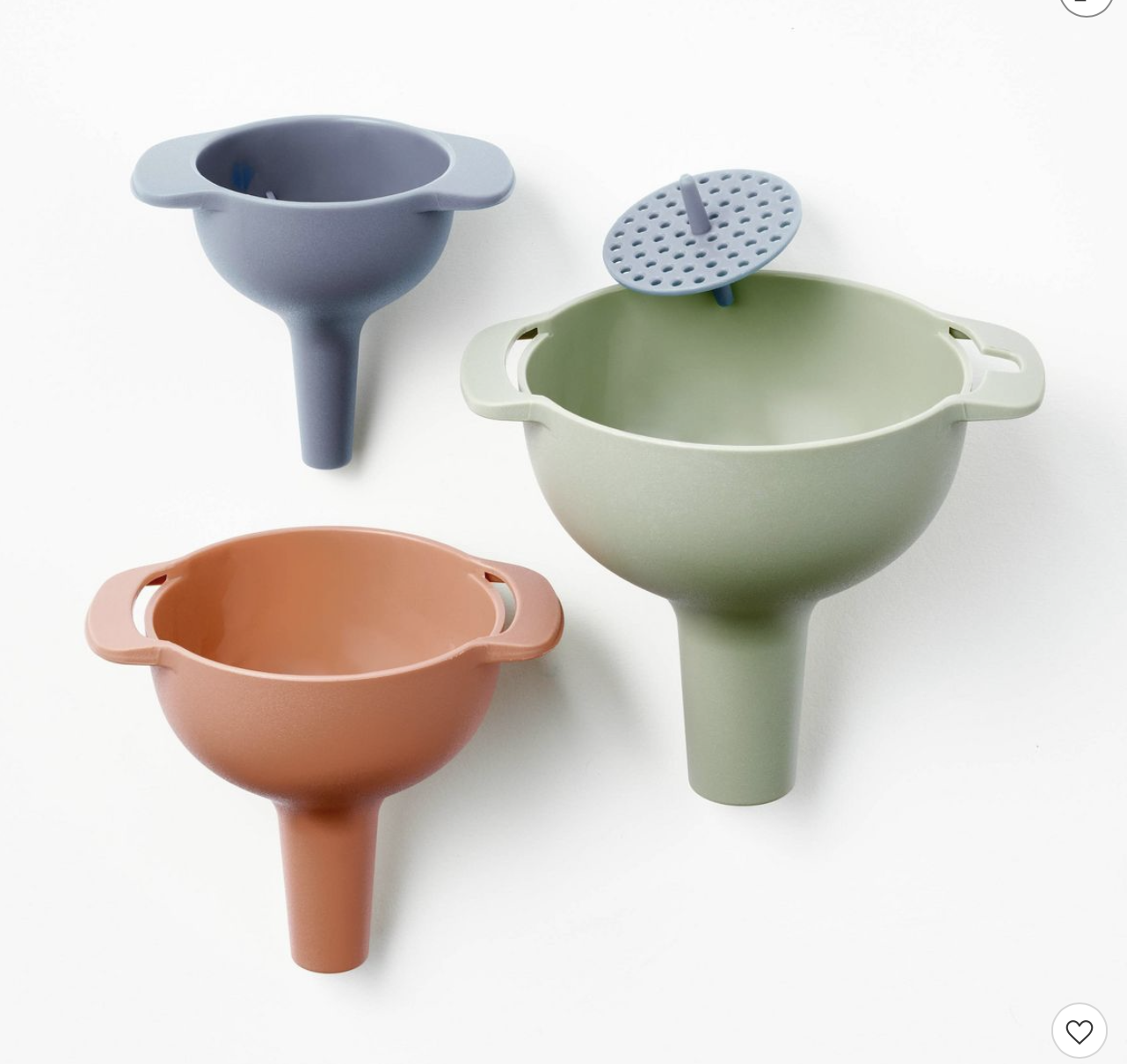 Funnel Set – $5.00
This is one of those kitchen gadgets that no one realizes they need until half a container of salt ends up dumped on the counter, instead of the vessel it's supposed to be decanted in. This set comes with three different sized funnels and the colors are so fun! (It would also be fun for kids with a sensory or water table.)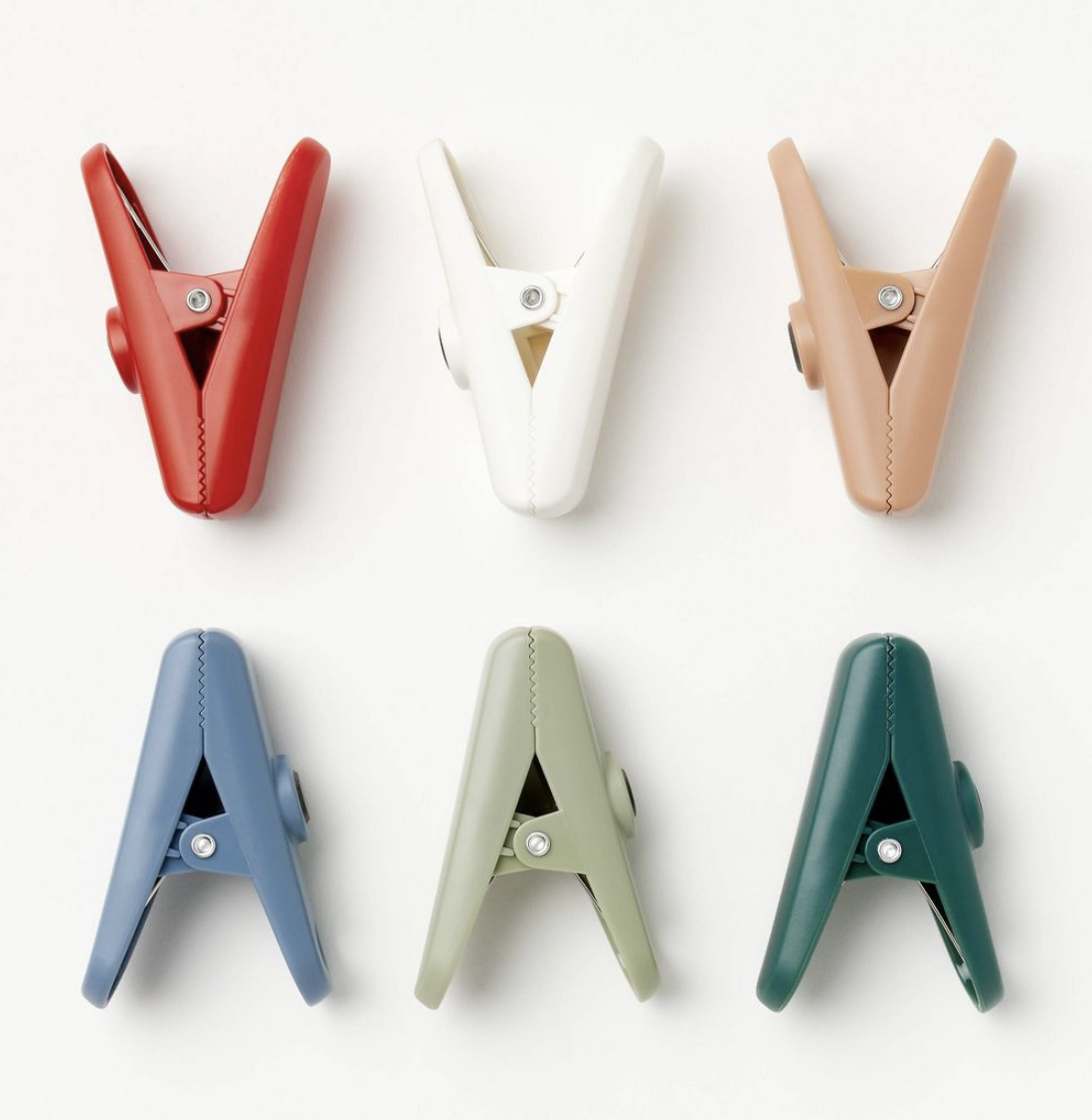 Magnetic Bag Clips – $5.00
I hate a bag without a clip to keep it shut. These ones are super affordable and so darn cute! (They could also be used on the fridge to clip important papers to.)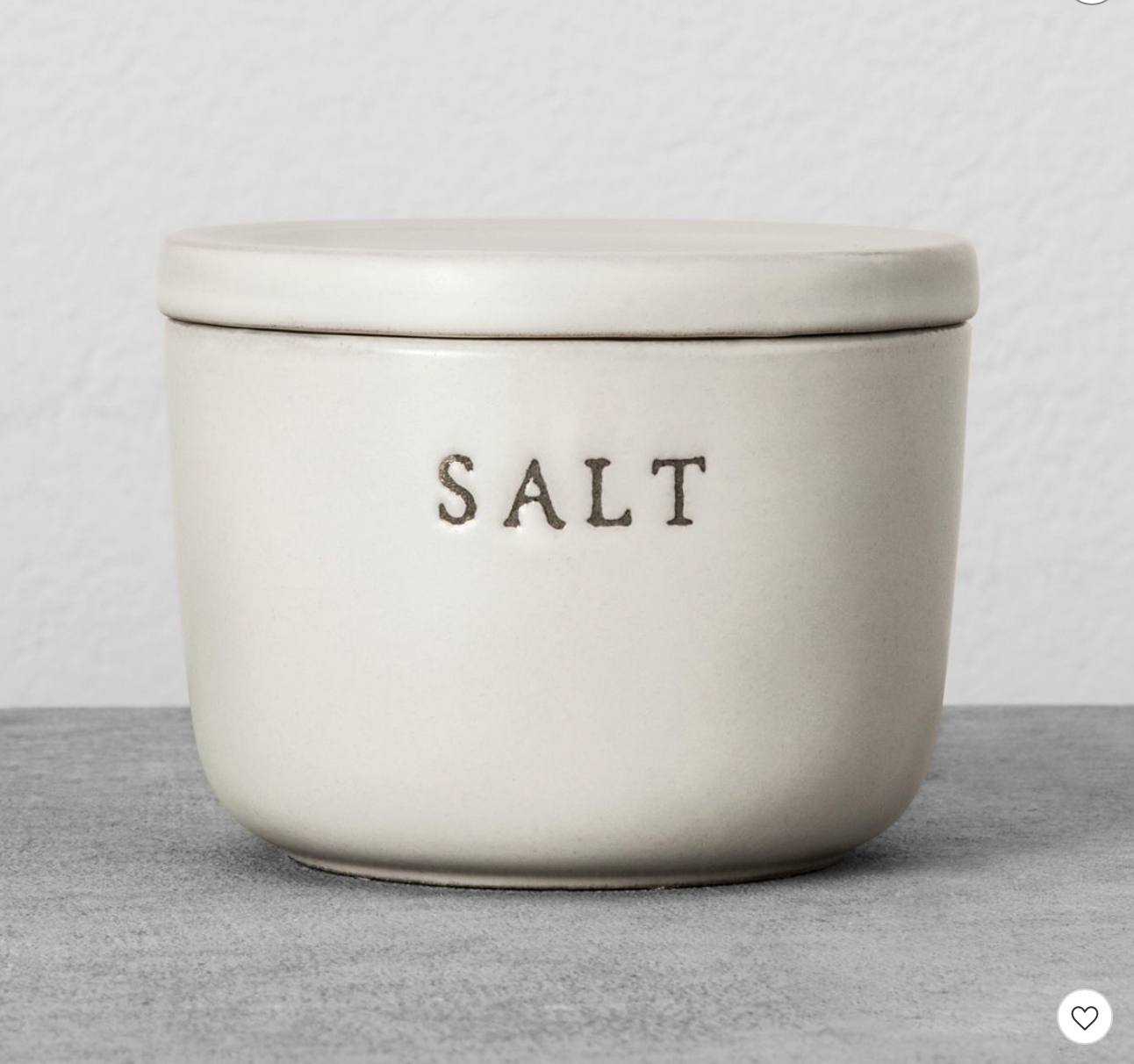 Stoneware Salt Cellar – $5.99
I am all about an item that looks more expensive than it is (hello, this wildly popular stoneware platter). This salt cellar not only stores salt, but it's something I would be happy looking at sitting on my counter.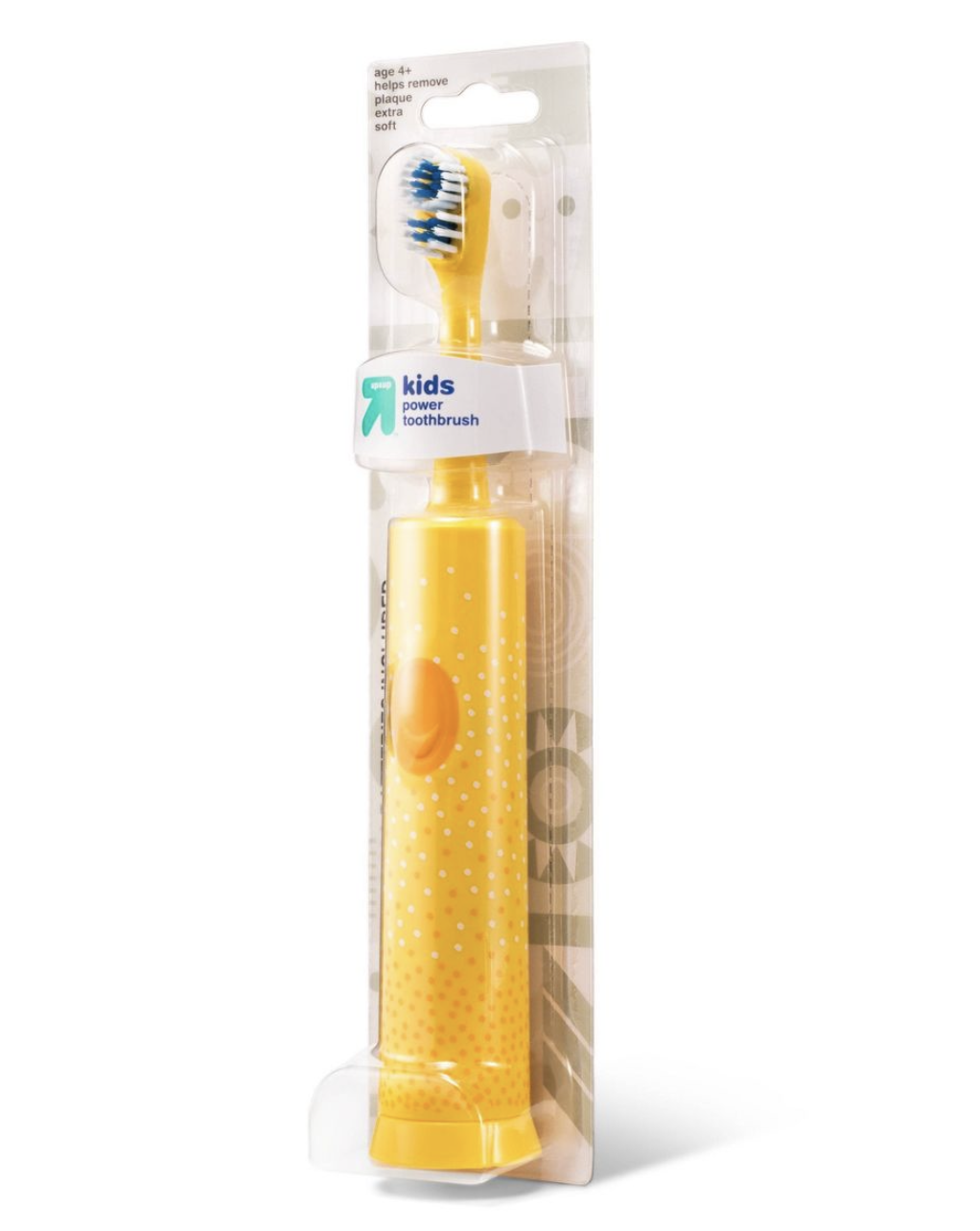 Electric Toothbrush – $4.19
This is an easy stocking stuffer that will definitely get used. And…what kid doesn't love an electric toothbrush? In fact, several of my kids mentioned they'd love one for Christmas this year!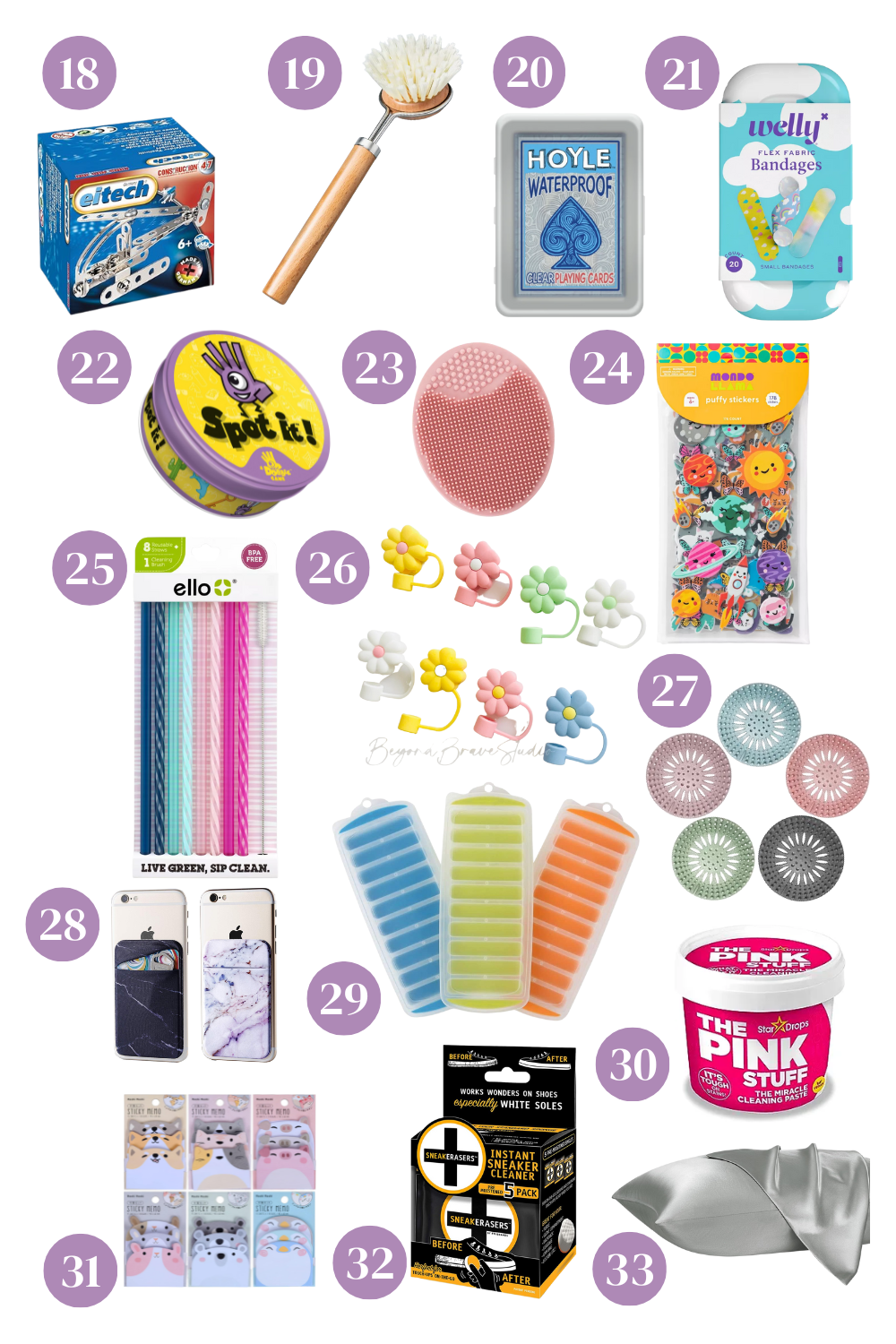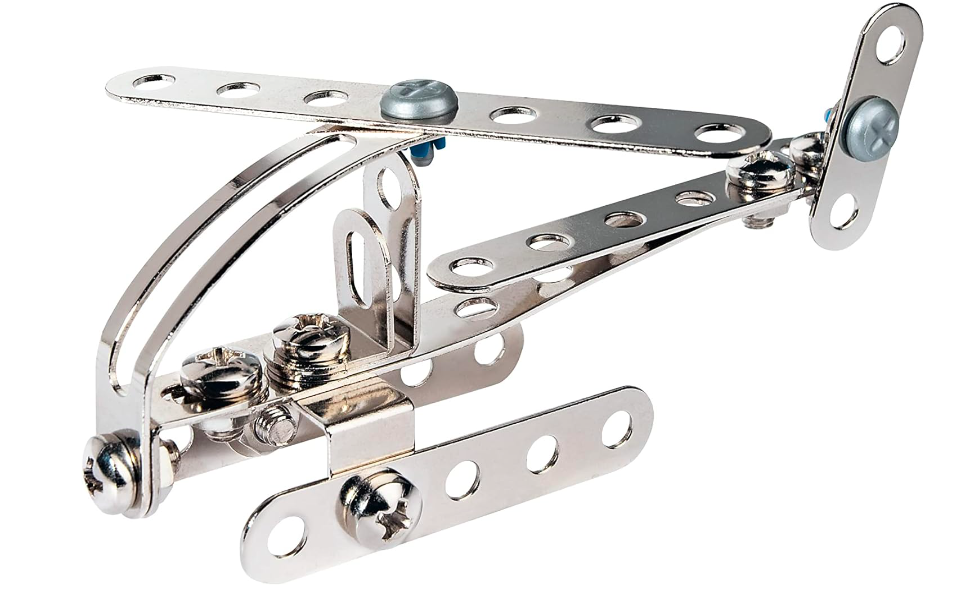 STEM Helicopter – $3.49
Ani is the STEM lover in our house and would love to put this together on Christmas morning. Great for any kids who love building things! Definitely grabbing these for stocking stuffers.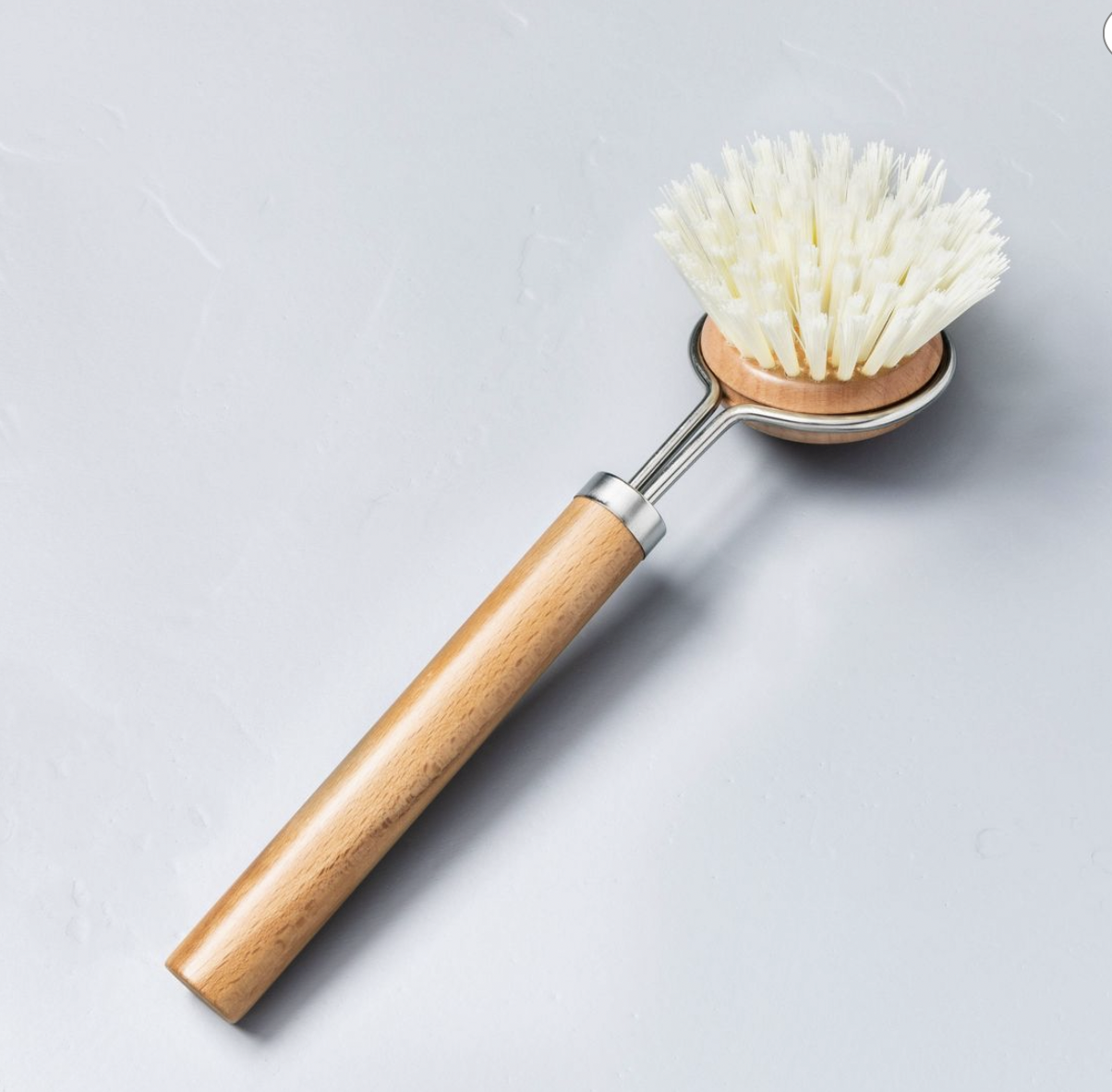 Dish brush – $4.99
Everyone needs to have a dish brush handy – so why not have a really cute one?! This would be great paired with some dish soap and a cute dishcloth!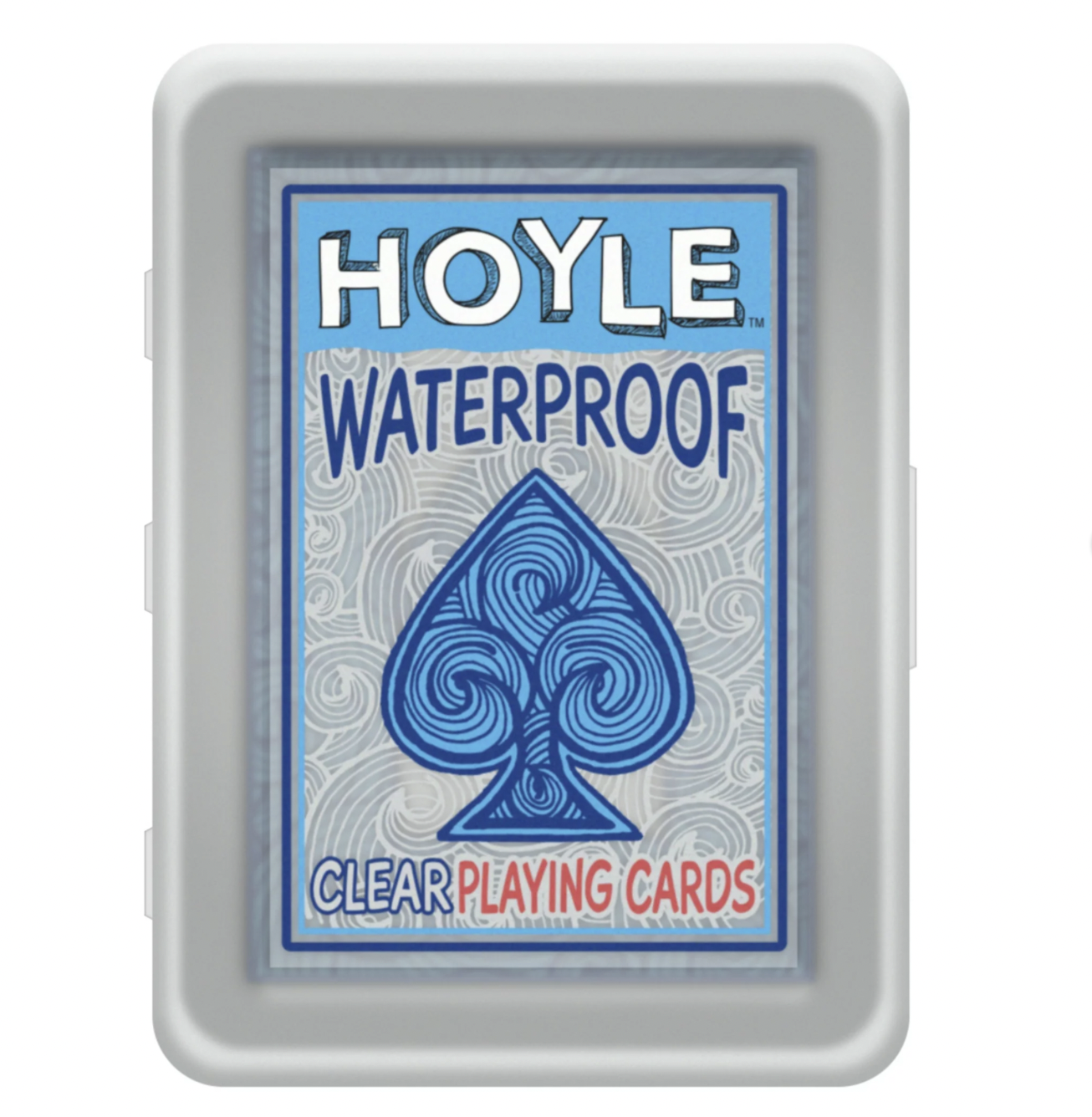 Waterproof Playing Cards – $6.49
Have you ever tried taking a card game to the beach, pool or camping and it just gets destroyed by all of the wet hands and s'more hands? These ones solve that problem and make those fun adventures even more enjoyable. We also love the Uno version.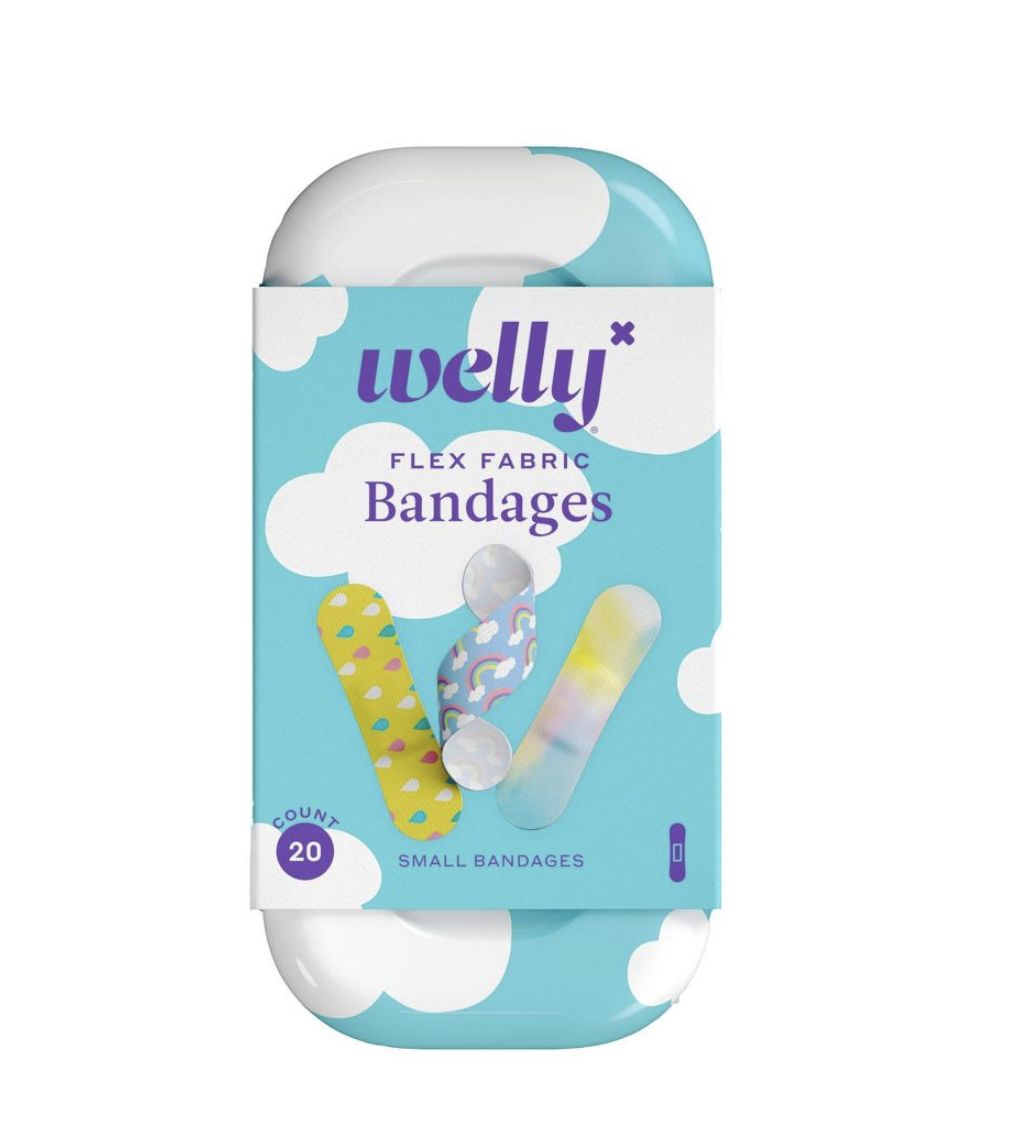 Welly Band Aids – $5.00
Growing up, we almost never had bandaids around, and as an adult it seems like such a luxury to not only have a big supply but to have fUN ones. These are SO MUCH FUN, and bandaids will always get used. There are also tons of other designs and colors for $6.99 for a large box.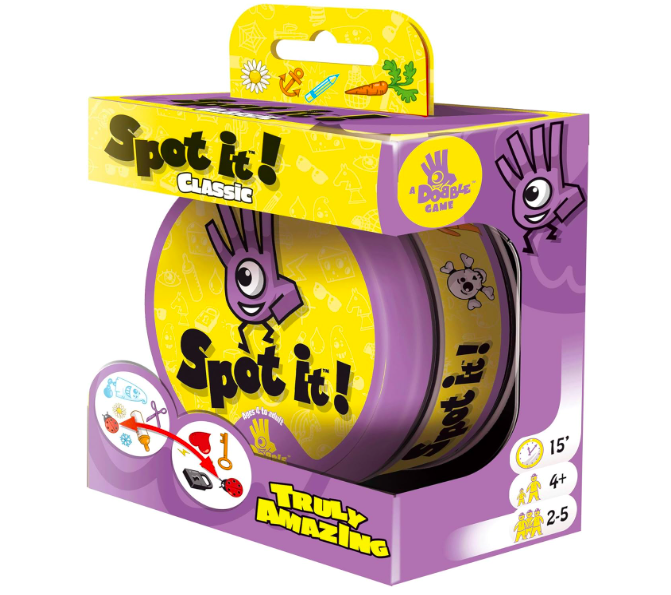 Spot It! Travel Tin – $4.99
This one is a favorite – you can play with just a few people or a whole crowd and it's quick and simple to pick up. It's truly fun for all ages. I love this game!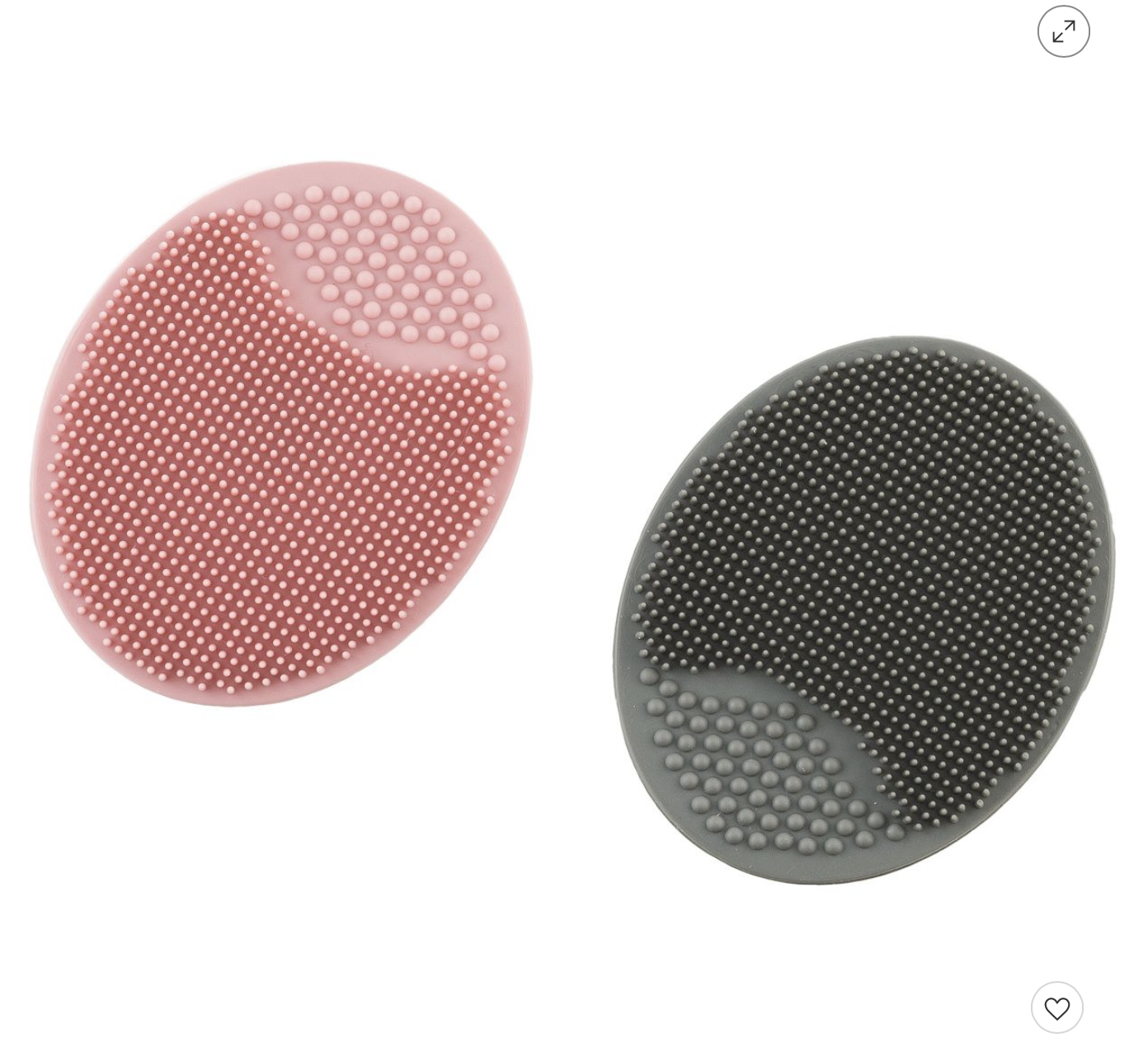 Silicone Facial Cleansing Brush – $5.00 for 2
I was dubious about facial brushes and now it's one of those things I take on vacation because I am NOT going to live without it. It keeps skin glowy and gets rid of dry skin like magic.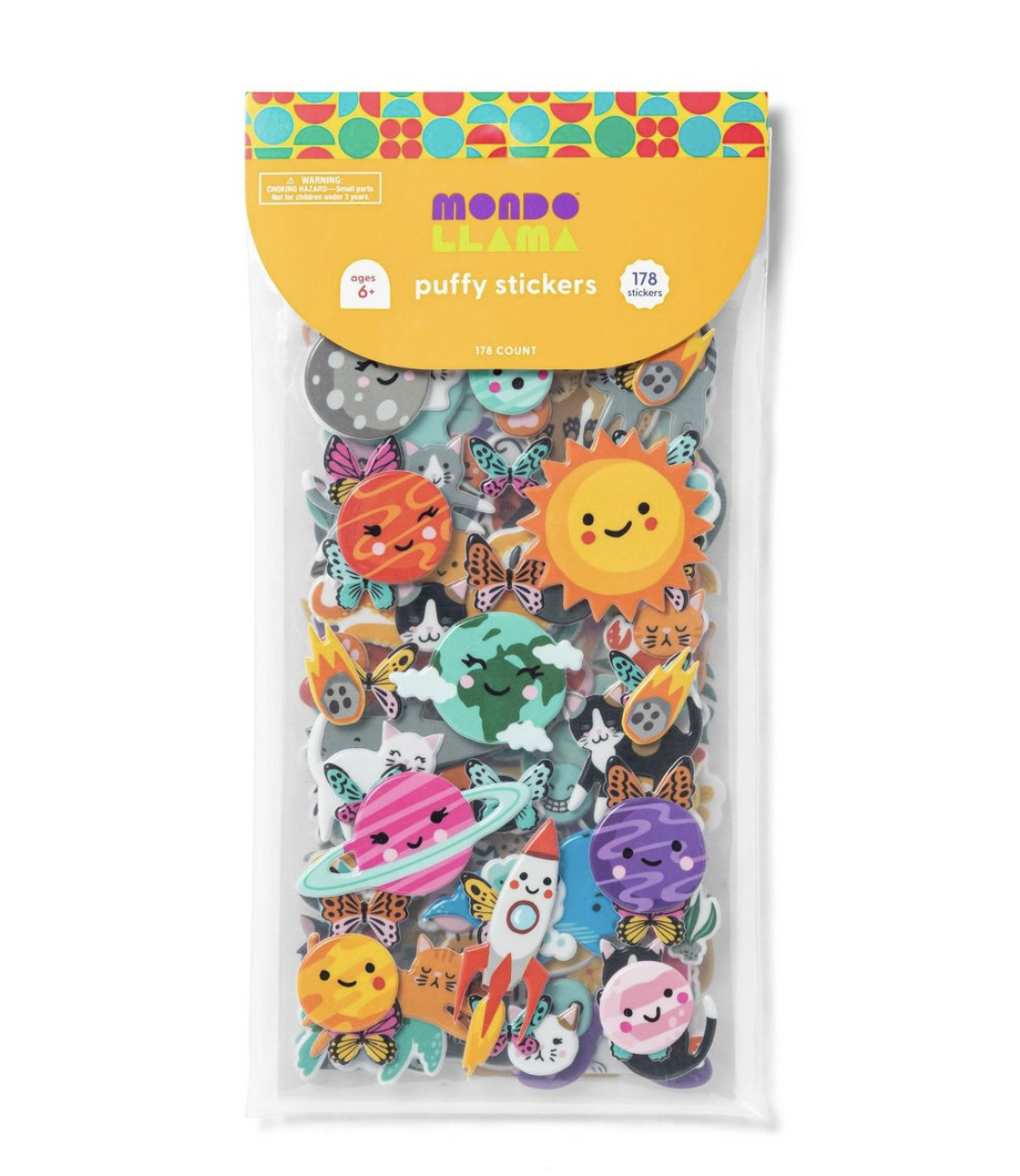 Puffy Stickers – $5.00 for 178ct
Is there anything better than stickers? Why yes…puffy stickers might just be it. For some reason adding a little height to a sticker makes them that much more desirable. This is a perfect stocking stuffer for kids.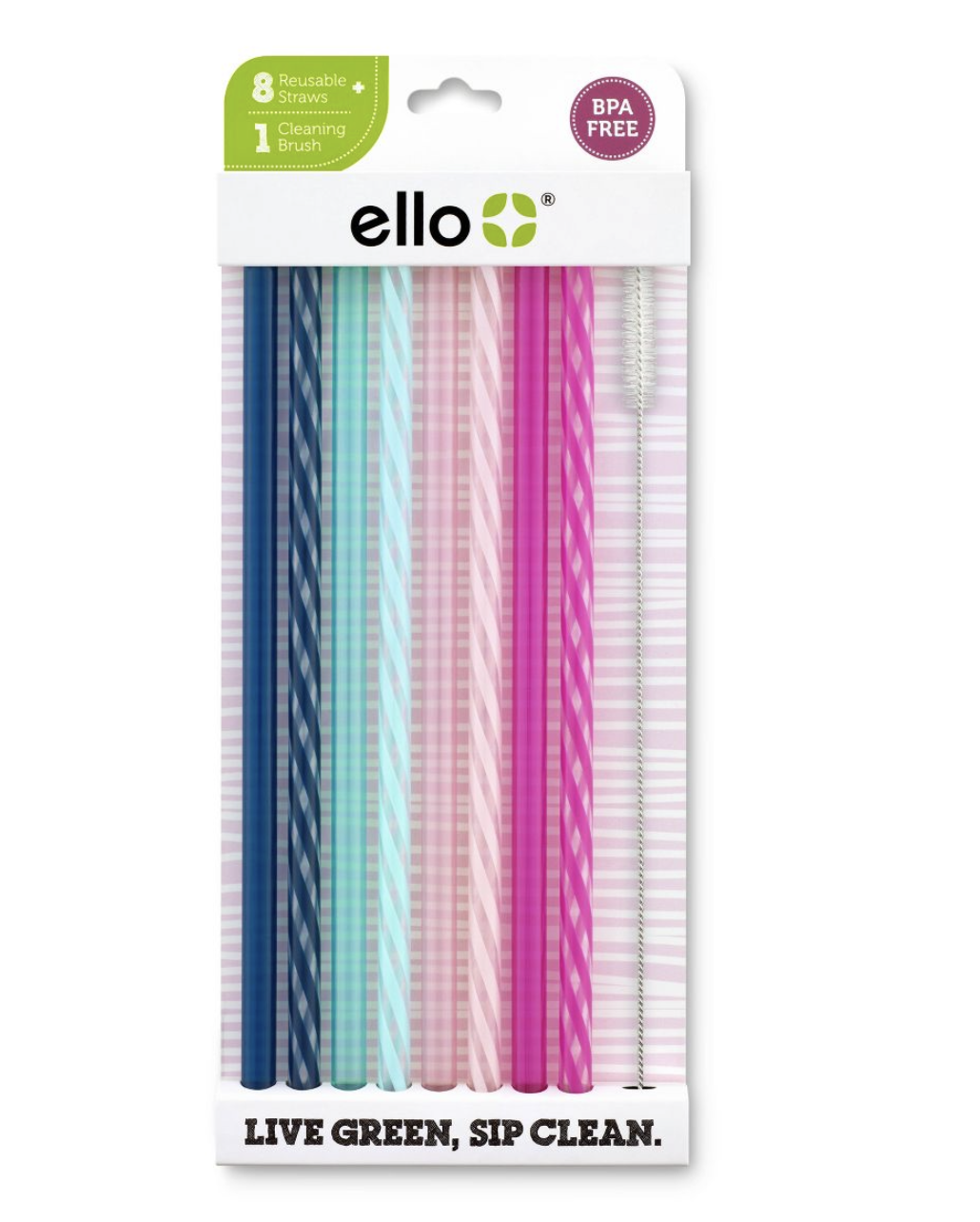 Reusable Plastic Straws – $5.39 for 8pk
I hate the waste of a straw but my kids love them, so I was delighted to see this 8 pack that also includes a cleaning brush. There is something so sweet and classic about the striped straws in this pack.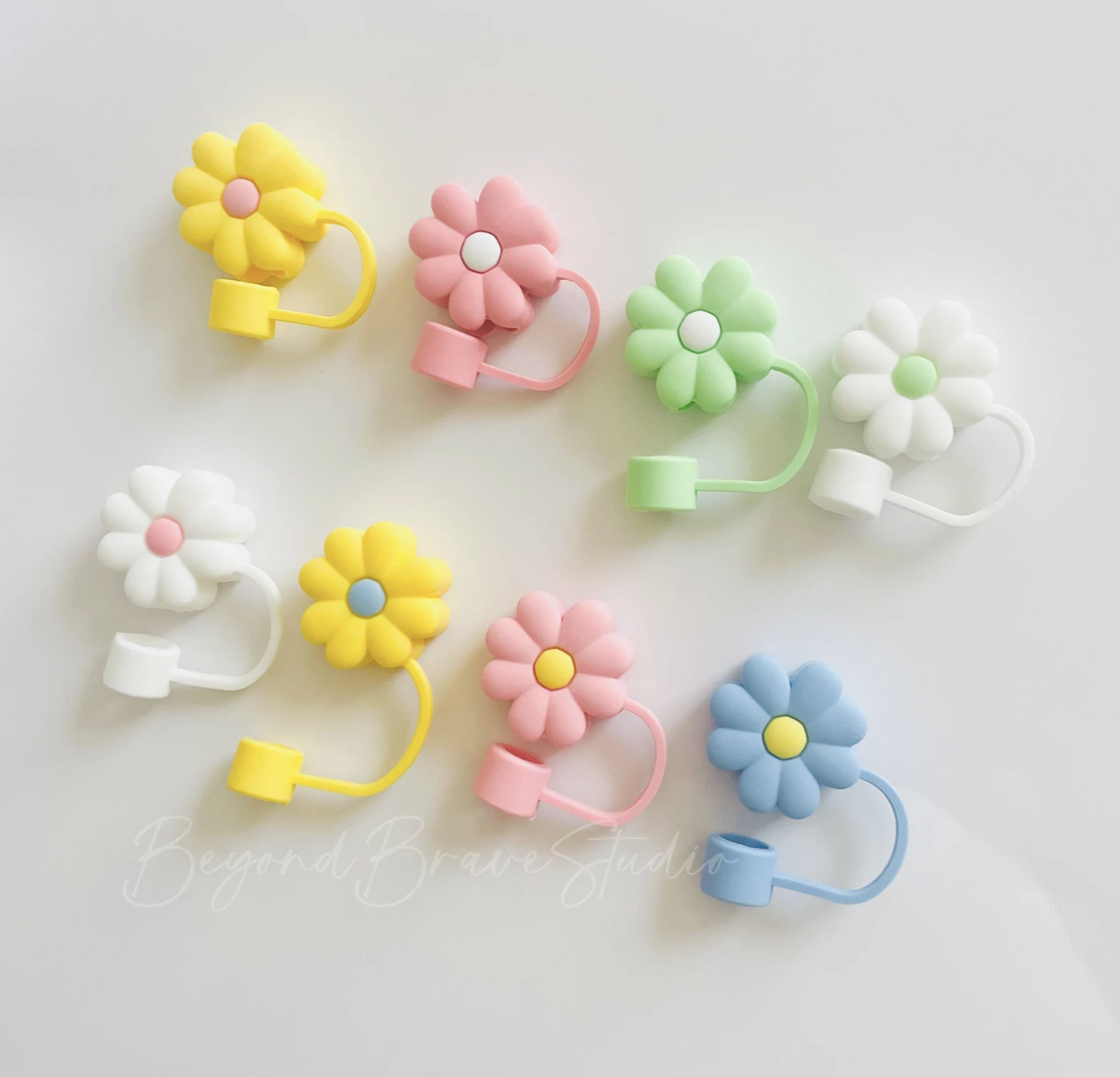 Straw Covers – $3.00 or $6.97 for 4pk
If you follow me on Instagram, I sparked quite the controversy about the beloved Stanley Quencher. It may not be for me, but if you have one and love it, these straw covers are so fun to pop on top, and it will keep out anything that might try to make its way in. Or, gift it with the reusable plastic straws, and it's a fun gift for any age.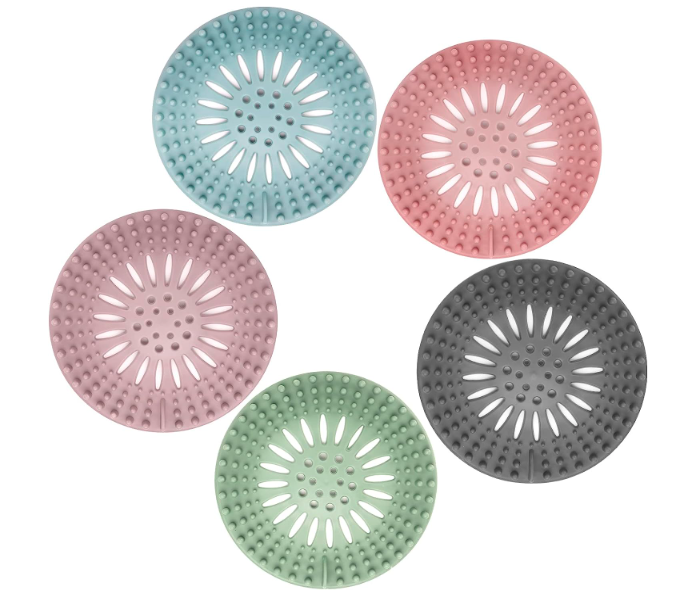 Drain Covers – $7.99 for 5
With five girls in our house, we have A LOT of hair! These drain covers would save us the agony of snaking the shower drains so regularly!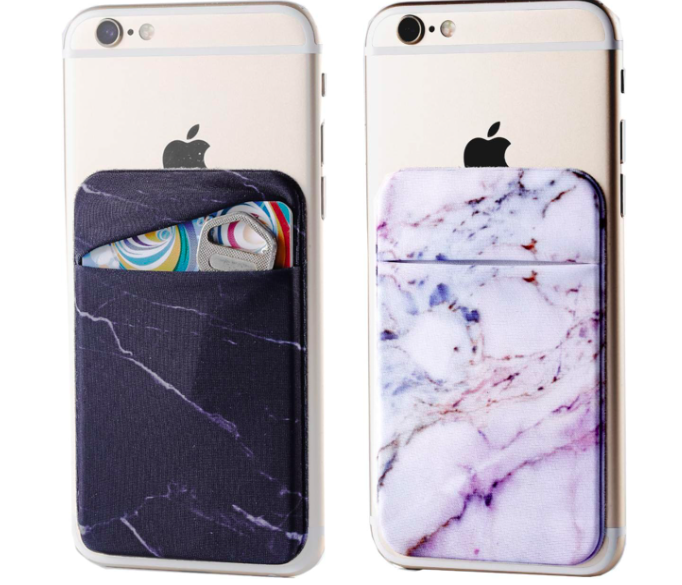 Adhesive Phone Pocket – $6.99 for 2
This is the perfect gift for a minimalist or a teen. Just peel and stick this highly elastic pocket onto the back of a cell phone to carry a few cards, some cash, or even earbuds. Genius!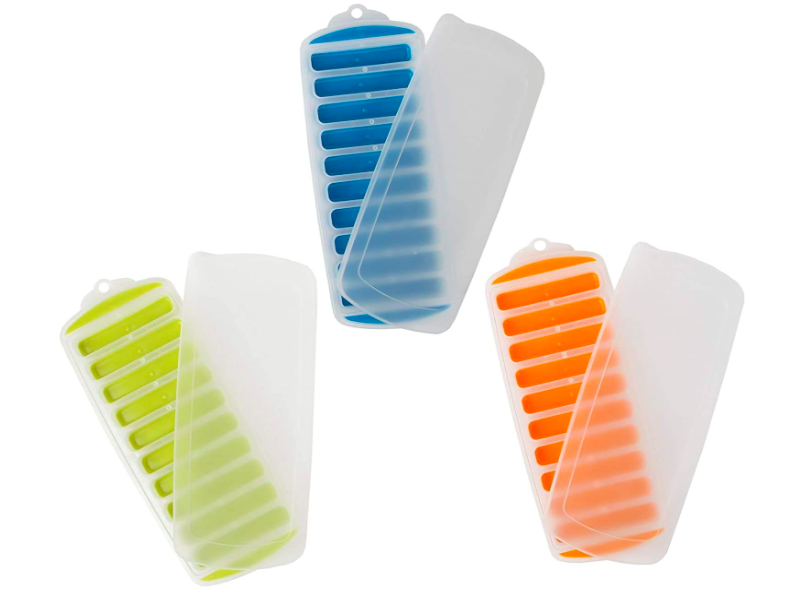 Silicone Ice Stick Trays – $12.99 for 3
Sometimes ice cubes don't fit in a narrow mouth water bottle. These ice trays make ice cubes into long narrow sticks which should fit even the narrowest water bottles.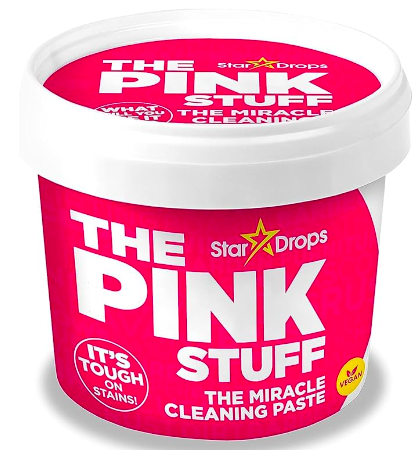 The Pink Stuff – Miracle Cleaning Paste – $4.99
I was dubious about this stuff when I first heard about it, but I used it on a white playroom table that had Sharpie marks all over it and it took it right off! Perfect for anyone who loves to clean or who hates messes.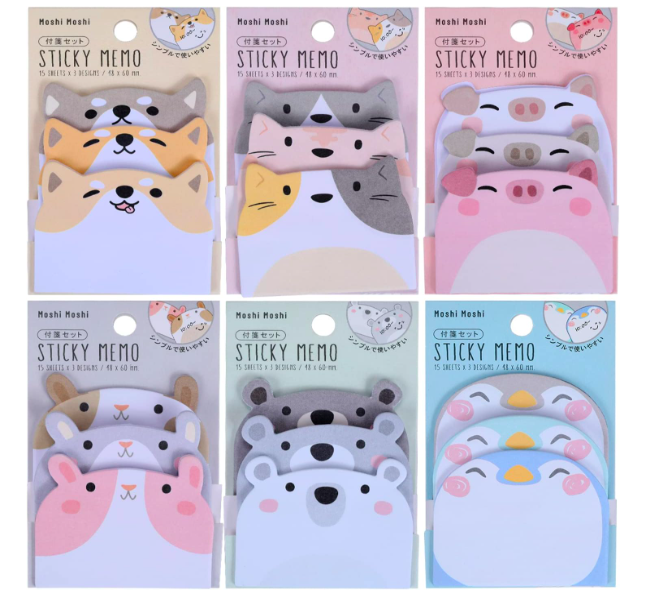 Cute Animal Sticky Notes – $6.99 for 6
My girls would go crazy for these! They are so cute for labeling things, leaving little notes for each other or even using as a bookmark! Definitely adding these to my list of stocking stuffers for htem this year.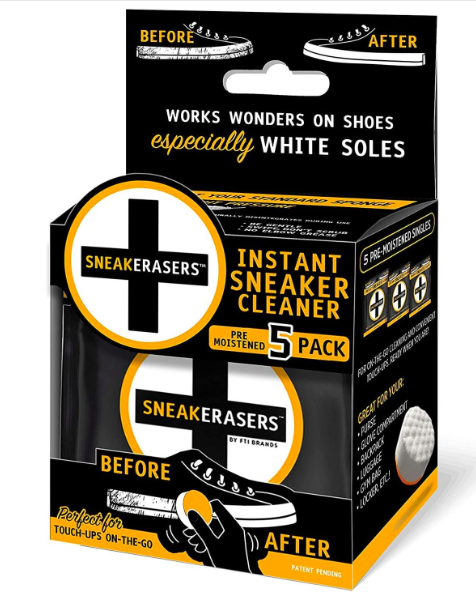 SneakERASERS Sneaker Cleaners – $15.49 for 5
Who doesn't love a clean sneaker? These little cleaning erasers clean the soles of shoes like magic, so they will always be bright and white. Because they come individually wrapped in a 5 pack, they are perfect to divide up among friends, or in stockings.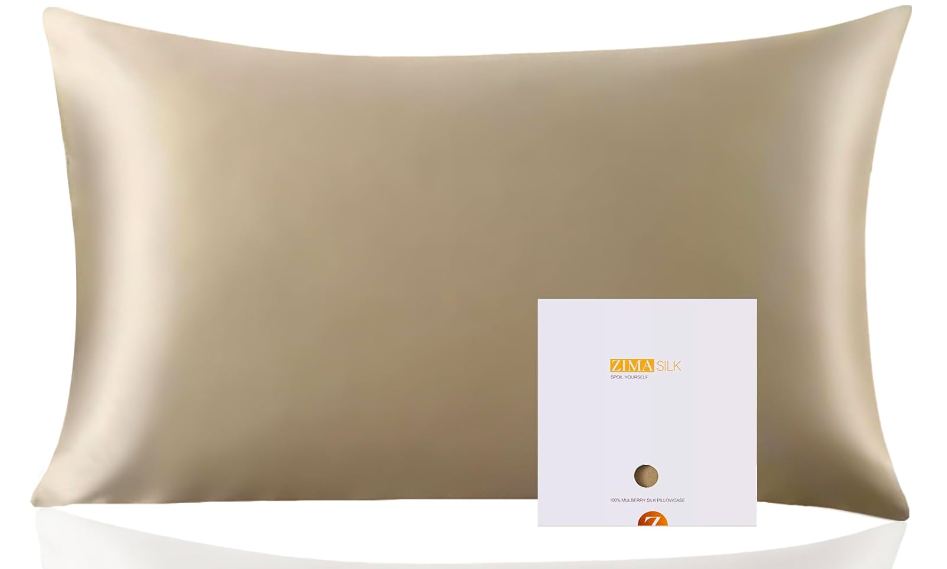 Satin Pillowcase – $6.98 for 2
I switched to a satin pillowcase a couple of years ago to prevent my hair from breaking as much, especially in the dry Utah air and I'm never going back! This one is silk-like satin, but for the price, it is well worth it! Plus, it comes in a million colors.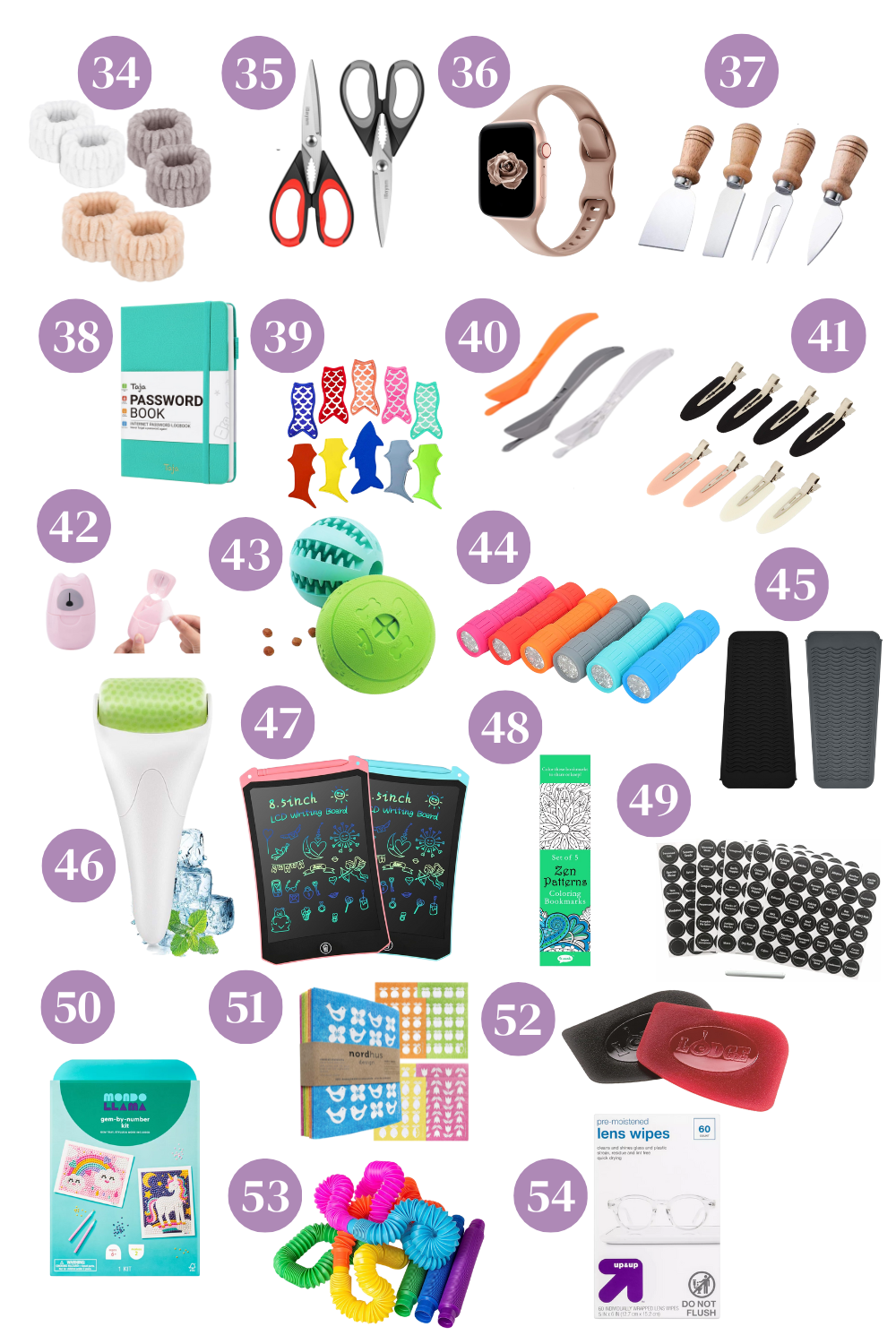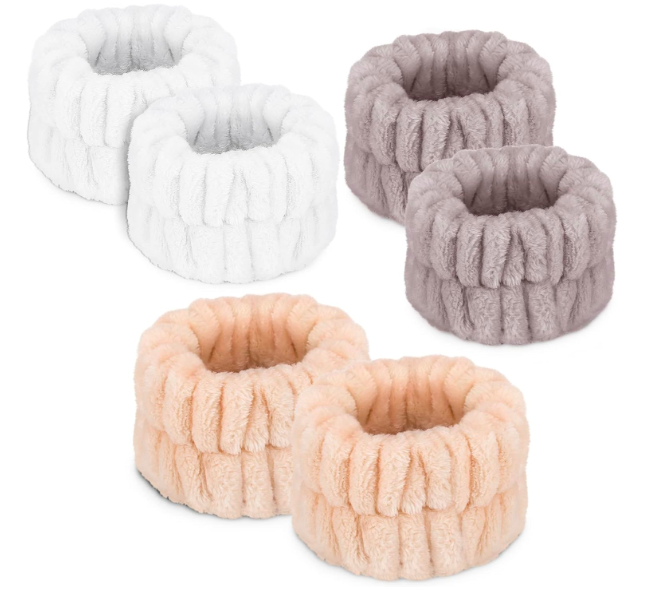 Face Washing Wristbands – $6.99 for 3 sets
I am militant about washing my face morning and evening with Dime Beauty's THE WORKS Line. For someone who can't stand the feel of water dripping down their arms when washing their face – these will make it a much more pleasant experience.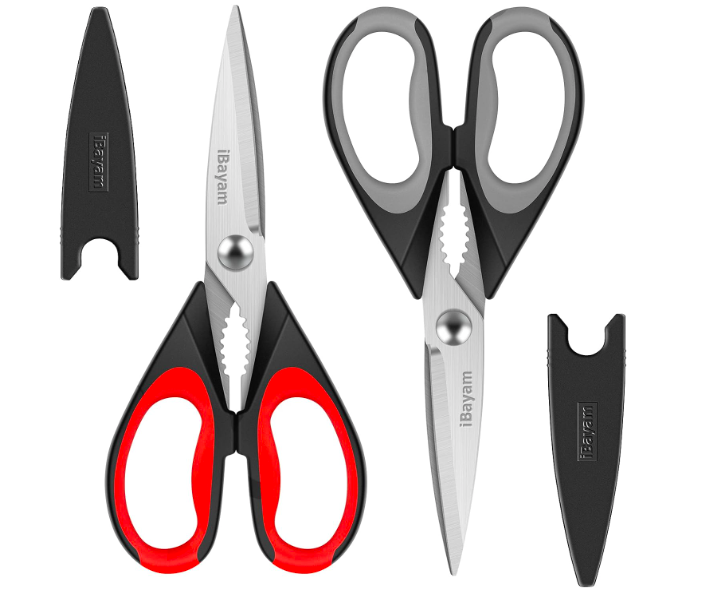 Kitchen Shears – $9.99 for 2
If there is one thing that consistently goes missing in our house, it's scissors. You can never have too many and I might just put these in everyone's stockings.
Apple Watch Sport Band – $6.99
I don't own an Apple watch, but I do know that if I did, I would be switching out the bands because they are so darn affordable and there are so many different designs and colors!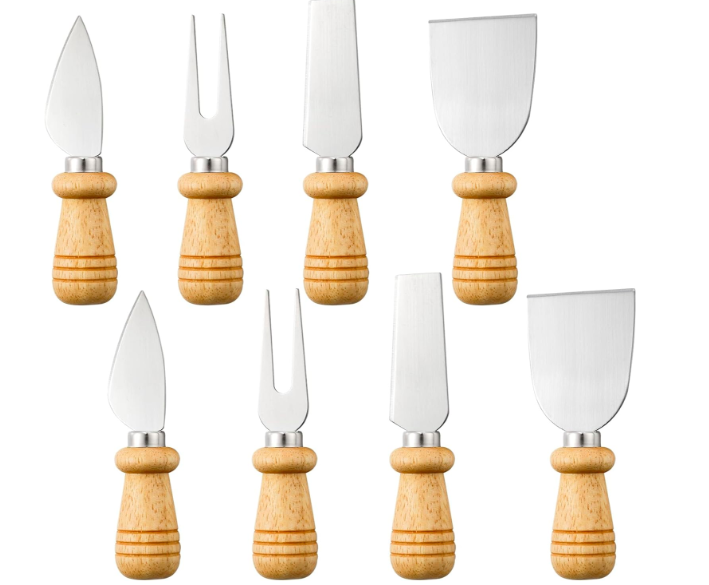 Charcuterie Utensil Set – $6.29 for 2 sets
It's hard to mess up a charcuterie board – you just keep adding things on and at the end it looks fancy and fun. These little sets of knives and forks offer the perfect serving utensils to go with any type of board. I couldn't think of a better hostess gift!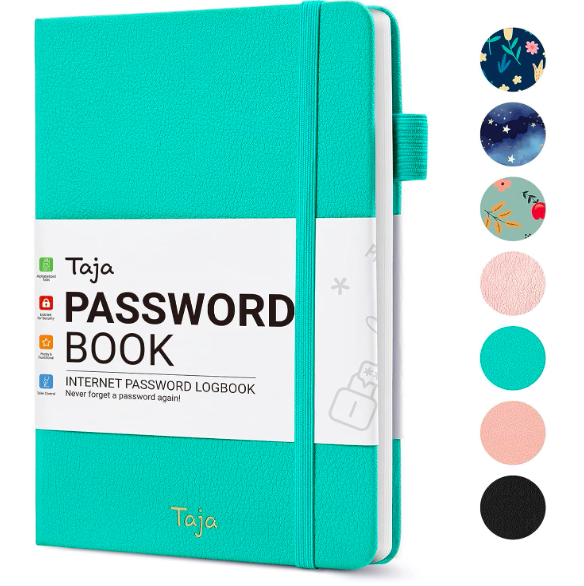 Password Keeper Book – $5.49
With the amount of passwords that I have, and the amount of times I have to change them, all with different requirements. I don't know who wouldn't need one of these!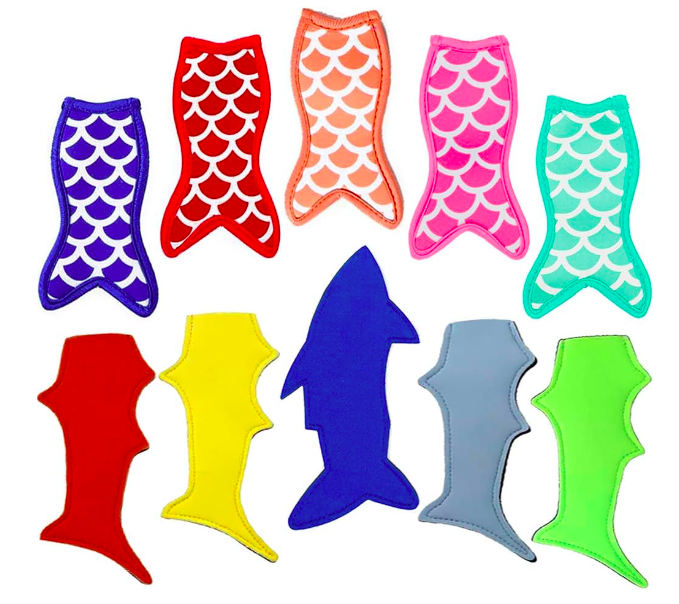 Otter Pop Sleeves (Sharks & Mermaids) – $14.98 for 10
We love a good Otter Pop around here and typically wrap them in a paper towel. These fun sleeves would get rid of that extra step and I could just leave them in the Otter Pop box when finished!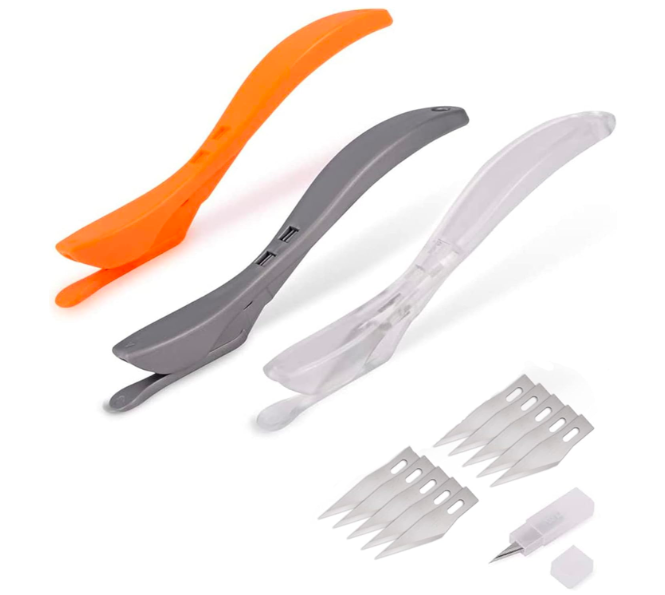 Wrapping Paper Cutter – $11.99 for 3 (Wrapping Paper Cutter – $5.49)
I absolutely LOVE wrapping gifts – especially if it's alongside a good audiobook. All wrapping paper isn't created equal, so scissors don't always slide smoothly to make a fresh cut yet these paper cutters make a smooth cut every time! These would also be great for anyone who loves to craft!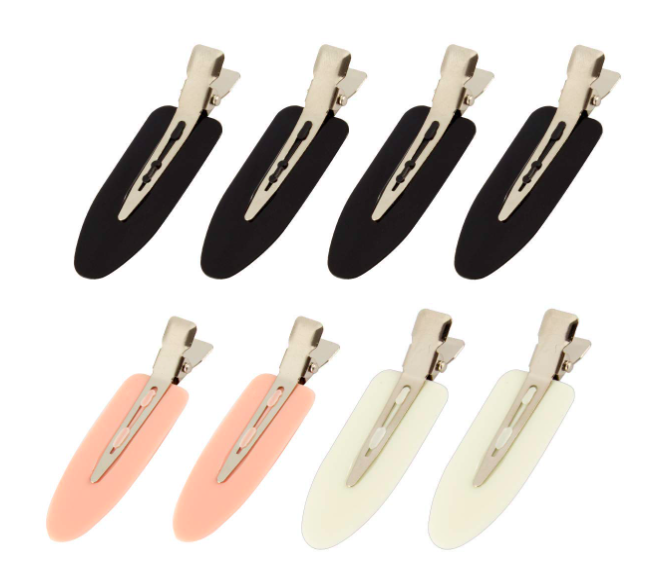 No Crease Hair Clips – $6.99 for 4 sets
I like to keep my makeup routine very simple and quick (you can read more about that here), but for someone who loves makeup these no crease hair clips keep hair out of the way while applying makeup.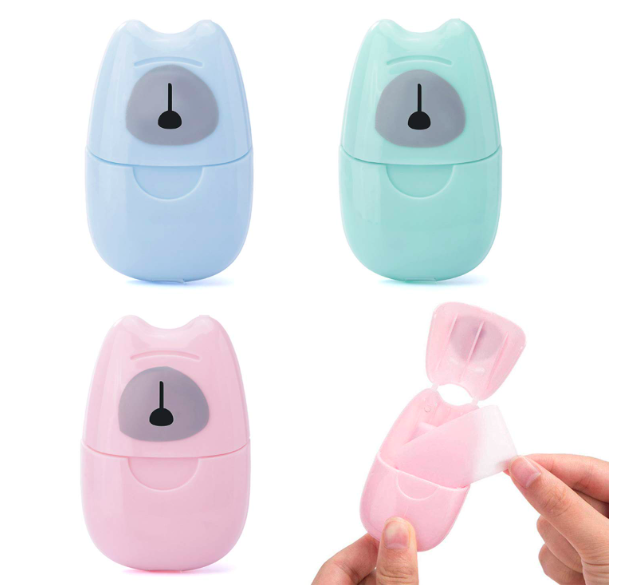 Mini Portable Soap Sheets – $6.99 for 3
These are genius! I can think of so many times these would come in handy – camping, sticky ice cream hands, amusement park day and the list goes on!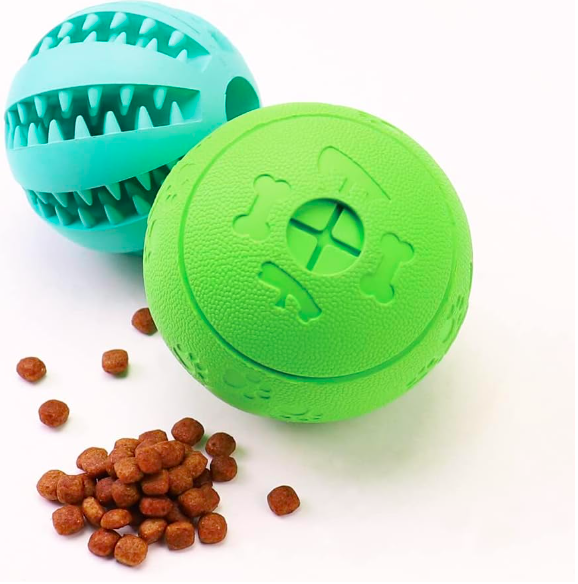 Dog Treat Puzzle – $9.99 for 2
Furry friends deserve gifts for the holidays too. These treat balls are perfect for chewing, playing ball, and for hiding little treats inside.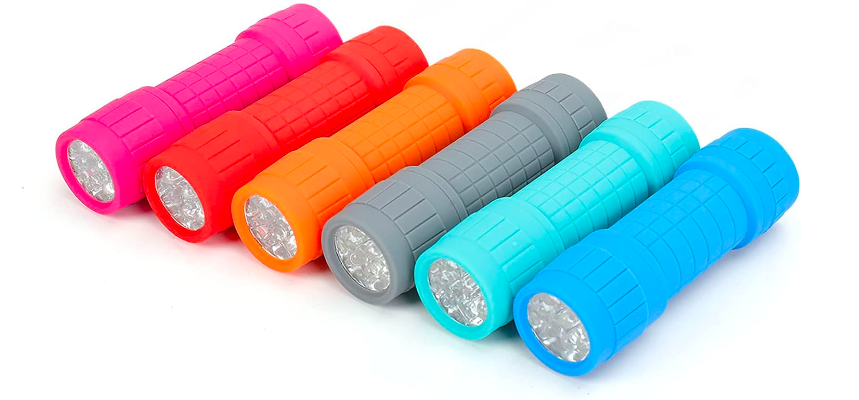 Mini Flashlights – $15.99 for 6
Flashlights are one of those things you can't really own too many of – it's handy to have them in your car, your bedside table or desk drawer! This mini one is ultra-portable and super affordable.
Silicone Heat Mat for Hair Tools – $9.99 for 2
No one wants burn marks on the counter. Whether you use a curling iron or a straightener, these silicone mats are heat resistant and perfect to travel with. And, there are plenty of colors to choose from. This is going on my Christmas wish list!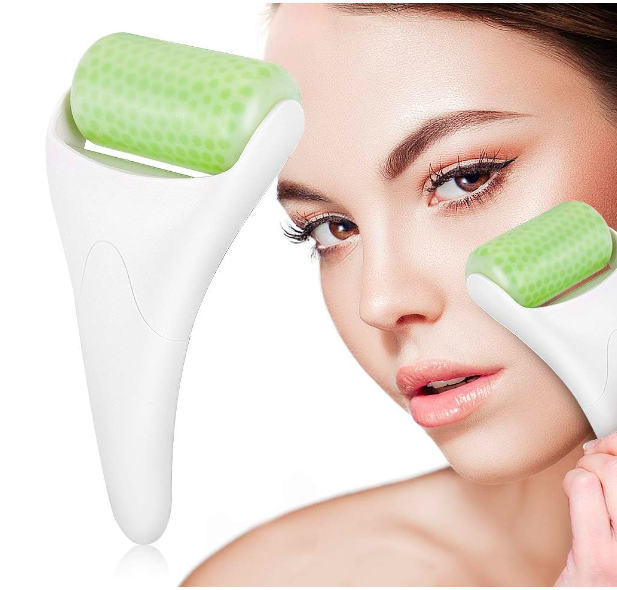 Facial Ice Roller – $5.99
Puffy eyes and face be gone! Whenever I see these, I just think of how relaxing it looks rolling it across your face, but also that it is ice cold and probably the perfect thing to wake me up in the morning. It's the perfect gift for beauty lovers.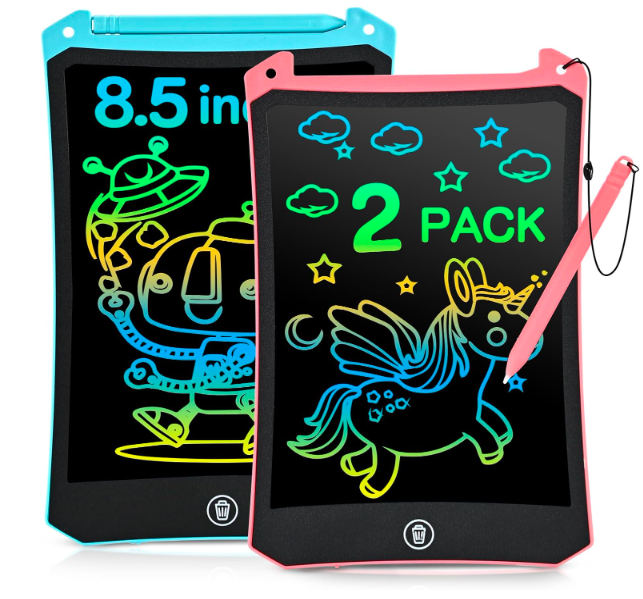 LCD Writing Tablet – $9.99 for 2
I wrote about these in a post about what I keep in my church bag. I love that there is endless amounts of things you can do with them (tic tac toe, guess what I'm drawing, etc.) and absolutely no waste!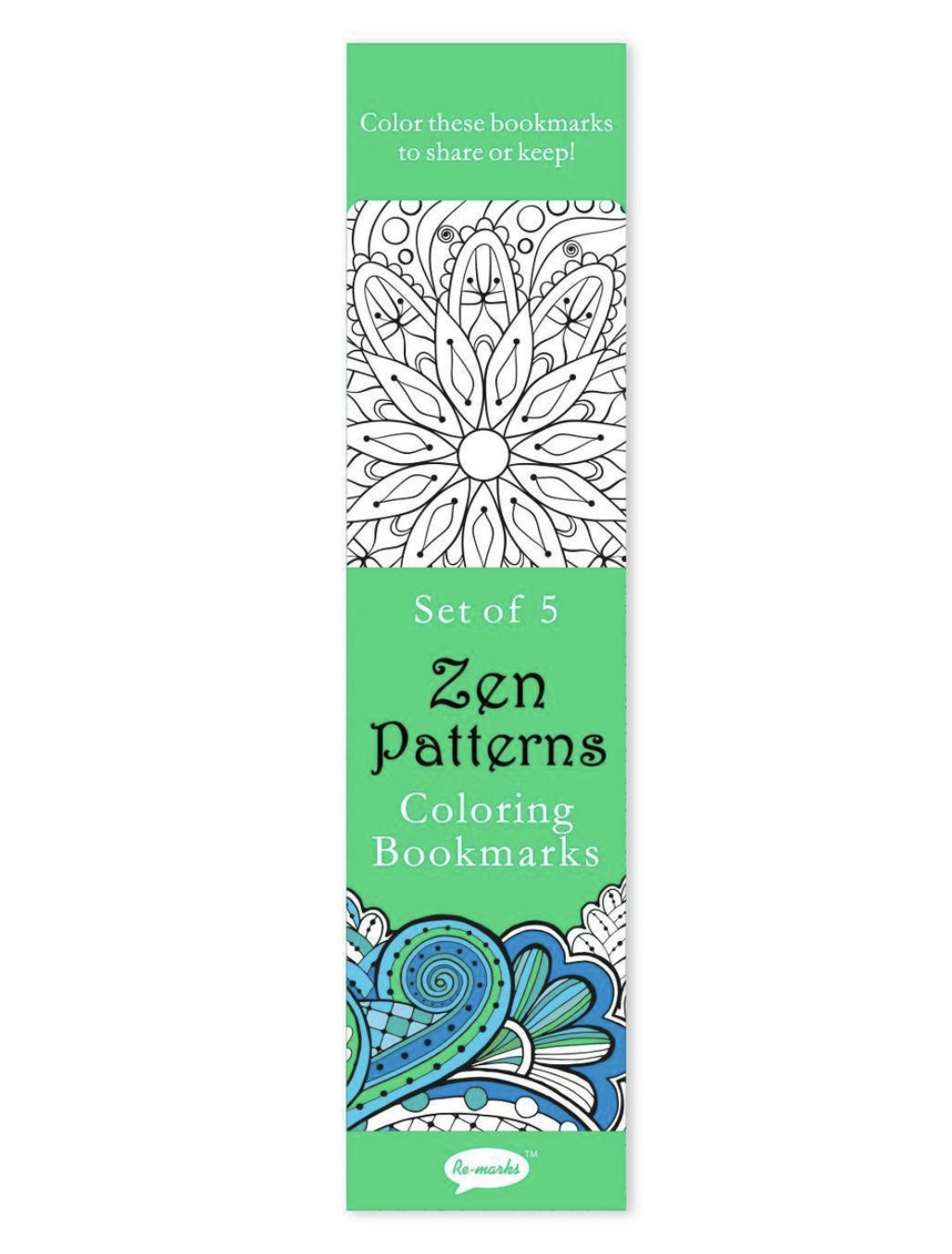 Coloring Bookmarks – $5.99
I love a good bookmark and paired with a mess free art project – sign me up! My girls would go wild for these in their stockings!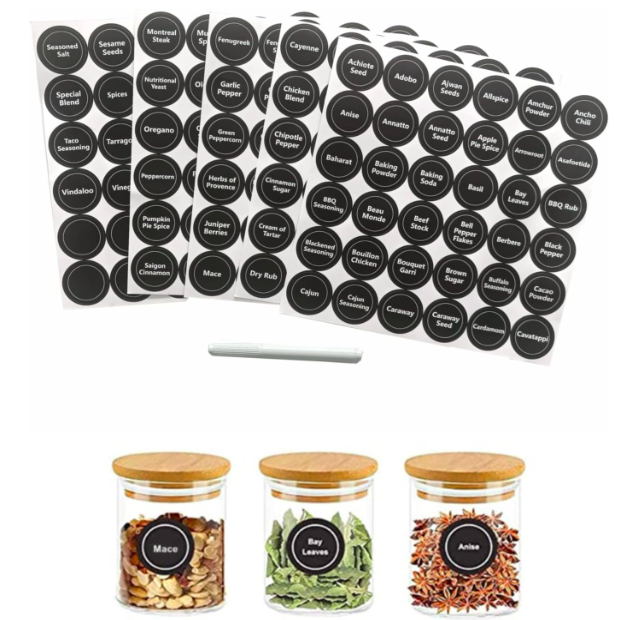 Spice Jar Labels – $4.88
One thing I did a couple of years ago was put all of my spices in matching jars along with matching labels. It makes me so happy every time I use one! These are perfect for the minimalist, organizer in your life!
Diamond Art Kit – $5.00
This delightful kit will last for hours. My girls love diamond painting and I love that they are mess-free. Here is another fun option for $5.00!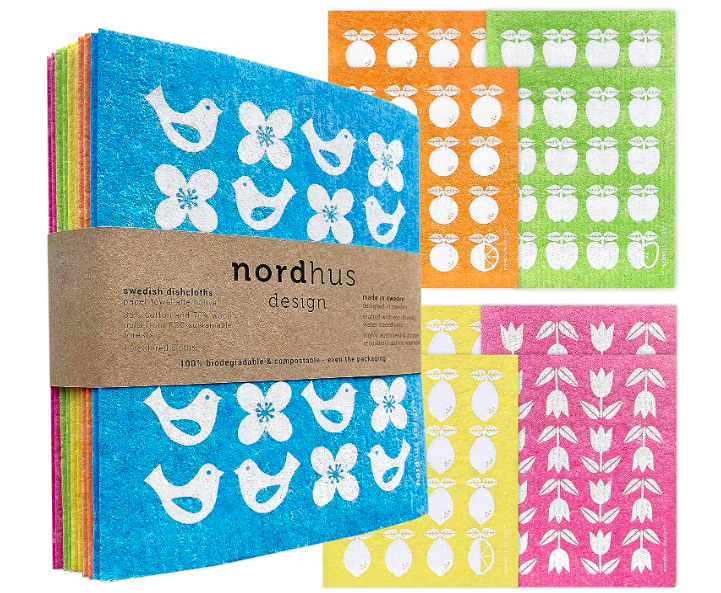 Swedish Dishcloths – $23.99 for 10
I always love a unique gift that not everyone will have. These little dishcloths are a mix between sponge, paper towel, and dishcloth. And I cannot get over the cute Scandinavian designs on them.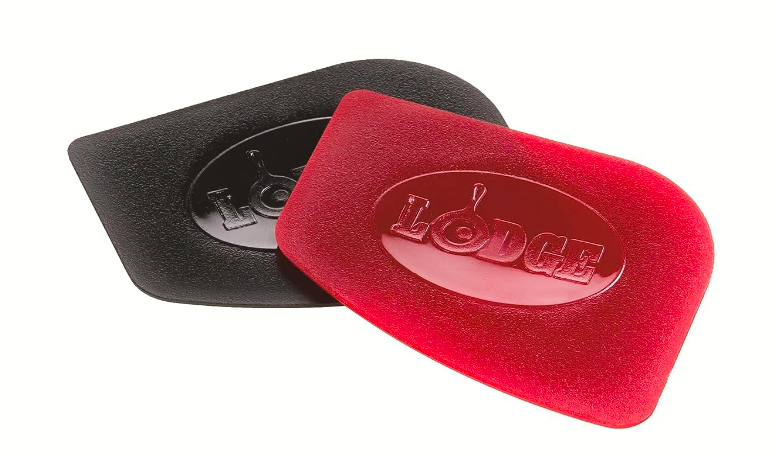 Pan Scraper – $6.97 for 2
Let's face it, not all pans are perfectly nonstick, so I love a good pan scraper to do the heavy duty work for me. Because they are plastic, they won't scratch up pans and they can even be used to scrape gunk off of the table and floor.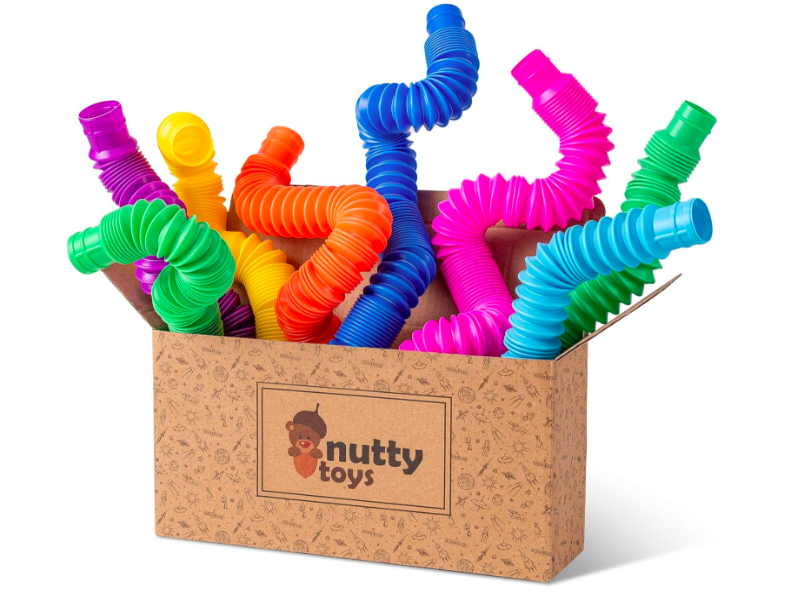 Pop Tubes – $8.97 for 8
There are so many fidget type toys out there to keep little hands busy. This one can be pushed and pulled, connected together, and twisted this way and that.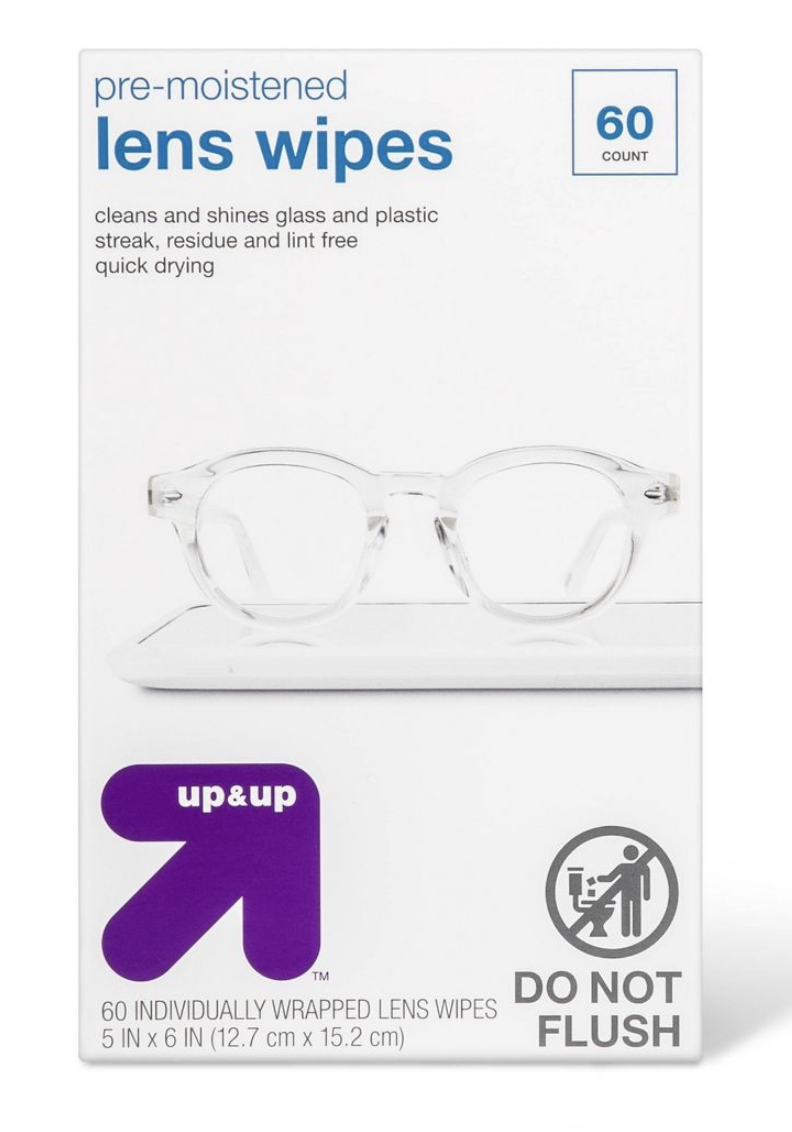 Lens Wipes – $2.79 for box of 60 wipes
Jen on the team gave me one of these when we were out on an adventure together when I got sunscreen on my sunglasses. They are AMAZING (and then she gave me a whole box for my birthday). Keep these in your car to keep all of your regular glasses and sunglasses streak and fingerprint free!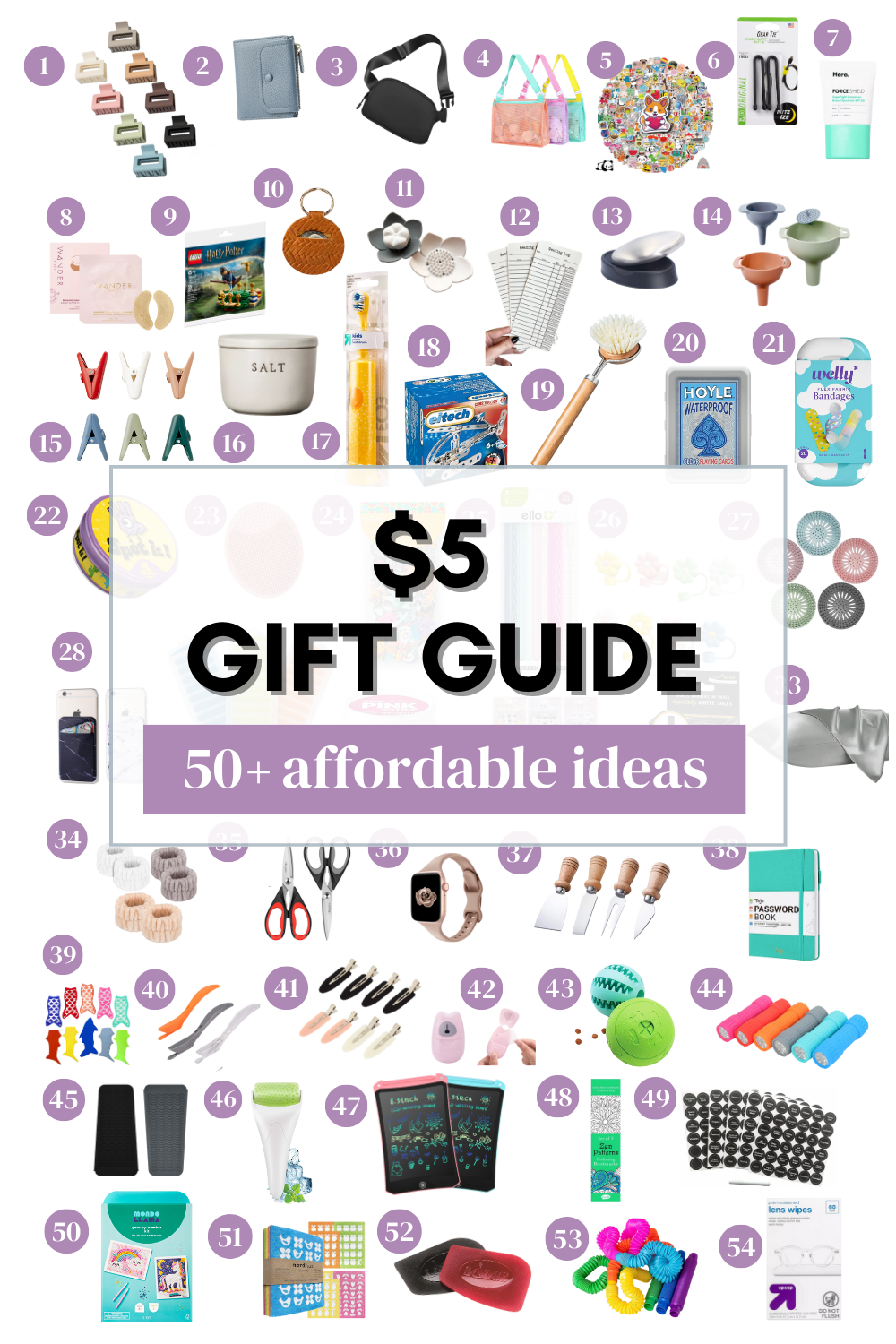 If you're looking for more $5 gifts that make great stocking stuffer ideas, friend gifts or co-worker gifts, here are all of the past lists!
if you liked this list of $5 gifts that are great stocking stuffer ideas, you might also like these other posts: