A few weeks ago, I switched out our normal cotton sheets for linen ones (our room runs the hottest in the house and I'm a hot sleeper, so I was definitely seduced by the idea of linen sheets for cooler summer sleeping).
It might seem silly, but it felt like the best welcome to summer and I loved this little way to make summer feel different from the rest of the year!
Last week, I pulled out the new Olive & June summer polish collection and painted my fingernails a bright, happy purple (the color is "How do you spell bougainvillea") and every time I looked at my nails, I felt a little burst of happiness about how summery they looked to me.
Since then, I've been on the lookout for ways to make summer feel special and unique from the rest of the year.
Here are a few more of mine:
Do puzzles on the patio. I love a jigsaw puzzle paired with an audiobook, but put it outside and it feels like the perfect summer hobby! I love the cool breeze, the sunshine, and the fact that much of the year it'd be too cold to enjoyably do it outside, which makes it feel extra special.
Eating lunch outdoors. Last spring, we bought outdoor tables and chairs for our deck and last week, we set one of them up so we can eat lunch outdoors together. It's a great little break in the day with all of us (especially since Bart works from home and can join us for lunch!), plus it means that everyone actually eats lunch at an appropriate time and it's only a single prep and clean up time rather than it getting staggered all afternoon long as someone suddenly remembers they didn't eat lunch at 3:15. And it helps me work on my 2023 goal of eating a real lunch rather than accidentally working through it.
Buying new sandals. I bought these sandals this spring (after eyeing them all last year) and they've been everything I hoped for – no break-in period, they look good with everything, dress up and down and can easily handle a few miles of walking without me even noticing them! I also got this pair for my 6 year old and this pair for my 12 year old!
Wearing more skirts and dresses. I've always been a jeans wearer year round (even in the blazing heat of Arizona summers or humidity of Texas and North Carolina), but this year, I've tried to embrace more summery options like jumpsuits, linen pants, skirts and dresses.
After I'd been thinking about this for a few days, I asked on Instagram what little routines or rituals you have that set summer apart and make it feel special.
Here are some of my favorites!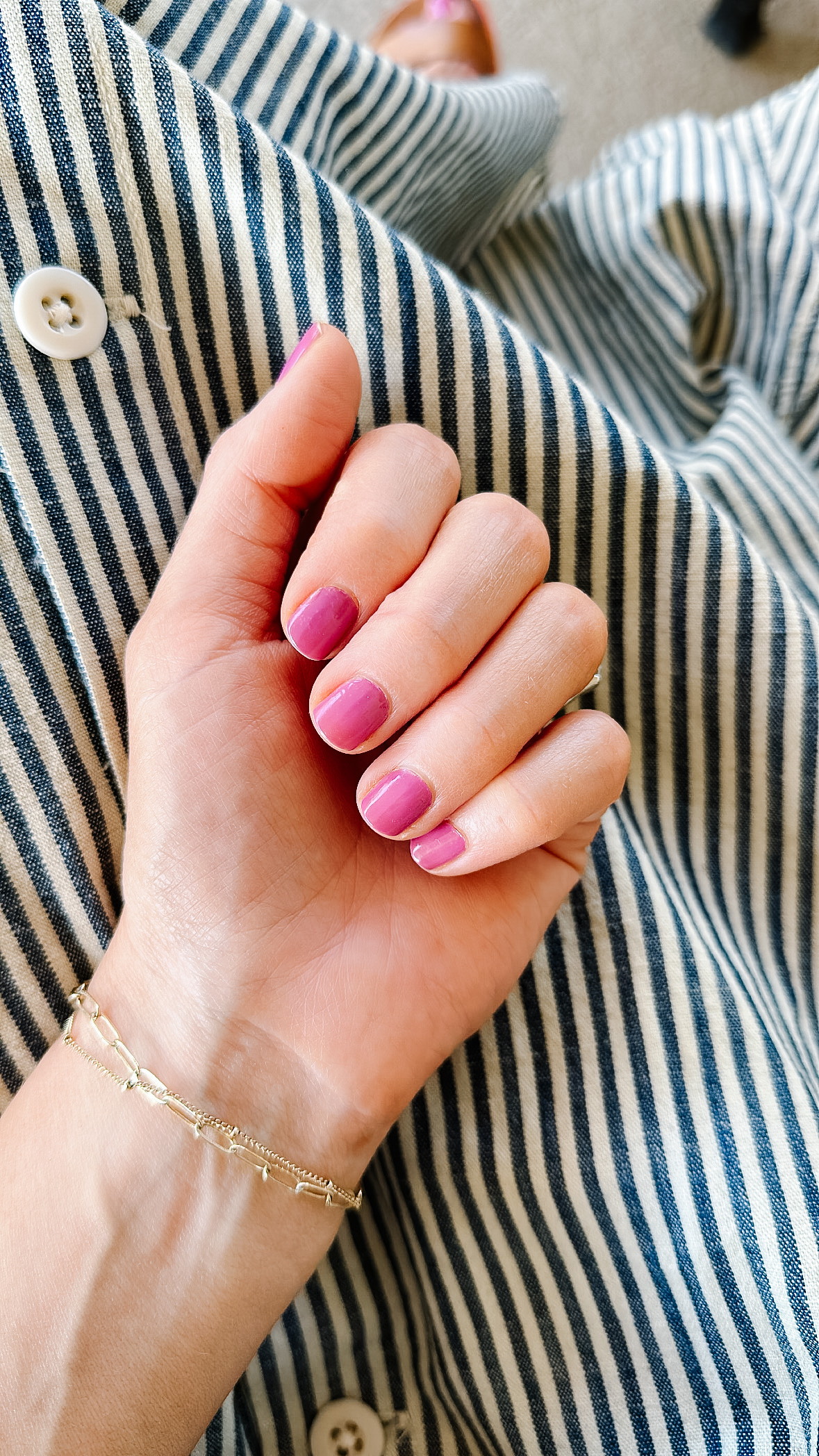 How to Make the Start of Summer Special 
Eat outside. This one came up again and again – whether it's picnic lunches at the park, drinking morning coffee on the patio, or having dinner under the stars, this is a great way to make summer feel special!
Make a bar cart with fun summer drinks. Ah, this is such a fun one! My girls would be in heaven if I did something like this.
Open the windows or doors. I LOVE this. One of my favorite things in the morning is making my bed, opening the window and turning on the fan to keep our room cool and fresh during the day.
A special cold drink. Lots and lots of people said they have a special seasonal drink, whether it's peach tea or an iced coffee or lemonade. My favorite was the person who said they drink Coke the rest of the year, but switch to Pepsi in the summer.
Switch out your mugs. I love this simple suggestion – a wintery mug goes to the back of the cupboard and your summery ones take center stage while the weather is warm!
A bubble machine. This one was a delight – how fun would this be (this one has great reviews and is less than $20!).
Eating all the seasonal produce. Yes, yes, yes! One of my daughters especially lives for peach season, and we all love being able to eat more inexpensive and ripe strawberries, raspberries, melons, and zucchini all summer long!
Push back bedtimes. There's something so delightful about relaxing your school year routine and letting bedtime stretch out a little longer. I love letting my girls play in the backyard a bit later or going for an evening bike ride or walk.
Growing a garden. In our old house, we put in some garden boxes and I LOVED gardening. We haven't figured out a GREAT solution in our new house, but I do love my tomato and herb pots on the back patio and our grape vines and raspberry bushes along the fence.
Waking up without an alarm. Is there anything better? We have swim team most mornings, so this isn't something we can do during the week, but I love it when we can!
Making homemade ice cream. This reminds me that I should do this more this summer! I LOVE ice cream – this is the ice cream maker I've had for more than a decade and this is my favorite ice cream cookbook.
Putting away all the cold weather gear. I love wrapping something up and nothing feels better than packing away all the coats, mittens, gloves and boots for the year (we store all our summer clothing separately, so when it's time to put away the winter clothes and pull out the summer clothes, I get this same rush!).
Stocking up on snacks for last minute adventures. This is such a good idea!
Make s'mores. I LOVE s'mores (we go pretty fancy!) and it's truly one of my favorite things to do on a summer night (especially at my parents' house while the kids swim in the pool!).
A freezer full of popsicles. Ah, this is just a childhood dream! Our family always had tons of Otter Pops growing up. Now, I'm partial to Creamies or Outshine Fruit Bars.
Ride bikes. One of my big summer goals this year is to ride my bike or our electric scooters to as many places as possible. Last week, after dinner, the girls and I rode our bikes to a local treat store for a little sweet finish to the evening and it was a delight!
Breaking out the sunless tanner. I totally related to this one – I love looking a little tanner in the summer without baking my skin. This is my favorite brand (I use the dark color).
Attending outdoor events. I love a good concert or play and I ESPECIALLY love them in the summer when they're outdoors and you can bring your picnic blanket and listen or watch under the stars!
Switching your dish soap scent. This is such a simple and inexpensive way to mark the change of seasons!
Getting a pedicure. I love this delightful way to kick off summer, especially because a pedicure often lasts WAY longer than a manicure.
A seasonal playlist. This is such a fun one! Everyone chooses a song or two to add to the playlist, you play it all season long and then when summer is over, those songs will forever transport you back to that summer!
Evening walks. Sign me up for this one! I love an after-dinner walk around the neighborhood, especially because so many other people are out and it's a great way to meet your neighbors!
Any other fun ways to make the start of summer feel special and exciting? I'd love to hear!
if you liked this post about Making the start of summer special, you might also like these other posts: