One of my friends is in charge of weekly activities for the girls ages 8-11 at church and she asked me to do a little presentation on books. I pretty much had free reign and about 45 minutes.
I spent a lot of time picking books because I wanted a variety of genres and reading levels, not to mention a mixture of recent and classic books. (I desperately did not want to be the person saying, "Let me tell you about this great book you'll love called Harry Potter.")
We split the girls into two groups and half went with me, while the other half played a game I'd set up (a Jeopardy-ish game where each slide was an image from a movie based on a book and they had to guess which book it was from. . . apparently it was a big hit).
In the other room, I sat on the floor with the girls, set out all the books (about 7-8 per group) and chose one girl at a time to tell me one of their favorite books and then choose a book from the display for me to tell them about. Some of the books I gave them a synopsis of, some I read a little bit from.
It was so enjoyable – I'd forgotten how fun it is to have kids clamoring for books, laughing at the funny bits when you read aloud, and having them tell me about what books they love.
And, if you're curious, here's the books I used: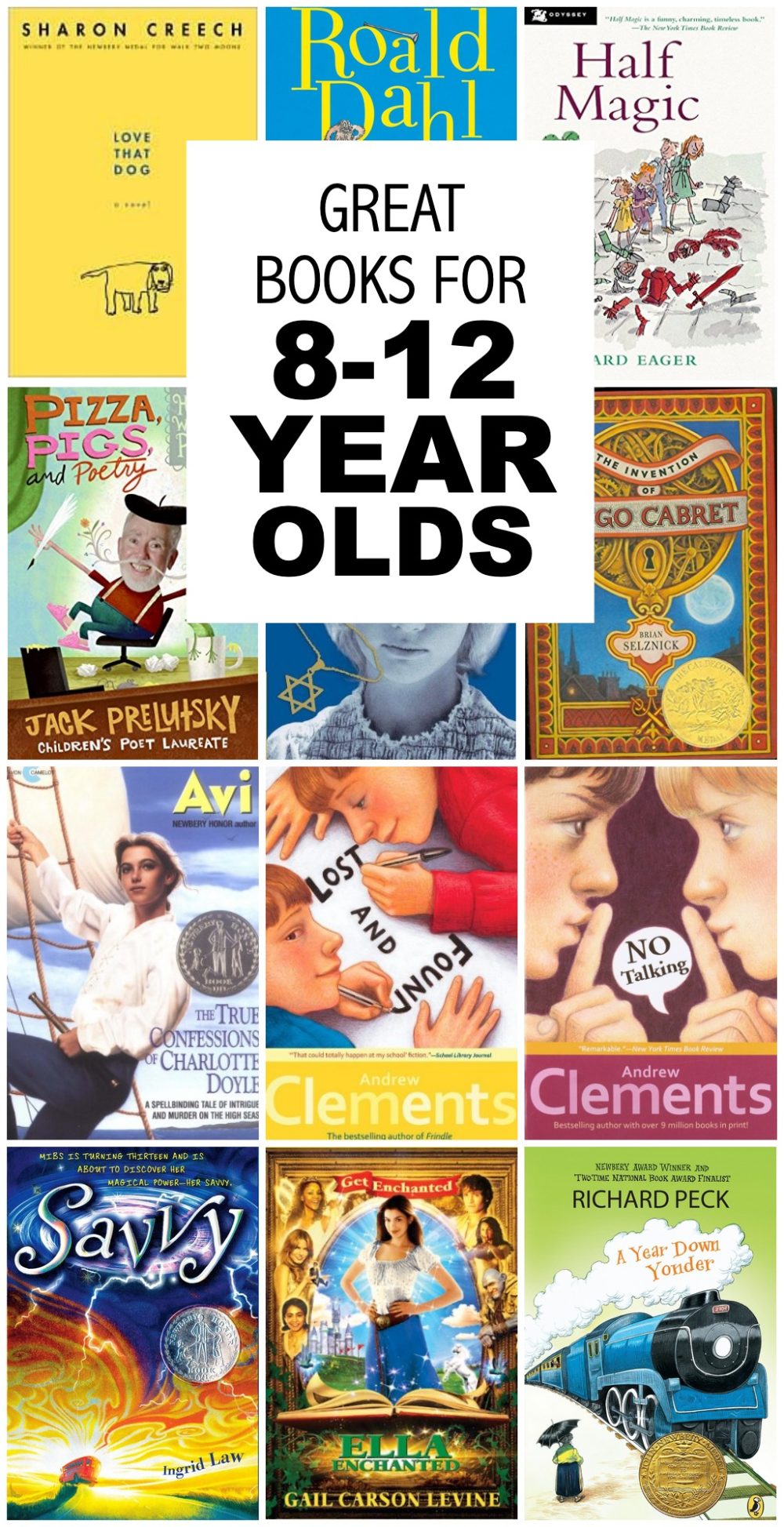 books for 8-12 year olds
8 – 9 year olds:

Number the Stars by Lois Lowry

The BFG by Roald Dahl

The Invention of Hugo Cabret by Brian Selznick

Half Magic by Edward Eager

Girls Think of Everything by Catherine Thimmest, illustrated by Melissa Sweet

Babymouse by Jennifer and Matthew Holm

Pizza, Pigs, and Poetry by Jack Prelutsky

Love that Dog by Sharon Creech
10-11 year olds:

Ella Enchanted Gail Carson Levine

Emmy and the Incredible Shrinking Rat by Lynne Jonell, illustrated by Jonathan Bean

Savvy by Ingrid Law

A Year Down Yonder by Richard Peck

The True Confessions of Charlotte Doyle by Avi

No Talking by Andrew Clements

Lost & Found by Andrew Clements
And if you'd like a printable copy of this list that you can take to your library or screenshot on your phone for easy access, just pop in your email address below and it'll come right to your inbox!
if you liked this post about books for 8-12 year olds, you might also like these other posts: