Last time I was pregnant, three friends in Boston handed over their entire (not small) maternity wardrobes. The amount of clothing I had to choose from was twice what my regular closet offered. It was glorious.
This time, I've had to make do on my own. I've tried not to spend very much money on things because I don't want to have a wardrobe full of things I can't wear anymore next year, but I also don't want to feel like a complete slob while I am pregnant.
Here's what's making up my pregnancy wardrobe this time around: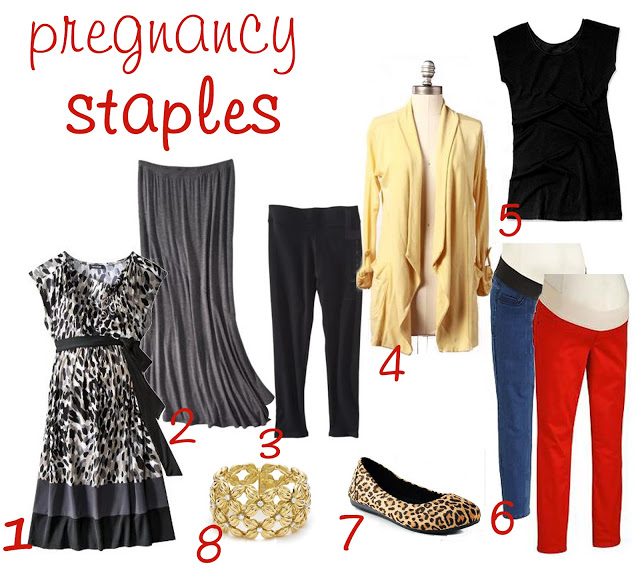 pregnancy clothing staples
Dresses – My mom bought me two maternity dresses last time, and I got two really stretchy non-maternity dresses from Loft that I wear frequently. Add a belt or a necklace and it's an instant outfit.
Skirts – I also have this long one from Target that I love. It's too long for me to wear when I'm not pregnant, but it's PERFECT when I am and I think I'll be able to wear it the entire time. I also have several very stretchy knee-length skirts that are wearable all nine months.
Leggings – Being pregnant means several of my dresses are just not quite long enough after a few months, and these make them work the whole time. I just buy regular leggings at Target for all of $8.
Sweaters – I wear these mostly on Sundays right now, but once fall comes, I'm planning to wear them even more. I like them over a patterned tank with jeans or a skirt, or to make a dress look a little different. I especially like the open-front ones (this one from Downeast is one of my favorites).
Long stretchy t-shirts – I don't tend to like maternity shirts very much because I think they have that certain tent-quality that I'm very much NOT going for. I also like that a really stretchy shirt curves around the bottom of my belly so it's not just tapering off into huge mid-section. I have a black one from Modbod that I'll probably wear 50 more times during this pregnancy. (But then, you know how much I love black shirts). I also just ordered this striped shirt from Shade.
Maternity jeans – I wear jeans WAY too much to not have a real pair of maternity jeans. I really like skinny jeans because a) I need to wear something with the word "skinny" in it and b) you can fudge the length more. I had several borrowed pairs last time around but because they were boot-cut, most of them were just a little too high-water for me. Not the look I was going for. I also strongly prefer the ones with the low-rise knit panel, rather than a full over-the-stomach panel because I feel like those panels are impossible to keep smooth under a shirt and also don't hold my pants up tightly enough and I spend my entire day hitching them up. I love my Old Navy ones and I just ordered a pair in red too. Did I just write that much about maternity jeans? How embarrassing.
Fun shoes – I like to wear real shoes all the time, but especially when I'm pregnant. I've been lucky that my feet don't seem to change sizes and I can wear my regular shoes, but even if they were, I would buy bigger shoes because I refuse to wear plastic flip-flops and add to my already-feeling-frumpy vibe.
Bracelets – I'm more of a necklace and earring wearer generally, but when I'm pregnant, I like the emphasis on a part of my body that is still skinny. (The one in that picture above is from Tiffany's. Mine is from the clearance aisle at Claire's).
Any other suggestions for must-have pregnancy clothing items? Preferably ones that you wish to loan to me until early December?