Happy Saturday!
The week of Thanksgiving feels like a little oasis of calm for me and one of my favorite things is sneaking in a few good books while I'm mostly off work and spending time with my family.
Apparently the deities of book deals agree because there are so many totally fun, engaging books on sale this weekend.
If you need something great to read this week, check out these book deals!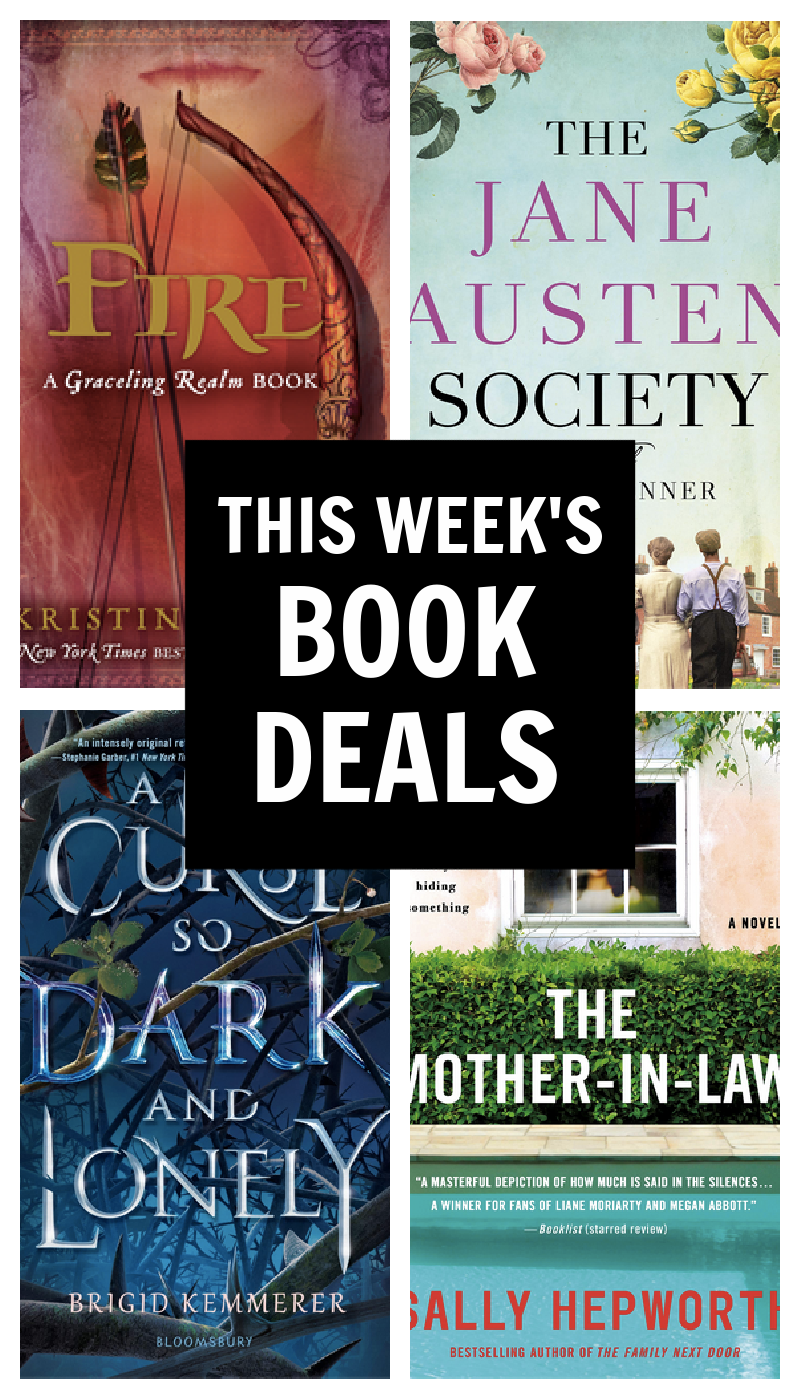 4 Great Weekend Book Deals
Fire by Kristen Cashore
I don't gravitate strongly toward fantasy, but this is one of my all-time favorites that I've read multiple times (including listening – it's SO GOOD). In this one, Fire is the last human monster left in the land. She can read minds and control other humans, convincing them to do or say whatever she wants them to and, as you can imagine, the king of the land is highly interested in her powers as he struggles to keep his kingdom together (which was just about ruined by Fire's monster father who was the former king's advisor). There's war and political turmoil and romance and beautiful-but-not-boring writing. Basically, this book is gold. (Full review here – the companion book, Graceling, is also terrific).
The Mother-In-Law by Sally Hepworth
This fun book was on the 2020 Summer Reading Guide and totally reminded me of Lianne Moriarty (they're both from Australia too, which doesn't hurt the comparison). Lucy's mother-in-law is dead. There's a suicide note that refers to her cancer but. . . the autopsy finds her cancer-free. And there are some other suspicious things too. The question is: what happened. Was she murdered? And if so, who did it? I loved that up until the last few moments, I legitimately didn't know who to trust. The book jumps between narrators and the past and the present, and it's just a twisty family drama that I couldn't put down. The narration is especially fun in this one – highly recommend!
A Curse So Dark and Lonely by Brigid Kemmerer
This retelling of Beauty and the Beast is so fantastic – you probably already know that because I've been talking about it non-stop all year. Rhen is the heir to Emberfall and doomed to repeat the same autumn every year until he can get a girl to fall in love with him. This is made extra tricky because at the end of each fall, he turns into a terrifying monster that goes on murderous rampages. And when Harper is snatched from her life in modern-day D.C. and brought to Emberfall as the last chance to save Rhen and his kingdom? Good luck to them both.
The Jane Austen Society by Natalie Jenner
I won't lie, Jane Austen-related titles do not usually compel me. But when I saw that Richard Armitage of North and South fame narrated it? Well, who even cares what the book is actually about (sadly, the audio version is not the one on sale). But then I was completely drawn into this story of six people drawn together by their shared love of Jane Austen. It takes place just after the close of World War II and the characters range from a widowed doctor to a Hollywood movie star. Did I shed a few tears in the closing chapters? I might have. But I'll never tell.