Our cruise, of course (I have no plans to write about this because . . . it's boring to hear about how other people took lots of naps, ate a ton of food, watched movies, and read books. Rest assured we had a fantastic time).
 The little blue bowls my mom bought me while she was here. Perfect for a small bowl of cereal, half a grapefruit or a little dish of salsa.
Lie to Me. My mom was watching this while she was here with Ella (while we went cruising) and I picked up the first season at the library. We're hooked!
How much Ella is talking now. My current favorite phrase is "Poot a Mama" (which means "jump to Mama").
A Saturday morning at the park to fly the kite I bought Bart for Easter.
Pita Fusion. This is one of my favorite little local restaurants and I can't get enough. Bart and I make up any excuse to go
Our new patio furniture (a really nice gift from my mom). We've spent at
least an hour nearly every day out there since we assembled the bench
and table.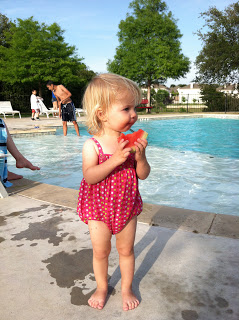 The first couple of pool outings for the summer. Ella is a fan (and I am a fan of the new swim diaper we bought her for the summer).
Not my favorite thing in April? Missing book club for the first time since I joined in October of 2010.
Triscuits with sharp cheddar and honey Dijon mustard. My new favorite snack.
My little herb garden on the patio. Five different herbs this year (arranged in alphabetical order because I don't have labels on them).
Getting Easter baskets ready for Bart and Ella. And hiding eggs for Ella to find – she LOVED it. (Also, she was so hopped up on the excitement and a few handfuls of jellybeans that after church (which usually wears her out), she looked at us and said "RUN" and then proceeded to spend twenty minutes doing laps around the kitchen island.