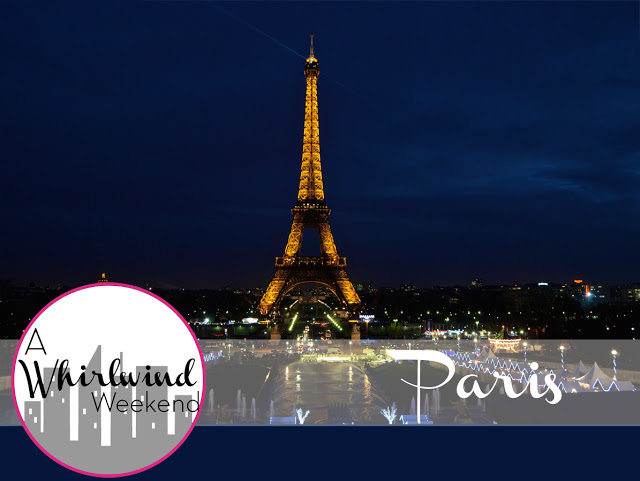 1. I'd take you out for falafel at L'as du fallafel. You can order whatever you want, but I'd
strongly recommend the Assiette Fallafel Complet. It's pretty hard to
beat a plate of falafel with fries, especially when it's supposed to be
the best one in the world!
2. It's famous for a reason! You shouldn't
miss Père Lachaise. We'll spend an afternoon here, lost in the streets
upon streets lined with crypts (literally streets — you can buy maps so
you don't get lost!). We'll visit Oscar Wilde, Jim Morrison, Chopin, Abelard and Heloïse, and countless others. Make sure to bring your camera — Père Lachaise is my favorite place to photograph in all of Paris!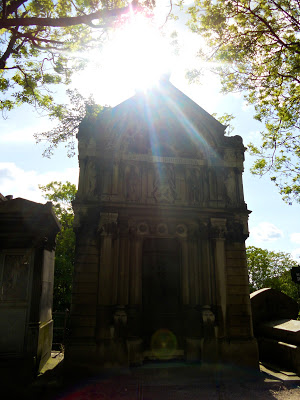 Who wants to foot the bill for one of these puppies when I die?
3. Calories don't count on vacation, so we'll stop in and grab a treat at
Berthillon
. The
best ice cream and sorbets in the world? Can't get enough of them. My
personal favorite — a scoop of pear topped with a scoop of butter
salted caramel. Need I say more?
4. The
weather is perfect and getting outdoors is a must. We'll take advantage
of the gorgeous day by picnicking along the Seine. We'll enjoy some
traditional baguettes and cheese (camembert, gruyère, and tartare, of
course) along with some fresh fruits and macarons as dessert. We'll
bask in the sun, enjoying the view of Notre Dame as we fight off
dive-bombing pigeons. When we're done, we'll explore Ile Saint-Louis
and Ile de la cité —
Notre Dame
,
Sainte Chappelle
, and movie-set French streets await (not to mention some
awesome street art
).
5. You're so fortunate to have a Parisian insider showing you around. The locals would stone me if I didn't show you
Le musée de l'Orangerie
. Located in the
Tuileries gardens
, this museum houses some of
Monet's water lilies
and is specifically created to showcase their beauty! Not many
tourists make it here, but it's at the top of my list whenever anyone
visits.
6. You didn't ask, but I'll tell you anyway that a trip to Paris wouldn't be complete without visiting the catacombs.
Most people don't realize that Paris is built upon a city of the dead
— if there's a zombie apocalypse, that's definitely where they'll be
coming from… It's a little cold down there, so make sure to bring a jacket. If you're feeling particularly adventurous, we can explore the sewers
of Paris afterwards, but only if we have a Les Misérables moment. If
you're not feeling up to either of those, a relaxing afternoon soaking
up the sun on the Champs de Mars under the Eiffel Tower can always be
arranged — it's up to you!