I think we're pretty good at traveling as a family.
What we apparently aren't good at doing is going on any trips without our children.
In January, the Sedona Rouge Resort and Spa invited us to come check out their expansion and new suites and I asked Bart, "should we go by ourselves or take the girls?"
Bart said, "We should DEFINITELY fly my mom down to watch the girls and go by ourselves."
Turns out this was the first trip we've taken with just the two of us since May of 2012. So . . . maybe we were overdue.
Bart and I did a lot of traveling in the almost five years we were married before Ella was born, but we kept saying during this trip, "it's so different to go on a trip just the two of us when we're usually surrounded by small children!"
It's a whole different ballgame when you can carry on a long conversation with no interruptions, sleep in, not watch the clock for nap times and bedtimes, and make plans on the fly.
It was basically the best weekend ever.
Bart's parents flew in on Thursday evening and after we put the girls in bed, we made the 2+ hour drive up to Sedona and checked into the Sedona Rouge. They'd just added a bunch of suites that look out over the mountains (which we couldn't see in the dark) and they are gorgeous.
Since we're in the never-ending process of working on our house, we kept talking about all the details, like the exposed beams above the bed with built-in reading lamps, the marble ledge in the bathroom, and the walk-out balconies. Also, the nightstands with four outlets built into the side. I'm gonna need one of those at home (maybe time to upgrade from my $9 IKEA bedside table?).
The next morning, Bart slept in and I went out on the massive balcony to read and gape at the view. We had a quick breakfast at the hotel restaurant (Bart had some of the best French Toast I've ever tasted) and then we popped over to the hotel spa where we had our first ever massages. I definitely get the appeal now. It was such a fun way to start off our weekend.
Afterward, we probably undid all the good the massages did by hiking one of the trails at Red Rock State park. Because it was a Friday and the off-season, there was basically NO one there. We saw a whopping one other couple just as we left the park.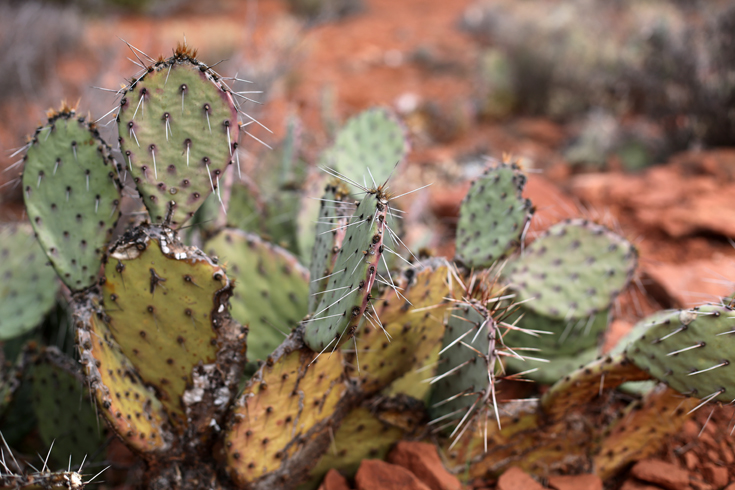 Of course, I don't like to take a trip that doesn't involve visiting the local library, so we swung by and spent about an hour scoping it out. The children's section was spot-on – it was better than most of the much bigger libraries I've been to. Bart is a good sport to go along with my library love.
We headed back to the hotel and wandered around the grounds and then decided we'd take a quick dip in the hot tub because we didn't have to squeeze in dinner before anyone melted down. And then, because we had no children with us, we obviously had sushi for dinner. And a molten chocolate lava cake, for good measure.
In the morning, we took the fine recommendation of Yelp and went to Berry Divine for our first acai bowl for breakfast and. . .whoa, that thing was amazing. All morning, Bart and I kept saying, "That was SO delicious." Should you ever find yourself there, I definitely recommend the Summit bowl with soft serve. We were also the weirdos talking about the flooring (sometimes we talk about things that aren't home decor).
Everyone said we had to do Cathedral Rock so we drove over there planning to hike only part of it, but then the weather was so amazing and it was so gorgeous, we ended up hiking the entire trail. And the views from the top were pretty spectacular.
By the time we got back down, we were starving, so we took my friend Jennifer's suggestion to try Indian Gardens Cafe and it was the best meal of the trip. I had the bacon and brie sandwich with fig jam and . . . I would like another right now, thanks. Bart's Reuben sandwich was also amazing, and the lemon bar and butternut squash soup were also very tasty. Everything else we went to was super close to the Sedona Rouge Resort (seriously, I think we never went more than half a mile) but this place was WAY out there, so we never would have found it if Jennifer hadn't specifically mentioned it.
We went back to the hotel, packed up our stuff, watched a little bit of The Blind Side in our suite's living room (because, why not?) and then finally headed home.
Over the two days we were there, we kept saying, "We have to bring the girls back here." They'd love the hiking, the food, and the pool, plus we missed scoping out the fireplaces on the rooftop terrace, so obviously we have to go back soon.
It was a perfect ride home and we got a warm welcome from the girls who couldn't stop talking about how fun it was with Grandma and Grandpa.
And now Bart and I are committed to making sure we take at least one solo trip a year. I bet Bart's parents are thrilled to hear it.