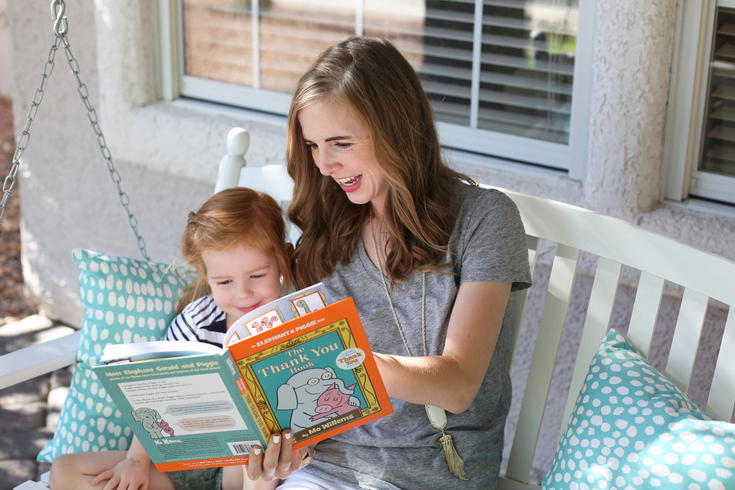 This year, I'm a Mo Willems Ambassador (fancy!) and this post is compensated as part of that program. Obviously, before it was official position, I was already a giant fan of Mo Willems' books because how could I not be?
For the first two and a half years of Ella's life, we spent SO much time together.
I cannot tell you how many games of Memory and Bingo we played (but it was definitely hundreds). We took daily walks to the dog park or to swing on the swings, she helped me in the kitchen, and we read so many books together it's a wonder I'm not blind.
Now, though, with three little children and more activities and responsibilities on my plate, it's harder to fit in time with each of my girls individually.
While all my girls seem to enjoy one-on-one time with me, I've noticed that Ani especially seems to crave that undivided time with me.
A few weeks ago, I was reading some article about balancing working and family, and this woman said that she'd recognized that her children could be really filled up with just 15 minutes of her undivided attention.
Instead of feeling like she needed to set aside hours and hours (which she didn't really have the ability to do), she would put away her phone and computer and play with blocks or dress-up or sing songs for fifteen minutes.
This was a lightbulb moment for me.
I don't need to set up these elaborate dates with my girls to have individual time with them – I can just set aside small chunks of time for a kids date much more often to focus on just one of them.
Now, if Star wakes up from her nap while the other girls are in quiet time or playing happily together or with Bart, I'll go in to her room, close the door and we'll snuggle on the bed or read a few board books or do "This Little Piggy" twenty times.
Or on the weekend, if we have some errands to run, I'll have Bart take the two little girls, and Ella and I will go to the post office or the grocery store or Target on our own. It's so interesting to see how chatty and different each of the girls are when they are on their own.
Ani is kind of a homebody (unless it's the pet store, she almost never wants to go anywhere, even if once we get there, she loves it), so most of our 15 minute dates are at home.
I'll put Star down for her nap and Ella will start quiet time, and then I'll tell Ani it's time for her special date.
Usually, her requests are to read a book together and then play a game. In 15 minutes, we can easily read a book and play a game together, and that time has been enormously valuable and has made a huge difference in her behavior as she works her way through being a three-year-old (which is easy on no one).
For the past few weeks, her favorite book has been The Thank You Book, which is the last of the Gerald and Piggie series (yes, my heart is breaking too).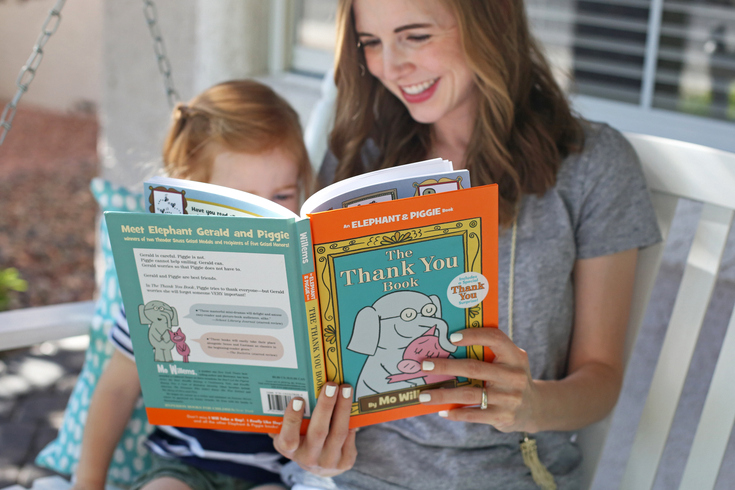 Ani has always loved this series and we own quite a few of the titles, plus whenever we go to the library, she always grabs three or four more.
I love the chance to sit next to her, read without Ella's constant interruptions, and let her find the Pigeon on the end papers.
Afterward, we'll play a quick game of Sleeping Queens, and then she happily goes down for quiet time without the fuss that usually accompanies it.
Sometimes, all she wants to do is read The Thank You Book three times in a row (something that Ella is never interested in because she's kind of past the stage of reading a book over and over and over again in a row), and I love that this gives me the chance to fulfill her request.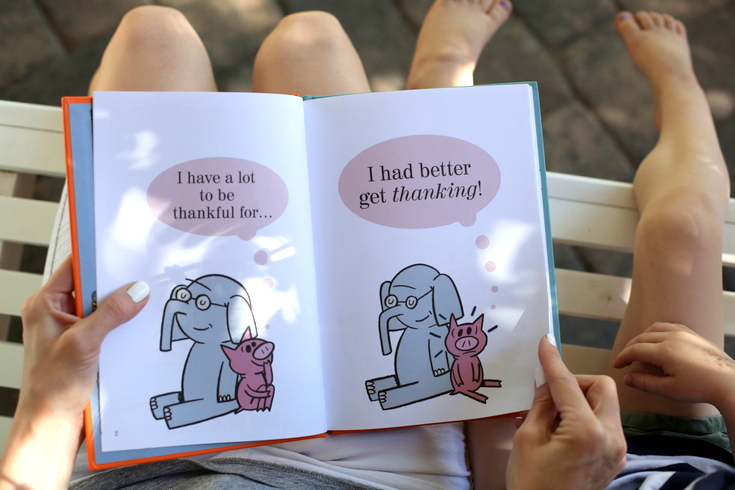 These 15 minute dates have been a game-changer in my relationships with all three of my girls.
It's really helped me to recognize a moment when I could spend time with just one of them, and identify it as a 15 minute date. It helps set the stage as a time for us to focus on each other, and signals to me to put my phone away and not be distracted by other things.
And I don't feel like it just benefits them. I also feel like it gives me the opportunity to be more present, learn more about the things they are thinking about or interested in, and helps me be more patient and loving when things are difficult.
if you liked this post about a 15 minute date with your kids, you might also like these other posts: