So, this week I finally got around to the great closet purge. (By the way, thank you so so much for all the super unbelievably nice comments on my post about changing up my style posts).
I seriously didn't think I had THAT much to get rid of. A pair of shoes or two, a couple of pilly t-shirts. Maybe that one dress I picked up at a clothing swap and then realized didn't fit me at all.
You guys. When I was finished, I went through and counted how many items I was getting rid of (each pair of shoes counting as one item, not two).
NINETY! (90!!!)
And I just cleaned out my closet before we moved last summer. My mind was totally blown. No wonder it's hard for me to get dressed – I can't even see the clothing I like because there is so much garbage in the way.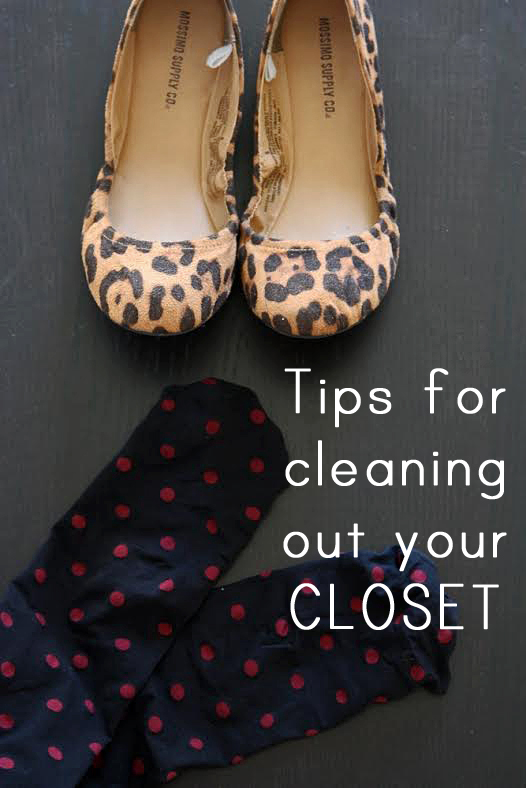 tips for cleaning out your closet
Is it damaged or pilled? 
Seriously, this knocked out .  . . more than I want to admit. I basically have no t-shirts left. (I got a free Pickwick & Weller t-shirt at the Collectively dinner at Alt Summit and I'm planning to order at least one, probably two, more. They're just so so much better than any other t-shirt I've ever owned. I'd rather have three of those shirts than ten that look lousy after the first wash). Also, sweaters. Should I maybe stop buying $8 sweaters? Probably, yes.
Does it fit well?
I have stuff I've been hanging onto for ages because it's nice, but it just doesn't actually fit. I chucked a couple of skirts that were just too short for me to wear comfortably and shirts that were always riding up. Good riddance.
Would I keep this if it'd been free?
I have some things that I just never could get to work well (that pair of polka dot tights? I love the idea, but on me, it actually looks like I have mumps. Which is really the look I'm generally going for). I just decided that the fact I'd spent money on them didn't matter anymore (I spent $10 on those tights which is like a million dollars for me. I got over it and put them in the donate pile so they can find a good home with someone who likes to look contagious).
How do I feel when I wear this?
I've been hanging onto these pink pants for a long time, but every time I put them on, I felt totally frumpy (I bought them right after Ani was born and then lost just enough weight in the weeks afterward that they never hung right again). Also, these brown wedges were just too high and hurt my feet. I always regretted leaving the house in them.
The Bart Test
Bart has a really good eye for colors (invariably, he dresses the girls better than I do), and strong opinions about clothing. After I'd made my first pass, I had him look through everything I had left. He vetoed a couple of other items and I agreed, so into the donate pile they went.
Make a second pass
On the first round, there are some things I just can't quite stand to part with. "But I MIGHT wear these shoes someday. And they are super cute. . . even if they hurt my feet after three seconds." But once I'm in the groove, my nostalgia and "maaaaaybe" attitude wears off and I can be ruthless. Goodbye another 20 things.
I felt like this was so super helpful in helping me see what I need (more shirts, basically. A jacket. A pair of sandals. A summer hat), and also making me want to be really careful about what else I buy. And possibly looking very carefully at my Pinterest outfit board.
Now time to do the girls' clothing (gulp).
if you liked this post about cleaning out your closet, you might also like these other posts: