When I was growing up, my mom bought each of us a wall calendar each year.
It was always one of our favorite things to try to guess what she would have picked for each of us because she'd try to find something that went along with our current interests or likes.
I remember puppy calendars, Harry Potter calendars, and movie calendars and that gift tradition was such a fun one!
We also usually got a Pez dispenser in our stockings and I loved seeing what style my parents had picked out for each of us. In Bart's family, a personal can of Pringles was the favorite stocking stuffer.
When my younger brother was the only one left at home, my mom started packing his stocking and my Dad's stocking with the weirdest foods she could find at Whole Foods (like vegan jerky or ginger energy shots) and they'd spend the morning trying them out as they opened their gifts.
I mentioned this on Instagram recently and got a flood of suggestions for other gift traditions that I absolutely loved!
Some are big Christmas gift traditions and others are small stocking stuffers. And some are traditions about gifting itself (how it's wrapped or labeled or given) rather than a tradition around the gift itself.
I loved reading them all and I hope you'll find some fun ideas for your own gift traditions here!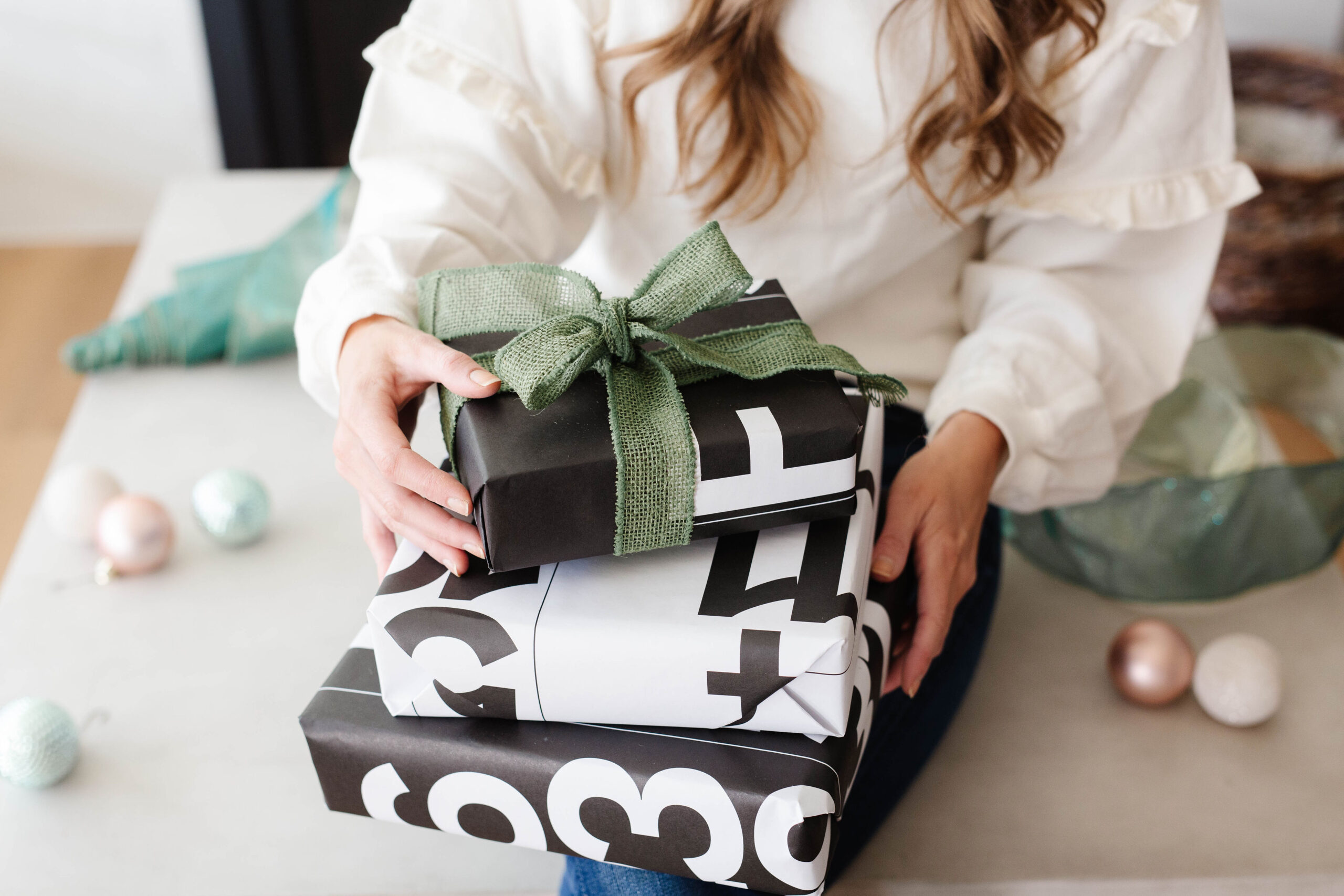 50+ Delightful Christmas Gift Traditions
GIFTS TO GIVE EACH YEAR
Sugar Cereal. This was the number one answer and so many people said they loved getting a special cereal in their stocking that they normally didn't get AND as an adult they now realize how genius it was for their parents to make Christmas morning breakfast super easy on themselves!
Matchbox Cars. These are the perfect size for dropping in a stocking and the woman who submitted this gift tradition said that even now, years later, her adult children can pick out exactly which tiny cars belong to them!
Movie. I don't know if people are still buying DVDs when streaming services reign supreme but if you are, lots of people said they loved getting a new movie to watch over Christmas vacation.
Family Puzzle. You know I'm ALL IN for this gifting tradition – what's better than a puzzle to work on as a family over the lazy days after Christmas?
Harry & David Pears for Christmas Brunch. My family would LOVE this – nobody does pears like Harry & David and then you have a delicious, fresh addition to your Christmas Day meal.
Individual boxes of See's Molasses Chips. There's nothing quite like your own special box of chocolate. My personal choice would be See's Bordeaux Bars, but I've never had the Molasses Chips so I could be wrong!
Schleich Animal Toy. This is so sweet and fun to build up a big set over the years!
Family ornament and ornament for kid. This was another WILDLY popular suggestion. Some families do a family ornament each year that represents some milestone, trip, or event and others get each child an ornament each year.
Special beverage with a magazine wrapped around it. Whether you're going for a special soda, a fun energy drink, or an alcoholic beverage, it fits beautifully in a stocking.
Daily Calendar. A daily calendar is a really fun option – I love comic ones or ones with a daily brain teaser!
New mascara. One person said she and her sister always buy each other a nice mascara for their stockings. My personal favorite mascara is Pump It Up, Maggie from Red Aspen.
LEGO set. A mini LEGO set fits perfectly in a stocking and is a fun activity to do later on Christmas Day.
Fun chapstick in stocking. This was a staple in my childhood stocking and now I carry it on for my girls. These are the chapsticks I bought for them this year – they're so cute!
Chocolate orange. Is this the part where I admit I do NOT care for chocolate oranges? Pass, please.
Sparklers to use on NYE. This is such a fun idea to set yourself up for fun on the next holiday that's just around the corner.
Slippers. Most slippers don't last forever (although my L.L. Bean ones are still going strong two years later) and getting a new pair each year is a great alternative to Christmas pajamas.
Hair brush. Its nice to swap out your brush every year or so – this is my all-time favorite hair brush.
Christmas Eve swimsuits.  You won't be surprised to hear that this was recommended by someone who lives near the beach and then after everyone opens their new swimsuit, they follow it up with a day at the beach. Makes me wish we lived near the beach!
Box of Pop-Tarts. Similar to the first suggestion of sugar cereal, this would be another perfect easy Christmas morning breakfast!
New toothbrush. This is an easy stocking stuffer that will definitely get used.
Coloring book. This is the perfect low-key activity to do on Christmas Day or in the quiet days that follow!
Lifesaver story books. These got mentioned over and over again – they're a stocking stuffer classic!
New fun treat. It's fun to get a favorite candy in your stocking, but it's really a delight to find something you've never tried, whether it's a new version of a classic or something entirely different!
Mini jar of Nutella. My girls would FLIP for this (I never buy Nutella because I'm one of those weirdos who doesn't like Nutella).
Board game. A board game is a GREAT gift tradition because then you have something new to play all during the break. Here are some of our favorite family games.
Socks. There is something so delightful about a fresh new pair of socks. My all-time favorite socks are the Stance no-show socks for everyday wear and the Stance Tab socks for working out (I got rid of all my other socks!).
Flair pens. Several of my girls put nice pens on their Christmas wishlists so I'm tempted to get a pack of these and divide them among their stockings!
Tickets to see a live show. Can't go wrong with an experience – it's so delightful as Christmas ends to have something fun to look forward to!
Pop Rocks. Guaranteed, my girls would be thrilled to find these in their stocking!
Scotch Tape. I'm pretty sure it's a universal rule that there is no such thing as too much tape.
Undies. It's never a bad idea to get some and this is my all-time favorite underwear for my girls.
A photo album from last year. Everyone in our family loves looking through our annual photo albums – here are some tips for getting them done easily!
$2 bill. Why is a $2 bill so fun? My grandmother gives these to all the grandkids and I love it!
Mini sparkling cider. I didn't even know these were a thing, but they'd be so fun in stocking in preparation for New Year's Eve!
Signed book from grandparents. There's something so special about a signed book and having a book picked out by your grandparents with a little note written in it is a super sweet tradition.
Chocolate coins. This would be a huge hit at our house in the bottom of a stocking!
Lindor chocolate truffles. These always make their way into the stockings at our house – I LOVE them.
Kinder egg. I'll be the first to admit that I don't quite understand the hype around these but my girls LOVE them.
Plastic candy cane full of candy. I remember these from my own childhood!
One piece of a nice Nativity set every year. I loved this idea – by the time your kids turns 18 they have the whole set!
GIFTING TRADITiONS
Opening one gift on Christmas Eve. This is a very popular gifting tradition and many families mentioned that they open their Christmas pajamas on this night.
Exchanging sibling gifts on Christmas Eve. Sometimes smaller sibling gifts can get lost in the dazzle of Christmas morning so doing them on Christmas Eve really gives them their moment in the spotlight.
Special Santa wrapping paper. If Santa brings wrapped gifts, it's fun to have a special wrapping paper that only he (or maybe his elves . . .) use!
Whoever gets the nut in the Christmas Eve pudding gets to open a gift that night instead of waiting. This is a delightful tradition!
Get a gift from the pets. This is such a fun idea! One more reason my children would LOVE a pet.
Everyone has their own wrapping paper. So many people mentioned this gifting tradition – each person's gifts are all wrapped in the same paper, but they don't know which paper is theirs until Christmas morning (some families said there would be a scrap of your paper at the bottom of your stocking!).
Read Night Before Christmas and pass gift left on word "the" and right on word "and". This is delightful – everyone opens the silly gift they end up with when the story is over.
A scavenger hunt for the final gift. This was my parents' favorite Christmas tradition and we've carried it on with our own kids!
Hidden stockings. Lots of families mentioned this tradition where you had to find your stockings either through a string maze or a scavenger hunt. That's a fun start to Christmas morning!
Stocking left by foot of bed to enjoy before waking up Mom and Dad. If your kids tend to wake up way too early on Christmas morning, this is a brilliant strategy to buy you a little extra shuteye!
Code names on presents every year. What a fun way to add a little more mystery and surprise to Christmas morning as you try to guess who the gift is intended for!
Mom always "found" one more gift after she took out the trash and the gifts were "done." This is such a fun way to keep the gift giving going a bit longer.
Breakfast table gifts. I love this idea – one last funny gift to open after all the other presents are done when you sit down for breakfast.
Barnum animal cracker box outside kids doors to eat when they wake up too early. This is one of those gifting traditions that is so simple but adds a little fun and magic to Christmas (and buys the parents a little more sleep).
Favorite snack exchange. This is such a fun spin on the very popular favorite things party or white elephant gift exchange.
What Christmas gift traditions do you have in your family? I'd love to hear!
if you liked this post about christmas gift traditions, you might also like these other posts: