Nearly every day, Bart and I end the night watching a show together.
For the first 14 years of our marriage, we never had a television in our bedroom, but when we moved to Utah, there wasn't a great spot in our living room for a TV, so we put our main TV in the basement play room and mounted our second one on the wall opposite our bed.
I know about a million people say not to have a TV in your room, but it's actually been my FAVORITE thing. When we used to watch shows in our family room in Arizona, we'd end up so tired sitting on the couch and actually going to bed felt like a ton of effort.
Now, we always get completely ready for bed before we watch a show and then the minute we're done watching, we turn off the lights, flip on the sound machine and go right to sleep.
We often only watch 15-30 minutes of a show (even if that means it takes us a week to get through a movie or several days to get through an episode of something), and it's a really nice way to wind down from the day.
I keep plenty of things in my bedside table drawer – bookmarks, a book light, highlighters, mayyyyybe a piece of candy or two, but I also keep a few beauty products in my bedside table that I put on pretty much every night while we watch.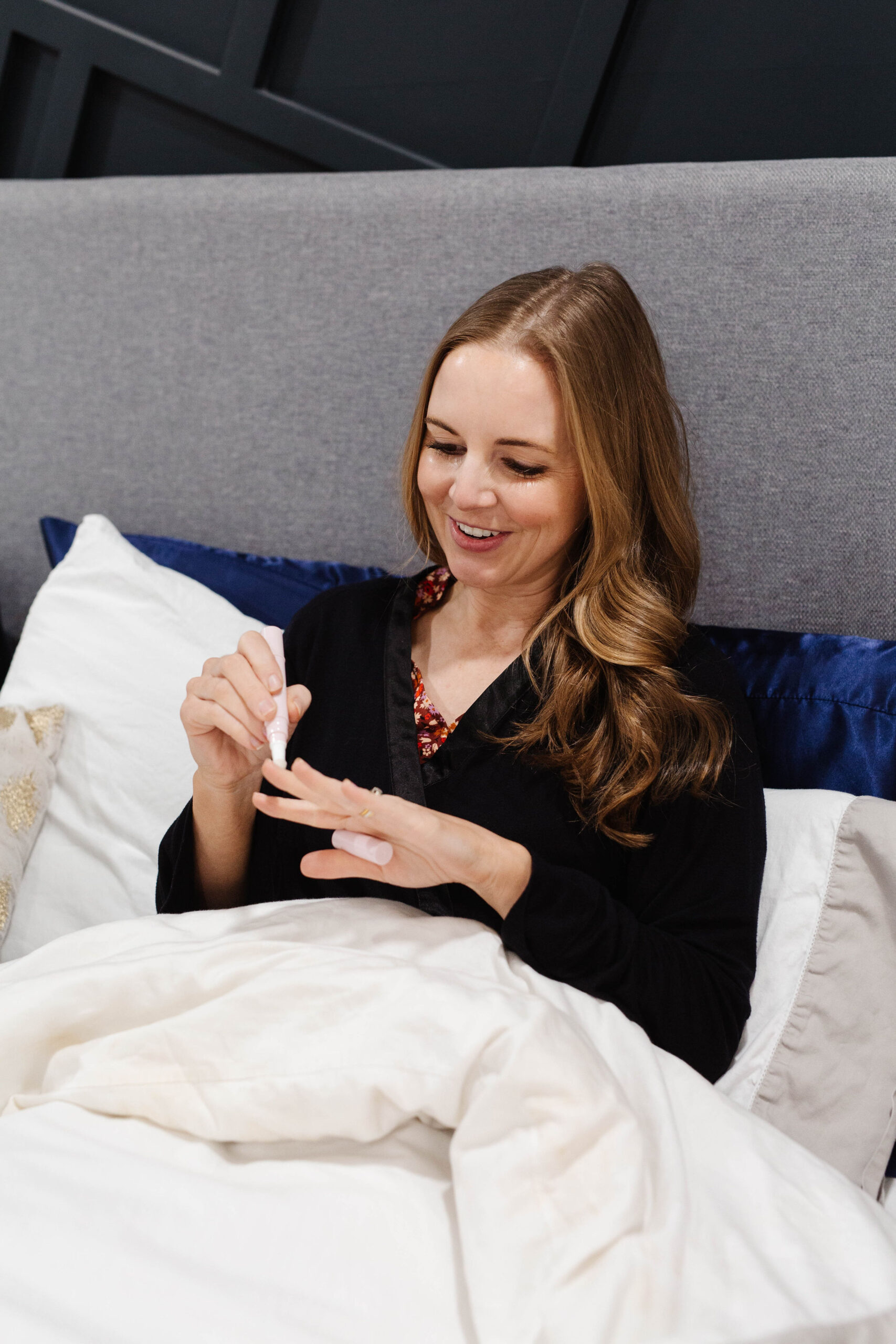 For whatever reason, it feels a million times easier for me to use them consistently when I'm already in my pajamas, lying in bed, than it does when I'm at the bathroom sink getting ready for bed as fast as I can.
 4 Beauty Products I Keep in My Bedside Table
I'm pretty sure none of these are things I'd remember to use on a daily basis if they weren't in my bedside table, but because they're right there, it's super easy and a relaxing end to my day.
Any favorite products you keep in your bedside table? I'd love to hear!
if you liked this post about the four beauty products i keep in my bedside table, you might like these other posts: