My brother-in-law (Merrick's husband) loves soup. Merrick has told me several times that he could eat soup or stew every single night for dinner and be happy.
Bart and I are not those kind of people. I like soup, but I don't just LOVE soup. It has to be a really great soup for me to love it. Also, I almost never want a broth-y soup, unless I'm at a Thai restaurant.
This wild rice and vegetable soup, though, we love. Bart had this for lunch the day after I made it and he said, "I could eat the rest of this right now. But I'll restrain myself." I'm glad about that because there was easily 4 cups of soup left.
This is one of my favorite winter meals.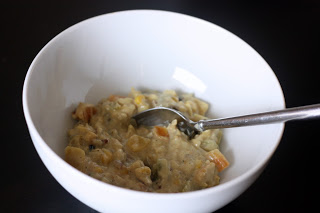 vegetable soup with wild rice and almonds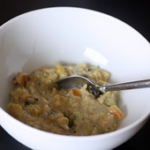 Almond, Wild Rice, and Vegetable Soup
This wild rice and vegetable soup is one of my most favorite winter meals. This recipe has such good flavor and makes excellent leftovers!
Ingredients
1/2

cup

wild rice

uncooked

1

cup

water

4

T

butter

1/2

onion

chopped

1

cup

frozen corn

2

stalks celery

chopped

2

carrots

peeled and chopped

1-2

cups

fresh mushrooms

white or brown, sliced

1/2

cup

flour

3

cups

vegetable broth

1

teaspoon

salt

1

teaspoon

curry powder

1

teaspoon

mustard powder

½

teaspoon

black pepper

1/3

cup

slivered almonds

1

cup

half-and-half
Instructions
In a saucepan, combine wild rice and water. Bring to a boil, stir once, and cover. Reduce heat to low and let cook about 35 minutes (I usually start this before I chop any vegetables).

Melt the butter in a large pot over medium heat. Add onions, celery, and carrots and let cook, stirring occasionally, for about 10 minutes or until celery and carrots are no longer crunchy (I loathe crunchy carrots and celery in my soup). Add the corn and mushrooms and sauté 3-4 minutes more.

Add flour and stir well, until vegetables are well coated. Pour in the vegetable broth, stirring until everything is well-combined and there are no lumps of flour. Bring to a boil and then reduce heat to low and let simmer, stirring occasionally, for about 5 minutes. It should thicken up slightly.

Add the rice, salt, curry powder, mustard powder, ground black pepper and almonds. If you're using homemade or low-sodium broth, you may want to add more salt (mine always needs another tsp at least).

Pour in the half-and-half. Let the soup gently simmer for at least 10 minutes and as long as 90 minutes, stirring occasionally to prevent sticking, until quite thick.

Serve hot. Preferably with biscuits.
if you liked this wild rice and vegetable soup recipe, you might like these other recipe: