We've lived in this house for about two and a half months now, and almost every day I think, "This is such a great house for us."
It's not a perfect house, and sometimes I look at our master bedroom with the orange walls or the empty dining room or the brown brown brown everything in the kitchen and family and have to fight back down my blood pressure over the fact that it'll probably be years before everything is just how I want it.
But overall, I'm really thrilled about this house.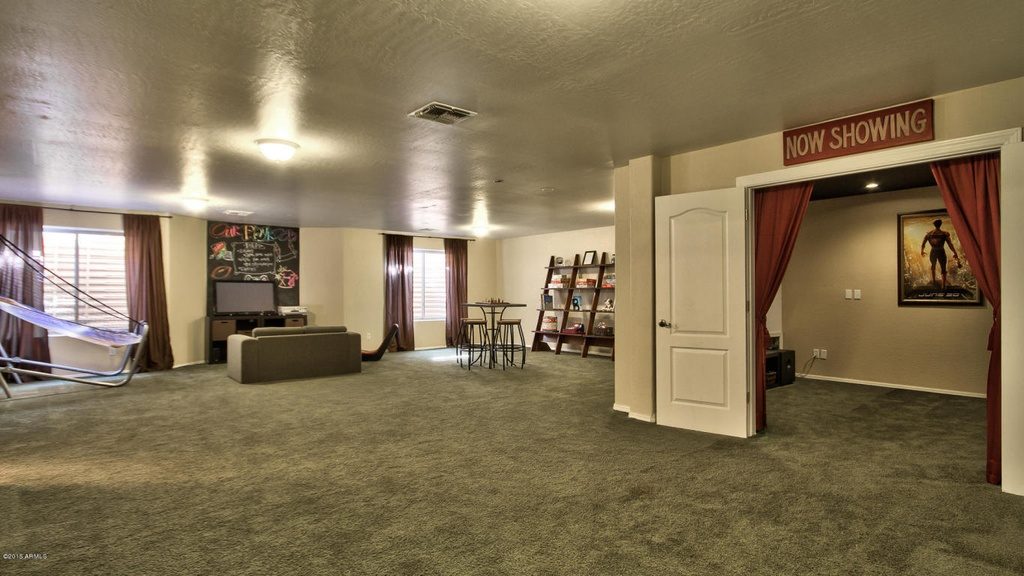 (this picture is from the listing, so it doesn't look exactly like this anymore because this was their furniture and decor, but it gives you an idea)
Here are a few things that delight me about it:
The huge basement. I love that there is so much room for the girls to run and play downstairs and that when a family comes over for dinner, the kids just all go downstairs and play by themselves.
A perfect-sized pantry. It sounds ridiculous, but the pantry in our second North Carolina house was just too big. It kind of turned into a junk room, which was definitely not what I wanted. The one here is just the ideal size because I can keep it really nicely organized and it has plenty of room for all my canned goods, baking supplies, garbage can, recycle bin, and tablecloths, plus there is a little lock on the top of the door which means I can lock the girls out if Ani won't stop trying to get a candy out of the candy bin (this makes it sound like we have a fun pantry – this candy is mostly from Halloween two years ago. Yuck).
A separate toilet area in the master bathroom. In both of our North Carolina houses, the master bathroom was just one big room, which was totally annoying.
You can't see the kitchen sink or table from the front door. In both of the houses my family owned in Las Vegas when I was growing up, you could see the kitchen table right from the front door, which made my mom nuts. Now as an adult, I totally understand this and it was something that was a big deal to me when we were looking for a house. I don't want someone to stop by right after breakfast and be able to see bowls of leftover oatmeal on the table or next to the sink.
The kitchen and family room are right together. I love that I can sit on the couch or play with the girls on the family room floor while Bart does the dishes and he's still part of the conversation. Or that if I'm cooking, I don't feel like I'm stuck back away in the kitchen while everyone else is hanging out.
Now if someone would just come paint all the walls white for me. . . .