Back in my early blogging days (2008!), I wrote a post about Santa and how I didn't grow up believing in Santa and how I planned to do the same thing for my kids.
That post earned me my very first nasty anonymous comment (whee!) and I've basically steered away from the topic of Santa since then because I learned quickety-quick that people have FEELINGS about Santa and that many people can't seem to manage their emotions when it comes to this topic.
But as I've gotten increasing questions about it over the years, I figured I was finally ready to write a post about how we handle Santa in our family.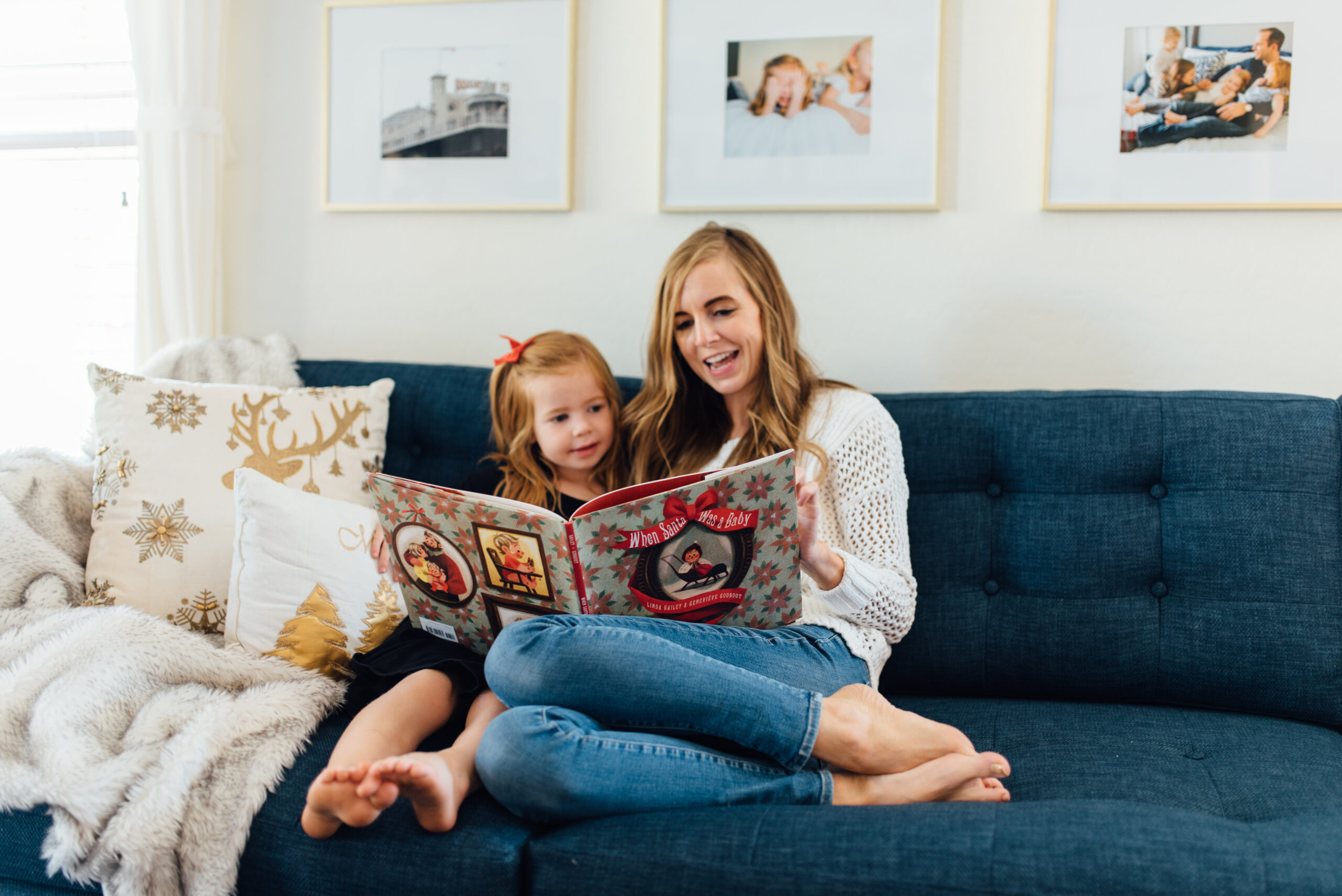 The most important thing to know is that I do not have strong feelings about Santa – I don't care or judge one bit if your family is super into Santa. It's just not personally something I'm excited about doing.
For me, the question of Santa feels easy because it's how I grew up, so I don't have any sense of leaving behind my own childhood traditions or that it'll ruin the magic of Christmas for my children (more on that later).
Bart did believe in Santa until he was maybe five or six until an older cousin said something about Santa not being real and one look at his aunt's furious face told Bart that his cousin was telling the truth. He had zero strong feelings about not pushing Santa Claus with our kids and it was never really an issue.
Of course, "not doing Santa" means a whole lot of different things to different families. For us, it means that we never tell our kids that Santa is real, we don't label gifts as being from Santa, and there's no "Santa is watching you" situation.
We still do stockings (one of my favorite parts of Christmas!) although none of my children think that they're filled by Santa. When I was a kid, my dad made a set of black construction paper footprints that he'd set out from the fireplace to the tree and that was a fun little thing to spot on Christmas morning, but we never thought they were real.
We DO watch plenty of Santa movies (my personal favorites are Miracle on 34th Street and The Santa Clause), have about one million Santa books in our personal Christmas book collection, and occasionally visit Santa (one year in Arizona, we went to Bass Pro Shop with some friends and the Santa had a ring of different baby pacifiers attached to his belt – I'm still wondering about that, six years later).
This is not something we sit down with our kids and have a long serious conversation about. There's no "Santa is pretend" presentation – just when they've asked about Santa (usually around 3 or 4), we tell them it's a fun game people play at Christmas and that he's a character like Belle or Elsa or Moana.
I'm actually pretty sure that Star believed in Santa the Christmas she was 3.5 (she was SO wide-eyed and serious about telling Santa at a Christmas party that she wanted a stuffed mama polar bear for Christmas – it was the cutest thing ever) and we didn't say anything to discourage her and by the next year, she'd figured it out.
Basically the long and short of it is that we make really no issue of it at all.
I always am quick to remind them that many kids their age DO believe in Santa and think he's really bringing them gifts and that it's not their job to tell other kids that he's not real. (This is a great introductory conversation about respecting other people's beliefs and recognizing that other families do things differently than our family and how that's perfectly fine).
This "ruining it for other people" is the MOST frequent worry when I mention that we don't do Santa and I totally get that – if Santa is a huge deal in your home and you've spent a great deal of time convincing your child that their presents really are coming from Santa, it's super annoying if another kindergartener ruins it for your child.
And I definitely don't want my child doing that for your child and we have a conversation every year reminding them not to tell their friends.
On the other hand, it's a heavy burden to put on a small child to pretend in something they don't believe. For many kids, truth is very black and white and so it's hard for them to understand the concept of pretending for another child when it can feel to them like they're being asked to lie, and when we're trying to instill values of truth telling in our children at home, I would never pressure them to lie.
MANY kids find out the truth about Santa from a child who DID believe in Santa, including often from older siblings. My 2nd and 4th grader have both mentioned this fall that their classmates have been debating whether Santa is real or not endlessly during lunch and recess, so it's not like the idea of Santa being a pretend game is going to be a huge shock to most kids.
Basically, I'll do my best to not have my child ruin Santa for your child, but I can't promise it won't happen and I'm not going to guilt or shame my child for not being mature enough to navigate this tricky situation.
Santa is also not a topic I almost ever discuss in person with people I know. In fact, I'm not even certain what my two sisters do with their boys when it comes to Santa. Like many things, it feels like a big deal in the DMs and comment sections of Instagram, but in my real life, it almost never comes up.
For me, the funniest question about not doing Santa is, "But how do you still make the holidays magical?" which has always struck me as truly odd.
Christmas has family parties and presents and beautiful decorations and lights and holiday surprise and special treats and seasonal books, music, and movies. We deliver neighbor gifts and pick out special presents for each other and sing Christmas songs and decorate gingerbread houses and spend time with cousins and decorate our home. How could that NOT be magical?
It doesn't feel at all necessary to me to pretend someone is coming down the chimney with gifts to make it magical. (And if Santa feels like a crucial part of the holiday magic for you, go for it!).
Someone asked on Instagram what my "why" for not doing Santa was and I loved that question. The truth is that I really more don't have a strong "why" compelling me TO do Santa and so we've just opted not to. It's not that I'm deeply opposed to Santa – I just don't see benefits to doing it in our family.
My mom used to joke that she wanted the credit for all the effort she spent preparing Christmas gifts for us and certainly didn't want some imaginary guy getting the credit for it when she was the one paying attention all year to what we might enjoy on Christmas morning.  And that's a compelling reason for me too – I'm so often the bad guy. I'm the one telling my kids to go to sleep or practice piano or clean their rooms. I want the relationship boost of also being the one who knows and loves them and gives them gifts on Christmas morning.
Truly, there are wonderful things about doing Santa or not doing Santa and there is a massive spectrum of how to manage Santa, from forbidding all Santa related things to going to extreme lengths to convince your kids that Santa is real and everything in between.
The thing I love about being a parent is getting to decide for our family how we want to handle different things, including Santa, and this has worked well for us.
(The other thing people always ask is if my kids believe in the Tooth Fairy or the Easter bunny and the answer is no – we joke in our family that we have a very lazy Tooth Fairy because I am truly terrible at remembering to put any money under their pillow).
I'd love to hear how you handle Santa in your home!
if you liked this post about how we handle santa in our home, you might also like these other posts: