So many things to love in July: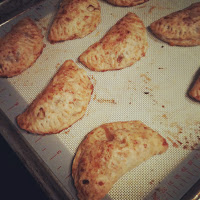 A really fun dinner with a woman from my bookclub and her husband (plus, they introduced us to a great new restaurant called Asti).
Ella's new phrase "what I'm talkin' bout!" when you correctly figure out what she's trying to tell you.
White Collar. We are really enjoying this show. It's more light-hearted than others we've watched and I love the chemistry between Peter and Neal.
A couple of huge rainstorms, and Ella's total joy in running around in them.
Finding out we're having another girl!
A late night run to Sonic for 1/2 price shakes (strawberry/pineapple is excellent) with friends and watching fireworks at the baseball stadium while we waited.
Seeing the new Spiderman. I thought it was substantially better than the old series with Tobey Maguire (and I LIKED that series).
The cheddar-crusted apple hand pies I made for cooking club this month. I was so sad when I finished the leftovers.
Meeting Bart for lunch at work a couple of times with Ella.
What did you love in July?