I've seen bloggers say that, by the time the actual holiday arrives, they're far past sick of it, since the blog world has been non-stop holiday for the month leading up to it.
I try to fight that by posting everything about holidays way way late (look for my Christmas post in about six more weeks).
So, yes, Easter is probably boring and what not at this point.
Too bad.
When I saw all the Easter posts on Monday morning, I realized I'd missed a totally legitimate opportunity to buy myself a new dress. How could I have skipped that? It didn't even cross my mind. Next year. . .
It's hard to mind too much, though, when your GIRLS have matching dresses (thanks to Grancie). I died a little bit.
And I told you she smiles!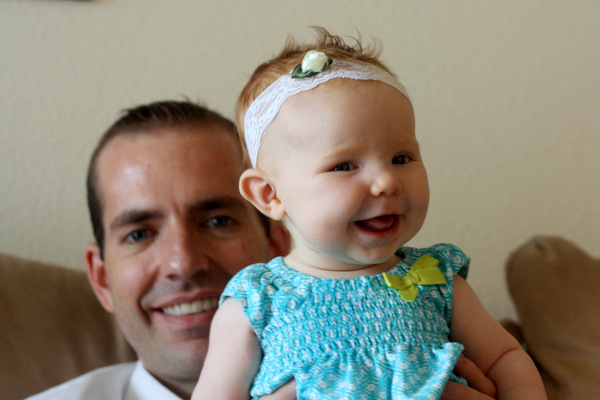 We also had Landen and Adam over for our traditional (erm, this is the second year we've done it so I'm calling it traditional) Easter crepe feast. We invite them for two reasons: 1) We really love Landen and Adam and 2) they own a crepe maker and make all the crepes. You'd invite them too.
While Landen made crepes, I set out a big spread of toppings – tomatoes, cheese, ham, bacon, pesto, fudge sauce, strawberries, lemon curd, blueberry sauce, bananas, and whipped cream. Landen made about thirty crepes and we ate almost every one of them between the five of us.
An egg hunt after naps (we learned our lesson this year and filled them with stickers instead of candy. Ella got one mini Kit Kat in her basket and that was the extent of the candy – she did not spend twenty minutes this year running in a circle around the kitchen calling, "I'm running!" like she did after the sugar fest of last year), and then a lovely dinner with friends, and I called Easter a success.
Ella mainly wanted to know how soon Easter was going to come again. She was a bit dismayed when the answer was more than 360 days.
***************************************
Elsewhere: