Our Summer Sale is going on this week, (use the code SUMMERSALE for $25 off every month of your subscription!) for Savvy Reading, our real-time online reading program to help kids learn to read.
I've gotten lots of questions about the sign up process, what level to choose for your child and if there are class times available that match your schedule and the good news is that the sign up process walks you through all of that!
Let me show you how it works (the whole thing takes about five minutes or less!).
First, click here to open the registration screen (we've recently changed it so that you don't have to create an account first – you can just click right through!).
This is the screen you'll see.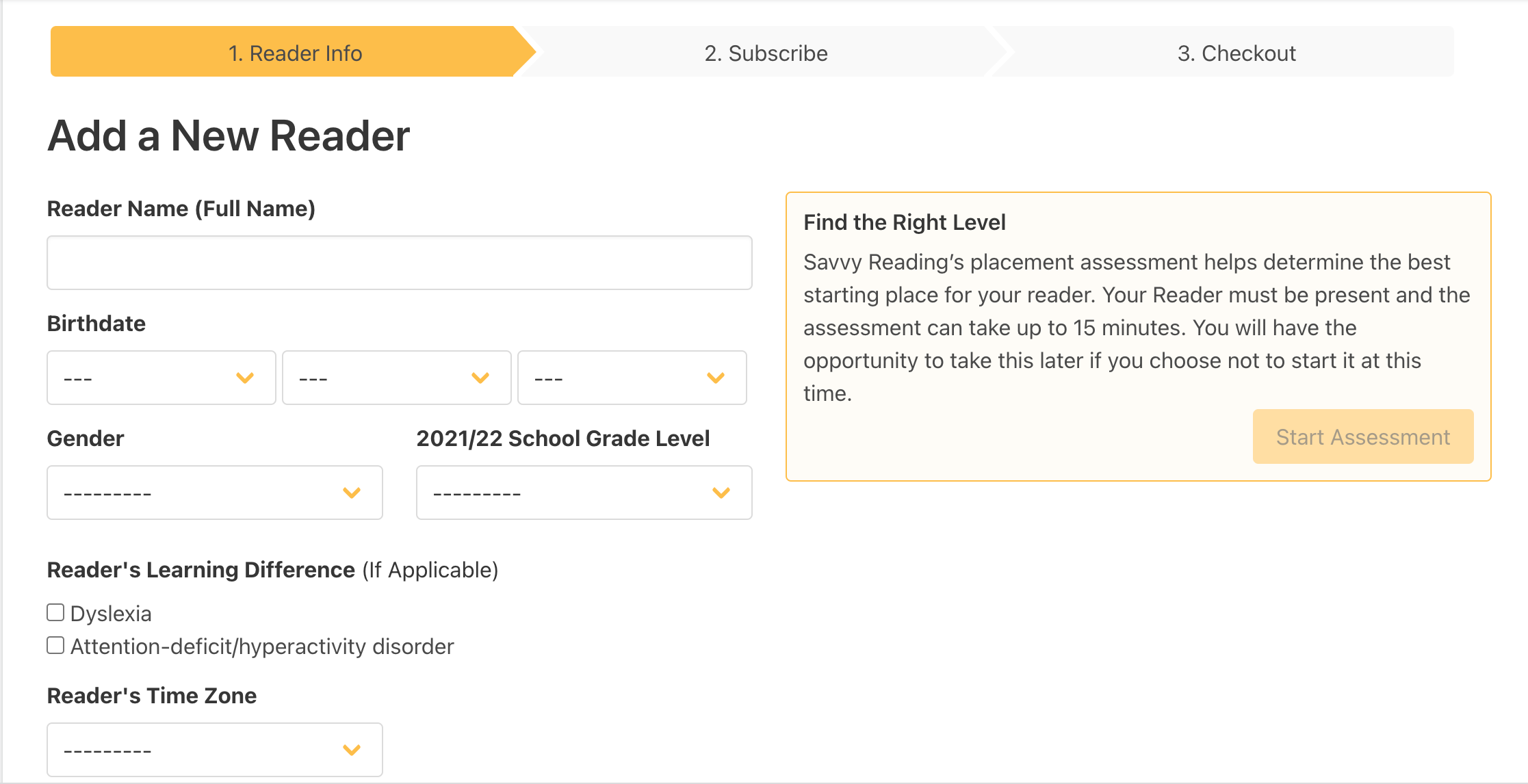 Put in your reader's name, age, etc. You'll also be able to note if your child has dyslexia or ADHD.
Once that's in, you can take the assessment now (by pressing "Start Assessment") or you can wait and take that once you're fully registered.
You can also click the "Finish Later" button on any screen if you decide you'd rather come back and finish, and it'll save your progress.

Once you've finished entering that basic information, press "Continue" and you'll come to the Subscription screen, which looks like this.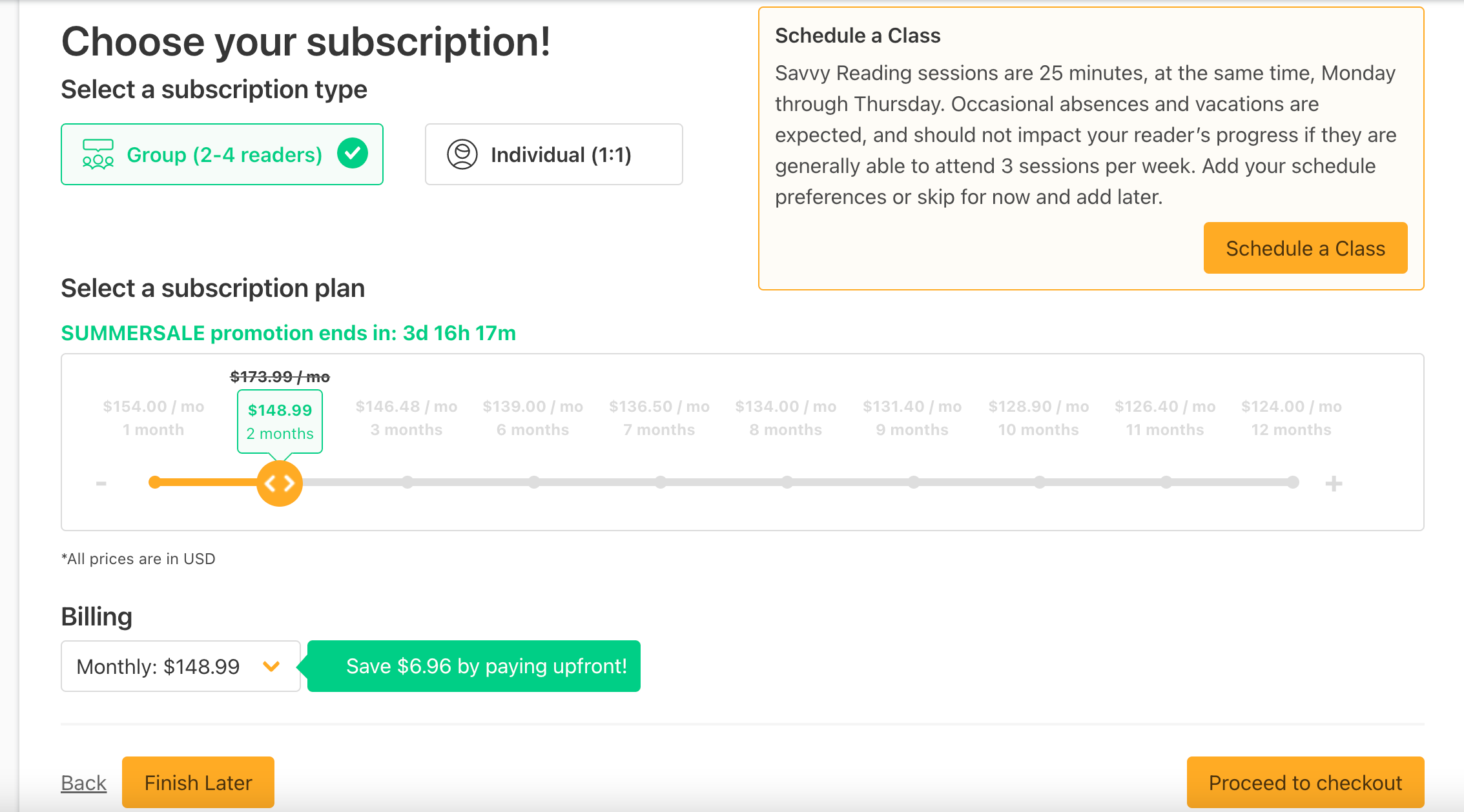 You'll choose whether you want to do a small group or an individual class and then choose the length of your subscription.
Normally, the subscription lengths are only 1 month or 6-11 months, but this week, we've opened up the shorter subscriptions for summer, so if you'd like to do only summer, you can choose a 2 or 3 month subscription. Whatever fits your family and your reader's needs.
The longer subscription you choose, the less expensive it is per month. You'll see the $25 discount reflected as well in the pricing.
You can also choose to pay monthly or in a one-time payment (which gives you a small additional discount).
Then click the "Schedule a class" button in the top right corner.
That will take you to this screen:
Choose your starting date and then select the times of day that work for your Savvy Reading class (you can add as many as you need).
Then click "update" which will take you back to the subscription screen and choose "Proceed to checkout."
Here, you'll create an account (you can sign in with Google for extra ease), put in your discount code (FINISHSTRONG will autofill for you), enter your payment information and, voila! Choose "Pay" and you're done!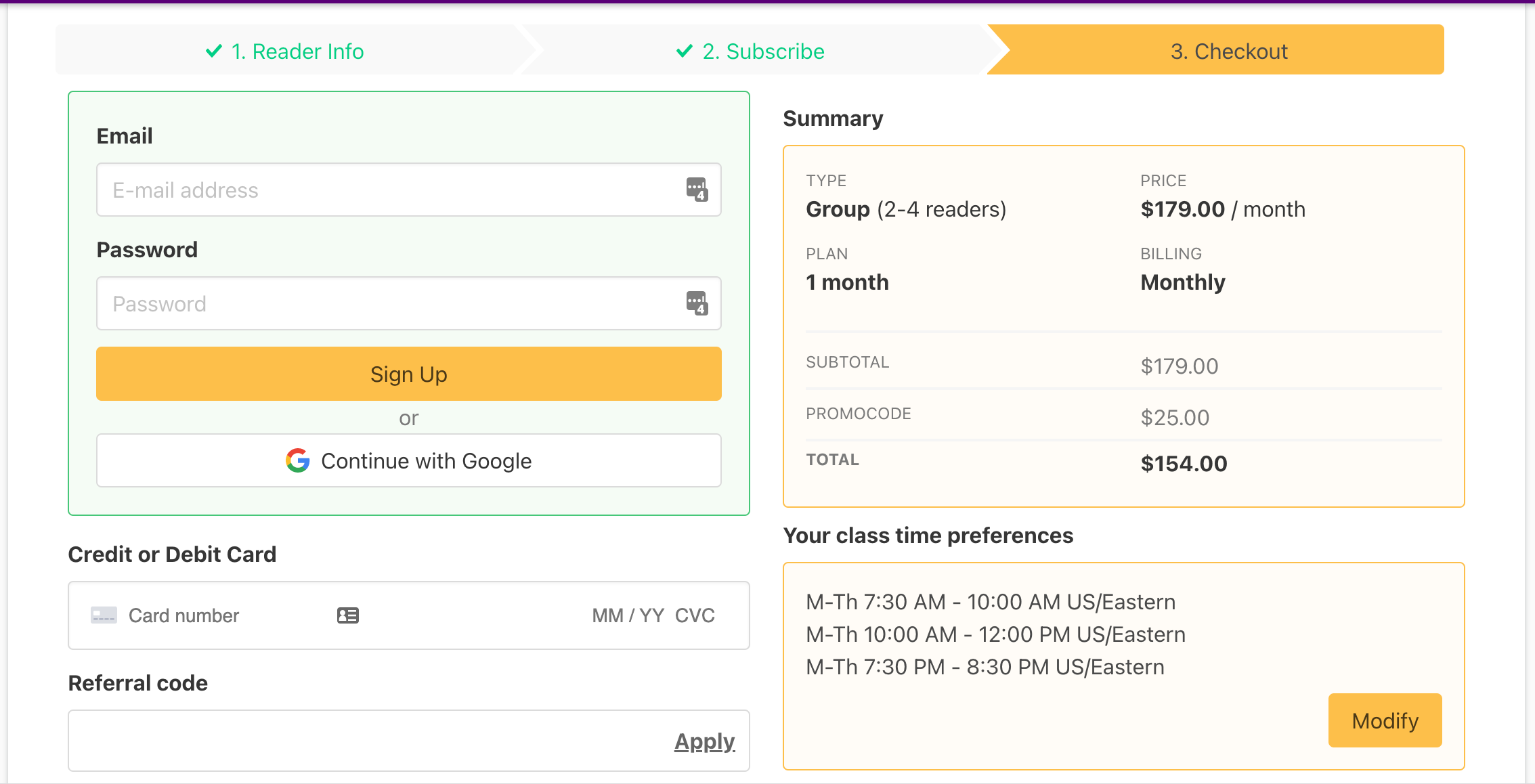 Any other questions about the sign up process for Savvy Reading? I'm happy to help or troubleshoot!
If you liked this post about how to sign up for Savvy Reading, you might like these posts too: