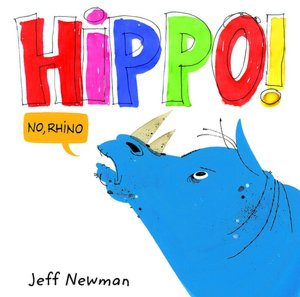 Angela recommended Hippo! No, Rhino back last December and it has been in HEAVY rotation in our house ever since (by which I mean that we keep checking it out from the library).
Bart tells me this is one of his favorite picture books ever, and I believe him, since Ella informs me that when he was home with her last weekend, they went to the library and found it and read it multiple times.
The story is about a rhino at the zoo who is forced to deal with the indignity of having the wrong sign put up in front of his pen one morning by a thoughtless zookeeper. Each person that comes over makes some comment about the "hippo," and the rhino becomes more and more agitated, always responding with something that rhymes with "rhino." ("That's not mine-o!").
Fortunately, after a parade of dense adults and teenagers, a little boy comes along who recognizes the problem and solves it.
The illustrations in this book have a weird kind of charm to them – they are definitely unusual (lots of bizarre skin colors and odd-looking people), but they work for the story.
More proof that we've read it an embarrassing amount of times? Every time Ella sees a picture of a rhino, she names it and then exclaims, "FIX THE SIGN-O!"
Tragically, this book appears to be out of print, but it's still available for dirt-cheap on Amazon and Barnes and Noble. You can bet Ella (or maybe Bart) will be getting this book at Christmas.


Copy checked out from my local library