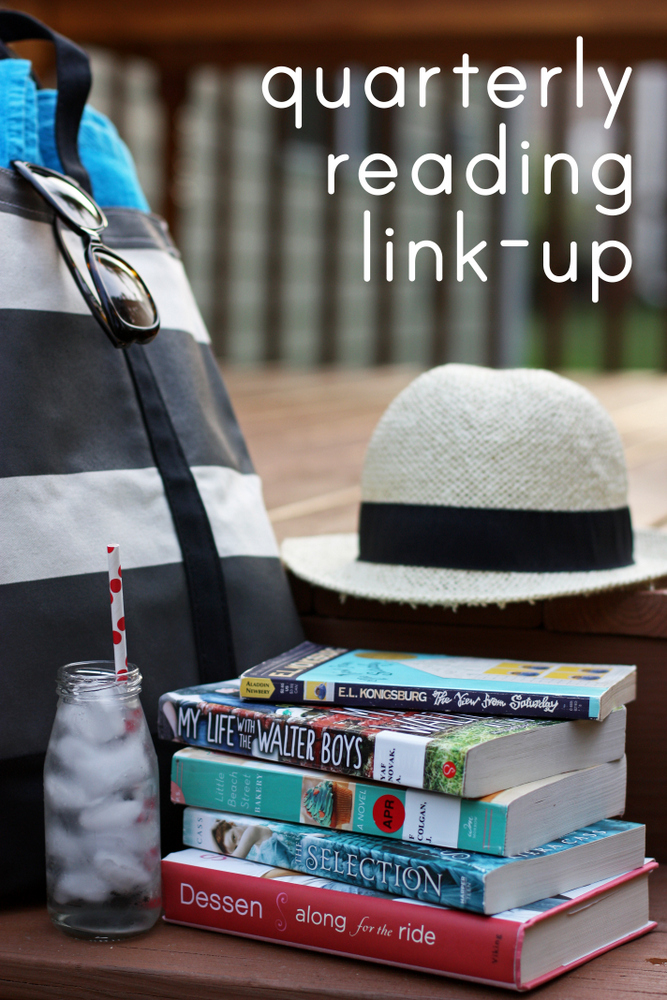 Just like last quarter, I read 29 books in the last three months. Seven plane rides with only the baby was super helpful to my numbers.
Also, can I mention how sad it was to return all my books to the library before we moved? It always breaks my heart a little to take back unread books (but I took pictures of most of them so I could remember and request them again when we're finally settled in Arizona).
Here's what I did manage to finish in April, May, and June:
As You Wish: Inconceivable Tales from the Making of The Princess Bride by Cary Elwes (full review here)
If there is one book I would highly recommend from these three months, it's this one. And seriously, get the audiobook.
Big Bad Detective Agency by Bruce Hale
Ella and I read this together and both of us thought it was fairly dumb (Ella asked if we could quit it, but we were SO close to the end (like 20 pages), so she agreed we could finish it up).
Dept. of Speculation by Jenny Offill
This was one of those books where I thought, "Why do I EVER read modern fiction?"
In a Blink by Kiki Thorpe 
I'm looking at this title and trying to remember anything about it. Oh! This was a Tinkerbell book that Our Best Bites recommended and Ella super loved it (I. . . loved it significantly less. It wasn't bad, but it wasn't what I was dying to read aloud to her).
Slim by Design: Mindless Eating Solutions for Everyday Life by Brian Wansink
It wasn't quite as good as Mindless Eating, but it's really fascinating still. More like a handbook than a book.
By the last one, I was losing a little steam on this series, but I was glad to have read it.
Creativity, Inc.: Overcoming the Unseen Forces That Stand in the Way of True Inspiration by Ed Catmull
I listened to this and it was a terrific audiobook – I loved hearing about Pixar and how the company and various movies unfolded.
Honor's brother died in Iraq and right after the funeral she takes off in his beloved car on a road trip in his honor.
The Start of You and Me by Emery Lord
I loved Open Road Summer last year so much, I couldn't wait to get my hands on this one. It was a fun read, but not quite as good.
A Cricket in Times Square by George Seldon
Somehow I've never read this, so Ella and I read it together. It was cute, but I feel like I didn't love it as much as I wanted to.
One Click: Jeff Bezos and the Rise of Amazon.com by Richard L. Brandt
This book already felt super dated. But it was still fascinating to see the rise of Amazon and how it all came about.
Broken Hearts, Fences, and Other Things to Mend by Katie Finn
I did not realize this was the first in a series. It was one of those books that I was like "how is everyone in this book such an idiot?"
Hatching Twitter: A True Story of Money, Power, Friendship and Betrayal by Nick Bilton
If you're going to read a book about Twitter, you should definitely read Things a Little Bird Told Me instead.
Jesse's Girl by Miranda Kenneally
Good heavens, this was dumb. AND completely unbelievable.
The Fill-In Boyfriend by Kasie West
I love Kasie West's books – they are just so fun and the dialogue makes me laugh out loud (and then scares my baby).
More than Happy: The Wisdom of Amish Parenting by Serena B. Miller
What can I say? I love a good parenting book.
The Life Intended by Kristin Harmel
This was pretty good chick-lit. I liked it enough that I want to go back and read her last book, The Sweetness of Forgetting.
All the Light We Cannot See by Anthony Doerr
I know everyone loved loved loved this book, and I liked it. But I think my expectations were just too high.
The Blue Bistro by Elin Hilderbrand
I have heard SO MANY things about her books and this was the first one I ever read and it was just totally underwhelming to me.
My Life Next Door by Huntley Fitzpatrick
This book is just a fun YA book. I read it a couple of years ago and it was fun to reread it in a few days this spring.
After I Do by Taylor Jenkins Reid
I think she has pretty awesome ideas but I don't necessarily LOVE the books themselves. This one was about a couple that fell in love in college but after seven years of marriage, they are on the verge of divorce and so they decide to take a year apart with zero contact. This was definitely better than Forever, Interrupted.
P.S. I Still Love You by Jenny Han
Oh man, I love Jenny Han. I was a little dubious at the beginning of this book, but I totally loved it. I reread all the good bits and then realized I'd read almost the whole book.
So then I obviously had to go reread the first book. I wish she'd write about six books a year.
It's just so nice to read a good historical fiction book. When someone can make WWII new, it's pretty impressive.
The Girl on the Train by Paula Hawkins
I never read Gone Girl, but this book didn't make me want to – I just don't think these kinds of books are my jam.
The Boy Most Likely To by Huntley Fitzpatrick
This was nowhere near as sweet and delightful as My Life Next Door.
Being Mortal: Medicine and What Matters in the End by Atul Gawande
This was a stellar way to end the quarter (and look at me, finishing my August book ahead of time). It was TERRIFIC. I can't wait to tell you all about it.
Go ahead and link up your quarterly reading with Dana and me. I promise to come check them out! And the button is below the link-up if you're inclined to add it to your post: